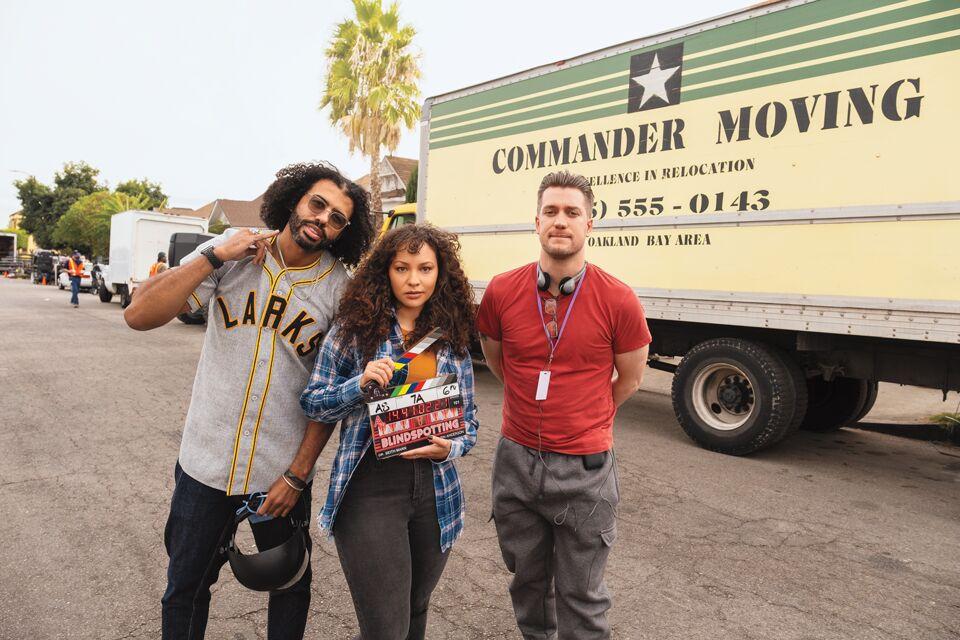 When Daveed Diggs and Rafael Casal wrote and starred in the 2018 film Blindspotting, they created one of the most impactful movies about life in Oakland ever made. The film tells the story of two friends working blue-collar jobs for a moving company in their changing hometown, and touches on issues of race, gentrification, parenthood, policing, and crime. The unflinching indie was a surprise hit—and the East Bay filmmakers are continuing the Blindspotting story with a new television series.
Diggs and Casal cowrote four of the eight episodes of the new series, which airs on the cable channel Starz. The series focuses on Ashley (Jasmine Cephas Jones), whose life is turned upside down when her longtime partner, Miles (Casal), is suddenly incarcerated. While Miles is in jail, Ashley has to move in with his mother (Oscar winner Helen Hunt) and half sister (Jaylen Barron), resulting in a series of comedic and dramatic episodes that are grounded in a more realistic tone than most TV melodramas.
Much of the series was filmed in the 
East Bay, with additional sequences shot 
in Los Angeles. As with the original film, the series takes a gritty and real look at Oakland, while highlighting unique 
locations that give the city its identity. Similarly, the soundtracks of both projects feature Bay Area musicians, adding 
another layer of homegrown authenticity to the work.
Casal, Cephas Jones, and other cast members attended the premiere of the Blindspotting series, held on Oakland's Webster Street, in mid-June before the 
first episode aired on Starz. Meanwhile, Diggs continues to impress with his remarkable body of work, adding upcoming films such as the drama The Starling and the Disney live-action musical The Little Mermaid to his credits onstage (Hamilton) and on television (The Good Lord Bird, Snowpiercer).
Blindspotting airs Sunday evenings 
on Starz.