Nicolle Wallace has the kind of career that high-school guidance counselors dream of sharing with their students.
Currently the host of MSNBC's political talk show Deadline: White House, Wallace grew up in Orinda and got her start in media as an intern for two Bay Area news stations. After graduating from UC Berkeley and getting her M.A. at Northwestern University's Medill School of Journalism, she took a right turn into politics—working in the press offices of Florida Governor Jeb Bush and President George W. Bush. In 2006, Wallace left her job as the White House communications director to move to New York with her husband, Mark, after the Bush administration appointed him ambassador to the United Nations.
Wallace's final job in politics was as senior advisor to the John McCain–Sarah Palin 2008 presidential campaign. (Wallace, who was portrayed by actress Sarah Paulson in Game Change, HBO's movie about the headline-making campaign, described the film as "true enough to make me squirm.") She went on to write three best-selling novels about life in the White House, work as a cohost on TV's The View, and serve as a political analyst for NBC News—which led to her dream gig, hosting Deadline: White House (airing weekdays at 4 p.m. EST/1 p.m. PST), which debuted on MSNBC in May 2017.
Diablo spoke with Wallace about her East Bay roots and the career path that has taken her from the White House to her own show at the storied studios of 30 Rockefeller Center.
How often do you get back to the East Bay?
I have a six-year-old son who's in love with his grandparents and the area, so we're there at least three times a year. I love getting back; it takes a trip that far to unplug from life in New York.
You went to Miramonte High in Orinda. Was there a teacher who influenced you and your career?
Miss Stark was my English teacher; she also ran the public speaking program. She was the person who taught me to write and read critically. To write our show or to figure out how to write a day of Trump news in 45 seconds—that's a feat of writing. Miss Stark was the first person who really taught me how to write.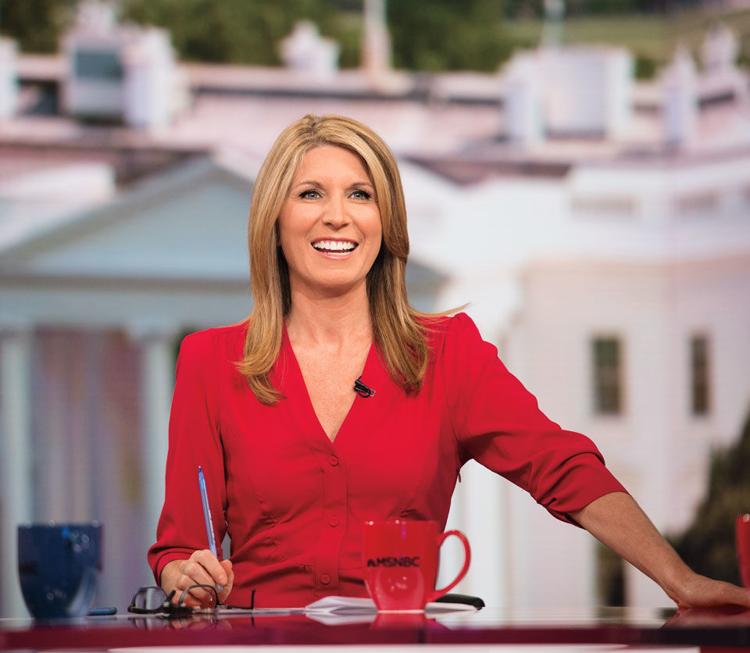 What were your ambitions in school?
I don't think I knew exactly what I wanted to do. I loved UC Berkeley. I interned the whole time I was [there] at KRON and KPIX. I had the time of my life in college—and I was, as George Bush would say, young and irresponsible then—but I think the most formative part of my career was interning at local news stations.
Will you share a behind-the-scenes story from your time with the Bush Administration?
Yes—the morning I found out that [Vice President Dick] Cheney had shot his friend [Harry Whittington] was the most surreal thing I had ever been through. That is, until I met Sarah Palin.
I was talking to Dan Bartlett, who was the counselor to the president when I was communications director. It was a Sunday morning, and so we watched the Sunday shows and touched base afterward to see where we were in the news cycle, and to look at the week ahead. And then he said, "Oh, one more thing. Cheney shot somebody."
I said, "What? Is everybody OK?" And he said, "Nope, he shot him in the face. It was an accident. We didn't tell anybody yet." So, we entered this surreal four-day period where it eventually leaked out because the guy was in the hospital in Texas. In hindsight, it's funny—but in the moment, it was pretty dire.
You were there for so many events in the MCCain-Palin campaign that became huge stories. How did that trial by fire change your perspective about politics?
I knew I was done. I was done with campaigns; I was done with politics. I was done with elections and election work. I was married by [that] time and my life was changing, so I wanted to start a family, but I was really disillusioned by the experience.
[Palin] was right in that she really didn't need advisors that had worked for men like George Bush and John McCain. I mean, she needed what Donald Trump needs. She needed handlers—people that could deal with her needs. She should have been left free to just let it rip and be who she was. That is the strategy that Donald Trump deployed eight years later, and he won.
In the end, she was probably very badly served by having people who were advisors to John McCain and George Bush trying to shape her into something conventional when she was really ahead of her time. She was Trump before Trump.
I was used to doing campaign strategy—I would sit in a room with George Bush and talk about message strategy and debate strategy. That's not the kind of advice she needed. It will always be an interesting question about Palin: If she had been left to her own devices, would she have been more successful?
Switching gears, There were reports that you were let go from The View because producers felt you weren't "Republican" enough. Can you talk about that sort of typecasting?
I think the history of The View was that the show was always cast around conflict. They were unhappy, and it was their right to create more conflict if they thought [it] was in the best interest of the show.
Three weeks after I left, I was hired to work with the Today show—not as a Republican analyst but just as a political analyst. I started to do the Today show every day. Sometimes, not being sufficiently partisan for one job puts you on the path for one that's a much better fit.
I was disappointed in the moment to be [fired from The View]. I didn't quit The View, and I wouldn't have quit. I enjoyed it very much. I loved Whoopi [Goldberg] and Rosie Perez; we're still dear friends. In some ways, it's easier to look back and say it was for the best, but it really did work out that being fired from The View put me on a sort of a "pinch me" career path almost immediately at NBC and MSNBC.
On Deadline: White House, You often refer to your contacts with various sources. How engaged are you in the up-to-the-minute original reporting? What is a workday like for you?
I spend the most amount of time gathering information from my own sources. I'm 46; I started working in Republican politics when I was 25—for Jeb Bush—so that's more than 20 years of contacts. I know a lot of people. My phone rings all day long [with calls] from Republicans and Democrats.
I hear from a lot of Republicans in and out of the government who are really uncomfortable with some of the things that are happening. I don't know why they call me. I think some of them call me to say that it's not as bad as it looks. I think some of them call me to tell me they're trying to make it better; some of them call me to ask for advice. Sometimes, people call me and ask, "Should I go? Is it that bad?" It is surprising to me—as someone who is quite dismayed by some of the ways that this president is blowing up the norms of the American presidency—that so many people are as forthcoming as they are, but I'm grateful for it. I never turn down a call.
You are candid about your concerns with President Trump's performance. How dangerous is his assault on the credibility of the news media?
I would say that, until a few weeks ago, I was more worried about journalism than anything else. But we have a lot of liberties. I still have the show that I have and get to say what I say with the complete support of the network; it's a great time to work in journalism.
The fact that we're one of his foils—that goes with the territory; that's his right as much as it is our right to push back with vigor. I don't think people should romanticize the relationship between any White House [administration] and the media. There's always tension. Like everything he does, he just takes it to such an extreme. He personalizes everything; he threatens, he exaggerates, and he lies. So, the things he says about the press are just gross distortions and exaggerations of the truth.
Now, I think the assault on the FBI has replaced the assault on the free press as the troubling thing. That's where I think it's dangerous. I think this fight he's in with his own FBI is truly the scariest thing that's happened since he won and the one that I fret about most.
You often mention your son, Liam, on the show. How do you balance family life with such a demanding job?
I'm doing it right now. I'm talking to you, and he's sitting next to me eating chicken nuggets. I miss him during the week, but I take him to school and I put him to bed every night. I'm sure that's not enough for him, and it's not enough for me, but "Love your problems" is something that I try to live by.
I love the job that I have. I love the opportunity I have to put together a show where I talk to the best reporters who have written the best stories and the best experts, and bring my friends and new voices to the table, and create a conversation every day at 4 p.m. [EST]. To get to do that every day is a real privilege. Everybody is juggling, and everybody is stretched, but most people are making much bigger sacrifices than I am. I'm like every working parent who wishes they had more of everything—more time at home, not always racing out at the end of the day. But I wouldn't trade my problems for anybody else's.
Diablo hosts a classic movie series at the Orinda Theatre every month.  If we were going to have a Nicolle Wallace double feature, what should we show?
I can't ever get through All the President's Men without being reinspired to get out a notebook and a pencil, and start making calls. I just think that's one of the most inspirational stories about light as a disinfectant, and I think we're living in times with some parallels between the political leaders and the press.
But my favorite movie about the presidency is Dave. The idea of "anyone can do it" is such a great message—anyone can be president. If more kids grew up wanting to work in politics instead of at Google or Facebook, I think our politics would be a lot healthier.
Other National News Stars with East Bay Ties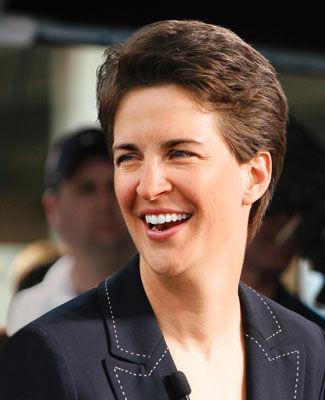 Rachel Maddow
Raised in Castro Valley, cable-news star Rachel Maddow graduated from Stanford University in 1994 and received a Rhodes Scholarship to study for her D.Phil. in politics at the University of Oxford. Her Emmy Award–winning The Rachel Maddow Show debuted in 2008 as MSNBC's highest-rated program and led the network to number one in cable news' weekly prime-time ratings for the first time in May 2017. Maddow's show is still among the most-watched programs in all of cable news and often wins the ratings race for its time slot.
Emily Schultheis
Originally from Moraga, journalist Emily Schultheis earned her B.A. from the University of Pennsylvania in 2011. So far in her reporting career, she has worked for Politico, National Journal, and CBS News, among others, often focusing on politics and election coverage. She received the Arthur F. Burns Fellowship in 2013 and is currently a 2017–2018 Robert Bosch Fellow based in Berlin.
Sara Sidner
Sara Sidner was a TV news reporter in Florida and Texas before she came to the East Bay in 2004 to work for KTVU-2. After three years as a reporter and a weekend coanchor for Channel 2's News at 6 and The Ten O'Clock News, Sidner became an international correspondent for CNN, covering stories in Israel, Libya, India, Chile, Haiti, and Ferguson, Missouri.