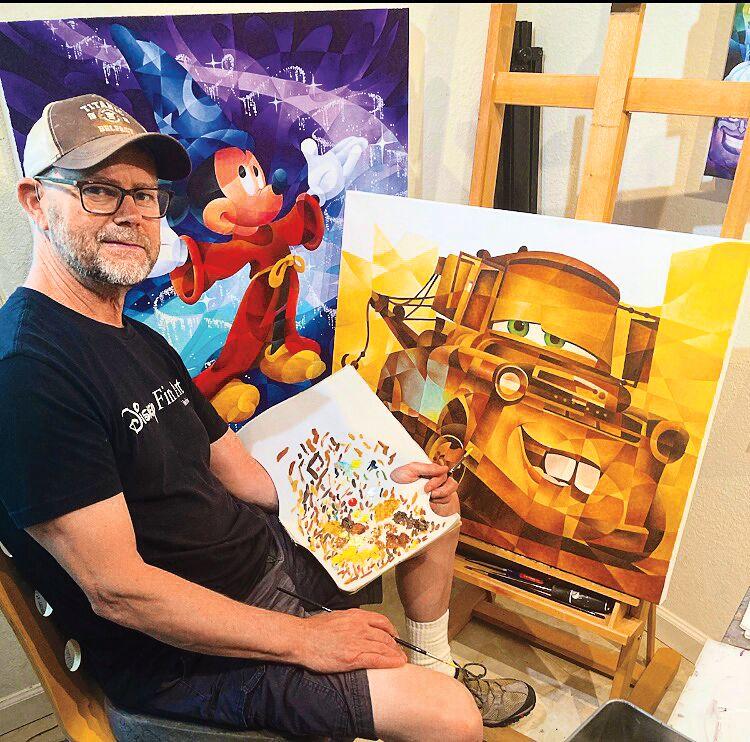 When Tom Matousek's father advised him against becoming an artist when he was 11, he could never have known where his son would end up decades later. "It was sound advice from a father for sure," Matousek says. "I don't hold it against him. But I've always wanted to be an artist."
Still, Matousek followed his father's counsel for years, but art kept finding him. First, he designed graphics for snowboard companies 
in Colorado. Then, after moving to the East Bay, he got into the mural-painting business, creating expansive pieces for such landmarks as Oracle Park and UCSF Benioff Children's Hospital Oakland. He even ventured into set design, winning a Shellie Award for his work on Contra Costa Christian Theatre's 2009 production of The Spitfire Grill.
"I was always dabbling with art, playing around with it," Matousek says. But he didn't discover his true artistic purpose until a friend asked him to paint something for a project he was working on. Stumped on how to fulfill the request, Matousek turned to his wife for help. "Do an abstract," she told him. And a whole new world opened up to him.
Matousek transformed one of his friend's poems into an abstract masterpiece of dynamic shapes and shades. "Immediately I wondered if I could take these shapes to make a recognizable face out of them," he recalls. "That was enough for me to really commit to it."
The style that Matousek, 56, has developed since that initial experiment is utterly original. Focusing on portraiture, he weaves together various geometric shapes in different colors and shades to form such recognizable figures as Johnny Cash, Princess Diana, and Willie Nelson (one of his personal favorites).
"The human face is perfect for my style, because I think my art is most effective when I'm working with a lot of light and dark values," Matousek explains. "A face has so many shapes involved with it that when light hits it just right, it creates a lot of light and dark. There's so much for me to play with."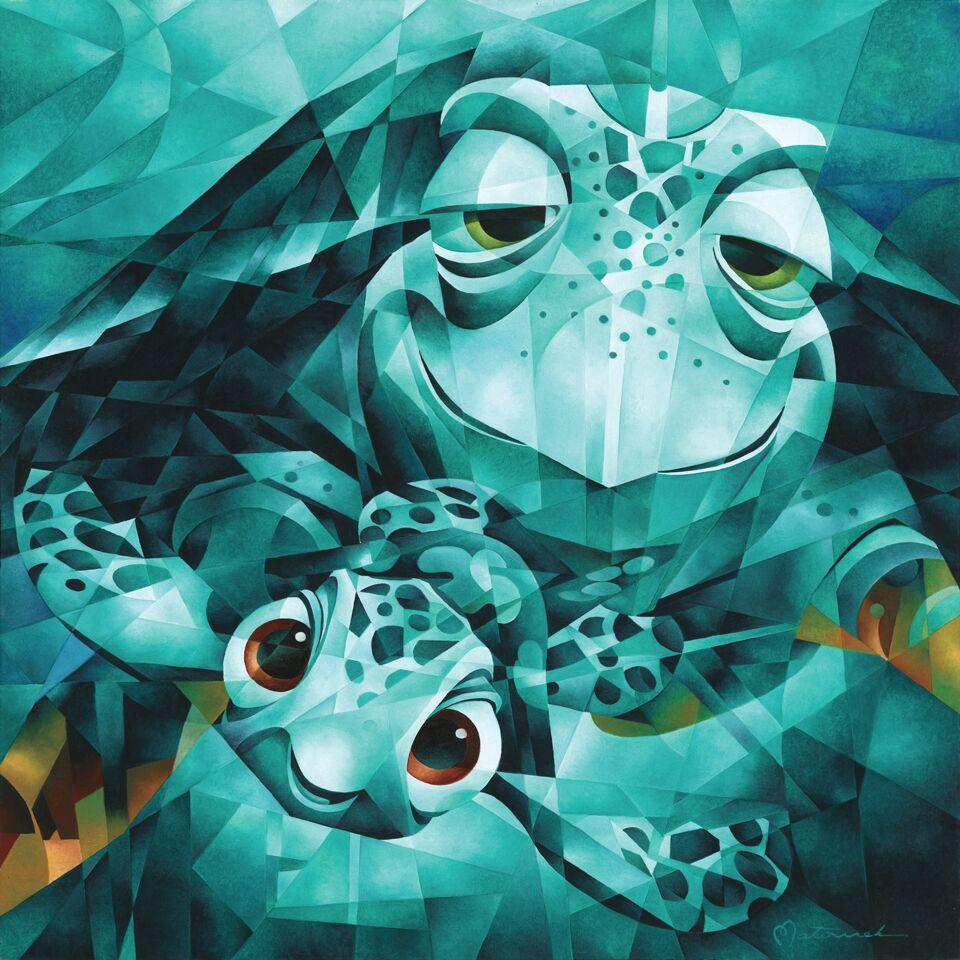 He spends plenty of time painting cartoon faces as well, as an official Disney Artist since 2016. 
Visitors to the newly reopened Disneyland will 
be able to find Matousek's paintings of Mickey, Stitch, and other beloved characters in the galleries 
there, as well as in other licensed Disney Fine Art galleries.
Matousek says his Disney work has helped him grow as an artist: "With 
a cartoon, it's art in its most simple form. 
So I have to push and explore. A lot of times it comes down to color theory. At Disney, we are drawn to colors and color combinations, and typically, I've got to really think about how the background is going to play with the main character that I'm painting. I'm constantly looking for ways to tug on a Disney fan's heartstrings."
It helps that Matousek is a fan himself; for instance, his recent portrait of Mater from Pixar's Cars franchise was inspired by his affection for the larger-than-life tow truck. "I absolutely love Cars, and I love Mater, so I [wondered], What can I do 
with Mater? And my thought was to juxtapose his personality with a sophisticated piece of fine art," he says. "I wanted to keep [the piece] monochromatic and veer away from the typical rust color—try to make it look more classy and sophisticated as 
opposed to Mater's goofball personality."
For Matousek, that kind of natural inspiration is important. Although he does plenty of commission work, he refuses to force anything. "I'm often asked, 'What advice would you give an aspiring artist?' " he says. "And one of the things I say is, 
'Always do it for the right reason.' You need to do it for yourself first, for your soul. That's the most important thing. Because I'm a professional artist, I have to pay the bills. But I always go back to that thought: Do it for the right reason. I end up doing my best work that way."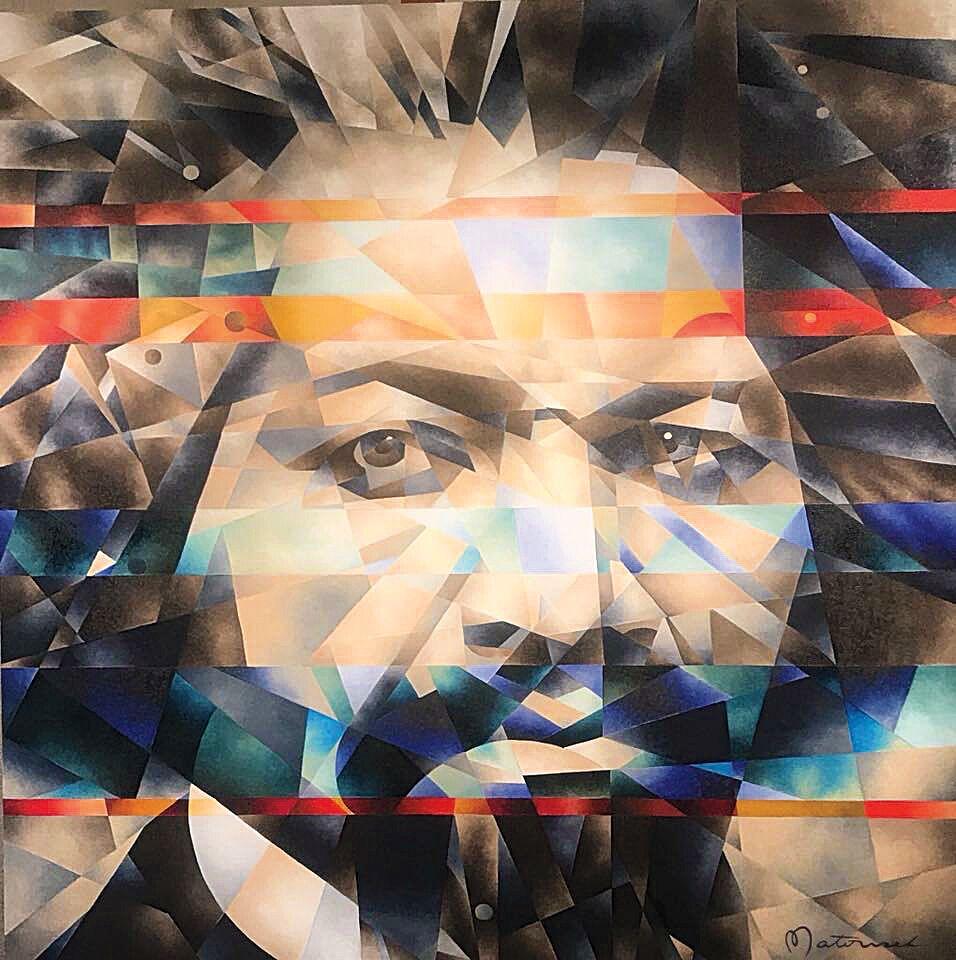 This mindset and his unique style have brought Matousek incredible success, inside and outside of the Disney sphere. He was the artist-in-residence for the DDR Corporation (now Site Centers, a company that invests in shopping malls), and he was the featured artist at the world's largest chalk festival in Pasadena two years in a row. And in 2018, his commissioned portrait of Frederick Douglass became part of the official logo for a bicentennial celebration of the influential abolitionist's birth.
Matousek attributes much of his success to the support of his wife, Kris, as well as the friends and mentors he's had along the way. "Being in the East Bay, I've met a lot of people with an appreciation for art. There's an old saying: Show me your friends, and I'll show you your future. I think that's really true. I've met a lot of mentors and people who have taught me to believe in myself. It's one thing to have courage to go after something like this, but the people around me had more faith in me than I did in myself."
A Concord resident, Matousek is also inspired by another local icon. Ever since hearing an eight-track of Dave Brubeck's greatest hits at age 13, he has loved the jazz pianist's compositions. So when he initially decided to paint a human face, Brubeck was the first to come to mind. "It wasn't until I moved to Concord that I found out that Dave Brubeck grew up here," he says.
Although he was born in Cleveland and moved to the East Bay in the '90s, Matousek feels he is very much where he was meant to be, doing what he was meant to do. Now, he wants to inspire others to follow their dreams.
"I want to encourage people to not be afraid to pursue what they're incredibly passionate about," he says. "It's cliche, but it's more valuable than money a lot of times."