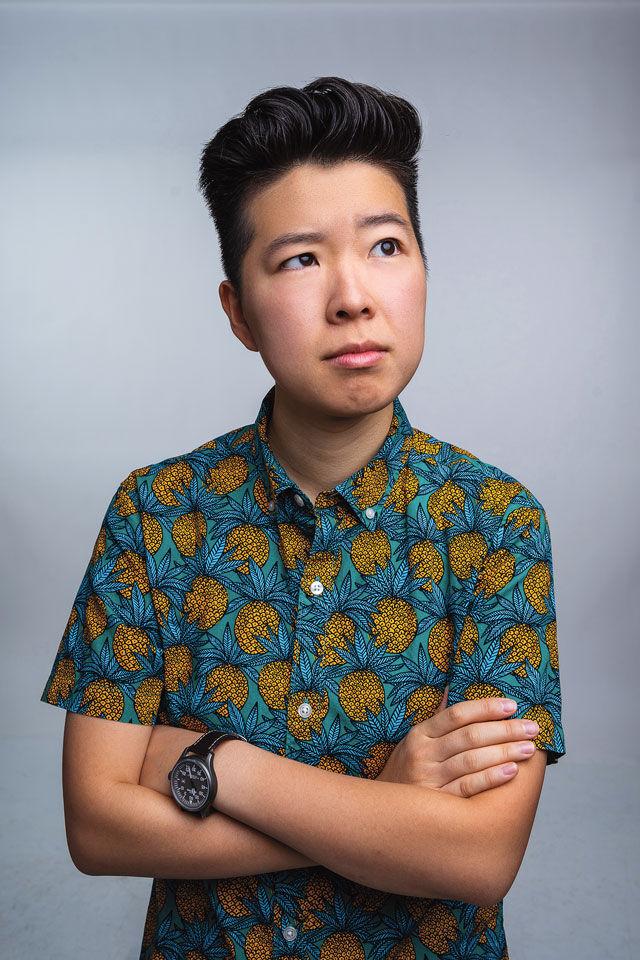 Comedian, actor, and writer Irene Tu, 28, has risen to the top of the local comedy scene, having been named one of the Bay Area's best stand-up
comics by SFist and one of KQED's "Women to Watch." A native of Chicago, Tu attended UC Berkeley and is based in Oakland, where she frequently performs stand-up. These days, you can catch her edgy, out-there humor on Mondays at 8 p.m. via Zoom as part of a regular gig she has at Oakland's Starline Social Club. 
Q: What makes you laugh?
A: Anything that catches me off guard. I always loved the Ellen sitcom, and someday I'd love to have a sitcom like that based on me. I loved Seinfeld and Roseanne. One of my favorite movies is Bridesmaids because it is so raunchy but well written. It's hard to make me 
laugh because, [like a lot of people in comedy, I sometimes feel] like I have seen it all.
Q: You frequently refer to being a queer Asian woman in your stand-up. How has that become a defining part of your comedy?
A: My comedy is mostly about how I navigate the world as a person of color and queer and a woman. But I'm trying to do less material about being perceived as Asian and being queer because I want to see if I can get people to laugh without talking about what I look like.
Q: How have you been managing throughout the pandemic?
A: I think every comedian was losing their minds for a while because we basically lost our jobs. But we are always adapting. We're doing shows online or doing outdoor shows that are socially distant. [But] none of it is as fun as when you do it live in a comedy club [that's] packed with people.
Q: Is the comedy world hard to break into?
A: People often think of it as a boys' club. Honestly, I feel like every profession is a boys' club. It is like, 'Oh, you're a chef? Isn't that a boys' club?' Sure, comedy is a boys' club, but I have never felt like I fit in anyway. I think it could be hard if you are a woman in comedy and you want to join the clique, but I have never wanted to join the popular group or sit at the popular table at lunch.
Q: Is the Bay Area a challenging environment for comedians?
A: I love the Bay Area, and it has a good comedy scene. People say how hard it can be to do comedy [here] because there is a higher bar for stand-up. It is so progressive, and there is such a diverse group of people [that] it pushes you to really mean what you say. 
If you can get your comedy to work in the Bay Area, you can get it to work anywhere.