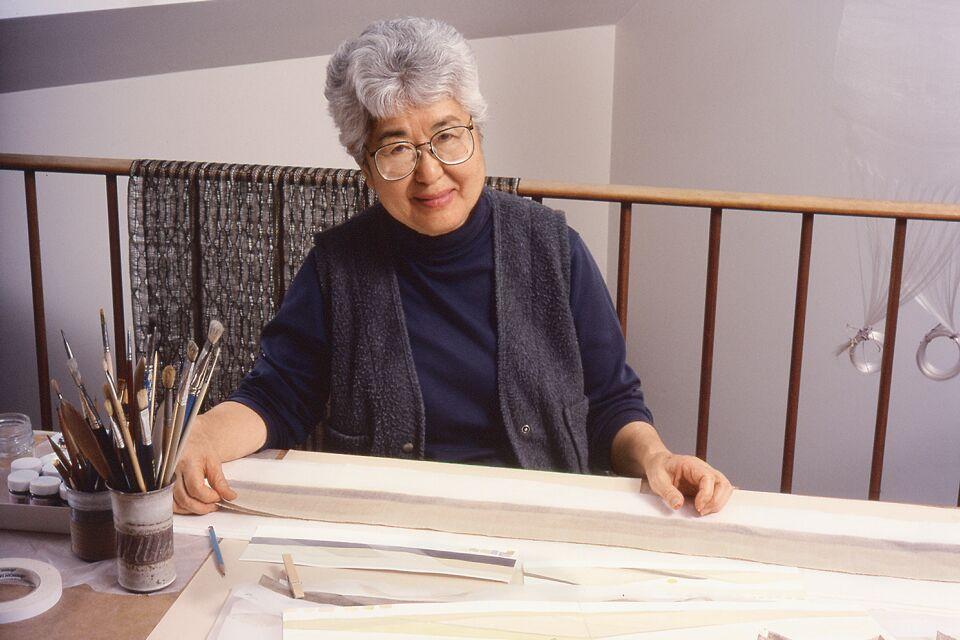 Often described as the "weaver's weaver," Berkeley-based Kay Sekimachi has worked in fiber arts for more than 70 years—expanding the medium with innovative constructions, diverse materials, and three-dimensional
pieces. Raised by first-generation Japanese immigrants—she and her family were sent to a Utah internment camp during World War II—Sekimachi went on to study at what was then the California College of Arts and Crafts in Oakland (it's currently known as the California College of the Arts). She later taught at the school. Now, the UC Berkeley Art Museum and Pacific Film Archive (BAMPFA) is celebrating her influential career with 
Kay Sekimachi: Geometries, a survey of pieces from private and museum collections that spans more than 50 years (on view through October 24). Here, the 94-year-old artist discusses her creative beginnings and her first solo show in her hometown. 
Q: How did you first become interested in painting and drawing?
A: As I was growing up, I played with paper dolls. I drew and painted hundreds of clothes for my paper dolls. At one point, I wanted to be a dress designer. I still have those paper dolls.
Q: What drew you to fiber arts?
A: I was a student at the California College of Arts and Crafts. I went up to the weaving room and saw these girls sitting at their looms, and I was captivated. I thought, I have to try this. The next day, I went out and bought a loom with the last $150 I had.
Q: How do you feel about influencing and teaching others?
A: I enjoy teaching. I felt like I wanted to pass on what I had learned to others. I learned so much from [textile artist] Trude Guermonprez at the California College of Arts and Crafts; I wanted to teach the way she taught and pass that on to my students. She opened my eyes to what weaving can be.
Q: Your work is in collections at the Metropolitan Museum of Art, 
the Smithsonian, and the Museum of International Folk Art in Santa Fe, among many other renowned museums. Is there a special emotion you have about this solo show at BAMPFA?
A: The show is very important. This is my hometown and my 
neighbors can go!
Q: Where do you find artistic inspiration in the East Bay?
A: I like going to museums. The whole Bay Area is so beautiful. I enjoy going up into the hills and looking at the Golden Gate, at Marin, and down the Peninsula. We live in such a rich area.

For more information on Kay Sekimachi: Geometries, visit 
bampfa.org.