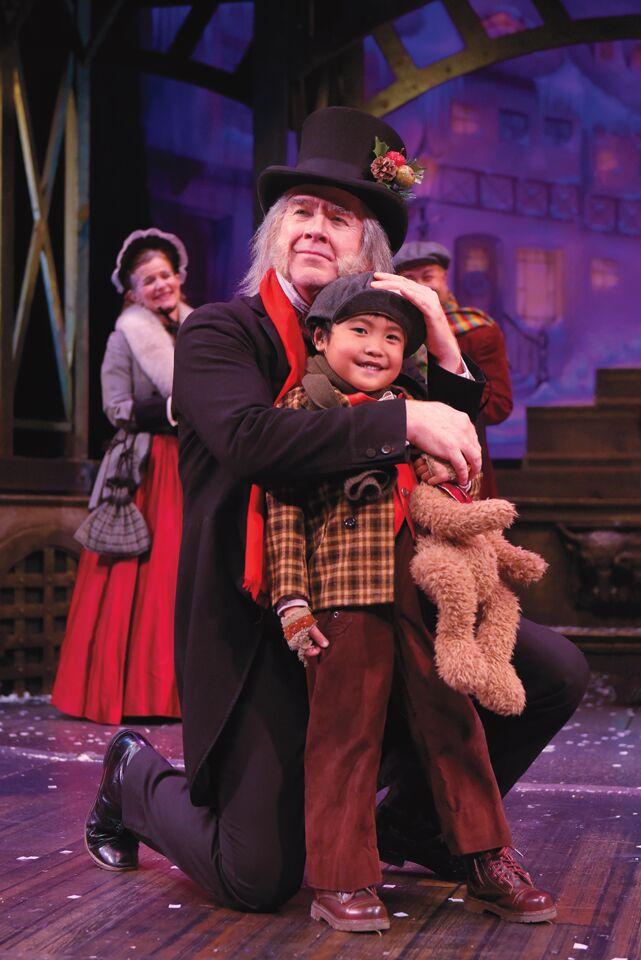 As Michael Ray Wisely celebrates his 20th year in A Christmas Carol at the Lesher Center for the Arts, it's clear that performing in the holiday classic is a true family affair. The East Richmond Heights–based actor has starred as Ebenezer Scrooge for five years (he previously played the Ghost of Christmas Present) and has shared the stage with his wife, daughter, and countless friends over the decades. Here, he discusses his 30-year acting career, which includes roles in film, theater, and TV. 
Q: What are you doing in addition to A Christmas Carol?
A: I'm working on a couple of film projects with friends, along with a TV series I'd like to pitch to Netflix. I will be [performing at] the San Jose Stage Company in August: Osage County in the spring. It's only half of what I usually do. The theater landscape is forever changed thanks to the pandemic. A lot of us have lost part of our identity.
Q: What's your proudest career accomplishment?
A: I hosted a home and garden show called Home Transformations on the DIY Network for two years. I did a play at San Jose Stage Company called Light Sensitive. That was the first time my parents saw me in a show where I was the star getting standing ovations. They still only pay attention to whatever TV show I do. Collaborating year after year to keep A Christmas Carol fresh is truly a highlight.
Q: What makes up your perfect day in the East Bay?
A: Going to Point Pinole to walk the dog or ride bikes. Or we go to Brickyard Cove in Point Richmond, where I used to have a boat. We walk along the shoreline, go home, make dinner, and watch the sunset.
Q: What makes a perfect day for Scrooge?
A: Pre-transformation, all his debtors pay up. Post, I think he wants to make people understand that redemption is possible. A Christmas Carol is one of the greatest stories of redemption ever told. As actors, we break down the human experience and reassemble it in a way that will have the audience see themselves and be more sympathetic to everyone's situation. That's what we need more than ever now.
Q: How does it feel to return to the Lesher Center?
A: It will be my first time onstage [since the pandemic began]. It feels like coming home. You take the synergy of our normal cast and the fact that we haven't been onstage for a year and a half—it's going to be incredibly special.
A Christmas Carol runs Dec. 9–23. Visit lesherartscenter.org for info.