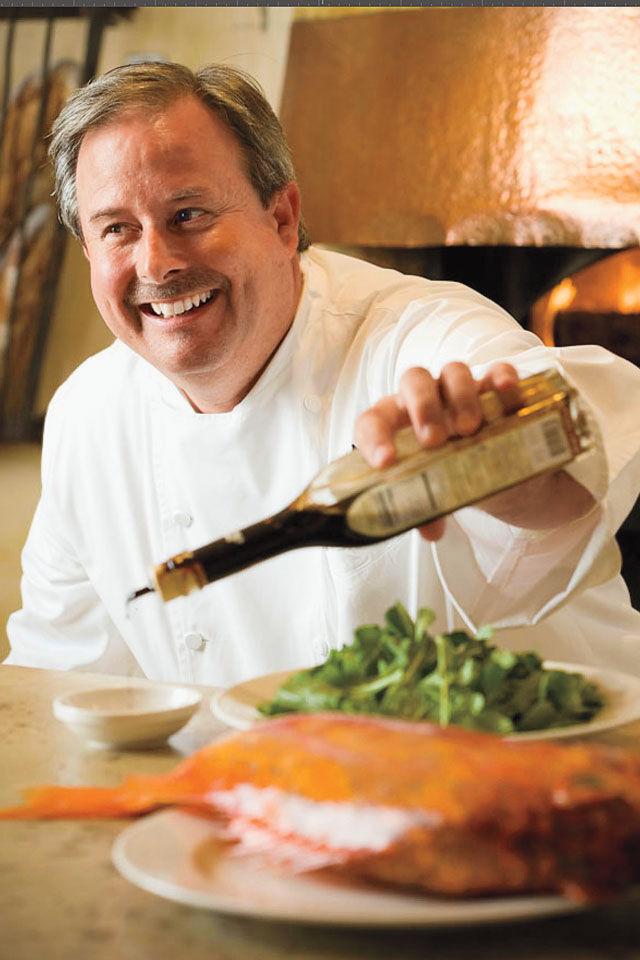 For 21 years, Prima executive chef Peter Chastain and his business 
partner, John Rittmaster, maintained a level of quality food, wine, service, and ambience that served as the gold standard for fine dining in downtown Walnut Creek. In early July, Chastain shocked the industry by announcing that Prima would not be reopening after shuttering during the COVID-19 pandemic. (Rittmaster will continue to run the Prima Vini wineshop next door.) Here, Chastain reminisces about a memorable two-decade run. 
Q: What was the Walnut Creek dining scene like 20 years ago?
A: There were significantly fewer restaurants—even fewer notable 
fine-dining venues. Guests were much less inclined to try a dish that was out of their comfort zone until you could earn their trust; once you did, you also earned their loyalty. I always appreciated that. People dressed up more. There was no Yelp, no Instagram, no Facebook, no OpenTable reservation system. Everything was more personal.
Q: What are some of the biggest changes?
A: Definitely technology, starting with smartphones. … On a more positive note, I think that more and different kinds of people are finding their voices in cooking today. Certainly, there is better food in more places than ever before. In 2000, fewer people cared about organic or sustainable food.
Q: What was the idea behind Prima?
A: At first, I was just interested in excellent food and hospitality. As things evolved, John and I became more focused on delivering our own brand of Italian sensibility. The collaboration of food and wine framed in Italian regional cooking and delivered with the warmth and sincerity that a traveler experiences in Italy became the model.
Q: What will you miss most about running a restaurant?
A: The camaraderie with the staff, doing the butchery and the braised dishes in the morning, the feeling of being ready to go right before service, service in full swing, pairing wines with food, the guests, the family meal at the end of the day, [and] a nice Negroni at the bar.
Q: What will you not miss about running a restaurant?
A: The financial pressure. If one thing comes out of this pandemic for the restaurant industry, I hope it is that people realize how expensive it is to run a restaurant and how fueled that is by wealth inequity in America. I will also not miss overly entitled people. I have a coffee cup that says, "I'm a chef. I'm here to cook for your ass, not to kiss it!"
Prima's Four-Course Meal: An Evening With Paolo de Marchi of Isole e Olena, Producer of Super Tuscan Sangiovese
Held on January 28, 2020
Crostini Misti
Tuscan-style toasts:
- Chicken liver with anchovy, sage, capers, and vin santo
- Cauliflower with green olives, hot pepper, and vinegar
- Cannellini beans with tuna conserve, red onion, and mint
Wine Pairing: 2018 Isole e Olena Chardonnay, IGT Toscana   

Starter
Insalata di Crescione, Uve e Patate con Coniglio Ripieno

Upland cress, grape, and potato salad with rabbit salami stuffed with black truffle
Wine Pairing: 2015 Isole e Olena Chianti Classico; 2016 Isole e Olena Chianti Classico 
Pasta
Pappardelle al Ragu di Cinghiale

Pasta ribbons with wild boar ragu
Wine Pairing: 2016 Isole e Olena Cepparello 

Main
Pollastrino alla Griglia

Grilled game hen with arugula lemon sauce, roasted fennel, carrots, and cipollini
Wine Pairing: 2015 Isole e Olena Cepparello 

Dessert
Dolce di Mondorle all ' Arancia

Orange almond cake with crema inglese
Wine Pairing: 2008 Isole e Olena Vin Santo di Chianti Classico