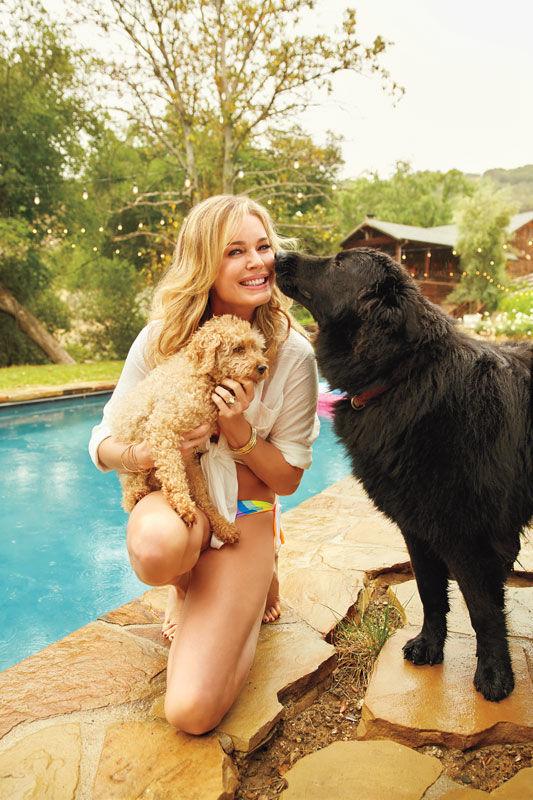 Berkeley-raised actress and model Rebecca 
Romijn made a stylish splash in the early 1990s, when she skipped her sophomore year of college to take to the fashion runways of Paris. After appearing on the covers of Elle and the Sports Illustrated swimsuit issue,
Romijn embarked on a successful acting career, 
appearing in blockbuster movies (X-Men) and television shows (Ugly Betty).
This year, Romijn released Charlie Dolly, a line 
of fine jewelry named for her 11-year-old twin daughters. Although Romijn and her husband, actor Jerry O'Connell, live in the Southern California hamlet of Calabasas with their daughters, the family visits the East Bay as often as they can. And someday, Romijn says, she would love to relocate to the Gourmet Ghetto neighborhood where she grew up.
Diablo caught up with Romijn to discuss her creative endeavors.
You have said you are ok with the lines on your face as you get older, which seems like a remarkably healthy attitude for someone who has been featured on so many magazine covers.
I said that in an interview for People magazine's Stars Without Makeup challenge. I had done a photo shoot without makeup in 2009 and then another last year. I don't really wear makeup in my day-to-day life, so it was nice to share that.
It's true. I always think about my mom's face. Even when I was very young, I loved seeing her laugh lines. I thought my mom's face only grew more beautiful as she got older, so I never
thought about laugh lines as something to fear. She helped me realize that 
aging gracefully includes accepting the map that starts forming on your face as 
you age.
These lines are just expressions of the joy you have experienced in life, and 
that joy is reflected onto others. That's 
how I always thought about my mom, and that's how I hope my daughters see me.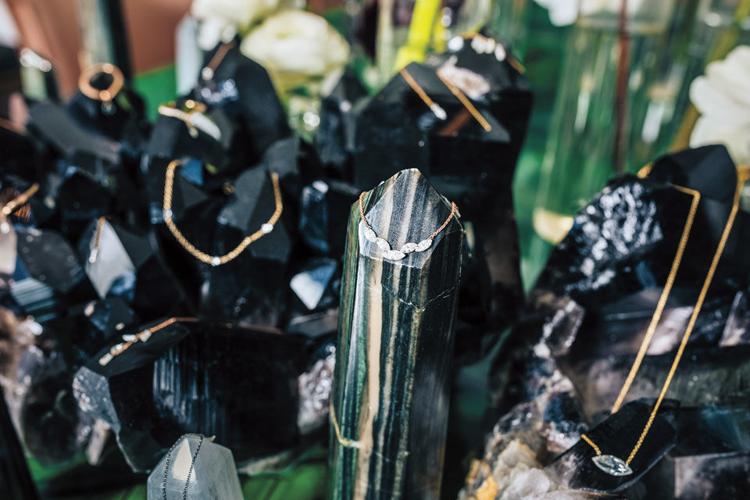 Speaking of your twins—Charlie and Dolly—you named your new jewelry line after them. How did this endeavor come to be?
It started with the spark of an idea I 
had 25 years ago. I moved to Paris and started modeling, and I was lucky enough to wear a lot of fine jewelry. Growing up in Berkeley, the only jewelry I had seen were sterling silver rings in booths on Telegraph Avenue and at Bedazzled in the El Cerrito mall.
When I saw true fine jewelry, it became a real fascination. At some point, I saw some loose stones, and I wondered if there was any way to work around the traditional settings that held them. I wondered if there was any way to have a diamond hanging loosely, rather than be confined in a traditional setting.
Today's laser-piercing technology has advanced so much that you can pierce each stone with incredible precision. It's kind of amazing—the pieces look very delicate, but they are actually very sturdy. I wear them all the time, in the shower and when I go to sleep.
It's so exciting to create these pieces.
I think it's casual and sexy to have loose diamonds—they capture the light in a different way.
Why did you name the line after your daughters?
Well, my girls are like a couple of loose diamonds! They have given me the space and encouragement to see this through. They're very interested in the process, and they give great feedback about the designs and the jewelry. They love to be involved—when I ordered my sketchbooks they came in a set of three, and my daughters were excited. "We each get one, and you get one!" they said, and they started drawing right away.
Can you describe Charlie Dolly, the new jewelry line, and your plans for the company's future?
I design all the pieces, and then 
everything is handmade in Los Angeles. 
Right now, there are 24 designs with 
diamonds, and we are starting with sapphires soon and will work with other 
colored stones.
Another reason I am excited is that I'll work with people on special orders.As you learn the capabilities of the laser piercing, you can get really creative with design. We'll be able to recycle stones, so if you have your grandmother's wedding ring sitting in the back of your jewelry
drawer and you love the diamond but would never wear the ring, we can create something spectacular.
Which is more satisfying, the creative side of jewelry design or the business side?
The entire experience has been amazing—the response has been tremendous. The creative part is something that appeals to
me. I'm really project oriented. I have 
to make something every day. It could be a playlist. I quilt. I built a dollhouse. I 
recently silver-leafed a table, just to see if I could do it—a friend of mine saw a coffee
table that she loved, then realized it cost $5,000. So I said, "Let me take a crack 
at that."
Meanwhile, you still have your day job. you were fantastic in your episode of Curb Your Enthusiasm this season, acting with Larry David. It takes a special comic approach to be infuriated with him but not overdo it.
Thank you! That was so much fun to do, but I think I'm the only person in Los Angeles who still hasn't seen it. I keep hearing from people that they saw it and thought it was funny. [Romijn plays a receptionist in a doctor's office who grows perturbed when David uses the waiting room despite not having an 
appointment.]
You've done a lot of different work in the past few years, from the family adventure The Librarians, to the sci-fi streamer Star Trek: Discovery, to the reality game show Skin Wars. Is there a favorite project you've worked on?
I'm a big advocate for animal rescue, and 
I have a bunch of rescue dogs, so cohosting
the annual American Rescue Dog Show 
on the Hallmark Channel has been a dream. The show is like the Westminster competition, but instead of judging the dogs by 
breed, we have categories such as Best in Belly Rubs and Best Underbite and Best 
in Senior.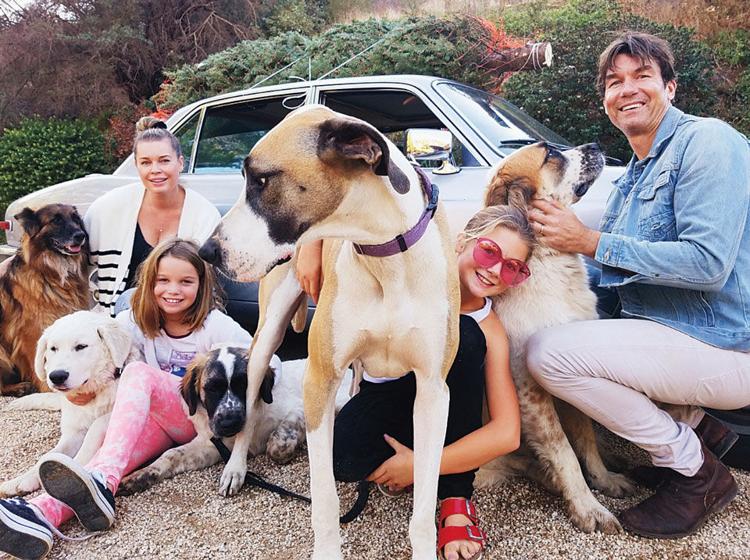 Finally, if you could spend a day in the East Bay with your daughters, where would you go?
So many places, because I still get homesick for Berkeley all the time. I grew up in the Gourmet Ghetto, going to the original Peet's Coffee with my dad. My mom shopped at the Cheese Board all the time—my sister, Tamara, and I would have a loaf of Acme bread with some brie from the Cheese Board for our 
afternoon snacks. We would go to Saul's Deli for lunch. And Mr. Mopps' is the best toy store in the world—it's so magical to walk in there, we would have to stop in.
I have a number of friends in Los Angeles who went to Berkeley High and we all fantasize about moving back there someday. My daughters love Berkeley and talk about living there when they grow up. They also love New York, where Jerry grew up, so it's nice to see the kids connect with the cities that we used to call home.
Learn more about Romijn's jewelry line at charliedolly.com. 
Streaming Romijn
There's something for everyone on Rebecca Romijn's IMDB page. Here are some recent highlights to start streaming now.
For Comic Book Fans: 
Romijn played the shape-shifting mutant Mystique in the Marvel 
movies X-Men, X2: X-Men United, and X-Men: The Last Stand. Recently, she covered DC territory by voicing Lois Lane in the animated features The Death of Superman and Reign of the Supermen.
For Families: TNT's hit series The Librarians saw Romijn leading a team through four seasons of spectacular, sometimes supernatural, adventures. Season four is streaming now on Amazon Prime Video.
For Horror Fans: Romijn drew raves for her performance as a 
powerful witch in the 2019 horror-
comedy Satanic Panic, which is available to watch on Shudder and Amazon.com.
For Laughs: Romijn appears in "The Surprise Party" episode of this season's Curb Your Enthusiasm on HBO. She also played the transgender scene-stealer Alexis Meade on seasons two and three of ABC's Ugly Betty, which is available on Hulu.
For Romantics: Love Locks. This 2017 film for the Hallmark Channel
features Romijn and real-life husband Jerry O'Connell falling in love in Paris, available to stream at 
Hallmark Movies Now.
For Sci—Fi Fans: Romijn was beamed into the key role of Number One in the second season of Star Trek: Discovery. Audiences can stream on CBS All Access.