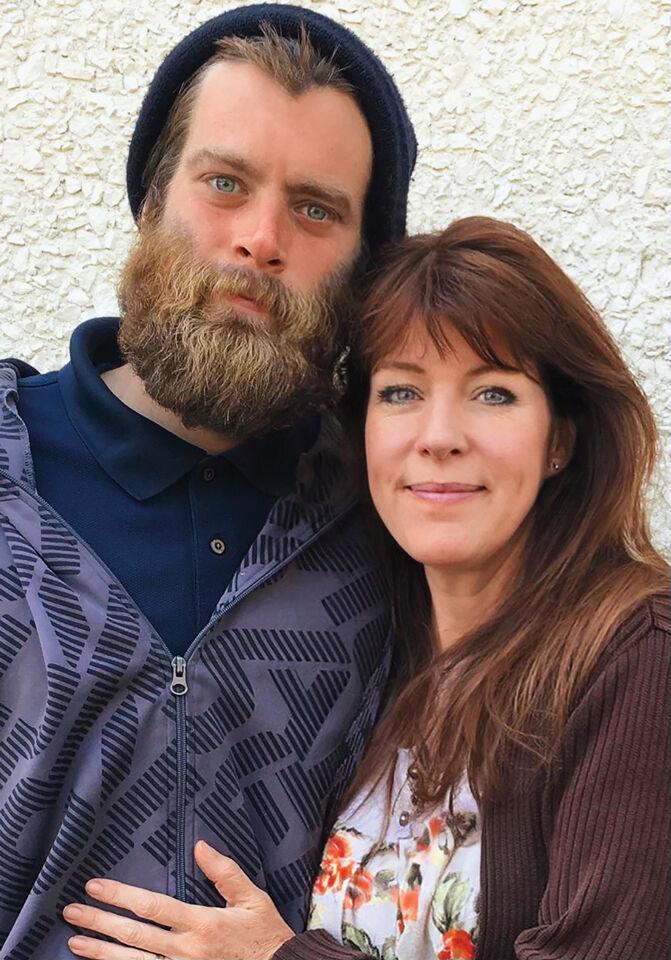 A few years ago, Jacqui Berlinn was scrolling through Facebook when she came across a picture of a disheveled young man riding a BART train. The Livermore mom of six noticed the vitriolic insults with which other Facebook users described the young man. Then she looked closer at the photo and realized it was a picture of her son Corey, who has been battling heroin and, later, fentanyl addiction, since he turned 21.
---
"I wish we could go back to the time when he was just hooked on heroin, because fentanyl is so much worse, so much more addictive, and so much deadlier."
—Jacqui Berlinn
---
Berlinn, who works for the Alameda County Sheriff's Office, was inspired to create Mothers Against Drug Deaths, an organization to advocate for addicts' dignity and to bring awareness to the many insidious forces that perpetuate fentanyl addiction.
Q: How did your son become addicted to hard drugs while growing up in the Tri-Valley?
A: Corey became addicted to heroin when he was 21—it was during the Honey and Wine Festival, an annual wine country event here that is called something else now. He was smoking marijuana with his girlfriend. A friend of theirs brought some heroin to smoke. He eventually gave in—and he got hooked.
Later, he became addicted to fentanyl. This sounds crazy, but I wish we could go back to the time when he was just hooked on heroin, because fentanyl is so much worse, so much more addictive, and so much deadlier.
Q: How old is Corey now? How is he doing?
A: He is 31 and living with his addiction to fentanyl. He takes BART into San Francisco to buy his fentanyl—about $20 per day—then he tries to get out of the city before it gets dark, because he says it's much riskier to be in the city after dark. He has various places he stays where he can smoke his fentanyl and sleep without getting robbed.
Q: Have any of your other five kids dealt with similar addiction issues?
A: No, they have all done well. Corey was the one who was dealt the bad hand with addiction. And he'll be the first to tell you that he has made incredible mistakes in his life, but I know him and love him and can tell you that he is an incredibly loving and caring person. That's why I knew I had to do something for every young person in his situation when I saw the way people were talking about him when they saw his picture on Facebook. I had to say, "That is my son—he has problems, but he's a good person!" And as soon as I did, the tone changed. People stopped calling him a monster and asked how he was doing, and wanted to know what they could do to help.
Q: What are the fentanyl-related issues that Mothers Against Drug Deaths wants to shine a light on?
A: We need to shut down the open-air drug markets near Civic Center—these are so dangerous, and people can buy, sell, and use fentanyl right out in public. Our billboard messages ["Welcome to Camp Fentanyl—Open to Children Everywhere"] are intended to open eyes about this problem. We also want the services that are available to be run more competently. There are 500 open rehab beds available every night, but they're not staffed effectively.
Q: What do you suggest East Bay parents do to stay ahead of these problems?
A: Parents need to first educate themselves about the drugs that are out there these days. These drugs are inexpensive, highly addictive, and deadly.
I'd say parents should start with their kids no later than middle school. Let them know about the drugs that are out there, and that these drugs are being sold and delivered via Snapchat. And let them know you are there for them, and that there are helpful resources available if they are depressed or dealing with anxiety. mothersagainstdrugdeaths.org.