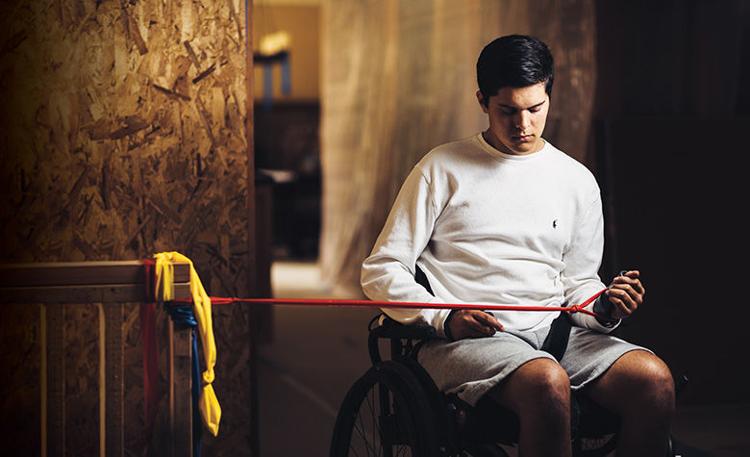 Take a drive along Jake Javier's street, and you'll see the kind of tight-knit community some think has gone extinct in our increasingly divided culture. House after house in this Danville neighborhood has a large heart-shaped sign, featuring a photo of the handsome teenager, attached to the mailbox or picket fence.
The hundreds of heart signs around Danville demonstrate solidarity for Jake, who was paralyzed in June after he dove into a friend's swimming pool and hit his head on the bottom.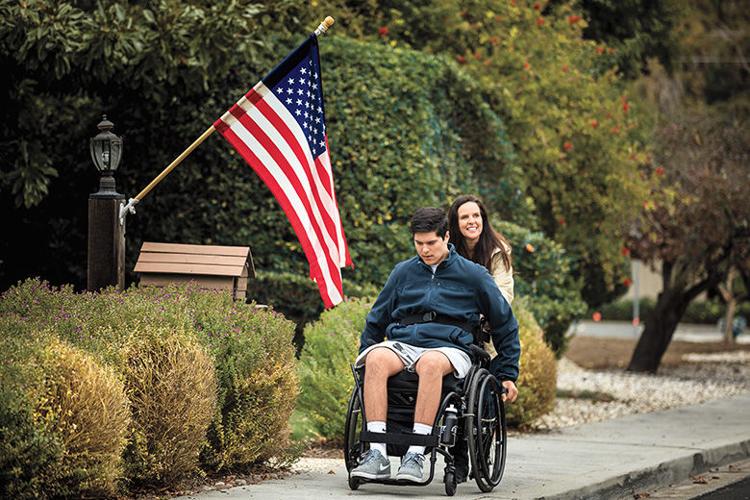 "It's incredible to know that there are all these people thinking about me," says Jake, 19. More than half a year after the accident, he is still astonished by the support he receives, often from people he has never met. "It has definitely helped me so much."  
Jake's story hasn't just captured the attention of his Danville neighborhood, however. People from across the country and far reaches of the world have responded with messages of sympathy and support. NFL superstars Tom Brady and Derek Carr have sent gifts and visited the former football star from San Ramon Valley High.
And Jake, who knows he will never walk again, has made medical history as the fifth person to receive an injection of 10 million embryonic stem cells. While he waits to see if the experimental procedure will help him regain some feeling and function in his hands, Jake appreciates the importance of being one of the test cases for a treatment that doctors and scientists hope will be game changing for future patients.
---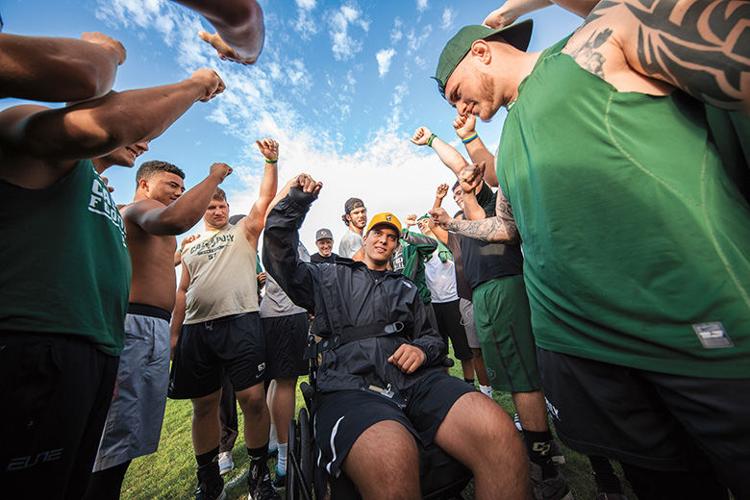 The Injury
Jake Javier was on top of the world last June.
On the day before his high school graduation, Jake was at a backyard pool party, at a friend's house in his Danville neighborhood. He was looking forward to a summer of fun before heading off to San Luis Obispo to play football and study mechanical engineering at Cal Poly.
With all of that to look forward to, the six-foot-three-inch, 260 pound athlete dove headfirst into the warm blue water.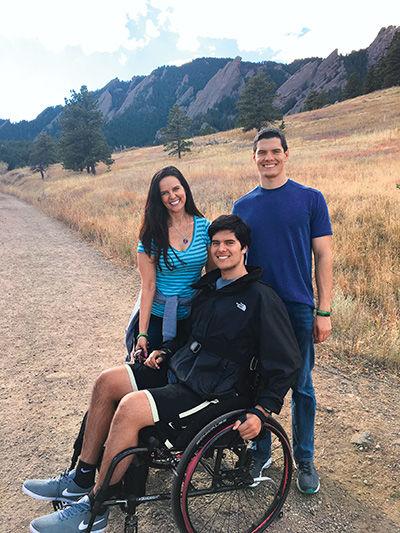 "I dove into the pool that day multiple times," says Jake. "I always dove off from the ground at the side of the pool, but the last time I dove, it was from the hot tub, which was raised by about a foot. And I guess that was just enough to send me a little further out, and I hit just when the pool started sloping upwards."
Jake's head smashed into the bottom of the pool, causing massive trauma at the C5 and C6 vertebrae. Unable to move, he sank to the bottom. As fellow seniors frolicked above the water, Jake realized that his life had changed forever—and he worried that it might end in the next few moments.
"I remember not being able to move. I tried to swim up and wasn't able to," he says. "Then I thought, 'Does anyone know that I'm down here and I can't move?' And then I started to drown."
Jake's friends dove in and helped him to the side of the pool. His memory of the dive is clear, but everything during the following week—including being airlifted to John Muir Medical Center in Walnut Creek, having emergency surgery to stabilize his neck, and fighting to breathe with two collapsed lungs—is a blur.
His mother, Isabelle, remembers getting the phone call every parent fears. At the time of Jake's accident, she was working as a real estate agent (she has since suspended work to care for Jake) and was on the phone with a client, when she got several calls from a friend of Jake's.
"I thought, 'Maybe Jake's phone isn't working. I'd better take this call,' " she says. She was startled to hear that Jake had a diving accident and could not feel his legs. As she drove to John Muir, Isabelle received a call from the parents who hosted the party.
"They said he'd been taken to San Ramon High for a helicopter to take him to the hospital," says Isabelle, her voice breaking as she recalls the shocking news. "When I got that call, I lost it."
Jake's father was working at a training session for the Hayward Police Department. A 20-year veteran of Hayward PD, Jim has seen many patients taken to the hospital by helicopter.
"I know exactly what [a helicopter transport] means, and it's not good," says Jim. "I jumped in a police car with one of my buddies. It was right in the [middle of rush hour] at 4 p.m. on a Thursday. We drove along the side of the road with the lights flashing, and it still took about 45 minutes."
Months after the accident, the Javiers still talk in hushed tones about the dreadful experience of driving to the hospital that afternoon in June. "Your mind goes 100 mph," says Jim. "You just hope you can get there in time."
When Jake's parents reached John Muir's Walnut Creek Medical Center, they found their son on a stretcher, alive and conscious.
"When I got there, Jake was crying and he said to me, 'I messed up, Mom,' " says Isabelle. "Of course, I was crying too, and I asked, 'What do you mean you messed up?' He said, 'I promised you I would never make you cry, and I made you cry.' "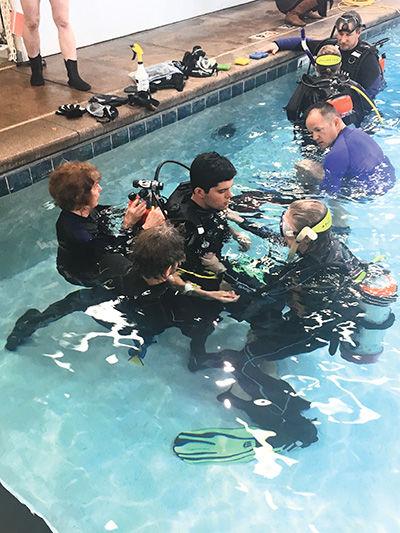 Isabelle was taken aback because her tears were the least of her worries. And just as he was being led into surgery, he amazed her with his courage.
"Jake went on to say, 'From the time I was little, I remember your telling me everything happens for a reason,' " Isabelle recalls. " 'If it's God's plan that I am not going to walk again, I'm OK with that. I know God has a plan for me.' He was so strong in spirit. He was more worried about my crying than his situation."
Jason Cheng, M.D. a neurosurgeon at John Muir who performed the four-hour surgery to decompress Jake's spinal cord and insert screws and rods to stabilize his neck, was also impressed by his young patient's maturity.
"I remember his being profusely apologetic to his family," says Cheng. "He said, 'I'm so sorry I did this and am putting you through this.' He was immediately saying, 'I have complete faith in God, and I know that He is going to get us through this.' You typically don't see that composure from any patient, particularly from an 18-year-old who is dealing with a life-threatening injury."
Though the surgery successfully stabilized his neck, Jake was not out of the woods. Over the next few days in the ICU, both of his lungs kept collapsing and needed support from a ventilator. Jim recalls a terrifying moment when he watched his son suffocating in his hospital bed.
"He started to say that he was having a hard time breathing, and then his voice kind of cut off," says Jim. "The look that he gave me was so scared. As a police officer, I've seen a lot of people go quickly, and that is the look they give."
Jake had an emergency tracheotomy, to assist his breathing and to remove infected material from his throat and lungs.
After 15 days at John Muir, Jake was transferred to Santa Clara Valley Medical Center, which has one of the top respiratory therapy programs in the western states. While at the South Bay hospital, the Javiers were asked by the California Institute for Regenerative Medicine, an Oakland-based research agency, whether Jake might participate in a clinical trial using embryonic stem cells to heal damaged tissue.
"The hope is that the cells will integrate or graft onto his injured spinal cord, and recover movement in Jake's triceps and hands," explains Kevin McCormack, senior director of public communications and patient advocate outreach at the institute. "If he can regain these functions, it will be life-changing."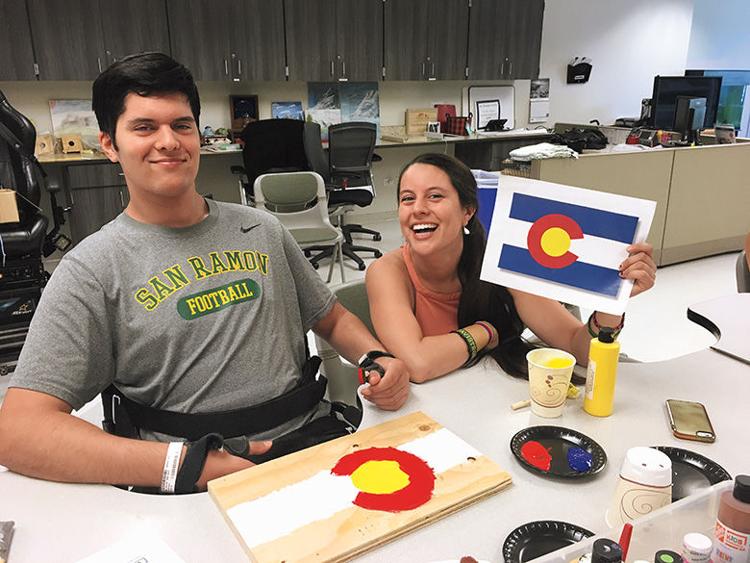 The trial wasn't without risks, however. As an early-phase trial, it was primarily intended to test whether the proposed therapy is safe. The experimental surgery could have led to unexpected complications resulting in further damage to Jake's spinal cord. Moreover, his body might reject the injection, leaving him susceptible to disease or infection. Nevertheless, the Javiers decided to participate in the trial.
During a three-hour surgery, Gary Steinberg, M.D., Lacroute-Hearst professor and chairman of the Department of Neurosurgery at Stanford University, successfully injected 10 million embryonic stem cells into Jake's injured spine. Thankfully, Jake experienced no setbacks. And while there is no guarantee the surgery will be successful over time, his role in the trial has already made an impact on the future of stem cell treatments.
"Jake was the fifth patient to have this high of a dose," says Steinberg. "A few others have received that level since."
"Jake is a pioneer," says McCormack. "His experience can really help people."
The Community Responds
As the Javier family—Jake has an older brother and sister, Cameron, 23, and Gabrielle, 20; and a younger brother, Jason, 16—stayed by Jake's side in the hospital, the community responded with love and support in surprising ways.
"Leave it to teenagers: They can do a lot of harm on social media, but they can also do a lot of good," says Isabelle. "They were sending out 'Pray for Jake' messages."
A team of moms from Monte Vista High and San Ramon Valley High got together on the night of the accident and made ribbons with the number 54 (Jake's football jersey number) to pin on graduation gowns. In one evening, they made 2,800 ribbon pins for all the graduating seniors from San Ramon Valley, Monte Vista, and Cal High to wear on their gowns the next day.
"At San Ramon, they had the pins on the seats so everyone attending could pin the notes to their shirts during graduation," says Isabelle. "I was blown away that they were able to do that so quickly."
As days and weeks passed, the Javiers were stunned by further benevolence. A young woman named Sarah started a GoFundMe account to help with the family's skyrocketing expenses. "I didn't know her before [the accident]," says Jake.
Longtime friend and neighbor Sandy Vella-Andrade started selling heart-shaped signs for $20, with all profits going to the Javier family.
"It is a fundraiser, but it's more about keeping Jake and his family in everyone's hearts and prayers," says Vella-Andrade. "They are going to struggle with [Jake's injury] for the rest of their lives, and I don't want them to ever think the prayers and support will stop. They are a great family. We just want Jake to know that he is loved."
KTVU Fox-2 news anchor Julie Haener, whose son played Thunderbirds football with Jake when they were children, did several stories about the Javier family during the weeks following Jake's accident. The veteran news anchor says the stories were some of the most impactful of her career, and that she has received reactions to her news stories and Facebook updates from as far away as Europe and Australia.
"So many people were inspired by how poised Jake has been," says Haener. "He never complained. It is inspirational to see how someone can have their world turned upside down in an instant, and come out of it in such a positive way."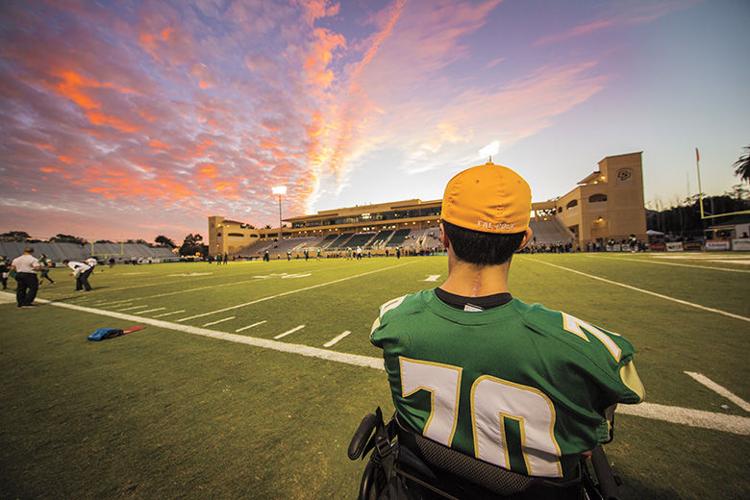 The Future
After several months at a special rehabilitation clinic in Colorado, Jake will move back home in April. The Javiers have renovated their home to accommodate Jake's wheelchair and his physical needs: It takes two to three hours for him to shower, stretch, and get ready each day.
Sitting in his wheelchair, Jake seems wise beyond his 19 years. He's not bitter that he's in a wheelchair or that he's missing his first year of college in San Luis Obispo. "This is my gap year," says Jake, who still plans to study engineering. "I want to be ready to go to college next fall."
Jake was the captain of the football team during his senior year at San Ramon Valley High. His teammates saw him as focused and principled—a kind, determined leader. When asked how his injury has changed his feelings about leadership, Jake responds, "I always thought that leading by example was a great way to go. In that sense, it has not changed. Even though it's a completely different perspective, I can still lead that way. I can just try to be the best I can and to persevere the best I can."
While he won't be leading the football team at Cal Poly SLO (the team has kept him on the active roster), Jake sees new directions of leadership. He wants to be an advocate for people with wheelchair disabilities and for stem cell research. In December, Jake spoke to the board of directors at the California Institute for Regenerative Medicine. "Those are the people who made [my stem cell surgery] happen, so I [thanked] them," he says.
Jake also wants to thank the Danville community, both friends and neighbors, and the thousands of strangers who have shown support. "I have received so many cards that say, 'I don't know you or your family but want you to know that I am praying for you,' " he says.
Most of all, he wants to thank his family, who have been by his side 24 hours a day since the accident. "They are the best. Always having someone with me while I was in the hospital—I needed them so much. Their love is everything."
---
To follow Jake's recovery or to make a donation, go to javistrong54.com.