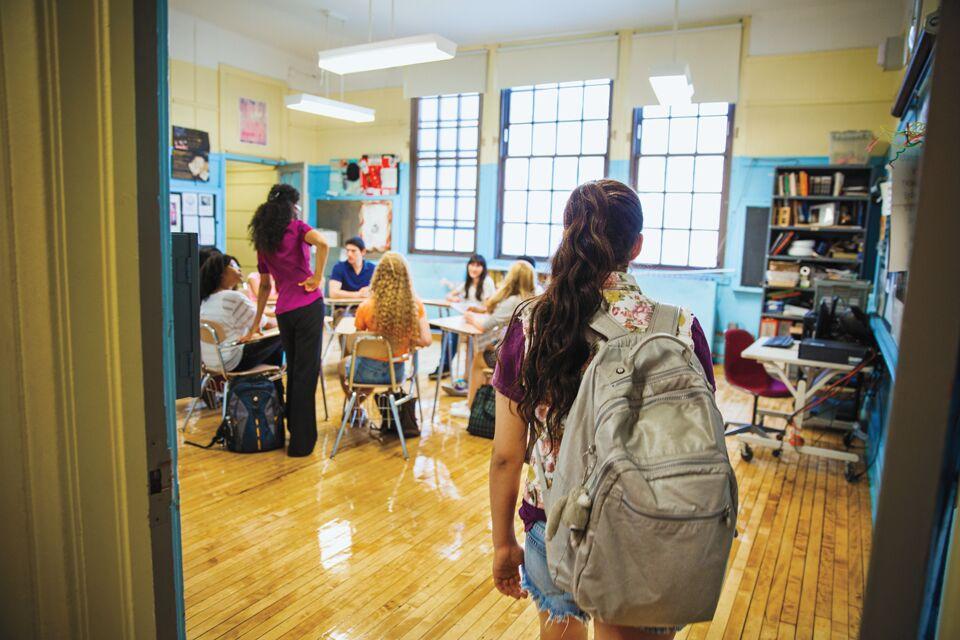 When high schools reopen this fall, some things will be—
refreshingly—the same as ever.
There will still be smart girls and big boys. There will still be long papers and tough tests. There will be football games on Friday nights, plays in the theater, and debate tournaments on the weekends. High school, in short, will still be high school.
Of course, it may take a little bit longer for the familiar routines
to reassert themselves, but after
a long year of mostly remote learning, students, teachers, and administrators are eager to make these comforting rituals—and some not-so-comfortable ones—part of daily life again.
EMBRACING THE NEW NORMAL
So yes, it's back to school, and if 
all goes as hoped, back to normal. "I don't think it's going to be that difficult," says John Malloy, Ed.D., 
superintendent of the San Ramon Valley Unified School District (SRVUSD). "It's what we do." And by "what we do," 
Malloy means what schools deal with 
every fall: meeting kids where they are academically and socially, and helping them move forward as quickly as they can.
Of course, Malloy and other teachers and administrators know that there are more challenges in the late summer of 
2021 than usual, but the difference is more in degree than in kind.
For example, take the educational cliché about "meeting kids where they are." Simply put, it means that the 
children in any classroom at any grade level are all at different places, educationally and socially, and it's the job of the teacher and the school to get them 
to the same place.
"There's going to be more time spent at the front end to assess where kids are," says Kelly Cooper, principal of Walnut Creek's Northgate High School. But since Northgate and most other high schools offered summer catch-up courses, the gap between the best students and the worst may not be that great.
"Some kids have succeeded better working virtually,"
says Malloy, even some of those who didn't do that well with in-person learning. There were fewer distractions, in many cases, and actually more time to study.
"I didn't have to spend nine hours a day at school," says Jordan Jewell, an incoming sophomore at Northgate. 
"I had more time to work at my own pace and on 
my own schedule. For people who were motivated, distance learning will pay off."
"Some students really thrived," adds Cooper, "but some students did just the opposite." And some, 
of course, took full advantage of the lack of supervision to, shall we say, enhance their ability to do well on tests.
"We don't know if our assessments are valid," concedes Cooper, so there will be more time spent in the early weeks of school figuring out what students did and didn't learn during distance and hybrid learning.
And, no doubt, there will be many more bumps in the road than usual.
Ronit Batra, a senior at Monte Vista High School, encountered this already. "At the semester break 
last year, we switched classes around and a group 
of students that had had another teacher came into our class. They were four to six chapters behind us. And you don't have time to make up a whole year."
The problem may be especially acute in science and math classes, where one year's study picks up where the previous year's left off.
"Everything is interrelated," says Batra, who is the student member of the SRVUSD Board of Education. "If you don't have a strong algebra background, geometry is going to be harder."
"There will be content that won't have been covered," says Nimarta Grewal, director of secondary education for the Pleasanton Unified School District. On the other hand, world history isn't dependent on American history, nor does slogging through The Scarlet Letter one year add or subtract much from reading Brave New World the next.
Still, "we're trying to build in additional time for teachers to collaborate with each other," says Grewal, so that this year's 
instructors know just how much last year's covered.
CONNECTIONS BEFORE CONTENT
If it sounds like teachers are going to be especially busy this fall, that's exactly right. Not only must they work with their peers to determine what was learned last year, they must also spend extra time identifying and assisting students who, for whatever reason, are behind the rest of the class.
In the San Ramon Valley school district, there will be concrete help for those harried teachers. "We hired 22 teachers on special assignment," says Malloy. But in many ways, what happens in the classroom is less important than what happens outside of it, because "when kids feel a sense of connection, they're ready to learn," Malloy adds.
"I'm less concerned about the academic gap than the psychological gap," says Northgate's Cooper, as students have unavoidably lost many of the connections that tied them to their school. Or, as Batra puts it, "You're not going to be making friends in a breakout room."
"Connections before content," says Grewal. "We've got to make sure students are connected." To that end, the high schools in the Pleasanton district will have three advisory periods a week instead of two, allowing for more time for students to interact socially. In the San Ramon district, more counselors will be on board, even at elementary schools where access was limited before.
Many connections, though, are made through extracurricular activities, from drama and chess clubs to sports, and there will be extra focus on getting students involved this fall. "We're going to build opportunities for students to connect," says Malloy. "It's important for high school students to feel a sense of community. Kids' involvement in arts and athletics makes a huge difference 
in engagement."
To ensure students have every chance to find their niche, new student orientations will be expanded at many schools, and "club days"—when on-campus clubs set up displays to recruit new members—will last longer. "It will feel more like a carnival," says Janelle Woodward, assistant superintendent for teaching and learning in the Pleasanton district.
Clubs are also important because they include kids from all grade levels, something Batra thinks is especially 
important at Monte Vista, which had no in-person classes until the school went to a hybrid model in March. Even then, many families chose to keep kids remote. "Half the student body—the sophomores and new freshmen—will never have set foot on a high school campus before," he says. "It could be a scary experience."
With that in mind, Batra hopes the older students will be a little kinder to the freshmen and sophomores than they traditionally are. "There's an obligation for juniors and seniors to help the younger students adjust," he says, and he thinks that the club setting is crucial in that regard. "Social interaction between kids of different grade levels can be really helpful. Once you know someone, you're less likely to be toxic to them."
Jewell is one of those students who has yet to spend a day as a high school student on campus, and she's looking at sports as a way to get involved.
She played basketball and soccer at 
Concord's Kings Valley Christian School, and she "can't wait to get back into it."
Jewell accepts that some confusion is inevitable, even though her younger brother will be on campus as well. But he will be a freshman, so it's not as if he can help her find her way around. "I guess we'll both get lost together," she says with a laugh.
GETTING UP TO SPEED
Speaking of lost, high school athletes 
forfeited some or all of a year's development, both socially and physically. Batra's lacrosse season was just 12 games long, and he missed the camaraderie of a full season, but "to a certain extent, it's a 
loss that can be made up," he notes. That said, it was different working out on 
his own.
"If you wanted to work on your skills to become a better player, it was up to you," he says. "Usually, you would have had someone pushing you and guiding you."
On the other hand, activities like speech and debate simply shifted online, and many athletes continued their sports in off-campus teams.
Right now, though, administrators are planning to get everything from football to drama up to speed sooner rather than later. "Schools are going to try to make it as close as possible to what it was before," says Batra.
"We want kids to hit the ground running," says Malloy.
Surprisingly, a year of distance learning may have eased the transition for some. Now, instead of adjusting to both the social and academic jump from middle school to high school at the same time, those who spent some or all of their 
freshman year at home may actually 
find it easier.
"I feel like distance learning made the 
transition to high school better," says 
Jewell. "I feel a lot more comfortable." 
And now, she is ready to go back to school and return to whatever normal might be in 2021.
"Right now, I'm looking forward to 
it," says Batra, "but after the first couple 
of weeks, I may want to go back to 
hybrid."
And what could be more normal than wishing you didn't have to go to school?
FIVE TIPS FOR PARENTS
HOW TO EASE KIDS' TRANSITION BACK TO SCHOOL.
The trip back to school always includes some emotional baggage, so the more parents treat it as business as usual,
the easier it will be for everyone. Lafayette therapist Jeannette Harroun has some tips to help things go as smoothly as possible this year.
1. TALK ABOUT FEARS
"And really listen," she says, because fear of catching COVID may not even be on the list of student worries, as kids are likely to be more concerned with the social and academic challenges they'll face this fall. "For little kids," says Harroun, "keep it pretty short." And the less emphasis on the negative, the better.
2. EASE INTO A ROUTINE
Harroun suggests gradually getting kids up a little earlier so the alarm on that first day isn't quite as big a shock. "When school hits," she says, "you don't want to be saying, 'Oh, my gosh.'"
3. TAKE A WALK ON CAMPUS
For those who are starting at a new school, walking through the campus before school opens might be
a good idea. Just knowing where the main office is can 
be comforting. If middle schoolers are embarrassed by 
wandering around with their parents, set up something with a couple of friends and let the group explore on their own.
4. STICK TO FACTS
Some children will be concerned about their safety, but feeding their fears won't help. "We wouldn't be going back to school if it wasn't safe," Harroun says. And if kids need more reassurance, show them the CDC guidelines and let them see what the experts say.
5. BE POSITIVE
Back-to-school anxiety isn't limited to students. "Parents have been under a lot of stress too," says Harroun, "so it's a good idea to slow down and take a breath."
One thing Harroun suggests is a little self-examination. "What am I putting out to my kids?" is a question she feels parents should be asking themselves. "Model the behavior you want to see in your kids."
Of course, children may still be grumpy. They're getting up early, they have homework, and there's always plenty of drama with friends and foes. "They're going to complain," says Harroun, but remember, kids always complain.
"It's normal," she says. And really, getting back to normal is what it's all about.