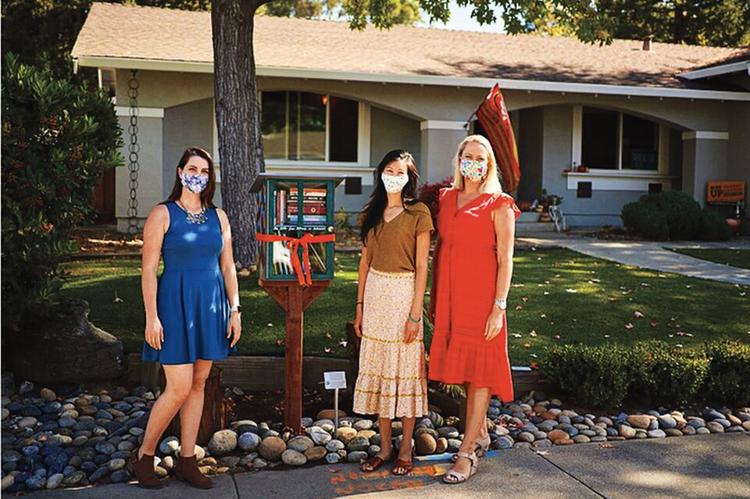 Last summer, Sarah Foster, Meg Honey, and Jenny Roy organized a memorial for George Floyd, a Black man killed by a police officer in Minneapolis. The Walnut Creek moms gathered with their children and dozens of community members on June 18 to kneel in silence for 8 minutes and 46 seconds—the amount of time it took for Floyd to be choked to death—to recognize the brutal treatment countless
Black Americans have received throughout this country's history.
"The Juneteenth event was important, but we wanted to do something that wasn't performative, but sustainable," says Honey. "We wanted to make a change in our community to assist children and families [to understand the causes of racism and to eliminate injustice]."
Foster, Honey, and Roy decided to create a series of Little Free Antiracist Libraries,
the first of which is located by the sidewalk in Honey's front yard. Three more libraries were installed in the Walnut Creek neighborhoods near Northgate High School by the end of the year. Each library is stocked with books that celebrate diverse writers and speak to the Black experience. The books are purchased from Black-owned bookstores such as Oakland's Marcus Books, the oldest Black-owned bookstore in the United States, and each library is decorated by a local artist.
The moms have been thrilled by the positive reactions they have seen from families who have borrowed books—some of whom don't even wait to get home to start reading.
"We have little reading areas on tree stumps outside of each library," says Roy. "One of our goals was to make this work accessible to this community."
The moms' Rise Up Against Racism program has been met with tremendous enthusiasm through social media posts, and it could expand exponentially via a new 
Community Antiracism Reading and Engagement program. Thanks to donations from two households in Burlingame, Rise Up Against Racism will install the fifth and sixth libraries in that South Bay city in early 2021, which will 
be matched with two more libraries in underserved 
communities.
"As I read and educated myself in this space, I realized that this is a lifelong lesson," says Foster. "I'm excited that we will have these books for our children to read."
For more information about library locations and ways to help, go to ruar.org.
Quick Picks
Diablo asked the founders of Rise Up Against Racism to recommend books that are available in the Little Free Antiracist Libraries.
> Sarah Foster: White Fragility: Why It's So Hard for White People to Talk About Racism, by Robin DiAngelo
> Meg Honey: Caste: The Origins of Our Discontents, by Isabel Wilkerson
> Jenny Roy: Kamala and Maya's Big Idea, by Meena Harris