She's been a business owner, a singer, a political delegate, and a civil rights activist—and she holds the title of America's oldest working national park ranger. Today, at the age of 96, Betty Reid Soskin—who published her century-​spanning autobiography, Sign My Name to Freedom: A Memoir of a Pioneering Life, earlier this year—shows no signs of slowing down.
The Oakland-raised Soskin, whose great-grandmother was born into slavery, has spent much of her life on the front lines of history, having witnessed decades of racial inequality. During World War II, she worked as a clerk in a Jim Crow union hall in Richmond; later, she raised a family in segregated Walnut Creek in the 1950s and '60s. These days, she serves as a ranger at Richmond's Rosie the Riveter WWII Home Front National Historical Park, where she delivers rousing talks about her experience as an African American woman in the era of "Rosies"—ladies who worked in factories to support the war effort. There were very few (if any) black Rosies, Soskin points out, so she's using her platform to tell a more inclusive version of history.
Diablo met up with the East Bay icon to discuss her fascinating journey.
Q: What appeals to you about being a park ranger?
A: Of all the federal agencies, I think [the parks system] is more humanizing than any other. If we're to learn empathy, it's going to be through arts and culture and environmentalism. I think there are more opportunities for that kind of learning in the National Parks Service than any other agency.
Q: You and your family were among the first African Americans to move to the East Bay suburbs. What was life like for you in Walnut Creek back then? You've said you received threatening letters, and even had a cross burned on your lawn.
A: I think it's notable that, [while] we were living in a very hostile climate in the '50s and '60s, that same community sent me to represent them as a [George] McGovern delegate at the 1972 [Democratic National] Convention in Miami. That's how fast social change was occurring. Some of the deepest growth I had as an adult, I had out there—because, just as my family of color was a target of bigotry, we were also visible to people who wanted to validate their liberal credentials. I could have parked on the City Hall lawn without getting a ticket, because the mayor was a friend of mine. That was a life of contrasts. There were as many good as there were bad. Fortunately, I think the positives won out, because I came out unscathed, and some of my deepest friendships were formed out there.
Q: What does it mean to you to be part of the Rosie museum, when the history of Rosie the Riveter is one you've been excluded from?
A: I've helped to modify that. My fingerprints are all over this place. But I think there is a legitimate feminist story to be told [here]. I hope that we one day recruit a badass white feminist who is just as enthusiastic about her history as I am about mine.
Q: How has the East Bay shaped your identity?
A: It's the only place I know. I've lived my whole life within [a radius of] 30 miles. But now I've traveled; my life has taken me to a lot of places, so I have some points of comparison that I didn't have growing up. But this is still the place for me. The Bay Area still leads the nation in social change. This is where the desegregation of the armed forces occurred as a result of the Port of Chicago explosion. Public radio and public television came out of [the Bay Area]. The hydrogen bomb was born in Lawrence radiation lab in Berkeley; the U.N. was born in the San Francisco opera house; same-sex marriage came out of San Francisco. Silicon Valley isn't where it is by accident. You can make your own list, but this is still the place of social change. And that's what keeps it, for me, fresh. Because I see the huge potential, the huge risks. There's a political resilience here that doesn't exist anywhere else.
Q: Your 97th birthday is coming up in September. What do you hope your legacy will be?
A: I don't know. I am as surprised by what happened to my life as anybody. [But] if I thought about it, I really have lived a life without compromise. I lived the first half of my life adapting to the world, and I think that I failed at that. In the last couple of decades, I've allowed the world to adapt to me, and that seems to be more successful. I just wish I'd known how the world worked a lot earlier. As long as one is having first-time experiences, [one gets] the sense that life is still unfolding. But you have to be open to it; you have to recognize the newness. I must have a talent for doing that.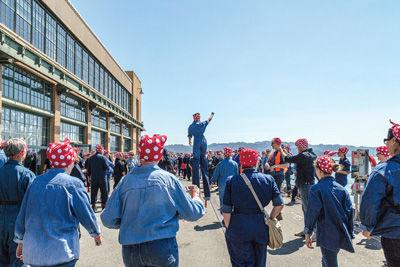 A More Inclusive Rosie Rally
Each year, hundreds of people dress up as Rosie the Riveter and flock to Richmond for the Rosie Rally Home Front Festival, which honors the legacy of America's female World War II–era home front heroes. Thanks to Betty Reid Soskin's influence, however, the 2018 Rosie Rally celebrates all the workers, from all backgrounds, who got involved in the war effort—not just the women who labored in factories. Bring the whole family to the free August 11 event, which features music, games, dancing, costume contests, and more. rosietheriveter.org.