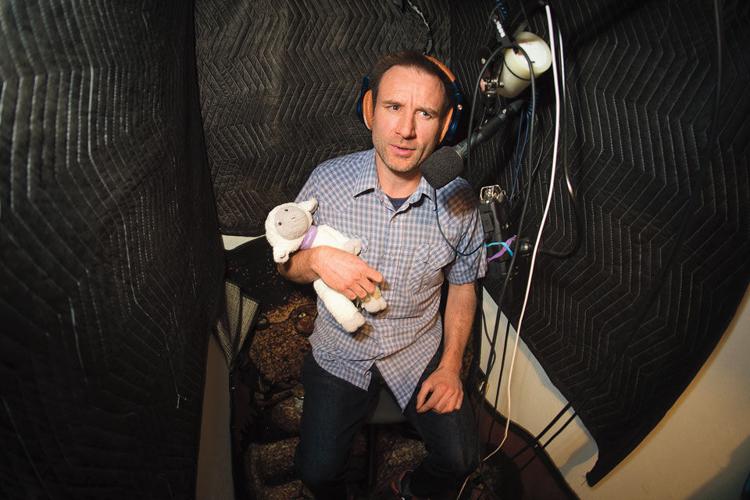 In an apartment in Alameda lives a man who tells bedtime stories from his closet beneath the stairs. Drew Ackerman's podcast, Sleep With Me, is a collection of tales downloaded by insomniacs more than 3 million 
times every month. As his alter ego, Scooter, Ackerman leads listeners through the rough terrain that can be encountered on the way to the Land of Nod, while he avoids fascinating plotlines that might keep a person up, wondering what happens in the end. The podcast's humor is laced with giddiness, as in an episode about collecting door-knock sounds, a hobby that takes the host on a tour of particularly resonant doors. Spiders, snakes, airplanes, and money never make appearances. Instead of uttering a word like stress, Ackerman spells it out. His recaps of TV shows are jammed with extraneous details, and he talks his way through recipes in which Trader Joe's ingredients are eventually transformed into dinner. An occasional stammer, some repetition, and sweetness are all part of his calm but idiosyncratic bedside manner.
Talking with him in the daytime is disorienting for a Sleep With Me listener used to Scooter's creaky voice and wandering tangents. In the daylight, Ackerman speaks crisply and logically—though, like Scooter, he punctuates his comments with "holy cow!" Produced since 2013, Sleep With Me is frequently in the top 10 most-downloaded podcasts in Apple's Health and Fitness category and within the top 200 overall. "It's been slow word of mouth," Ackerman says. "The first few months, I was getting like 4 downloads a month, then 10, then eventually 30."
Some listeners pay for memberships, which include bonus content and extra episodes, to support the podcast. Most episodes are free. 
As Ackerman points out, "Sponsors prefer customers who are awake," so he gets around that by mentioning promotions at the top of the show, suggesting a listener remember them the next morning, "when your hand hits the fridge."
The show's forbearer is Dr. Demento, a radio broadcaster with a weekly show that, as a child, Ackerman would tune into when unable to sleep. Until last year, Ackerman worked as a librarian for the county of Alameda; he also wrote short form comedy on YouTube. In his current career, those vocations come together: He's both the guardian of quiet and the entertaining jokester. sleepwithmepodcast.com.