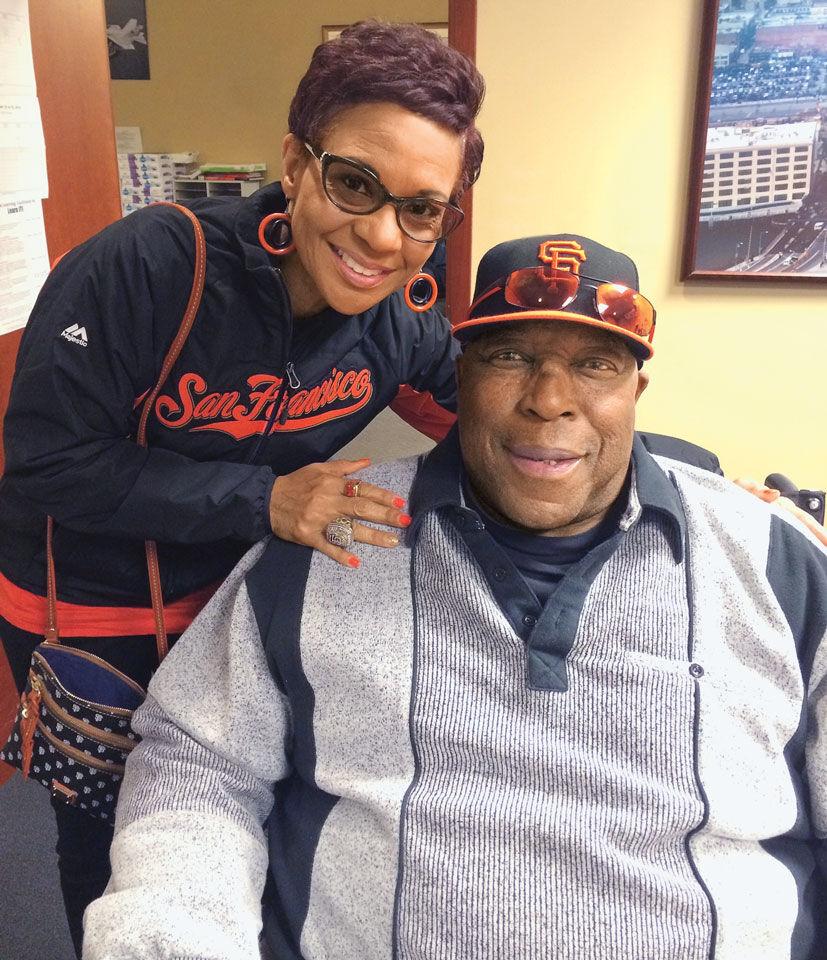 Every home game played by the San Francisco Giants features the voice of Renel Brooks-Moon welcoming fans to the ballpark and announcing the names of the players. Brooks-Moon has been the Giants's ballpark announcer since the team moved to its China Basin home in 2000. We caught up with the Oakland native about her love of the game and her lifelong roots in the East Bay.
Tell us about your connection to the East Bay.
I was born at Kaiser Hospital in Oakland. It was the early 1960s, and 
it was a diverse neighborhood and a welcoming community. During my childhood, I lived a little bit in Oakland, a little bit in Berkeley, and a bit in Richmond.
My dad was the first Black high school principal in San Francisco, and we were supposed to move to San Francisco but no one would sell a house to us. We moved to the Peninsula, and I certainly was not welcomed in school. It was a very lonely place to be. When I came to Mills College to study English literature, it was my decision to return to Oakland, and I loved it there.
What are your favorite childhood memories of baseball in the Bay Area?
My earliest memories are of Candlestick Park when I was 4 or 5, and it was wonderful. My fondest memories are riding BART with my dad and my brother to go see the A's compete in playoff and World Series games in the early 1970s. There were so many people coming from all directions of the Bay Area, and everyone was excited.
When the Giants played in the 2002 World Series, you became the first woman in any sport to announce a championship game, and they put your scorecard in the Major League Baseball Hall of Fame. How did it feel to make history?
It means so much to my family—I am so lucky that my beloved late father lived to see that. We lost him in 2003. I tease my husband and my brother, who would have loved to play in the Majors. Of the three of us, I'm the one who wound up getting into the Baseball Hall of Fame. It is mind-blowing when I think of it.
You announced games last year, when there were no fans in the stands. What was that like?
I very much missed the energy and presence of fans, and it was emotional to be there because a lot of my colleagues had been laid off. Walking past the empty concessions stands was sad—it's a big part of my routine to say good evening to everyone. I am so excited that they are back.
You are involved with so many nonprofits and community organizations. Are there any that stand out as favorites?
They are all important. Community service has always been important in my family. My parents set that example—if you are successful and bust down a door, you need to bring people through that door.
Just to name a few: I have long been friends with Eva Paterson, president and cofounder of Equal Justice Society; it has been an honor to draw attention and raise awareness for them. The same is true for Equal Rights Advocates, which fights for women and LGBTQ+ and underserved members of our society. I was the ambassador for the Giants Race last year, which was all virtual. I was the first woman to be ambassador, because they usually get a former player to do it. And the Girl Scouts of Northern California always have my heart.