Nestled in the high alpine Brush Creek Valley, offering views of Rocky Mountain crests like the 14,018-foot Pyramid Peak and the 14,156-foot Maroon Bells, Snowmass is a star member of a four-mountain troupe around the chic town of Aspen, Colorado. It's the largest of the Aspen Snowmass mountains, comprising 3,332 acres of scenic terrain where the options for winter fun are practically unlimited. There are wide groomers; a mid-mountain learning center for beginning and intermediate skiers and riders; several ski and snowboard terrain parks for those who like tricks and catching air; and a lofty cirque, steep chutes, and tree-lined canyons for advanced snowboarders and skiers.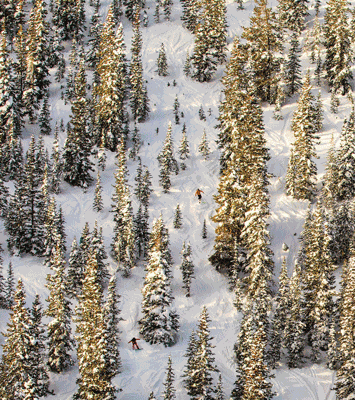 Greeting Snowmass snowboarders and skiers this season are the first phases of a $600 million base-village transformation—a decade in the planning—that's bringing a luxurious new Limelight Hotel (with a built-in, five-​story climbing wall), 56 residential units, a public plaza and ice-skating rink, upscale stores, and sophisticated eateries to an already-refined resort setting. In addition, the stately Viceroy Snowmass hotel has been renovated, and a slew of on-mountain upgrades, including the Alpine Coaster ride, appeared at the start of this 50th season.
Even though Snowmass is a leading ski area today, its origins are decidedly humble: It started in 1963 as a snowcat service that charged $10 a day for guided runs on hundreds of acres of powdery terrain. Gradually, it morphed into Aspen's little sister, and the resort officially opened in December 1967. Legendary Olympian Stein Eriksen—Snowmass' first director of skiing—helped set the resort on track to become one of the most renowned in the Rockies, if not the world. Over the years, Snowmass has grown from a hippie haven to a world-class destination for celebrities—and for East Bay skiers seeking more bountiful snow than what's fallen in California in recent years. Bonus: The Aspen Snowmass Free-skiing Open, one of the longest-running open ski competitions, takes place February 22–24, attracting amateurs, professionals, and spectators to Buttermilk Mountain.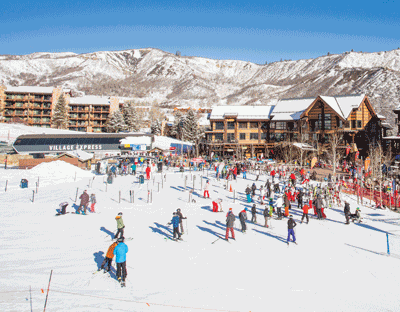 Much of the lodging at Snowmass is ski in, ski out—a real treat if you've ever struggled to get from the hotel to the slopes in a shuttle bus or car after gearing up for the day. Top choices include the Viceroy Snowmass, The Westin Snowmass Resort, and The Stonebridge Inn, plus many condominium lodgings. viceroy​hotelsandresorts.com/snowmass, westin​snowmass.com, www.destinationhotels.com/hotels-and-resorts/the-stonebridge-inn.
BEST IN SNOW: THREE PERFECT DAYS 
Craving a winter escape to the mountains? Snowmass is an exceptional, easy-to-access choice. There are plenty of flights from the Bay Area, and you can get to Aspen/Pitkin County Airport in just a few hours. (Direct from SFO costs about $550, while a one-stop flight from Oakland is roughly $340.) Here are some options for a long weekend on these Rocky Mountain slopes. aspensnowmass​.com/plan-your-stay/winter-activities.
Day One
A white Cadillac SUV picks you up at the tiny, friendly airport and spirits you to the recently remodeled, deluxe digs of the Viceroy Snowmass, with 160 luxury units conveniently located on slope. After a light breakfast at the hotel's new Café V, grab your gear on the third floor at Four Mountain Sports, and head out to the Assay lift just outside the hotel. (From February 10 to April 7, one-day lift tickets cost $169 for adults and $112 for seniors and children ages seven to 17.) Spend the morning exploring the mountain, riding the Elk Camp Gondola or Elk Camp Chairlift for an introductory overview of Snowmass' panoramic perch in the Rocky Mountains. After taking in spellbinding views of 14,000-foot peaks and rugged deep valleys, ski back to Elk Camp for lunch, then catch a thrilling ride on the Breathtaker Alpine Coaster, where you'll experience a fast, twisting, more-than-a-mile-long, 410-foot vertical plunge down the mountain. A $49 per-person Activities Pass includes a two-hour session, with access to tubing and the Alpine Coaster.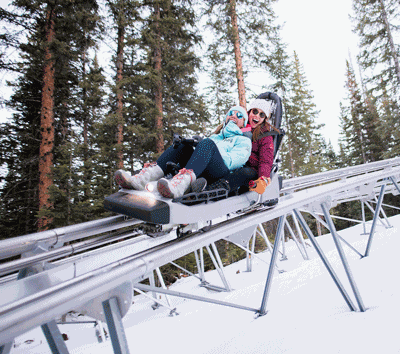 Once you're ready to unwind, head back to Snowmass Base Village for happy hour, and sip some craft beer or hot cider at the woodsy Base Camp Bar and Grill. For a real après-ski treat, try a holistic treatment at the Viceroy Snowmass spa. Its deep-tissue Swedish massage melts away those first-day-on-the-hill aches. For dinner, fine dine at the Viceroy's elegant, Latin-inspired Toro Kitchen and Lounge—which debuted earlier this season in a cozy, remodeled space. (For more dining options, visit gosnowmass.com/snowmass-dining.)
Day Two
After an all-American breakfast at Big Hoss Grill in Snowmass Village, ride the Village Express lift to Sam's Knob for a variety of blue and black runs. Once you've warmed up, catch the Big Burn lift from the mid-​mountain eatery Ullrhof to try some narrow gully runs such as Mick's or the wide-open Dallas Freeway cruiser. Make your way to the Sheer Bliss chair, and drop in on double-black-diamond runs that will take your breath away. Fortify with a burger or mac and cheese during lunch at Ullrhof before hitting the mid-resort slopes again in the afternoon.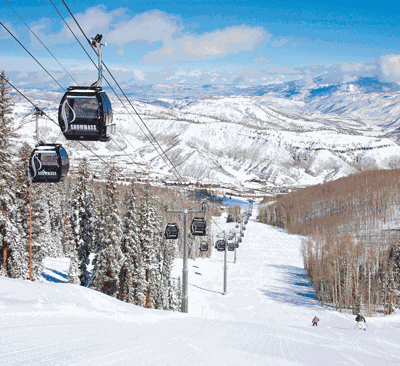 An exhilarating day of skiing or boarding calls for some relaxation. The slope-side outdoor hot tub and pool at the Viceroy fits the bill perfectly. For dinner, catch a hotel shuttle to The Stonebridge Inn for a fireside meal at The Artisan Restaurant.
Day Three
If you're craving a challenge, head to Snowmass' expert terrain: the Cirque and the Hanging Valley. Ride the Big Burn or Sheer Bliss chairs up the mountain, then make a short journey to the Cirque Poma lift for a land-based ride to the summit. The elevation here is 12,510 feet, so you should take a minute to catch your breath and enjoy the stunning views before pursuing advanced runs like Gowdy's and the Cirque Headwall. For more thrills, take the High Alpine chair to the Hanging Valley, with its notoriously steep chute runs and glades.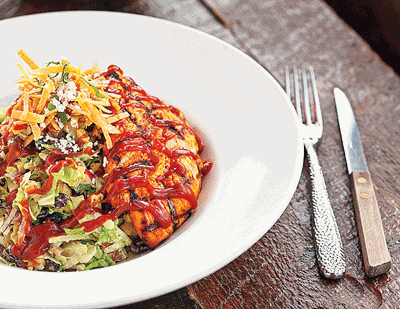 After all the morning excitement, head to Gwyn's High Alpine for lunch. Gwyn's has been a staple at Snowmass since 1979, and the family-owned restaurant occupies the same spot it did nearly four decades ago. You have a choice between casual and fine dining; imagine lobster and shrimp fondue, or a rack of grilled New Zealand Cervena elk with wild lingonberry sauce. (For extra comfort, trade your stiff boots for loaner Crocs at the door.)
Spend the rest of the afternoon on the slopes, then indulge in a Mexican-style dinner at Venga Venga Cantina and Tequila Bar, a favorite local spot for cocktails and tacos.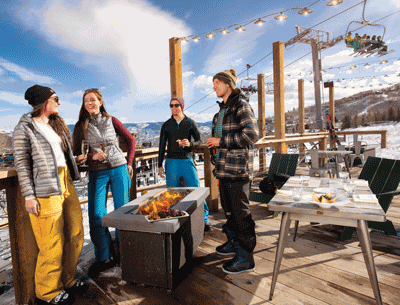 Going Above and Beyond
Not-to-be-missed events and attractions
➤  Snowmass History Ski Tour: Experienced skiers and riders can ski with an Aspen Historical Society volunteer on a 50th-anniversary history tour. The free, 90-minute excursion leaves from the top of Sam's Knob at 11 a.m. and 1 p.m. on Tuesdays. A ski pass is required. aspenhistory.org.
➤  Cozy Cabin Fare: Lynn Britt Cabin (reached via snowcat) offers gourmet four-course dinners and live bluegrass music Tuesdays to Thursdays (through March). On Wednesdays, the meal is family-style, with a three-course chuckwagon dinner. The cabin is also open daily for lunch (accessible by ski or snowboard only) and hosts après-ski evenings on Fridays, Saturdays, and Sundays (starting President's Day Weekend). gosnowmass.com/dining/lynn-britt.
➤  Ullr Nights: Honoring Ullr, the Norse god of snow, Elk Camp (perched at the top of the Elk Camp Gondola) is transformed into a winter wonderland on Fridays from 5 to 9 p.m. Guests can enjoy classic winter activities such as guided snowshoe tours, snow biking, snow tubing, and the Alpine Coaster track-sled ride. Live music, s'mores, and hot chocolate by the bonfire round out an extraordinary evening on the mountain. aspen​snow​mass.com/plan-your-stay/winter-activities/ullr-nights.
➤  Back to the Ice Age: Visit the Ice Age Discovery Center at Snowmass Village to learn about the area's remarkable on-​mountain discoveries: one of the richest caches of Ice Age bones ever found. A resident paleontologist offers a wealth of information about the collection, consisting of tens of thousands of bones from 52 different species, including mammoths and mastodons. Open daily from 10 a.m. to 5 p.m., free, snowmassdiscovery.com.
➤  Free Bus to Aspen: The Roaring Fork Transportation Authority (RFTA) regional bus system offers frequent and free buses to Aspen (about 30 minutes each way). The storied mountain town is packed with art galleries, high-end boutiques, and eateries. Throughout the season, there are numerous cultural and musical events on offer, including Trombone Shorty on February 2 ($55) and the Peking Acrobats on February 8 ($50), both at the Wheeler Opera House. aspenchamber.org/events.
Snowmass by the Numbers
➤  2 skiers per acre (on average)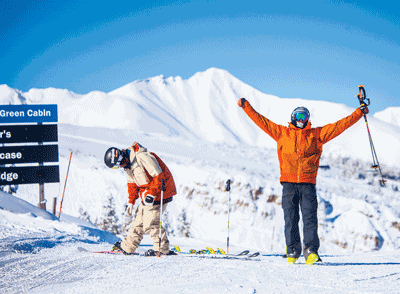 ➤  4 ski zones, including Sam's Knob, Big Burn, High Alpine, and Elk Camp
➤  5.3 miles on a single run
➤  20 lifts accessing 96 trails and covering 151 miles
➤  4,406 feet of vertical rise, the longest lift-served terrain in the United States
➤  32,358 riders per hour capacity (so lift lines are minimal)
Enjoy a journey through Colorado's alpine history by watching 50 Years of Mountain Spirit, a film by Greg Poschman. You can also find extras and deals celebrating the resort's history such as weekly champagne toasts in Snowmass Base Village, and restaurant specials for $19.67 (for a beer and a burger) and $50 (family meals with the works or tasting menus) at a variety of eateries: gosnowmass.com/50-years.