Making big life decisions or minor life changes can be challenging for many of us, but author/business coach M.J. Ryan understands that the best advice comes in small packages.
The longtime Walnut Creek resident has made a career out of exploring happiness and compassion: The 1993 book she cocreated, Random Acts of Kindness, sold more than one million copies. Now, she is guiding others toward personal and professional success with the aid of some short and
simple phrases.
Her latest book, Habit Changers: 81 Game-Changing Mantras to Mindfully Realize Your Goals, breaks down complex concepts surrounding communication, confidence, relationships, and other topics, into digestible bits that will resonate with the multitasking parent and the busy executive.
Ryan spoke with us about helping people change, the impact of Random Acts of Kindness, and breaking her own bad habits.
---
Q: What is the story behind Habit Changers?
A: I was working with this man who had been told that he was the worst boss. He didn't know how to delegate; he would give his staff a project and then take it back from them. I was yammering on about how he could make sure they were doing jobs right, and he told me: "I need it simpler, or I am not going to remember."
So, I said, "When you talk to them, tell them what you want, the result you are looking for, why it's important, but not how to do it. The how is up to them." He wrote himself a little piece of paper that said, "Give what and why, not how."
When he met with people, he would say it to himself, and he totally changed. I realized that I needed to make it simpler for everyone. I started giving out these little slogans, and that is where the book came from.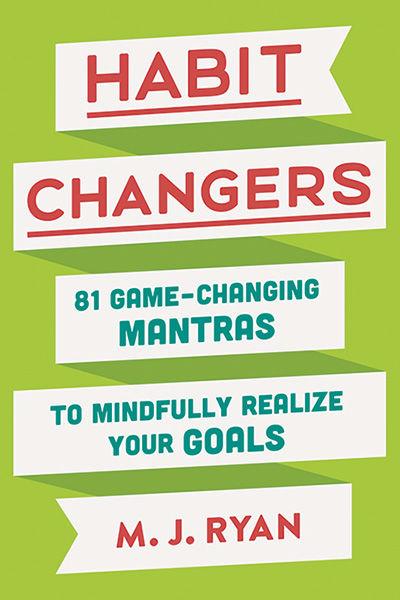 Q: What habits of your own do you want to change?
A: The history of my books is also the history of things I needed to learn: to be more grateful. To be more patient. To be happier. I have worked on a lot of those things, and I am much better at them, but patience is still one I could use help on. I have infinite patience for people, but no patience for traffic or stuff that doesn't work.
Q: How did you get into writing and editing in the first place?
A: It was a complete accident. I found a job at a weekly newspaper in Santa Barbara and discovered I was good at editing. Then, I moved [to the East Bay] and specialized in magazines, of which I knew nothing. I was the head of Inside Tennis magazine, and I don't play tennis. For five years, I was the executive editor of Family magazine [in Lafayette], which was for military wives. I was neither in the military nor a wife at the time.
Q: You cofounded Conari Press in Berkeley in 1989. What sparked the idea?
A: My then partner decided we were going to start a book publishing company. I am not a big risk taker, but we did it and were successful from our very first book. [Eventually], we figured out if we wrote some of the books, we could save the money we were paying our authors. I started creating books under the name Editors of Conari Press. I wrote Random Acts of Kindness and then a series that did really well. At the back of the book, we said: "Send us your stories." We unleashed this thing; the mailman was like Santa Claus, coming in with sacks of stories.
One of the letters we received was from this kid who said he had just graduated from high school and that he had been planning on killing himself. His mother gave him a copy of the book, he read it, and he decided life was worth living.
The idea that a book could save someone's life is just unbelievable. To have it turn into this whole other thing was amazing and made me want to have a greater impact.
Q: How, then, did you make the jump from book publishing to coaching?
A: We published in the areas of personal growth, spirituality, leadership. I got more and more interested in those subjects. One of my authors was a woman named Dawna Markova. She had what she called a thinking partnership company. We were best friends, and when I knew I wanted to leave publishing [in 2001], she said, "Why don't you come work with me."
Q: What are the biggest challenges of coaching?
A: Figuring out how people really change. Our brains are perfectly circuited to do what they are already doing, so to do something else takes real work.
Q: How does compassion come into your work?
A: Self-compassion is a crucial component to change. If you want to create change, you have to keep noticing when you are doing it right and figure out how you did it to reproduce success. Instead, more often, we focus on what's wrong; we then feel discouraged, and we get nowhere. It is a huge shift to pay attention to what is working.
Q: You've built a career on helping people help themselves. What do you think about the criticism that self-help books don't work?
A: There are a lot of really crappy self-help books out there. There is a lot of generic advice, a lot of making it seem too easy. This does people a real disservice because then you think, Why is it hard for me?
There is a real problem with this notion of "expertocracy"—all these people telling you what they think you should do. To me, the best expert in your life is you. I don't think of myself as an expert; I am a partner.
Q: You are open about growing up with an alcoholic mother and an absent father. How did that affect you and your work?
A: When I was very young, I had to figure out what was going on so that I would be safe. I developed strong analytic skills when it came to people. It is what I needed to protect myself from my mother, who turned out to have a borderline personality disorder. You're never right; you're never doing the right thing: It was really tricky and scary to live with.
That thing I developed as a defense to protect myself and my younger brother and sister is now my greatest gift: the capacity to understand people really well. I think that is often true: Those things that we learn in the challenging, difficult circumstances of our lives are the things we now have to offer to other people. mj-ryan.com.