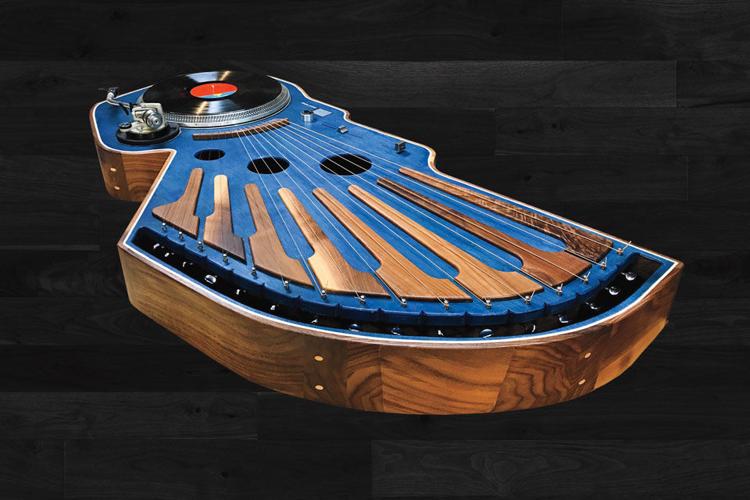 From musical instruments he designs and plays; to stunning nature photographs; to kinetic, movement-based sculptures and sound installations, Walter Kitundu perceives what others might call separate artistic genres as linked. "My art is the way I view and learn and process the world," he says. "The expression that results can take multiple forms, and the media I select is the one that feels most suited to that particular expression."
In the spring of 2021, Kitundu, a former Oakland resident now living in Chicago, will bring his multimedia expertise to the forthcoming Alameda Creek Watershed Center in Sunol with "Ruupaywa: Songs of the Watershed." The piece will include a golden eagle sculpture created from steel tubes, expected to measure about 11 feet in height and 18 feet across, which will stand over the Muwekma Ohlone tribe's homelands near the watershed and pay tribute to their creation story. The sculpture will be accompanied by a soundtrack of melodies sung in the traditional Chochenyo language, then transformed into local animal calls.
"I wanted to honor [the Muwekma Ohlone people's] history, while asserting their current presence and voices," says Kitundu. "The work … will reward patience either by slowly revealing the sounds of the ecosystem or watching the shifting patterns of light filtered through the images in the eagle."
This month, engineering drawings are slated to be completed, and arrangements will be underway for construction to occur in the spring. This is the second public art project with the San Francisco Arts Commission for Kitundu, a 2008 MacArthur Fellow, as he completed an installation in Terminal 2 at San Francisco International Airport in 2011.
"I'm fascinated by relationships. I like to consider how materials interact over time," Kitundu says. "I love to notice overlooked systems and tap into them with artwork that can highlight their beauty or strangeness." kitundu.com.