In the summer of 1989, the East Bay was the center of the baseball universe.
The Oakland A's, led by manager Tony La Russa and loaded with superstars such as Jose Canseco, Mark McGwire, Dave Stewart, Dave Parker, and Dennis Eckersley, had set their sights on nothing short of a World Series championship after being upset in the '88 series by the Los Angeles Dodgers.
The A's dominated all season, especially after trading for Oakland native Rickey Henderson in June. They finished the regular season with 99 wins, then steamrolled the Toronto Blue Jays four games to one in the American League Championship Series, before facing their cross-bay neighbors, the San Francisco Giants, in the World Series.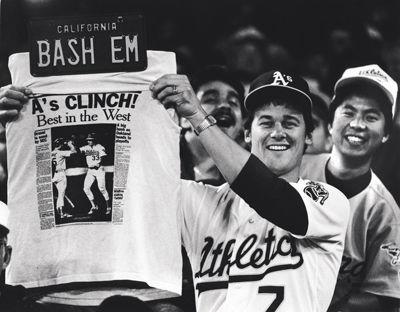 Unfortunately, the Bay Bridge Series isn't remembered so much for the A's four-game sweep as it is for the 6.9-magnitude Loma Prieta earthquake that rocked the Bay Area just before the start of game three, bringing devastation to the region. The quake's aftermath prevented the team from feting their win with a proper parade—but the dynasty the A's created inthat era is undeniable. Eckersley and Henderson would go on to join the Hall of Fame, while Bash Brothers Mark McGwire and Jose Canseco remain among the game's most memorable one-two punches. (In May, the Berkeley-born comedy group The Lonely Island released The Unauthorized Bash Brothers Experience on Netflix, a "visual poem" in which Andy Samberg and Akiva Schaffer pay homage to their childhood heroes by rapping in character as Canseco and McGwire.)
This month, in honor of the 30th anniversary of the A's championship season, members of the 1989 team will reunite at the Coliseum in Oakland for a pregame celebration. One more reason not to miss the event: The organization may have some surprises in store to delight longtime fans.
The Oakland A's 1989 World Series Team Reunion takes place at the August 25 game against the San Francisco Giants. mlb.com/athletics.