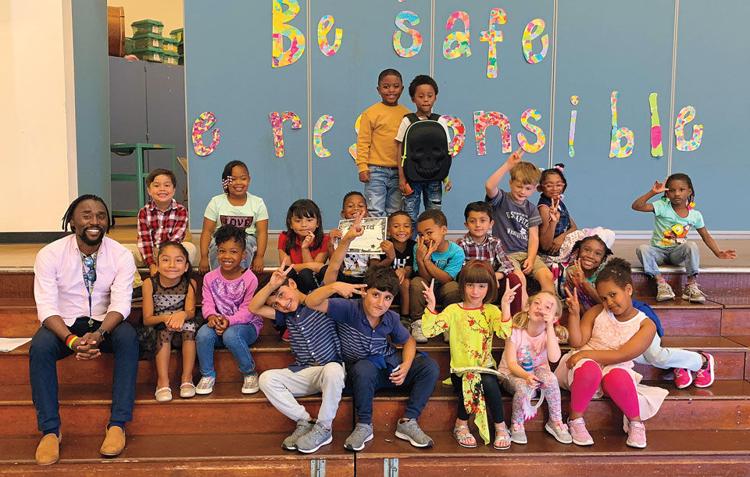 With the 2019-20 school year coming to an abrupt and confusing end, students, parents, and teachers are hoping for a clear path forward this fall. School districts across the East Bay were still refining their proposals as this issue went to press, from having students be fully on-site to fully remote to various combinations of the two. Diablo checked in with three exceptional local teachers to learn how they adapted during the shelter-in-place and get their tips for setting up students for success this fall—whether they're in a classroom or at the kitchen table.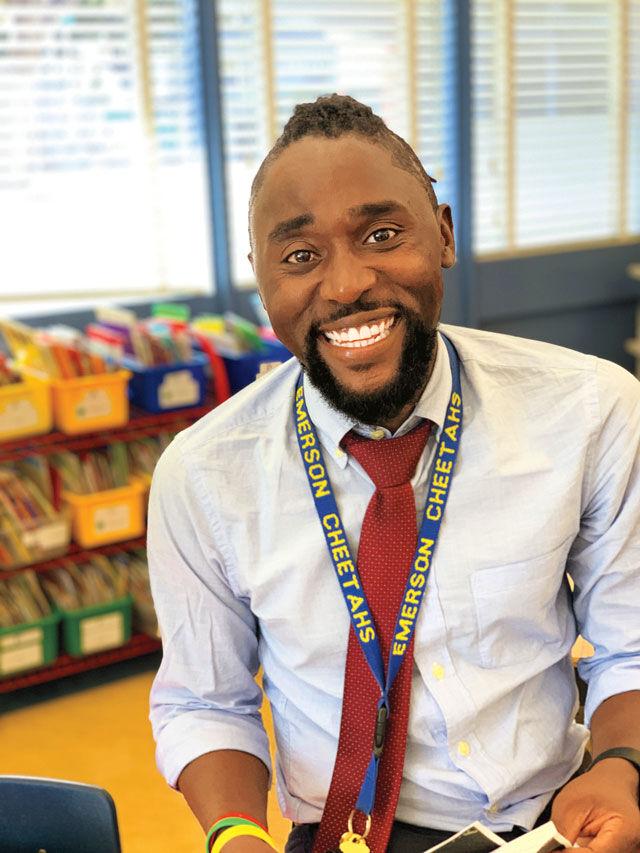 Peter Limata
Emerson Elementary School, Oakland
First-grade teacher Peter Limata loves story time: "The excitement the kids bring to it and the discussions we have—it's by far my favorite time of the day, and I think [it is] for the kids too," he says. When schools closed, Limata, who was born and raised in Zambia, sought to replicate story time, launching weekday readings on Facebook Live.
The videos, in which Limata enthusiastically greets students by name as they join, went viral and caught the attention of The Ellen DeGeneres Show, which awarded checks for $25,000 to both Limata and his school. "It was such a great honor," he says. "What people gravitated toward in those readings was the relationship I have with my students and 
community. It was an affirmation of what we are doing."
Having recently completed a successful GoFundMe campaign to keep its librarian, Emerson Elementary decided to share its Ellen donation with Equity Allies for OUSD, a community group that supports stressed schools throughout Oakland. Limata­—who often pays out of pocket for classroom supplies and soccer equipment in addition to supporting his family back in Africa—continued the story-time series through summer.
Tips for Parents:
1. Read to your kids. Limata's lit pick for beginning readers (levels A–C) is 
the Elephant and Piggie series by 
Mo Willems, because the books are simple and give kids confidence. His favorite? We Are in a Book! For middle readers (D–F), he recommends the Biscuit books by Alyssa Satin Capucilli and Pat Schories, because they are fun stories about a dog and introduce plenty of commonly used words that are helpful to young readers. For advanced readers (G–I), he suggests The Stories Julian Tells and its sequels by Ann Cameron, because there are good lessons and character development that carry over from chapter to chapter.
2. Practice self-care. This is important 
for students, parents, and teachers. Families are spending a lot of time at home with each other, and there often isn't enough space. Find a regular time and place to do something for you. "If you can't take care of yourself, you can't take care of others well," he says.
3. Encourage independence. It is tempting to be with young children for virtual class gatherings, but Limata encourages Mom and Dad to leave them alone. "When the parent is not there, the kid really steps up, [and] learns how to navigate the platform and problem-solve. It will give your kid confidence," says Limata. "Do the dishes or work on something. If they need you, they'll call you."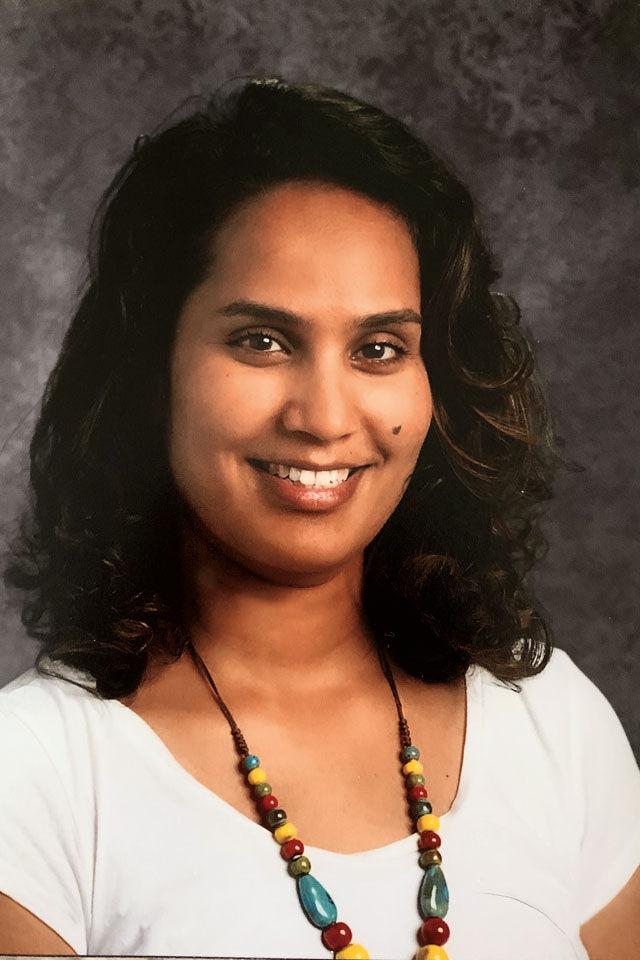 Riffaya Rajid
East Avenue Middle School, Livermore
Riffaya Rajid's sixth-grade science class 
is many students' first middle school 
experience, and it is one that she's 
committed to making fun and fresh each year. "Teaching can be exhausting, and there is the temptation to do the same things over and over again," she says. "But you have to keep adopting new things—technology, innovation, [responding to]current events. This is the most challenging and most rewarding part of teaching."
During the shelter-in-place, Rajid 
prepared each lesson on a single slide 
deck with embedded videos, reading, and interactive simulations. It proved very accessible for distance learning, while tools like Google Forms and Padlet offered 
opportunities for feedback and collaboration.
Despite the distance, Rajid says virtually connecting with her students brought them closer together. "Sometimes, my son would jump in and say 'hi' 
to everyone. There were many sessions when we had our pets with us, or students shared their art. I shared the masks that 
I was making," she says. "It felt like a big family. But getting to know them better made me miss them more as well."
Tips for Parents:
1. Ask questions. It's OK to not understand something. "Sometimes I don't know what my son's teacher is talking about 
in an email," Rajid says. If you have 
questions, just ask, and don't be ashamed. A teacher's job is to explain things to students and their parents.
2. Give specific praise. You should encourage your child every day—but it shouldn't be vague like "good job" or "I like it." "These are meaningless statements," says Rajid. "They fill people with empty pride and don't offer fulfillment." Use honest and specific language such as: "I see you put your phone away and are doing a good job staying focused on your assignment."
3. Normalize learning. If you know what your student is currently studying, find a documentary on it and watch it together. "I know you're at home and watching a lot of TV," she says. "So try to take in some nonfiction work [as a family]—and not because the teacher is making you do it. There are so many cool things out there."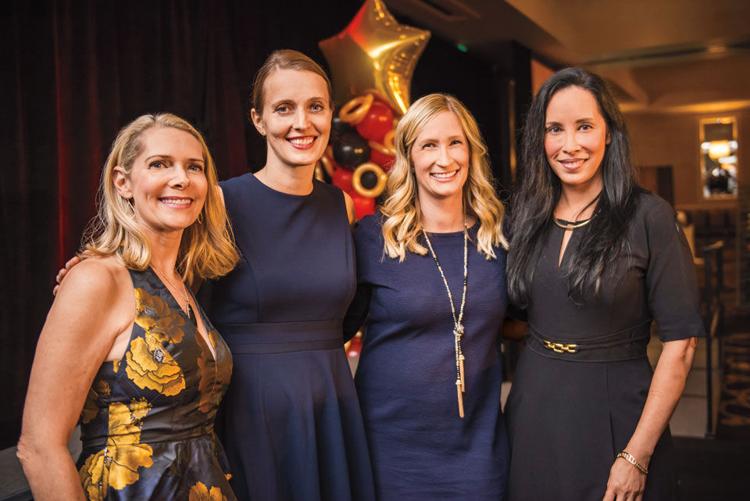 Rosie Reid
Ygnacio Valley High School, Concord
Rosie Reid, a 2019 California Teacher 
of the Year, chose a career in education 
because of her passion for social justice. "My goal is to make the world a better place, and I feel like I have the most capacity to do that in the classroom," she says. In her high school English classes, Reid uses literature and composition to help students explore and understand identity, diversity, injustice issues, and how to stand up and take action.
Distance learning emphasized some 
of the inequities already present in 
education. While Reid's school district 
provided Chromebooks to many families, there were still connectivity problems 
on top of typical virtual challenges. 
"For some kids, being on a computer is inherently distracting," she says. "They want to go on YouTube or somewhere else. It's like putting this really tempting, juicy thing in front of them and saying, 'You can only use it this way,' and that doesn't always work."
If there is a distance-learning component to school this fall, Reid plans to include more paper options in the mix. And she hopes there will be more moments like her final Zoom gatherings, when each student shared something he or she made, from sculptures to poetry, and the emotional connection felt almost like being back in the classroom.
Tips for Parents:
1. Establish a routine. Work with your kids to determine clear times for homework, 
a place to do it, and a sleep schedule 
to support it. "A lot of my students' schedules got way out of hand [during shelter-in-place]," says Reid. "They wanted to get up for class, but they were staying up 'til 4, 5, or 6 in the morning."
2. Read for pleasure. Kids should read something every day for fun. "If your kid doesn't like reading, expand your definition of reading," says Reid. There are a lot of story-based apps out there, audiobooks, graphic novels, magazines, and blogs; it all counts.
3. Stay connected. Spend 15 minutes each day learning about and discussing current events with your child. Pull up YouTube videos to provide historical context for new-to-them topics. "They're pretty isolated right now, and there's so much going on in the world," says Reid. "They are not too young to know or care."