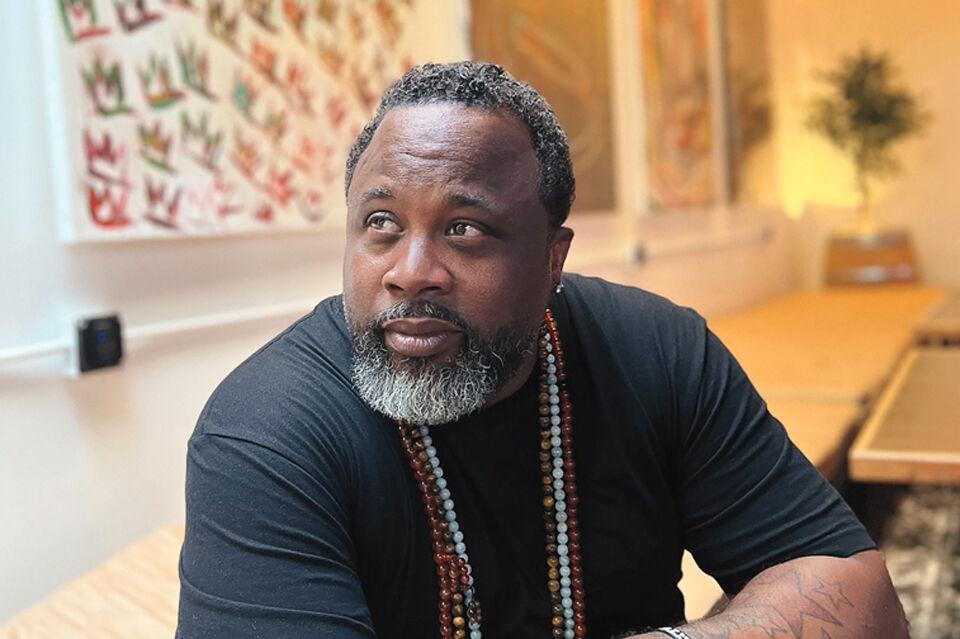 Tyranny Allen has worn many hats over the years. Among them: hip-hop artist, serial entrepreneur, branding guru, and, most recently, painter and gallery owner.
Now 52, the Oakland resident started his first business at age 24, creating KickFlip, an apparel line for the skateboarding community. While failure is part of the entrepreneurial process, the endeavor remains his only misfire to this day. "It just never got off the ground," Allen explains.
---
"[My style is] all about the flow, which relates back to my time spent with Digital Underground."
—Tyranny Allen
---
It wasn't until the early 2000s, after a stint with hip-hop group Digital Underground left him with $5,000 in his pocket—"I thought I was rich at the time," Allen says with a laugh—that he launched his first successful company, Lucky's Barber Shop in Oakland. That path took him to his current position: a marketing specialist who leverages celebrity client relationships to create and support Black-owned businesses throughout Oakland.
The son of two artists, Allen grew up in San Francisco's Haight-Ashbury neighborhood during a time, he says, when strong Black communities were fruitful in the area. Ditching the tired narrative that he had to either become a rapper or sell drugs, he instead opted to play tennis while getting his degree in marketing at California State University, Long Beach.
Allen began to truly understand the power of branding thanks to the success of his barbershop; he eventually expanded to four Lucky's locations, of which he still owns two. Allen's main gig, however, is Marketing Kings, a branding business that offers website development and graphic design. Among his clients: singer Goapele, NBA star John Salley, and Rev. Jesse Jackson. Perhaps most notably, Marketing Kings is heavily involved with the Beast Mode brand, launched by Oakland native and former Seattle Seahawks running back Marshawn Lynch, with whom Allen co-owns BeastMode Barbershop in Old Oakland.
---
From Entrepreneur to Artist
At the outset of the pandemic, Allen found himself with too much free time and began to follow in his parents' artistic footsteps. He dabbled in acrylic paints and splashed 16-foot canvases with bright colors, turning out vibrant pieces such as a self-portrait that conjures the vibe of Biggie Smalls and shimmering works of mixed media.
It didn't take long before big names including actor Shemar Moore and Lynch started buying his pieces. (The gridiron star owns a mixed-media work created from Lynch's torn Cal football photo, among others.) "I knew that if my friends who were celebrities were buying these pieces, then other people would too," says Allen. His work can currently be seen in more than a dozen venues around the Bay Area.
His newest venture, Tyranny Allen Gallery, showcases his own art as well as the work of other local artists. The rule is that if he likes it, he'll hang it, regardless of pedigree.
The gallery (located at 461 Ninth Street in Oakland) doubles as a community space, one where Allen hosts a series inviting locals with varied backgrounds and beliefs to have real, emotional conversations. Tackling topics like race and gun control, the chats are recorded and will stream on YouTube starting this month. A launch party for the series will be held at his rooftop nightclub, Torch Oakland, on September 29.
In addition to his marketing company, gallery, and barbershops, Allen owns or co-owns nine Winky Dinky Dogs carts (with a brick-and-mortar eatery in the works), Cookiebar Creamery, and Torch Oakland. He also previously owned Verse, a chic sneaker boutique. The common thread in Allen's eclectic portfolio is his ability to brand and market businesses, as well as his dedication to making a dollar. Here, Allen talks with Diablo about art, family, and being a good human.
---
Q: What inspired you to begin painting?
A: I come from a family of artists. I myself was a late-blooming artist. I never knew I could paint at all. I [started watching] YouTube when I was bored in my office during the pandemic, and being a graphic artist by trade, I knew about colors. I didn't have to go too far to find inspiration. There are a plethora of great artists in Oakland who are way better than me. I'm just good at marketing myself. My father was probably my biggest artistic inspiration growing up.
Q: How has your father influenced you?
A: There isn't one day that I don't thank my father. [He] was my biggest fan [growing up], and I'm his biggest fan. My father is still an artist, so watching him create is inspiring. I remember my father went to a prestigious art school in San Francisco [and subsequently became] one of the top builders [in the city] when he got into high-end construction.
Just watching my family, especially my father, think different taught me to think different. When you get older, life changes, and you're supposed to change with it. My father taught me everything I know about being an artist, and I've taken it to a level where I can care for my family.
I'm Tyranny Allen, son of Kirk Allen. That's who I am.
Q: How would you describe your style?
A: I am what they call an untechnical artist. I do things based on what I feel. I can't draw—I hate drawing. That's because my attention span is as short as an ant's. It's all about the flow, which relates back to my time spent with Digital Underground. It became a lifestyle, and when art becomes a lifestyle for you, you can change the world.
Q: Are you an artist or a businessman first?
A: Everything I'm doing is money orientated. People say money can't buy you love, but I think the opposite. When you're financially empowered, it can improve your well-being. It can enhance how you feel. Coming from a Black culture and being an artist, [I believe] those things are important.
Q: What role does activism play in your businesses and your art?
A: I'll be the first to say I'm not an activist. It's important to educate yourself as much as possible. I'm a big believer in being a good human, and I think being a good human and being an activist go hand in hand for me. People who are good humans don't want to make the mistake of not supporting others.