When Sue Duncan overlooks the lush eucalyptus groves blanketing the hillsides of her El Cerrito neighborhood—their canopies shading the walking trail just around the corner from her sun-drenched home—she sees disaster.
"There's another smaller grove down there. It just keeps going," she says.
Two hawks hover overhead, gliding on the bay breeze as it wafts the trees' sweet, minty scent up the hillside.
"This is our nightmare," Duncan says.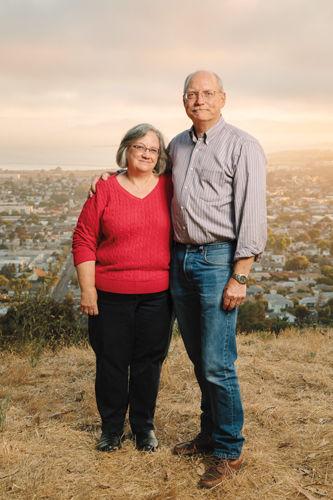 She and her husband, Paul, have lived here since 1984, in a quiet, hilly neighborhood with bay views. Residing blocks from the Hayward Fault, they had always worried more about the threat of earthquakes than fire—until last year.
After wildfires devastated communities in Napa, Sonoma, Solano, Mendocino, and Santa Barbara counties in 2017, the Carr, Camp, and Mendocino Complex fires (plus thousands of smaller blazes) collectively scorched nearly two million acres across California in 2018, making it the deadliest and most destructive fire season on record. Residents up and down the state were forced to confront the reality that such wildfires could hit closer to home than many had ever imagined.
The Duncans then learned that they lived in a high fire zone and formed the resident group Make El Cerrito Fire Safe. Since last September, the retired couple has made a part-time job out of mobilizing the community and lobbying public officials to address the threat of flames in their backyard.
"Our house is kind of a sitting duck," Duncan says. "We don't have a chance."
More than 30 communities in the East Bay are considered high-risk areas in the Wildland-Urban Interface, regions where homes are built in or near fire-prone lands.
In the last four years, the state faced 10 of the most destructive and four of the deadliest wildfires in California history. So on Governor Gavin Newsom's first full day in office, he hit the ground running, directing the California Department of Forestry and Fire Protection (Cal Fire) to develop short- and long-term strategies to help prevent wildfires. The agency drew up a list of 35 priority projects to reduce fire fuel—by removing dead trees, clearing underbrush, and trimming dense tree canopies—across about 90,000 acres around the state.
Near the top of the list is the North Orinda Shaded Fuel Break—a project covering 14 miles and more than 1,500 acres not far from the Duncans' home, between Tilden Regional Park and Lafayette. Crews will clear dead and overgrown vegetation to create a fuel break, an area meant to slow the spread of a blaze and give firefighters a chance to gain the upper hand. Dense housing and narrow, winding roads make the area especially vulnerable to disaster.
"You want to live here? It's a hazard," says Duncan.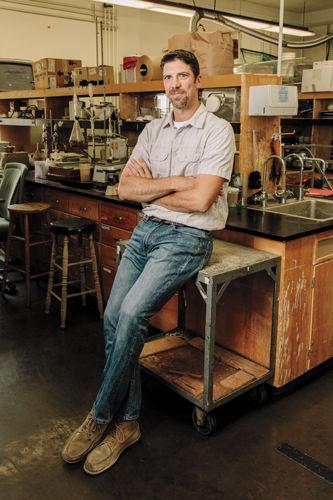 Fire Factors
There are three primary elements in a fire: fuel, weather, and topography.
After more than seven years of drought, as vegetation shriveled and Californians watched wildfires ravage the landscape, many welcomed last winter's heavy rainfall to tamp down fire risks. But it's not that simple, says Brandon Collins, a research scientist at the University of California Berkeley's Fire Science Laboratory.
Wet winters lead to flourishing grass and shrubs, which inevitably wither in the summer heat, creating lots of low-lying fire fuel. Dry years, on the other hand, mean less grass growth but cause trees to dry out and become fire hazards.
"In California, you're damned if you do or damned if you don't, in terms of having lots of rain or being in a drought," Collins says.
Dry conditions, wind, and the terrain's effect on airflow are the key ingredients in turning a small spark into a massive blaze. California is dry four to five months out of the year and has wind patterns that easily stoke wildfires, such as the hot, arid Diablo winds in the Bay Area and the Santa Ana winds in Southern California.
Fire is simply a reality—and for years intermittent, naturally occurring fires maintained wildlands by clearing dead brush and vegetation.
"It doesn't matter where you are in the state," says Collins. "Fire touches these landscapes, so they're going to burn one way or another."
Fueling the Blaze
Generations of Californians have actually made matters worse.
Before the Gold Rush kick-started urbanization in the Bay Area, the landscape was about 98 percent grass, shrub, and marshland; the trees that did stand were mostly California live oaks, California bays, and coast redwoods. As people flocked for gold and settled in the area, many of the redwoods were logged and the oaks cut down to make way for street grids.
Around the turn of the 20th century, in an era when nearly everything was built and powered by wood, a fast-growing tree from Australia called blue gum eucalyptus held the promise of beautifying the shrubby landscape and producing a fortune in lumber sales. Investors planted millions of eucalyptus trees on thousands of acres throughout the Oakland and East Bay hills—only to learn later that they was no good for woodworking.
The mistake left a highly flammable legacy: vast groves of eucalyptus that not only contain combustible natural oil but also shed piles of dead bark and leaves that make ideal tinder and help grass fires climb up to treetops.
Millions of Monterey pines were also planted in the 1950s and '60s to add greenery to the area. Now the pines are reaching the end of their natural lifespan or dying by an aggressive disease called pine pitch canker, producing more kindling for wildfires.
"We've created an interesting scenario as far as trying to protect lives and property from fire, where for the last 40, 50, or more years we've really been building up the potential for fire in our area," says Dennis Rein, emergency preparedness coordinator for the Moraga-Orinda Fire Protection District, the local agency leading the effort on the North Orinda Shaded Fuel Break.
The drastic landscape changes turned the East Bay hills into a virtual powder keg. Compounding that, the longstanding firefighting strategy nationwide has always been to put out flames at all cost, including small fires that would have burned off dry brush and debris.
"Really, what we're trying to do [with the North Orinda Shaded Fuel Break] is get the vegetation back into some semblance of what we think it would look like had there been naturally occurring fires here over the last hundred years," Rein says. "We're trying to get good fire back into the system."
A Community Effort
Wildfire prevention requires long- and short-term approaches. The factors that created California's high-risk conditions took place over many years, and it will take many more to remedy them.
"It really is a long-term, generational problem. We can't solve the problem in a day, or a week, or a year, or even 10 years," says Cal Fire Division Chief Jim Crawford.
The long-range strategy involves managing and reducing fire fuels by creating fuel breaks, using machines or herds of goats to keep vegetation low, and setting prescribed fires to burn debris in contained areas under controlled conditions and careful supervision. All of these efforts must be maintained year after year, requiring an ongoing commitment by local authorities and residents.
While the Duncans push to get the eucalyptus groves near their home cleared, they've taken measures to reduce risks on their property and in their neighborhood: The couple keeps their trees trimmed, grass low, and gutters clean of dry leaves that can easily catch fire from a flying ember.
Beyond that, they help neighbors keep their yards clear of fire dangers, and educate and warn others to do the same. Once a fire gets into a neighborhood, flames can easily jump from one house to another, climbing across overhanging tree branches, ivy-covered cable lines, and dry grass and shrubs—so each home is only as safe as the houses around it.
Wildfire prevention on public lands can be effective up to a point, but fire authorities insist homeowners must accept the risks—indeed, the reality—of wildfires and take safety measures on their properties.
"Regardless of the size of the property that you own in California, there is a responsibility for land management," says Crawford. "Whether you own a half an acre or half a million acres, the responsibility is the same."
A proposed state bill, AB-38, would create a fund to offer homeowners low-interest loans and rebates to make fire-safety improvements such as home hardening, which includes replacing wooden walls, shingled roofs, and single-paned windows with fire-resistant materials.
In the meantime, Crawford says, "we need to deal with the now."
The now is the certainty that the region will face more large wildfires, and response crews and residents alike need to have a plan of action.
Ready to Run
Sue Piper had just dropped off her two younger kids at a birthday party when she saw the smoke. As the afternoon sky grew darker, she called neighbors to find out if their neighborhood—perched in the Oakland hills not far from the Caldecott Tunnel—was safe from the fire.
Within minutes, Piper had put her older 9-year-old daughter in the car and squeezed into the bumper-to-bumper traffic heading downhill to safety, while burning embers blew past the windshield. She reached out to a woman she knew who lived in San Francisco. "I called her up and I said, 'Can I come to your house? My hill's on fire,'" Piper recalls.
Piper's was one of nearly 3,500 homes and apartments that burned that weekend in the 1991 Tunnel Fire. With 25 fatalities, it is the third-deadliest wildfire in state history.
Piper and her husband rebuilt their home—where they still live today—and dedicated themselves to wildfire prevention in hopes that they could spare others from going through the same trauma.
"There's the event and then there's picking up the pieces—and picking up the pieces of your life is worse than the event. It's like juggling five or six very intense full-time jobs at once," Piper says. "It's two to three years of just terrible."
Piper suggests people create an evacuation plan—and practice it. Put important papers together and decide on a few must-have items, like family heirlooms or priceless photos, she says. Second, meet your neighbors and get to know who might need help evacuating. Finally, sign up for emergency alerts through the county or other local agencies. "Look at preparedness as being part of everyday living," Piper says, "because the more you practice it, it's nothing special."
Where There's Smoke
Fire is a constant threat in the state, and Cal Fire makes a continuous effort to drive home that point to residents. But, Crawford says, the warning seems to be turning into white noise.
"I think sometimes the message gets lost in the busyness of the world," he says. "I think it's one of those many things that are piled on people's plates to deal with, and it's easily forgotten until the fire's in your backyard."
For nearly two weeks last fall, a heavy layer of smoke from fires farther north hung over the Bay Area. The smell was pervasive, the air quality suffocating and dangerous. It was one of the most discernible reminders of the region's fire risk since flames engulfed the Oakland hills in 1991.
Some suggest that reality check was the only silver lining of the recent devastating wildfires.
"Good luck reinforces bad habits," says Rein. "Just because there wasn't a fire in your neighborhood today or last week doesn't mean that there won't be one tomorrow."
Large-scale efforts like the North Orinda Shaded Fuel Break can only do so much so quickly. With natural conditions at play, while the hillsides remain heavily laden with debris and other fire fuels, much of the Bay Area's open space is a ticking time bomb for an inevitable blaze. The best locals can do is prepare and help the effort.
"We have to wake people up," says Duncan. "We just have to wake them up."
Fire Preparedness Tips for Homeowners
Wildfires are all but certain in this region, and while state and local agencies work to reduce the risk, there are several things owners can do to make their properties safer and more fire resistant.
1. Clear trees, bushes, and other branches that could lead a flame directly to your home. Cut trees and branches that hang over the roof, and remove any vegetation growing up under the eaves of the house.
2. Keep all dry grass within a 30-foot radius of your home trimmed to three inches or shorter, and completely pull out any dry grass directly surrounding the house.
3. Regularly clear any areas where leaves, pine needles, and other materials naturally accumulate.
4. A rainy forecast is not the only time to clean your gutters. Take out leaves and debris a few times a year—especially ahead of fire season—or avoid the whole issue and install gutter guards to prevent buildup.
5. If possible, harden your home with metal or tile roofing shingles, vent coverings, double-paned windows, stucco siding, and other fire-resistant upgrades.