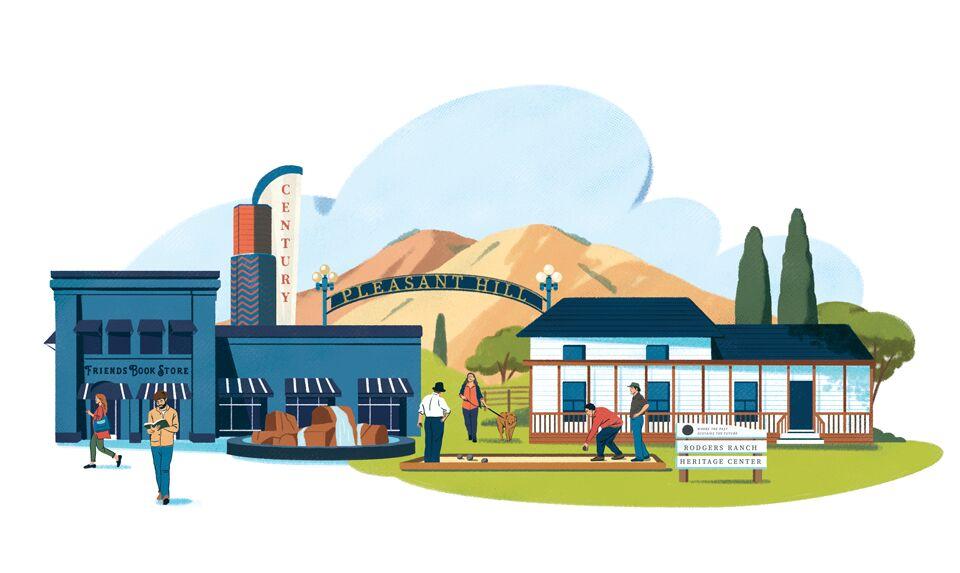 Right up until the beginning 
of this century, you might have said there was "no there there" 
in Pleasant Hill. That is if you think a city needs a downtown, 
a place for friends and neighbors 
to gather for events, to eat dinner in a choice of restaurants, to catch a movie, or just to raise their chances of crossing paths while picking up this or that.
On July 4, 2000, the city's brand-new downtown brought all that—including fun, food, film, and a focus—a full 26 years after civic leaders decided the community needed to clear out the motley selection of auto repairs, thrift shops, and building-supply establishments.
These days, Pleasant Hill's downtown bustles pretty much continuously, and its crescent of a main drag, plus its architecturally honored city hall and grounds, are reopening to annual concerts, festivals, and holiday celebrations.
The first part of Pleasant Hill's name is appropriate enough, with its mild winter, typically warm summer days and cool evening breezes, and laid-back vibe. Regarding the second part of the name, no one seems to know which hill is being invoked. The undulating landscape could just as easily have been called Pleasant Hills—or even Pleasant Valley, as much of the city is located in the low-slung plain between Mount Diablo and Briones Regional Park.
In any case, Pleasant Hill has a special feeling of relaxedness and some beautiful, low-key attractions.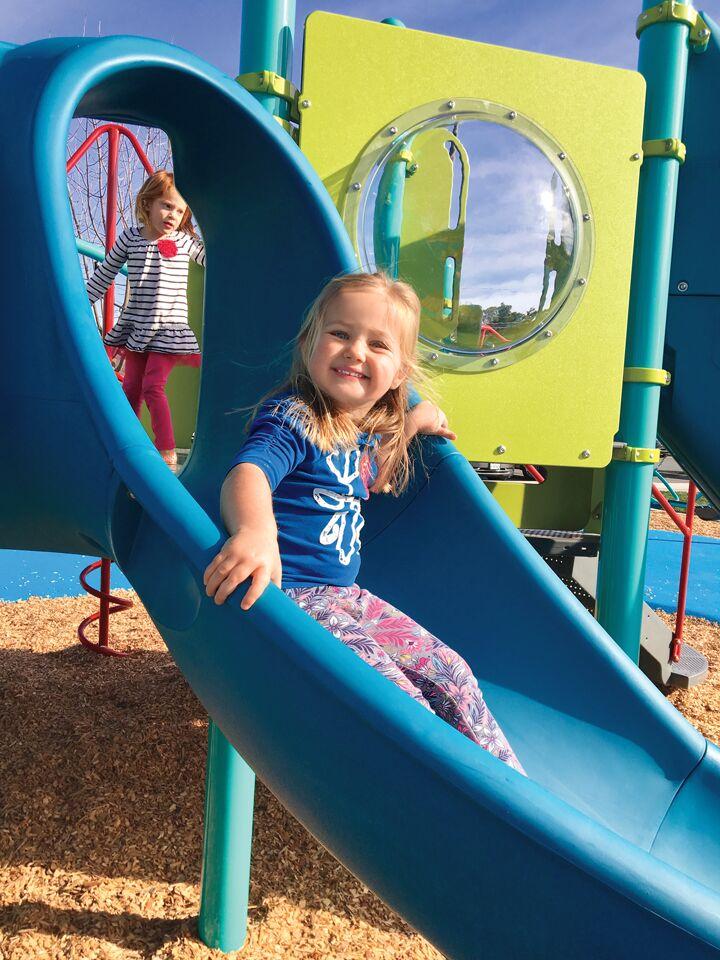 OUT AND ABOUT
Idyllic parks and don't-miss festivals are among Pleasant Hill's attractions.
PARTY LIKE IT'S 2019
October 17 brings Pub in the Park, featuring craft beers from local breweries, live music, and delicious food from regional 
vendors. The outdoor event 
will be held on the grounds of the Pleasant Hill Community Center. Tickets—which must be bought before the event—are on sale at pleasanthillrec.com/35.
On November 21, take a chance at winning Thanksgiving dinner in Pleasant Hill's 45th annual 8.4-mile Turkey Trot trail run. The race starts at the Bear Creek Staging Area in Briones Regional Park. The top three female and male winners will each take home a free turkey.
On May 21 and 22, 2022, check out the Pleasant Hill Art, Wine, and Music Festival. Normally held in the fall, the festival has been pushed to spring next year. Live music and extensive displays of art and crafts will take over all of Crescent Avenue, the main drag of downtown. Wine and beer, some of it locally produced, will be available to festival-goers wandering through the many entertainments, including live theater shows and a huge range of fun activities for kids.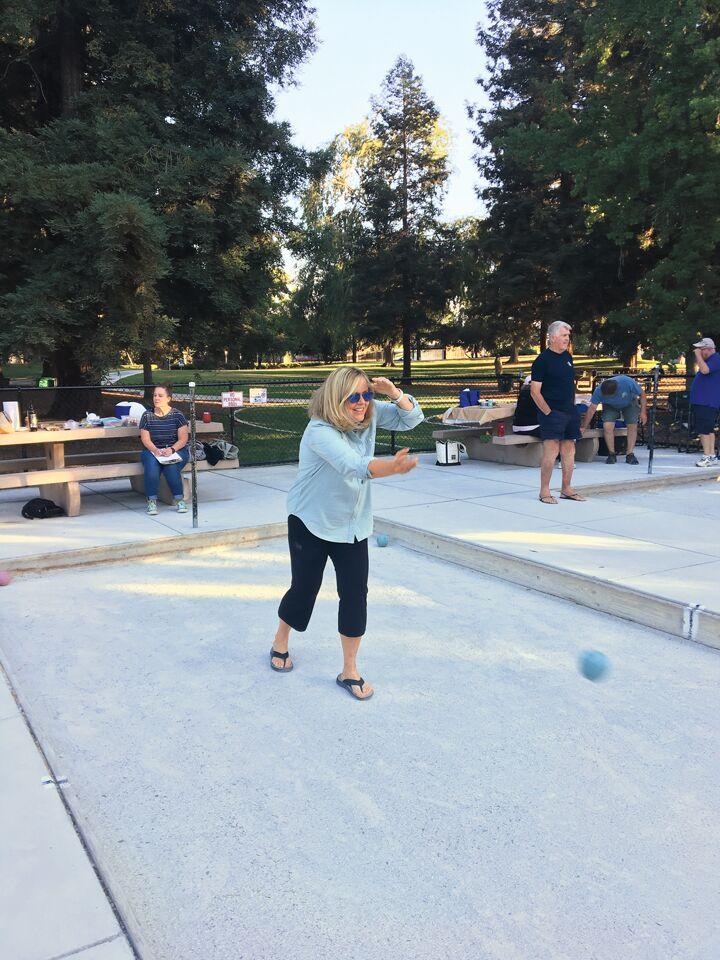 BOCCE NIGHTS
We might point out that bocce is perhaps the only sport you can play while holding a glass of wine and, in a gesture to this traditional entertainment, Rodgers-Smith Park offers lighted courts for 
play. This tiny park also has 
a reservable picnic area with grills (perfect for a party), a 
softball field, a sand volleyball court, and a basketball court.
DAY IN THE PARK
Pleasant Hill Park, a great place to relax and play, is spacious and well-kept, with beautiful lawns shaded by towering redwood trees. Kids' play structures are many and imaginative, and picnic and barbecue areas are also numerous. A baseball field, basketball courts, and bocce ball courts await. Pleasant Hill Aquatic Park, right next-door, has two public pools and a "spray ground," where unpredictable mini geysers delight kids.
PUPS' PARADISE
Paso Nogal Park should definitely be on your pooch's to-do list. Fenced-in areas—one for dogs 
under 25 pounds, the other for big dogs—provide lots of space for running around and socializing of both the canine and 
human varieties. Trails in the hills around the park offer amazing views of Mount Diablo.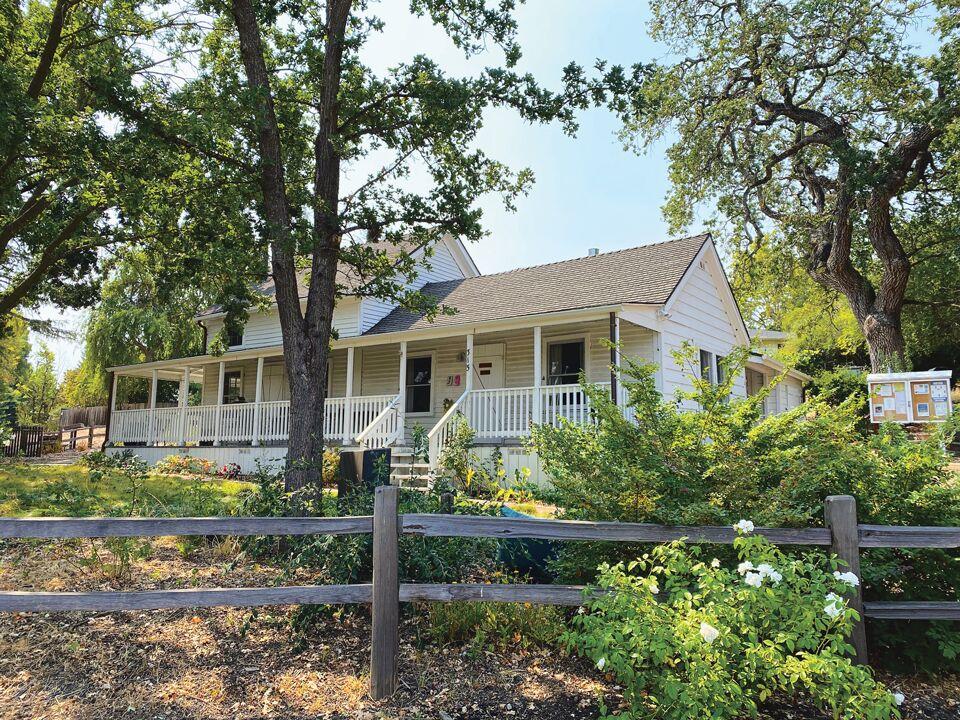 BACK TO THE FUTURE
The Rodgers Ranch Heritage Center preserves a part of Pleasant Hill's agricultural history while emphasizing the importance of green, sustainable living. Home of the area's Herb Society of America chapter, the Contra Costa Succulent Garden Club, and Sustainable Contra Costa, the center hosts expos, holiday events, and plant sales run by experts who can offer tips on what will grow well in local gardens.
SOOTHING SOAK
American Family Hot Tub, on Pleasant Hill Road, is a bit of Tahoe 
in Pleasant Hill. Rent a private hot tub for up to three people—tubs are located in wooden enclosures like separate cabins, with roofs 
or open to the sky, as you like. Relax in the bubbling froth of 
muscle-kneading jets.
READ ALL ABOUT IT
If you love bookstores, you will enjoy the shop run by the Friends of the Pleasant Hill Library in the city's downtown. The selection of books, despite everything having been donated, is amazing—everything from 
Stacey Abrams's novel, published in 2021, to the latest 
literary releases to Dog Training for Kids. The shop is clean and 
spacious, with engaging displays. Manned by volunteers, 
the shop donates its proceeds 
to programs, books, resources, and services for Pleasant Hill's new library, which is due to open in 2022.
MEDITATION MAZE
Even frequent visitors to 
Brookwood Park might not know about the labyrinth there. It's in a supremely peaceful, shady setting toward the rear 
of the park. Try following its brick pathway as a means of calming your mind and relaxing. Brookwood also offers a great playground, a basketball court, picnic areas, and barbecues for grilling. Go farther west to the Reliez Valley Staging Area—technically in Lafayette, but we'll call it Pleasant Hill's backyard—for excellent hiking 
in Briones Regional Park.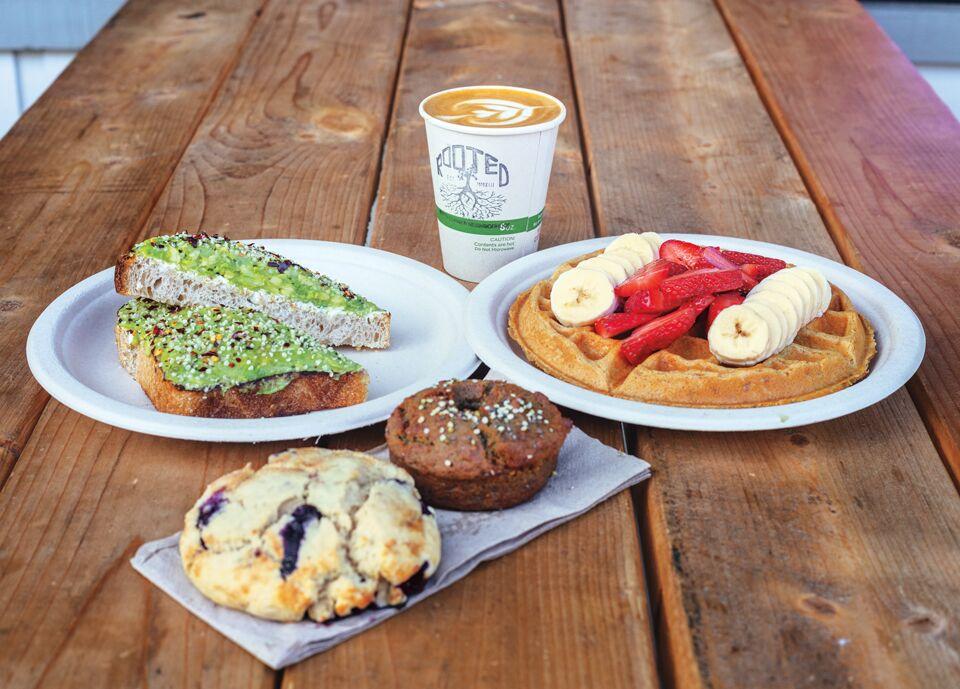 GOOD EATS
Best bets for palate-pleasing food and drink.
EAT IT UP
Jo's Honda Sushi
At this ultra-casual restaurant, the sushi stands out, not only for its freshness, but also for its generous offerings of vibrant fish. Sushi purists will go wild. The tempura veggies, shrimp, scallops, and oysters are also delicious—light and delicate—and the homemade gyoza are subtly and irresistibly spiced. If you love colorful, fresh foods, even the simple house salad will get your attention. hondasushi.com.
Kobe Japan
Dinner and a show merge into one at Kobe Japan. The skilled teppanyaki chefs' knives fly through tall bursts of flame and high-speed comic banter. Amid all the juggling and pyrotechnics, dinner for the six to 22 patrons seated around each grill is 
quickly and somewhat miraculously created. We recommend the scallops, which emerge 
from the cooking theatrics 
seared to perfection. pleasanthill.
kobejapanrestaurant.com.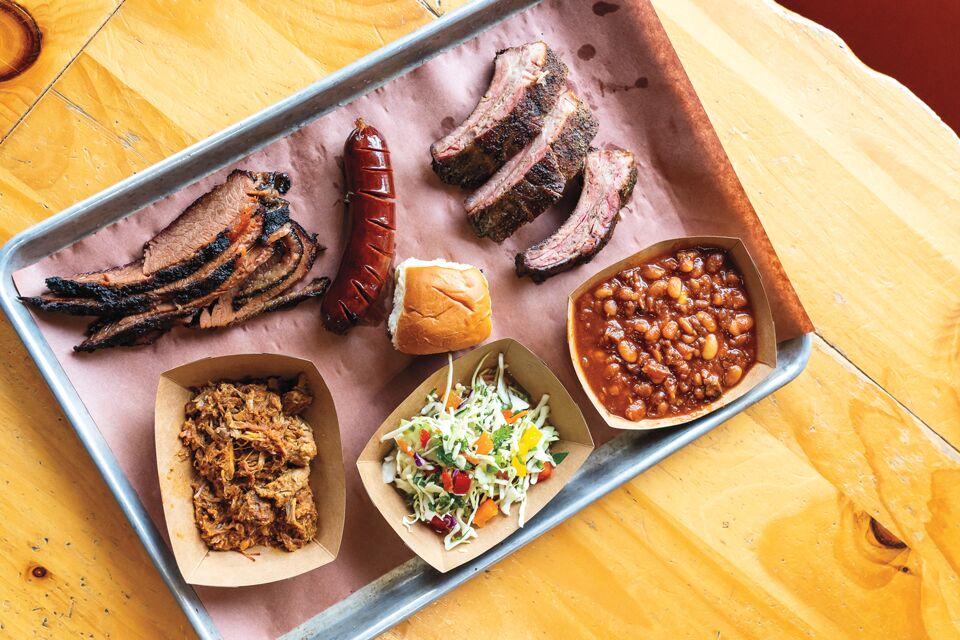 Slow Hand BBQ
Rich, slow-roasted meat from 
an all-wood fire is the main 
attraction here, and the quality never dips below outstanding. The ribs, tri-tip, and brisket 
are so juicy and flavorful, with a hint of spice, that you won't even need the homemade and admittedly delectable sauce. Coleslaw and potato salad are of the mayo-free variety and seasoned to a tangy vinegar 
perfection. Although you may 
not feel you "need" dessert, a refreshing key lime pie that's 
as good as you'll get in the Florida Keys is the perfect finale. And don't forget to check out the wide range of craft beers 
and wines that are specially selected to pair with the menu. slowhandbbq.com.
Wence's Restaurant
Wence's Restaurant has 
a neighborhood feel and a 
greatest-hits menu, with 
everything from a sparkling 
ahi tuna tower to an expertly grilled rib eye served with rich garlic mashed potatoes and asparagus. Seafood lovers will experience rapture of the deep with all the excellent choices: raw or cooked oysters, scallops, king salmon, Louie salad with shrimp and/or crab, and sometimes even grilled lobster. wencesrestaurant.com.
Nama K-Street Food
Corn dogs? Yep, they're a popular street food in Seoul, and at Nama K-Street Food, the version plastered with diced french-fried 
potatoes was delicious. At this reincarnation of Pleasant Hill's Nama Sushi and Teriyaki, we loved the savory pancakes with kimchi, japchae glass noodles with beef, and the sizzling platter of seafood bibimbap, a perfect balance of sweet and spicy with shrimp, 
calamari, and mussels and beautiful slivers of carrots, zucchini, mushrooms, spinach, and cabbage. The menu is extensive, with enough fresh, interesting flavors for many visits. (925) 798-5090.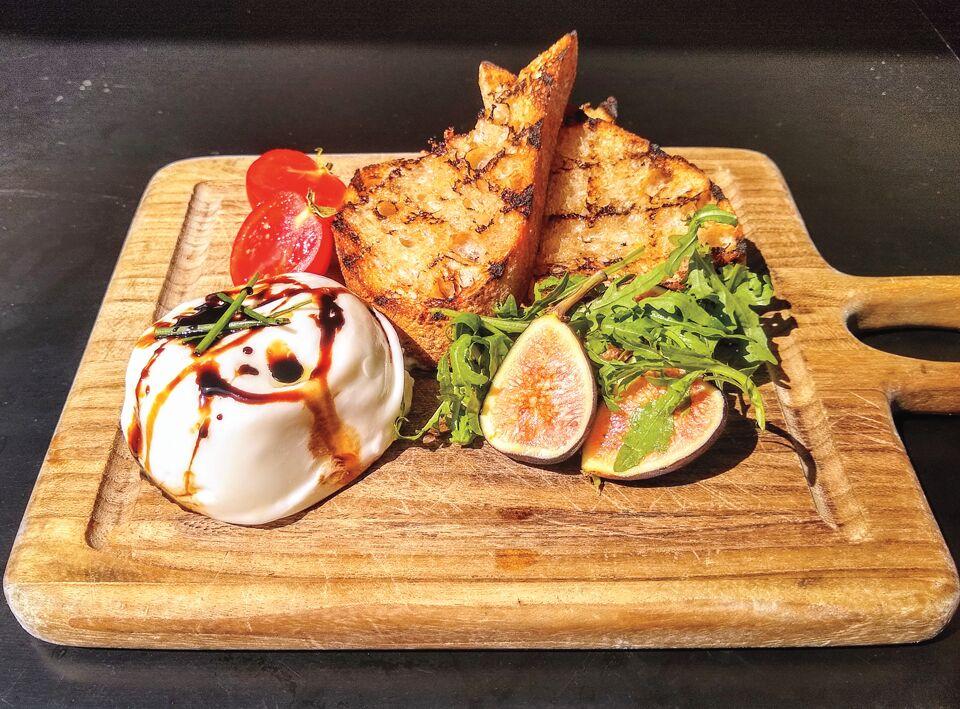 Crescent Bistro
At press time, downtown Pleasant Hill was about to get a new restaurant from chef Brad Zeller, formerly of Walnut Creek's 
Va de Vi Bistro and Wine Bar. Dinner entrées will range from 
a grilled hanger steak with green peppercorn butter and a 
fingerling potato cake, to house-made butternut squash gnocchi with cremini mushrooms, roasted fennel, brown butter, and sage cream. The restaurant, which will also be open for lunch, has both "snacks," such as parmesan garlic fries, and small plates, including a jerk chicken skewer served with jicama salad, grapefruit, red peppers, and vinaigrette. crescentbistro.com.
DRINK IT DOWN
Jack's Restaurant and Bar
It's not just the 1980s-era prices that will have you comparing this restaurant's popular, laid-back happy hour to an episode of Cheers. Indoors and out, the atmosphere is comfortable and relaxed, and a well-made margarita or a glass of wine goes for $6 to $12. Happy hour appetizers, priced between $5 and $8, include everything from a Mediterranean sampler to Asian chicken wings. ilovejacks.com.
Rooted Coffee Co.
If hipster heaven is a place where your organic, fair-trade, locally 
roasted coffee comes with a choice of seven plant-based "milks" ranging from macadamia to hemp, then Rooted may just be paradise. Be sure to try the almond latte, made with oat milk and almond syrup. Meanwhile, a short food menu offers many gluten- and lactose-free options. Avocado toast comes in a whopping four healthy varieties, and hearty gluten-free waffles boast awesomely fresh fruits and berries. rootedcoffeeco.com.