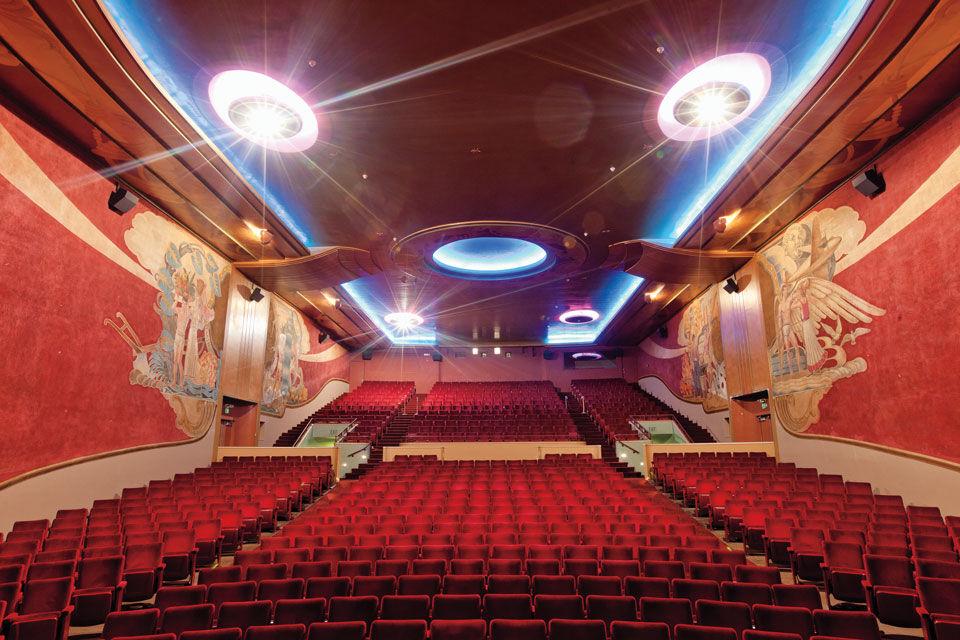 While Netflix may have grabbed a big share of the audience during the COVID-19 pandemic, the East Bay's top venues are still offering creative programs and events to entertain and inform local arts lovers. As warm weather and vaccines help us return to normalcy, here are some upcoming programs for arts enthusiasts to seek out.
Bedford Gallery
The gallery at Walnut Creek's Lesher Center for the Arts is currently hosting A Beautiful Mess: Weavers and Knotters of the Vanguard, a sensational selection of works by women artists that range from palm-sized pieces 
to enormous, room-sized creations. On virtual display for now, A Beautiful Mess will decorate the Bedford through June 13. bgviewingroom.org.
Berkeley Repertory Theatre
As it waits to reopen, the acclaimed Berkeley Rep has announced an exciting season of productions, with hopes to begin in the fall. Three world premieres of major works are planned, including Goddess, a sultry musical that mixes contemporary romance; ancient magic; and African, jazz, and R&B rhythms. Also on the lineup are playwright Christina Anderson's The Ripple, the Wave That Carried Me Home, an examination of family ties in a politically active clan in Kansas in the 1960s; and the long-awaited musical Swept Away from director Michael Mayer, who helmed Green Day's smash American Idiot. Swept Away will feature the music and lyrics of the Avett Brothers. berkeleyrep.org.
California Shakespeare Theater
Cal Shakes recently announced a plan to share its spectacular, open-air Bruns 
Amphitheater with a range of local arts 
organizations and nonprofit groups throughout summer 2021, offering a single production: Shakespeare's The Winter's Tale. This month, the company's resident dramaturg, Philippa Kelly, will host a series of conversations with other dramaturgs, including a chat with Finn Lefevre of the University of Massachusetts Department of Theater on April 2. calshakes.org.
Freight and Salvage
Berkeley's beloved folk music venue is 
promoting an impressive lineup of streaming shows. On April 2, concerts by Mexican jazz great Magos Herrera and the Blind Boys of Alabama will be available through the venue's website. Later in the month, the Freight at Home Streaming Series will feature concerts that can be accessed for a $10 fee. thefreight.org.
Lesher Center for the Arts
Live events at Walnut Creek's performing arts venue are still on hold, but virtual concerts to benefit organizations have been happening. On April 10, ABC7 news anchor Dan Ashley's annual Rock the Casa fundraiser will feature REO Speedwagon's Kevin Cronin and Chuck Leavell, keyboardist for the Rolling Stones. The concert will benefit CASA of Contra Costa County, Friends of Camp Concord, Big Brothers Big Sisters, and the Boys and Girls Club. rockthecasa.org.
Livermore Valley Performing Arts Center
The website for the Bankhead Theater offers streams of local musical performances as well as national broadcasts of theater, music, and comedy events. Meanwhile, the calendar for the Bankhead has live performances from artists such as Joan Osborne and the Second City improv troupe scheduled for later in the year and early 2022. livermorearts.org.
Town Hall Theatre Company
The historic Lafayette theater will use its website to stream the world premiere of the timely Fantasticland as a special fundraiser for the venue. Based on a novel by Mike Bockoven, the online production of Fantasticland features more than twenty actors from California to New York and tells a story set in the aftermath of a natural disaster. The ten-episode production runs through April 7. townhalltheatre.com.
Orinda Theatre
Orinda's movie palace has not been able to show films since March 2020, but private screenings, creative fundraisers, and consistent donations from the community to the theater's GoFundMe page have paid the rent during the shutdown. Meanwhile, the Orinda received some wonderful news in February, when Time Out magazine ranked the theater No. 25 on a list of the world's 50 most beautiful cinemas. orindamovies.com.