Rejuvenation—the kind that lasts longer than a quick fix at the day spa—may require a bit of travel for some extra pampering. About 60 miles north of Walnut Creek, Calistoga is just the spot to soothe your muscles and recharge your soul, making you feel like you've been on an extended vacation. Take Highway 128 past the wineries of Napa, Yountville, and St. Helena to reach the historic town's natural mineral baths and spas, and drop into a state of tranquility.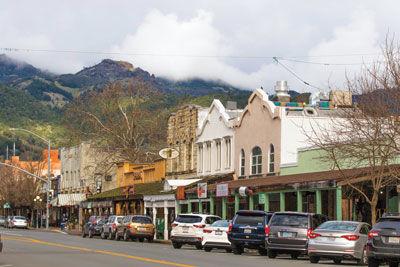 Explore
Nestled at the base of Mount St. Helena, Calistoga has been a popular tourist destination since the 1860s, when pioneer and entrepreneur Samuel Brannan built the first hot-springs resort as a spa for wealthy San Franciscans. To learn more about the region, visit the Sharpsteen Museum, which displays dioramas chronicling the area's early days up through the World War II era.
Next, head downtown to Lincoln Avenue to browse the boutiques—ranging from stylish gift and apparel shops to eclectic art galleries—and grab an espresso or honey vanilla latte and a fresh pastry from Yo el Rey Roasting. visitcalistoga.com, sharpsteen​​museum​.org.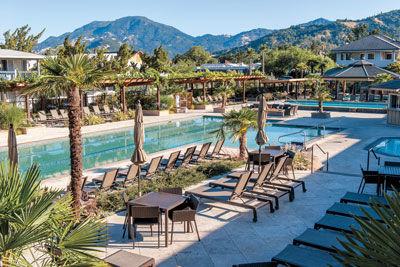 Rejuvenate
The healing powers of natural mineral pools that surge up from molten rock underneath the earth's surface are what draw many visitors to Calistoga. "Take the waters," as locals say, by dipping into springs big and small, luxurious and basic at resorts throughout the region. Many hotels in the area have them, but a few choice spots to indulge in a soak and a thera­peutic massage include Solage, Baths Roman Spa, and Calistoga Spa Hot Springs. solage.auberge​resorts.com, baths​romanspa​.com, calistoga​spa​.com.
Stay and Play
If your desired weekend pace involves meandering from suite, to spa, to mineral bath, to garden patio, Indian Springs Calistoga can accommodate your every wish. Let the spa attendants slather you with heavy volcanic ash, and then steam away your cares. A full menu of facials, body scrubs, and mas­sages—often using natural elements found on the property—​​will leave you nourished and relaxed. A large all-ages pool, lawn games, and free loaner bikes make this a child-​friendly resort. Bonus: The on-site Sam's Social Club restaurant serves tasty seasonal dishes (try the grilled octopus and piripiri chicken if they're available). Two-bedroom cottages cater to families, while "view rooms" offer lovely vistas of Geyser Pond and Mount Lincoln. Whichever option you choose, serenity comes as part of the package. indian​springs​calistoga.com.