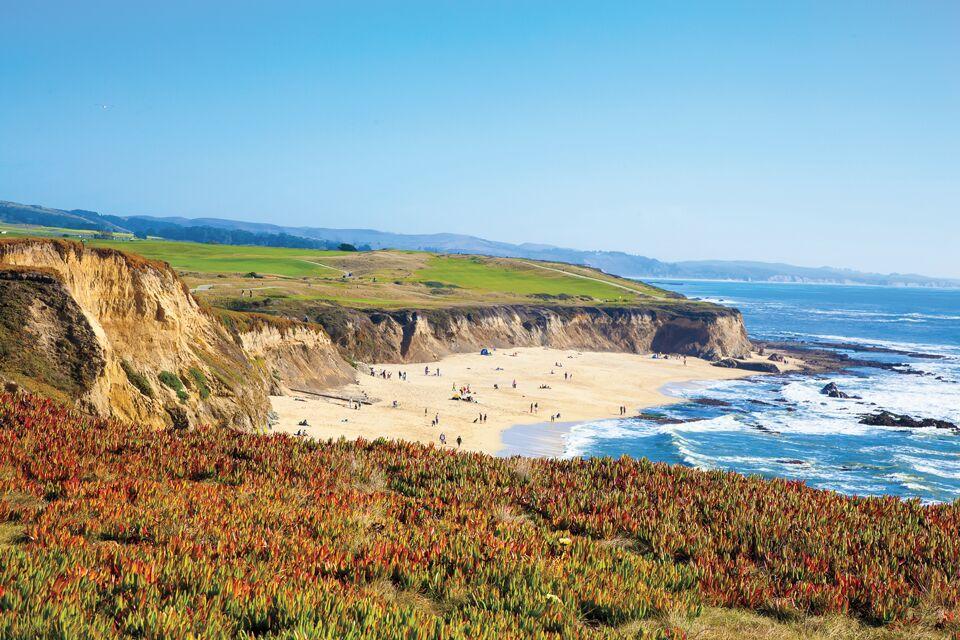 There's something about the sea. Breathing in the ocean air, listening to waves crash, and feeling soft sand in 
between your toes and frigid salt water on your feet provide a sense of calm. As summer heats up in the East Bay, serenity can be found in Half Moon Bay, just about 90 minutes away. With more than 25 miles of beaches, hundreds of trails, redwood forests, and farm fields dotted with vegetables, fruit, and flowers, the area is a piece of paradise.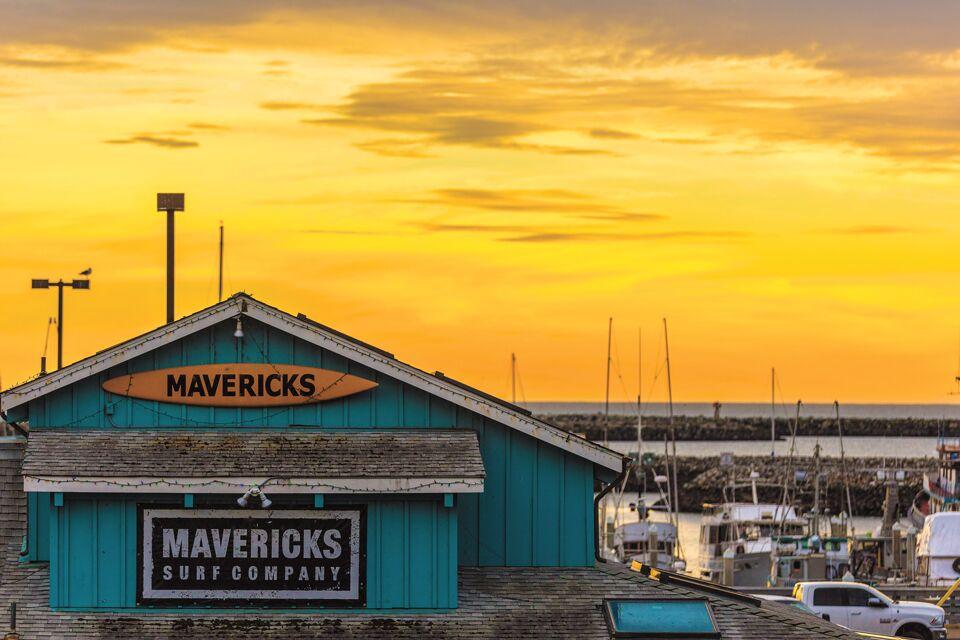 Coasting Along
When you emerge from the Tom Lantos Tunnels on southbound 
Highway 1, it's startlingly clear you've arrived. Stop, take in the 
magnificent view, and stretch your legs at Devil's Slide Trail. A converted segment of Highway 1, this once-treacherous length of roadway is now a 1.3-mile paved trail that allows walkers, bikers, and equestrians to explore the spectacular coastline. From raptors and seabirds to whales and sea lions, opportunities to see wildlife are abundant.
Your excitement will only grow as you make your way south. Home to pleasure craft and commercial fishing boats, Pillar Point Harbor is a working harbor with seafood such as Dungeness crab, salmon, and rock crab available to purchase straight from local fishermen. (It's also home to Mavericks Surf Company, a surf shop owned by famed big wave surfer Jeff Clark.) When your stomach starts to growl, Sam's Chowder House is just a few paces along the coastal trail. Buttery lobster rolls and crispy fish and chips taste even better when devoured on the restaurant's oceanfront patio.
No trip to Half Moon Bay would be complete without getting on the water. Rent a stand-up paddleboard or a kayak from Half Moon Bay 
Kayak Co. and splash alongside harbor seals, sea lions, and leopard sharks. You can hop on a guided tour or venture out on your own; 
the protected harbor is an ideal spot for beginning paddlers and 
families looking to build confidence.
Celebrate your aquatic successes by raising a toast at newcomer Jettywave Distillery. With an eye toward sustainability (and beauty), the establishment used recycled materials to create fermenters and a bar. Fruits and herbs from the onsite garden go into cocktails with names like Beach Trail Bingo and Offshore Sunrise. If beer is more your style, sip a brew and enjoy the water views from the patio at 
Half Moon Bay Brewing Company, where the list of what's on tap is constantly changing, but the Baja fish tacos are always tasty.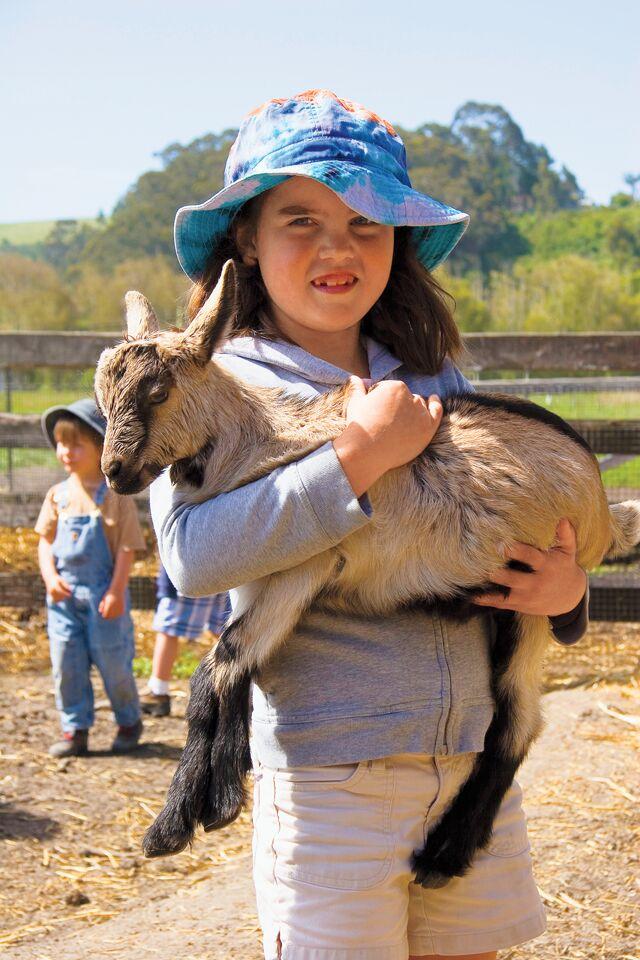 Area Attractions
From rocky shorelines studded with tide pools to swaths of sandy seashore, you could pull off just about anywhere and find watery 
bliss, but Cowell Ranch State Beach delivers two secluded pocket beaches—one exclusively for harbor seals (with a scenic perch for 
spying on the sleeping beauties) and the other for the rest of us. 
From Cowell Ranch, it's a five-mile drive to Purisima Creek Redwoods Open Space Preserve, where more than 24 miles of trails provide easy strolls and active hikes under the shade of redwoods. An old logging road, the Purisima Creek Trail follows the creek, with several 
photo-worthy bridges crisscrossing the water.
Though the region is famous for pumpkins, a variety of other crops—including artichokes, brussels sprouts, and flowers—blanket the coastal landscape. When it comes to nature encounters, however, nothing is as smile-inducing as holding a baby goat. Harley Farms Goat Dairy is a working dairy that's home to an incredibly social milking herd. Take 
a tour to see the newest kids on the farm, as well as olallieberry fields and beehives; plan on 90 minutes. (A shorter family tour is also available.) Make a stop at the farm store, which is loaded with deliciousness.
The only things you might not see in the fields on a summer getaway to Half Moon Bay are the aforementioned pumpkins (the famed Half Moon Bay Art and Pumpkin Festival, which will celebrate its 50th anniversary in October 2022, has been canceled this year due to COVID). Not to worry: Half Moon Bay Art Glass owner Douglass Brown will teach you how to shape and blow your own glass gourd. Get a sense of history while you explore the shops and restaurants on Main Street, which is lined with buildings dating back to the mid-1850s. Founded in 1911, Half Moon Bay Feed and Fuel features a sign hanging over the entryway that states it's the "best place in town to pick up chicks" (the fuzzy, poultry type). Brick ovens from the late 1920s still churn out popular varieties of focaccia bread at Half Moon Bay Bakery. The classic menu, including fresh pasta and flatbreads, and welcoming interior reflect the longevity of neighborhood trattoria It's Italia, but the crackling fireplaces on its Tuscan-style patio make dining alfresco hard to pass up.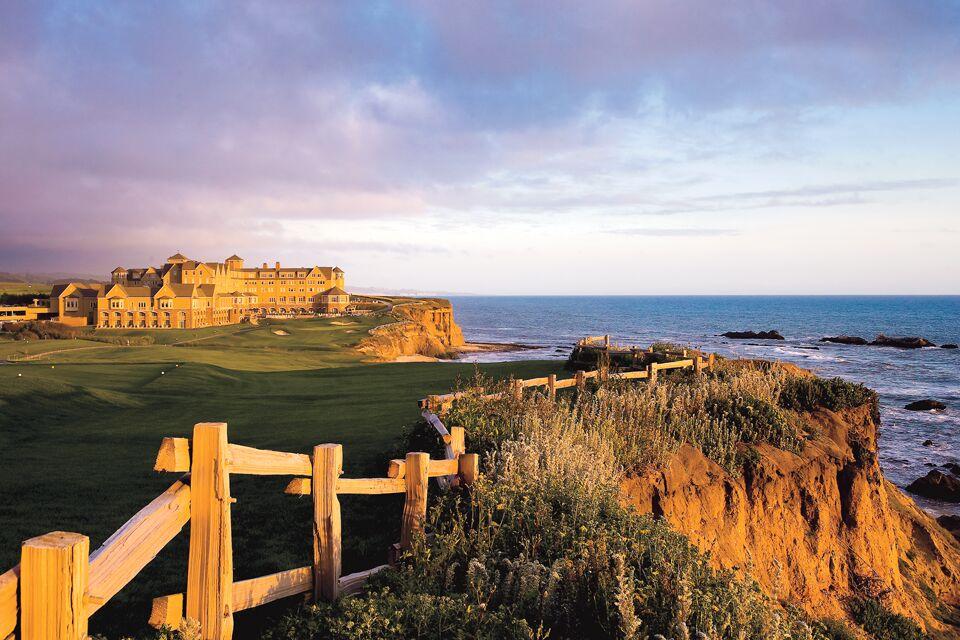 Beds by the Bay
Set atop a rugged bluff overlooking 50 miles of eye-catching Northern California coastline, The Ritz-Carlton, Half Moon Bay is the Bay Area's only oceanfront resort. With 261 elegant rooms, a stay there is a splurge, but it comes with perks like two 18-hole championship golf courses, tennis courts, firepits that scream for s'mores, and easy access to the California Coastal Trail.
Three-quarters of the 54 suites at Beach House Half Moon Bay 
boast ocean views from either a balcony or patio. Spacious suites with a king bed and queen-size sleeper sofa include a nicely stocked kitchenette complete with refrigerator, microwave, and cooktop (the hotel also offers a complimentary continental breakfast).
Set in a historic building off Main Street, the family-owned Half Moon Bay Inn features 15 rooms—including two apartments with full kitchens and laundry—with a European feel. (It's Italia is located on the ground floor for convenient dining.)
Whether you head to the coast to spot wildlife, hike, or just sit back and listen to the waves, Half Moon Bay promises a tranquil getaway that will stay with you long after summer is over.