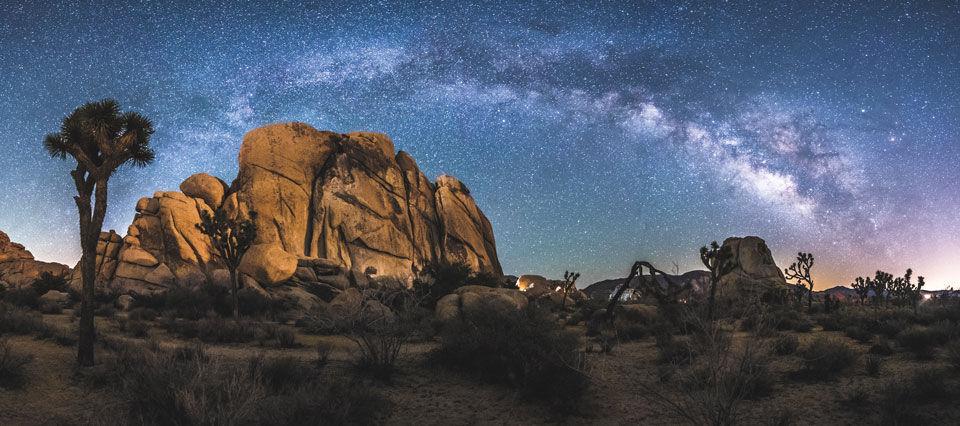 When open spaces beckon and an evening sky speckled with stars sounds like the exact therapy you need, head for Joshua Tree 
National Park, where the natural wonders are just the beginning of 
a weekend's worth of Mojave Desert beauty, art, food, and fun.
It all starts with the trees, of course; like a child's cartoon drawing, these ancient members of the yucca family seem to reach for the sky with twisty arms and skinny fingers of leaves. Their appearance is even eerier from February to April, when they explode with huge, knobby cones of bloom that evoke alien life-forms.
See these unique entities in Joshua Tree National Park and nearby desert preserves, along with the area's other open-air marvel: jumbles of enormous boulders heaped into weird configurations that are begging to be explored.
Outside the park's west and north entrances lie the towns of Joshua Tree and Twentynine Palms, each steeped in its own history but sharing a high-desert vibe. Although worlds away in spirit, Joshua Tree is a six-plus-hour drive from the Bay Area or a 45-minute drive from Palm Springs International Airport, served by Alaska, Delta, and American, among others.
Here are some highlights guaranteed to make your desert getaway a memorable one.
Stars and Stays
Twentynine Palms makes a great base of operations for stargazers, thanks to its proximity to Sky's the Limit Observatory and Nature Center, home to a powerful telescope (currently closed), the Night Sky Festival, and the Orrery, a giant walkable model of the solar system.
The town also offers numerous hotels, chief among them the SureStay Plus by Best Western, which stands out for its extra-large, palm-shaded pool and a Jacuzzi perfect for a night's soak under the stars. All rooms have refrigerators and microwaves, handy when packing food for sunrise hikes, and it's only eight minutes to the Oasis Visitor Center at the park's north entrance, where the Oasis of Mara Nature Trail leads to a verdant grove of California fan palms alive with singing birds.
One of the best things about staying in Twentynine Palms is the Oasis of Murals, a series of 26 vivid outdoor paintings scattered throughout the town that depict the area's creatures, plants, and human history, making every drive an art-filled treasure hunt.
Be sure to stop at the Glass Outhouse Art Gallery, one of the 
region's quirkiest and most personal art spaces. The site features a fully transparent working outhouse, a miniature chapel, winding paths lined with amusing displays, and a gallery where the owners host monthly events.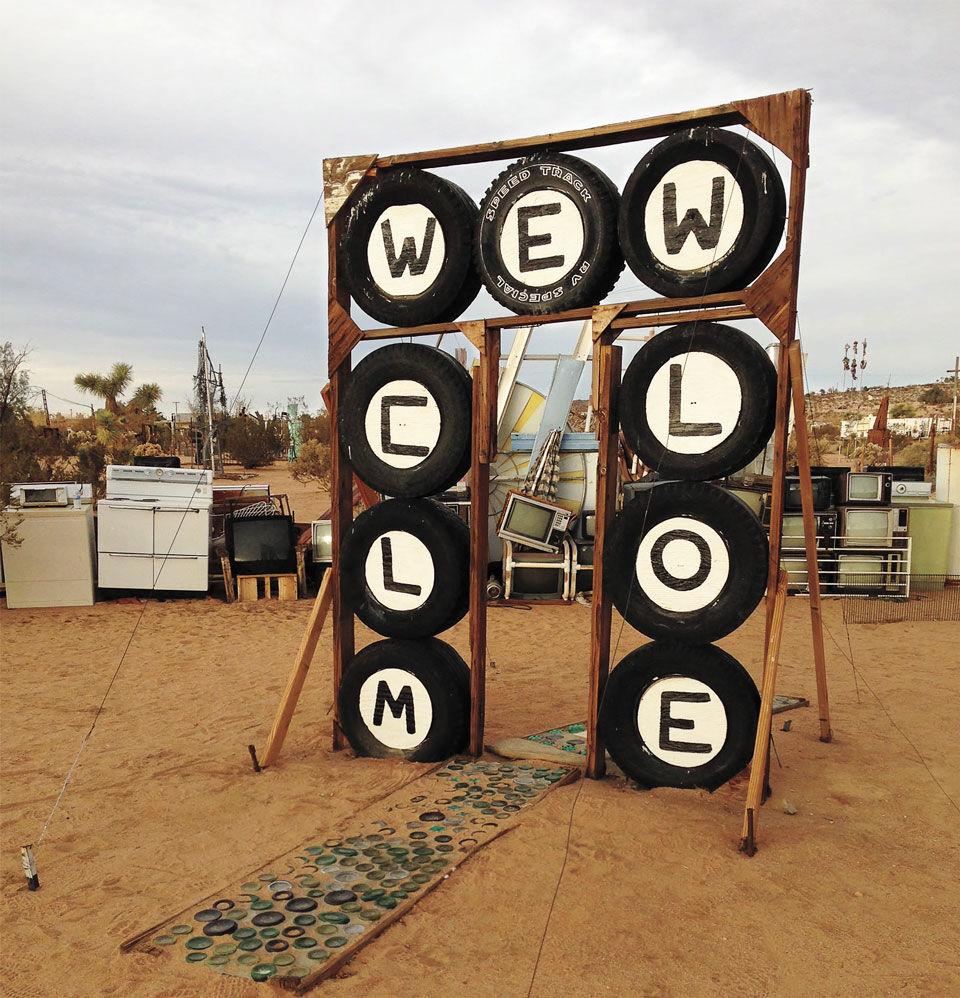 Creative Expressions
An artistic spirit has infused the town of Joshua Tree from its earliest beginnings as a mining community, and nowhere is this clearer than at the Noah Purifoy Desert Art Museum of Assemblage Art. Fans of assemblage art will be wowed by the sheer scale of the pioneering Black artist's installations, including towering "buildings"—such as the White House and Adrian's Little Theatre—and creature-like constructions of recycled steel and discarded tires.
If the Purifoy museum isn't odd enough, continue north to the Integratron, where "sound bath" healing sessions are held inside 
a white dome built in the 1950s by a ufologist (no joke).
In town, peek into the Beauty Bubble Salon and Museum, which houses owner and stylist Jeff Hafler's extensive collection of salon and barbershop memorabilia dating back to the 1800s. Among the featured items is the 1940s Duart permanent wave machine that created Veronica Lake's signature side flip. (Hafler is also the force behind Hair Style, on display through August at SFO's Harvey Milk Terminal 1.)
Nearby you'll find the World Famous Crochet Museum, housed in a lime green vintage photo-processing booth; collector Shari Elf packs the space with yarn creatures, cakes, and hat-wearing cacti. Outside the booth, Elf's shop sells clothing silk-screened with her offbeat mottos, among other products, while neighboring stores feature local artists' pottery, glassware, and more.
Music is another key ingredient to the town's ambiance; U2 named an entire album after Joshua Tree, after all, and fans still get their pictures taken under the Harmony Motel sign made famous by a photo shoot the band did there. Country-rock legend Gram Parsons is so closely associated with the place that fans visit the Joshua Tree Inn to lay guitar picks on a shrine outside the room where he died.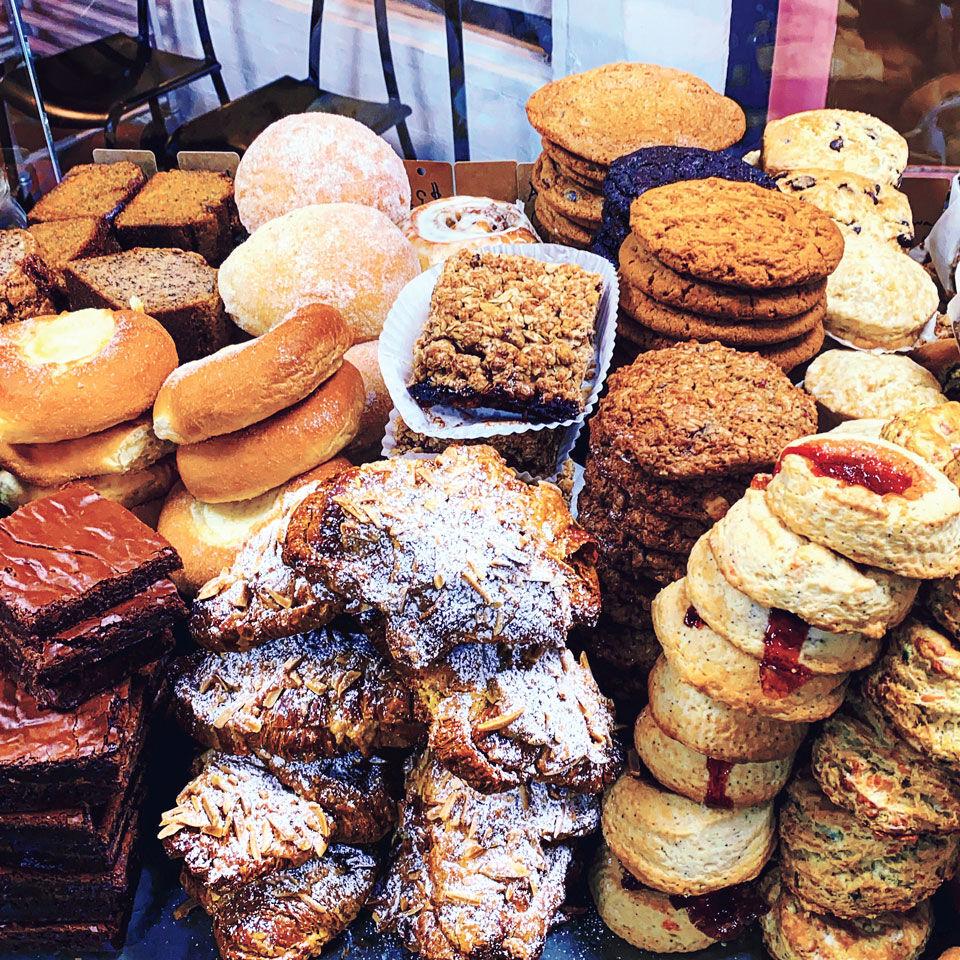 Dining in the Desert
Outside the Twentynine Palms park entrance, Kitchen in the Desert serves minty mojitos and mesquite-grilled Trinidadian chicken against a retro-chic backdrop of vintage collectibles on a candlelit patio.
It's an even livelier scene at the Joshua Tree Saloon, which features live music and barbecue in "The Yard" as health guidelines allow. But the freshest food in town may be the made-from-scratch street tacos at the Joshua Tree Restaurant and Bar at the Oasis Inn and Suites 
(look for the smoke rising from the patio grill behind the pool).
An absolute must for breakfast is JT Country Kitchen, where you can order your French toast slathered with bananas or burgers topped with bacon, and the biscuits—available with down-home gravy—are as fluffy as they come. For an equally hearty lunch, the Crossroads Cafe offers a true New York-style Reuben on grilled rye and, on 
occasion, an eggplant parmesan sandwich that's as rich as it sounds. The newest Twentynine Palms hot spot is Campbell Hill Bakery. 
Be warned: The lines form early for satisfying scones, densely layered sandwiches, savory stuffed pastries, and flaky croissants.
No trip to Joshua Tree would be complete without a visit to Pappy and Harriet's Pioneertown Palace. The roadhouse restaurant, bar, and music venue is located near a faux-Old West movie set and, in typical times, is known for shows by L.A.'s biggest bands.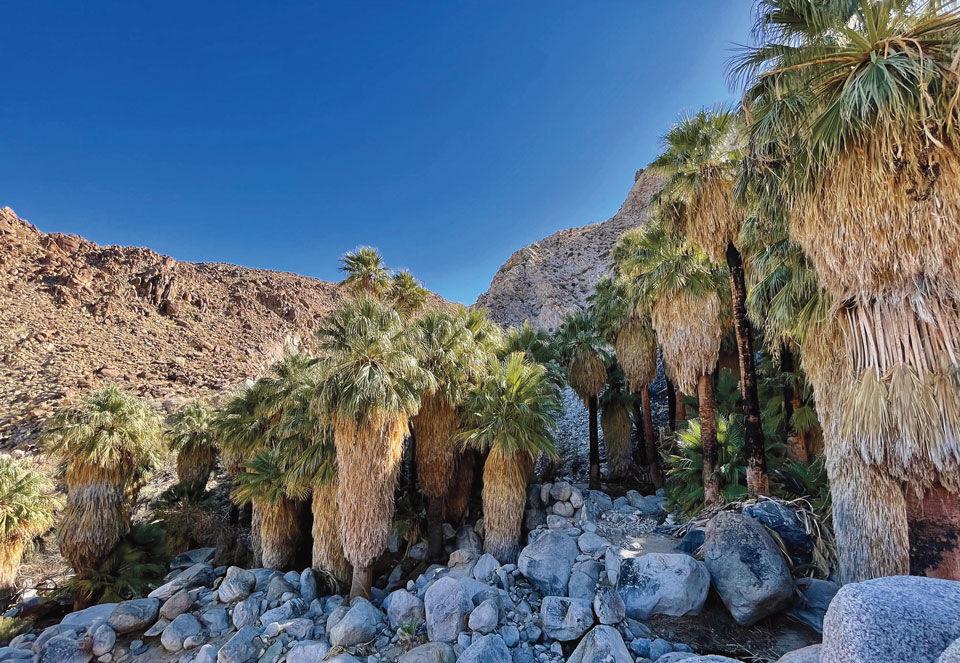 A World Apart
Strung along Park Boulevard between the west and north entrances, some of the most popular stops in Joshua Tree National Park include Hidden Valley nature trail, an easy one-mile loop through a bowl-shaped canyon; Barker Dam and its unexpected rain-fed pool; the otherworldly landscape known as Wonderland of Rocks; and Skull Rock, an Instagram fave complete with eye sockets.
Climb Ryan Mountain or drive up to Keys View for 360-degree vistas and stunning sunsets, explore the Cholla Cactus Garden, or take the Wall Street Mill Trail to the abandoned remnants of a mine that once supplied gold for United States currency.
Look for bighorn sheep on the 49 Palms Oasis Trail or in the Desert View Conservation Area, a swath of remote Bureau of Land Management acreage outside the Joshua Tree entrance crisscrossed with trails.
Whether you spend your visit hiking in the outback or sipping juniper-infused cocktails while absorbing outsider art, a trip to Joshua Tree will set your imagination afire and keep you thinking long after you get home.