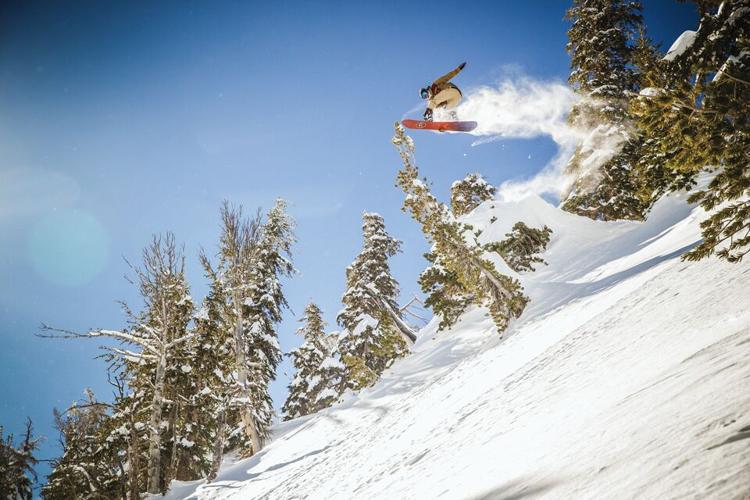 Mammoth Lakes, in the Sierra Nevada mountains of east-central California, features spectacular winter playgrounds at its ski resorts and in the sweeping countryside around them. Rolling hills, icy alpine lakes, evergreen forests, and steaming geothermal pools create a 
wonderland amid a backdrop of towering snowcapped peaks.
A visit from the East Bay on a long weekend promises an 
opportunity to hit the slopes, commune with nature, relax in hot springs, and feast on local cuisine and microbrews. Mammoth is reachable via a quick one-hour flight from SFO (United Airlines 
has nonstop flights to Mammoth Yosemite Airport) or a 320-mile, five- to six-hour drive from Oakland, weather permitting. 
(Note: Due to COVID-19 restrictions, expect reduced capacity at all 
lodging, dining, and indoor facilities. Be sure to check ahead for the latest details.)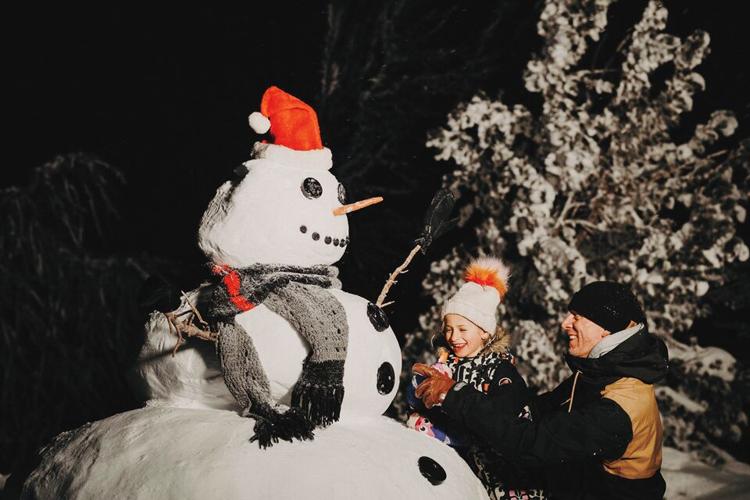 Hitting the Highway
If you do choose to drive, make your journey the destination with a sightseeing trip down Highway 395. Head south from Lake Tahoe along the eastern edge of the Sierra Nevada, pausing at the frequent lookout points for photo opportunities. Start strong with a stop in Gardnerville for a hearty Basque family-style dinner at the historic J.T. Basque Bar and Dining Room. If it's not too snowy as you proceed south, take the side road to the old mining ghost town in Bodie State Historic Park (during high snows, access may be limited; only snowmobiles or skis allowed). Near the eastern entrance of Yosemite National Park, which is closed in winter, take time out to explore the otherworldly Mono Lake, where salty water and numerous migrating birds whiten stacked rock formations; the sulfurous smell from the area's geothermal activity completes the alien setting. Then get ready to ooh and aah as you cruise the June Lake Loop 20 miles north of Mammoth, a worthwhile side trip to enjoy stunning scenery and the quaint town of June Lake.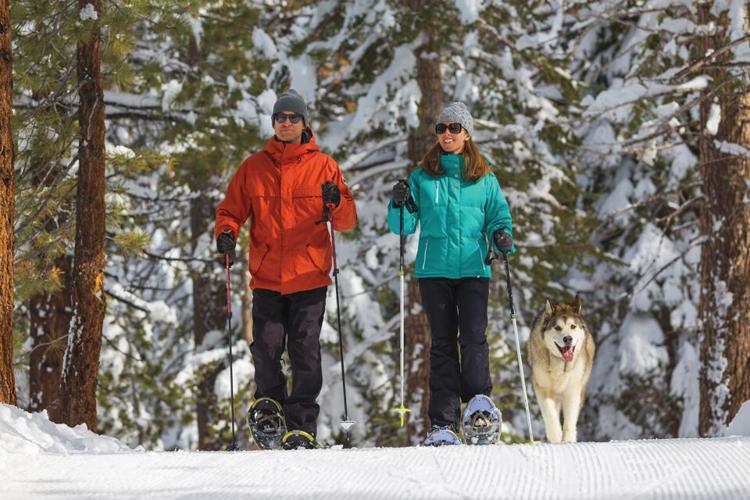 The Big Bang
Mammoth Mountain Ski Area is the region's biggest attraction, and as the name implies, it's huge. The ski resort covers 3,500 acres of slopes and is serviced by 25 ski lifts accessing 150 named runs (one of the largest ski areas in North America). It's a mountain you can spend days exploring, with enough variety in its ski runs to provide gentle safe zones for newbies as well as extreme double black diamond slopes and off-piste challenges for the expert athletes. 
Its terrain parks are legendary, with Olympic-level jumps and technical slope-style courses for those aspiring to X Games fame (the more faint of heart can just watch the wipeouts from the safety of a ski lift). Mammoth is also equipped with beginner and intermediate snowboard parks for those still learning their tricks.
About 20 miles north, sister resort June Mountain is smaller than Mammoth, but still maintains seven lifts, 41 runs, and 1,500 acres 
of skiable terrain, much of it beginner-friendly. And June continues to give the greatest deal on snow, free lift tickets for kids 12 and 
under, making it a prime family destination for its price, mellow slopes, and equally mellow attitude.
Due to COVID-19, Mammoth and June resorts have modified 
operations this winter (details are subject to change—check their websites for the latest information). Lift tickets must be purchased in advance for specific days, with no walk-up sales available. Tickets will be limited to manage crowds, while only private ski lessons will be available. Lifts, gondolas, lodges, dining, and all indoor areas in and around the mountains will have reduced capacity and increased sanitizing services, and require masks and social distancing.
That's Snow Business
Don't ski? No problem, as there are plenty of alternative winter activities. For kids, Woolly's Tube Park offers inner-tube sledding slopes and snow play areas. Around Mammoth, families can enjoy snowshoe hikes on easily accessible trails like those to Inyo Craters or Minaret Vista, while the more adventurous can explore the 
backcountry on cross-country skis (rentals available at the resort and in town). Tamarack Cross-Country Ski Center supplies rentals as well, along with 19 miles of groomed trails. For more powered-up outings, take a snowmobile along groomed trails and into the 
backcountry on your own or on a guided tour with Mammoth 
Snowmobile Adventures.
The volcanic geothermal activity that created the region's wild geography also produces natural hot springs for soaking, such as the many pools around Crowley Hot Springs, about 15 miles 
outside of town (off Benton Crossing Road from Highway 395).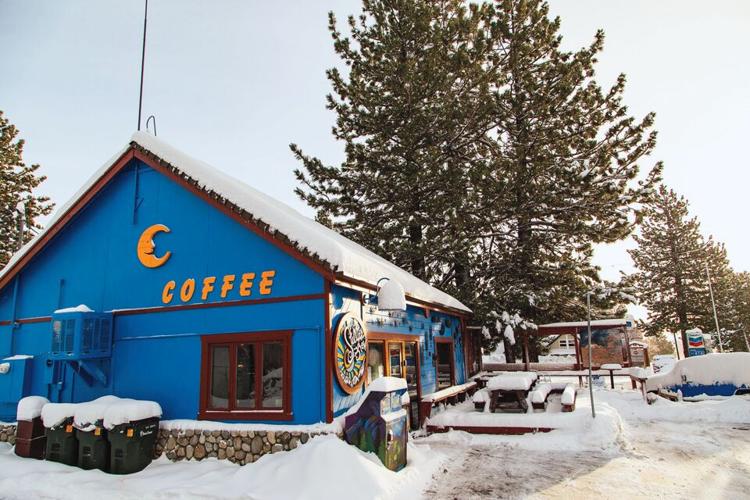 Cold Comforts
If you prefer to stay in the center of things, try The Village Lodge 
at Mammoth, a sprawling complex near the base of the Village Gondola that has access to the slopes along with adjacent restaurants, bars, and coffee shops; many of the Village amenities are walkable even on snowy winter nights. For a more secluded feeling, reserve a spot at the remote retreat of Convict Lake Resort (about 15 miles from Mammoth), where cozy cabins are a snowshoe trek away from winter paradise. The Restaurant at Convict Lake is a surprise gourmet choice, with a menu highlighting entrées such as beef Wellington, Long Island duck, and a rack of lamb.
In the town of Mammoth Lakes, Bleu Market and Kitchen is a great place to dine, watch a game, or shop, thanks to its all-in-one store selling artisanal breads, cheeses, wines, and meats. Stellar Brew serves coffee and tasty grab-and-go breakfast sandwiches and burritos to fuel you for the slopes. Be sure to hit Mammoth Brewing Company to sample some (or all) of their dozen locally brewed beers on tap, as well as the eatery's hearty burgers and even some salads. 
Escape wintry conditions inside at Mammoth Rock 'N' Bowl, where 12 lanes of bowling and high-end golf simulators set the scene for this bar and restaurant.
So, whether you're planning to ski, snowmobile, or clomp around in the snow, Mammoth promises a great escape where you can choose your own adventure—or just sit back in a cozy cabin and soak it all in.