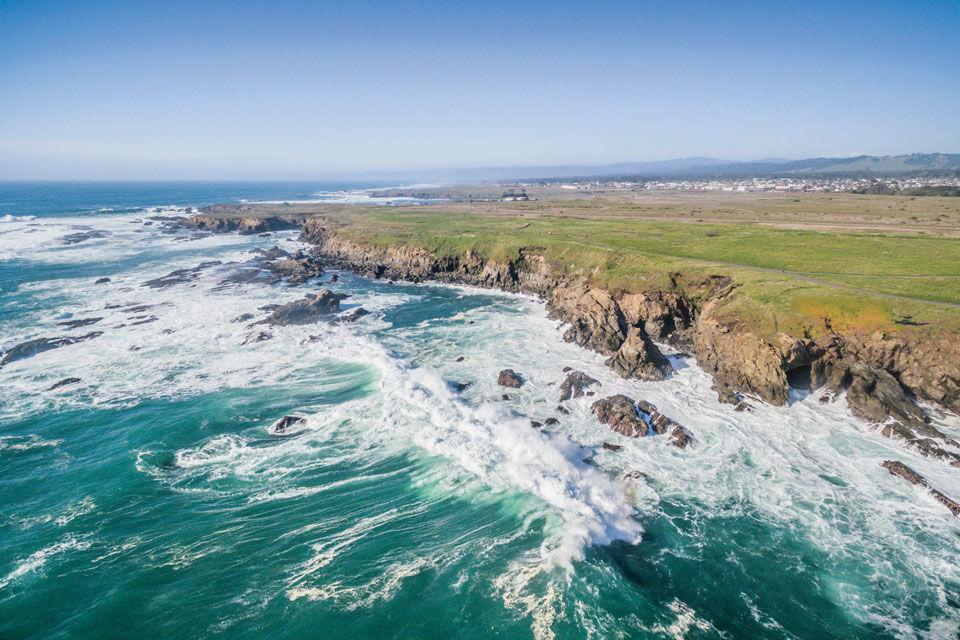 The surf that hits the rugged stretch of coast may 
be rough and cold, but spring in Mendocino 
County (a three-hour-plus drive from the East Bay) is dominated by sunshine-filled days. Inland valleys turn a vibrant green, wildflowers burst with life, and the limited company you may 
have on coastal bluffs includes spouting whales. On the rare occurrences when the weather doesn't cooperate, giant redwoods provide shelter. Layers are good to have and even easier to lose. (Note: Please call ahead to confirm operation status and current health guidelines.)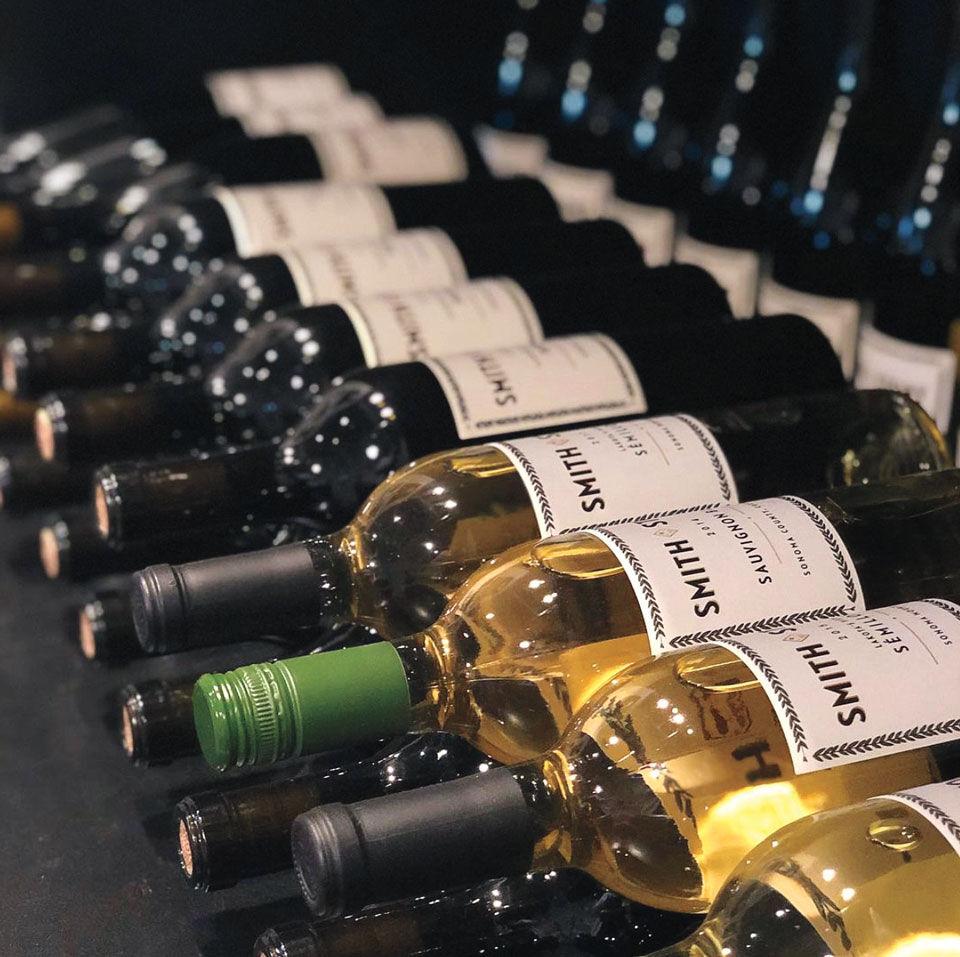 Nature's Bounty
Highway 128 winds its way to Anderson Valley, where vineyards share the spotlight with old-growth redwood groves. Five miles of trail meander through Hendy Woods State Park, populated by trees—some more than a thousand years old—that reach 
hundreds of feet into the sky.
Open almost every day of the year, Gowan's Oak Tree roadside fruit stand has long been the place to pull off for cold apple cider 
and a rainbow of fresh, crisp heirloom apple varieties. Just north of the fruit stand on Highway 128 you'll find Gowan's Heirloom Ciders; take time out to sip apple-wine cider and relax at tables spaced 
under the shade of century-old apple trees. The tastings feature a flight made with much-loved apple varieties like McIntosh and Gravenstein, served in the orchard (weather permitting).
Also worth a stop is The Madrones, in the tiny town of Philo. Dine 
in the garden at newcomer Wickson Restaurant, and if the baked 
Pennyroyal cheese with Wickson crab apples and bread is on the menu, don't hesitate. Along with the restaurant and swanky but not stuffy guest accommodations, three wine tasting rooms also call the Madrones home. Look out for popular Smith Story Wine Cellars's dog, Lord Sandwich, as he makes his rounds on the tasting room patio.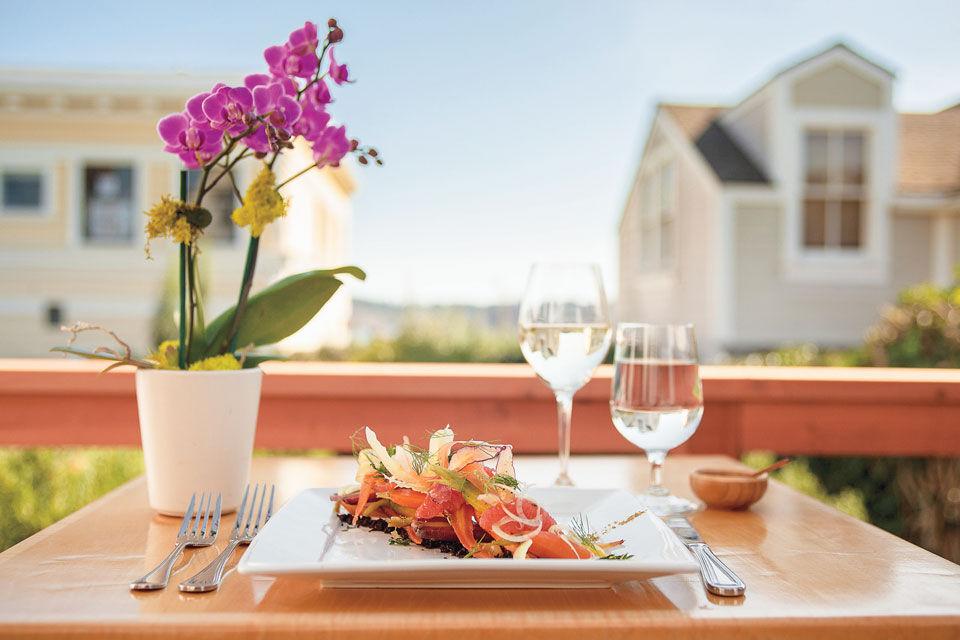 By the Seaside
Known for inns, shops, and art galleries, the seaside village of Mendocino offers souvenir seekers everything from fine art at Prentice Gallery to locally made goodies at Mendocino Jams and Preserves. More mouthwatering pairings are waiting at Trillium Cafe, just a block away. Heat lamps keep you toasty as you nibble on artisan cheese and grass-fed rib eye steak in the garden. Nearby, Fog Eater Cafe promises vegetarian cuisine with a southern twist. Think iconic dishes like hush puppies, beans and rice, and biscuit sliders with fried green tomatoes.
Mendocino village is surrounded on three sides by Mendocino Headlands State Park. On clear days between November and May, scenic trails are ideal for spotting California gray whales migrating close to the coast. Less than 10 miles to the north in Fort Bragg, the Coastal Bluff Trail at the Mendocino Coast Botanical Gardens provides more whale-watching opportunities. In March, there are also showy rhododendrons, late-blooming magnolias, and camellias in the 
gardens to compete for your attention.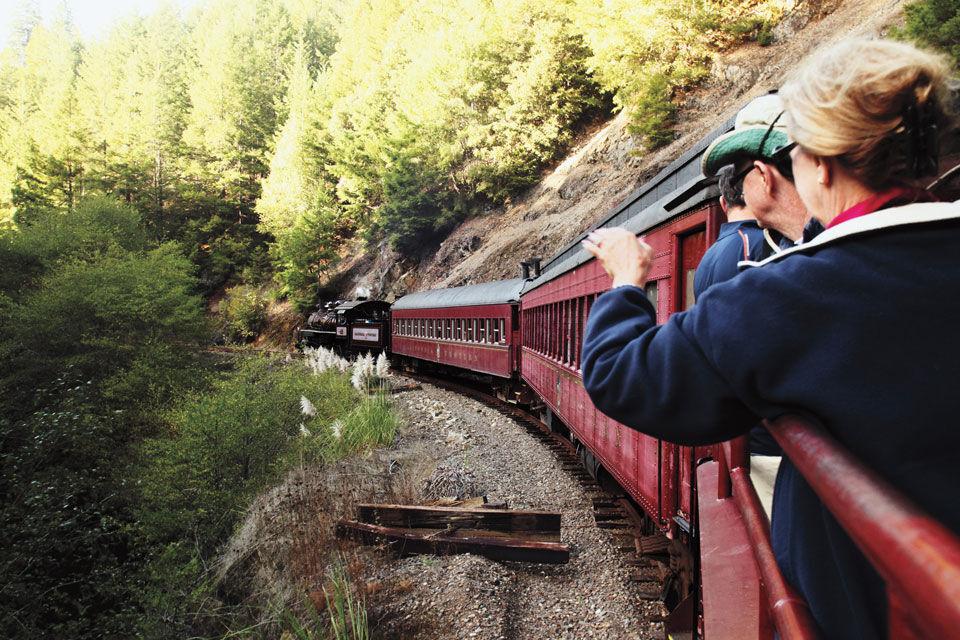 All Aboard the Skunk Train
Initially created to transport lumber and logging camp workers, the Skunk Train has been chugging through Mendocino County's redwood groves since 1885. (The "skunk" nickname comes from the recognizable odor that trains emitted in the early days.) Those who hop aboard in Fort Bragg today are transported deep into the redwood forest, traveling through striking stretches of wild scenery. Open-air cars allow for a 360-degree look at towering trees, some more than 300 feet tall.
At select times throughout the day when no trains are running, rail bikes quietly roll along the tracks. Guides provide tidbits about the area's history and ecology, but for the most part, riders move at their own pace. The experience (each leg of the journey is three and a half miles) has gentle grade, but thanks to an electric assist on the 
recumbent-style two-seaters, it's a relaxing ride for any age or ability.
Heavenly Hikes
Just a couple miles north of Mendocino, Russian Gulch State Park features 15 miles of trails, giving hikers the choice of sunny stretches of rocky coastline or shaded forests. Come spring, wildflowers 
explode and carpet the park with color.
Fern Canyon Trail is a moderate, six-plus-mile loop lined with redwoods, moss, and lush ferns that rewards walkers with an 
up-close view of a 36-foot waterfall. But those tight on time or energy won't miss out: A short walk along the Headlands Trail delivers 
postcard-worthy scenes of the Pacific Ocean and a peek into the 
Devil's Punchbowl, a sinkhole created when an ocean tunnel 
collapsed due to the pressure of pounding surf. Save a few minutes before you climb back into the car to take in the sight of the Frederick W. Panhorst Bridge from the park's picnic area.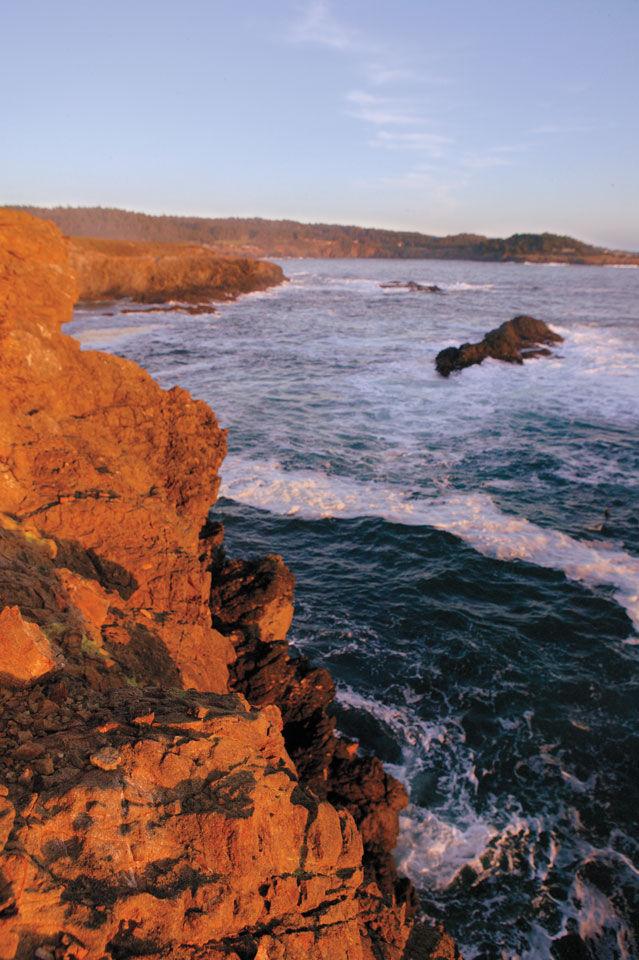 Rooms to Remember
Book one of the 65 ocean-view rooms at Little River Inn, and you can hike along a private trail that leads to Van Damme State Park. Located a few miles south of Mendocino village, the property boasts a nine-hole golf course, a pair of tennis courts, and a restaurant, as well as easy access to miles of trails.
A bit closer to town, Brewery Gulch Inn has 10 rooms, all with gas fireplaces, coastal vistas, and breakfasts that look as delightful as they taste. Light sleepers should request an accommodation on the second floor for maximum privacy.
Guests at JD House (a Blue Door Inn, part of the Four Sisters 
Collection) can sleep soundly in a water tower. Located in Mendocino village, the soaring structure has a private entrance, gas fireplace, and room for lounging or enjoying the breakfast that's delivered to your door. Another perk: All guests receive cheese and wine baskets with local Husch Vineyards vino and freshly baked cookies; finish off your stay with a tasty picnic before hitting the road home.