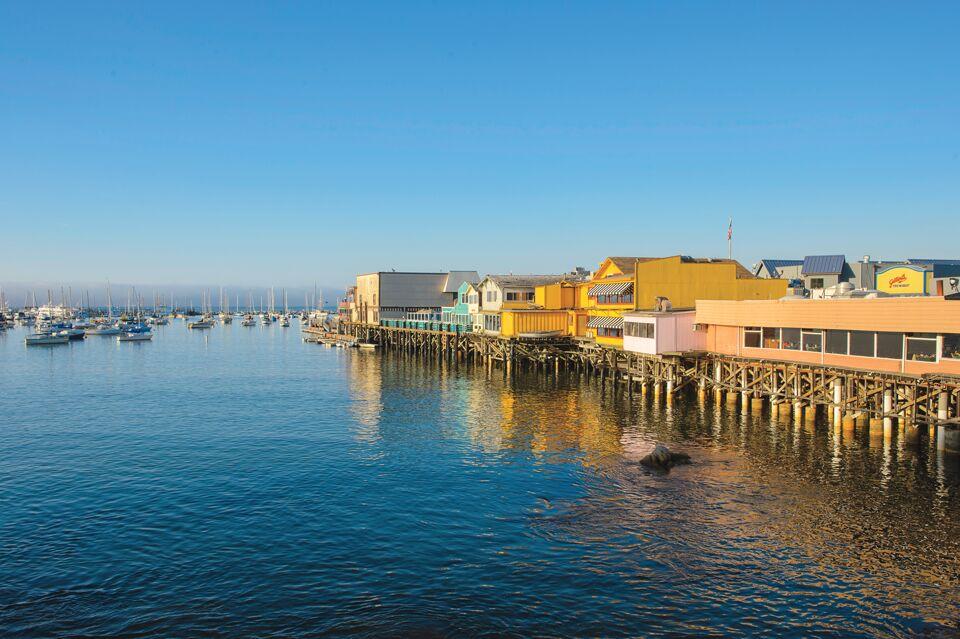 Situated along the rugged Central Coast—boasting breathtaking ocean views and scenic sunsets—is the picturesque town of Monterey. With its gorgeous beaches, charming downtown, wonderful food, and world-renowned aquarium, this seaside destination 
is a top travel spot in California.
While summer months on the Monterey Peninsula are often filled with foggy days, fall is an ideal time to visit, as temperatures tend to be warmer and sunshine is expected.
The two-hour drive from the East Bay is relatively easy, but check traffic conditions beforehand because certain areas along the way can become congested. Once you catch sight of the tall cypress trees, smell the salty air, and hear the sound of crashing waves, you'll know you have arrived.
Shop and Stroll
Monterey is bursting with activities and historic landmarks. Cannery Row, which used to be the site of many sardine-canning companies, is a colorful waterfront street brimming with boutiques, galleries, and drinking and dining opportunities. Stop by Marilee's Designs for apparel and gifts or the Soap Confections beauty store, then bring the kids to one of the two Escape Room 831 locations, a fun and immersive experience with multiple adventures to choose from. For a more adult enterprise, A Taste of Monterey Wine Market and Bistro offers tastings from over 95 local wineries.
Take a stroll down Old Fisherman's Wharf, a dock lined with shops and restaurants, for a view of the Monterey Marina. Nearby is Old Monterey, a downtown district featuring even more retail outlets, mainly on Alvarado Street. Wander along the well-marked Path of History to see historic buildings such as Colton Hall Museum, an old government site and schoolhouse, and California's First Theatre. Culture enthusiasts will want to visit the Monterey Museum of Art, which celebrates a diverse selection of California artists.
Take advantage of this world-class golf region and book a tee time at Del Monte Golf Course. The 18-hole public site—owned by the Pebble Beach Company—was established in 1897, making it the oldest course in continuous operation west of the Mississippi. With its challenging classic greens, it's the perfect way to spend a day outdoors.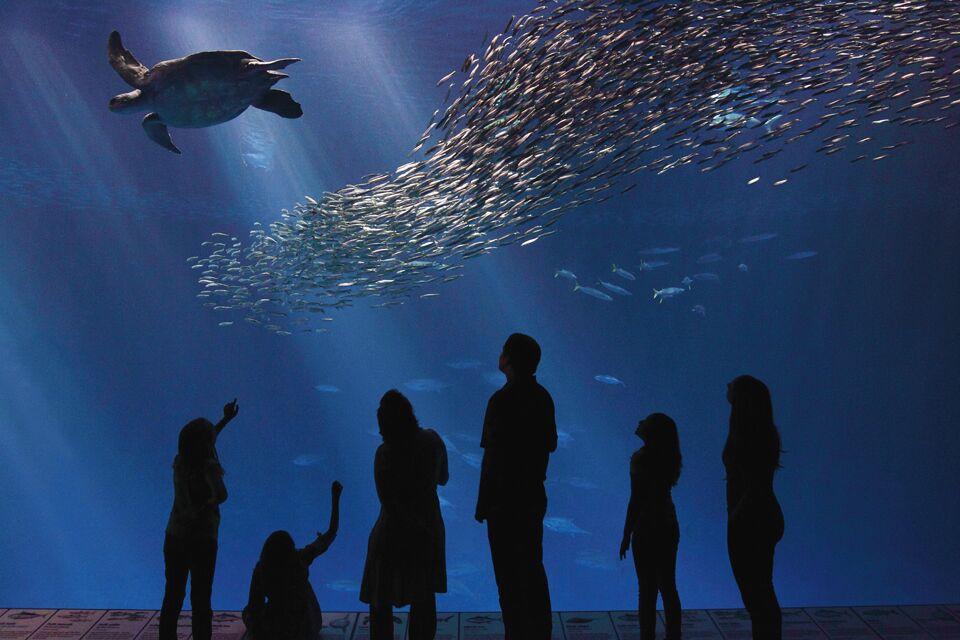 Water Rites
The most notable attraction in the area is the famous Monterey Bay Aquarium—known for its ocean conservation efforts—where visitors come to see over 200 exhibits and 80,000 plants and animals. View swirling schools of sardines overhead in the Open Sea exhibit. Gaze at leopard sharks, wolf eels, and more in the underwater Kelp Forest. Watch furry sea otters splash around and African penguins waddle and play. Guests can venture outside to the back decks that overlook the bay and possibly spot a humpback whale in the distance. Due to COVID-19, tickets are not available in person, so be sure to buy them online in advance. All tours, feeding shows, and auditorium events are currently on pause. (If you're planning a later trip, a brand-new exhibit—Into the Deep: Exploring Our Undiscovered Ocean—is 
coming in the spring.)
For more wildlife observations, consider a boat tour with 
Monterey Bay Whale Watch, which departs from Old Fisherman's Wharf (book a morning cruise, when the chances to see whales, orcas, and dolphins are greater). Or rent a bike or kayak from 
Adventures by the Sea on Cannery Row and look for sea otters 
while cruising along the water. You can also cycle down the 
Monterey Bay Coastal Recreation Trail—spanning 18 miles from Castroville to Pacific Grove, Monterey's lovely neighboring town. Known as "Butterfly Town, U.S.A.," Pacific Grove draws migrating monarch butterflies from mid-October through mid-February each year. They can be spotted at the Monarch Grove Sanctuary, clustered in the Monterey pines and eucalyptus trees. (This month, the city will hold its annual Butterfly Parade and Bazaar.)
The entrance gate to the incredibly scenic 17 Mile Drive is also in Pacific Grove (the access fee is $10.75 per car). Take a ride along the winding coastal road and scope out famous golf courses, seals, and mansions. The town's serene Asilomar State Beach is worth a stop and is significantly less crowded than other sandy spots in the area. Or head back to Monterey and visit surfing draw Del Monte Beach or McAbee Beach, a popular scuba diving site that promises even more underwater creatures.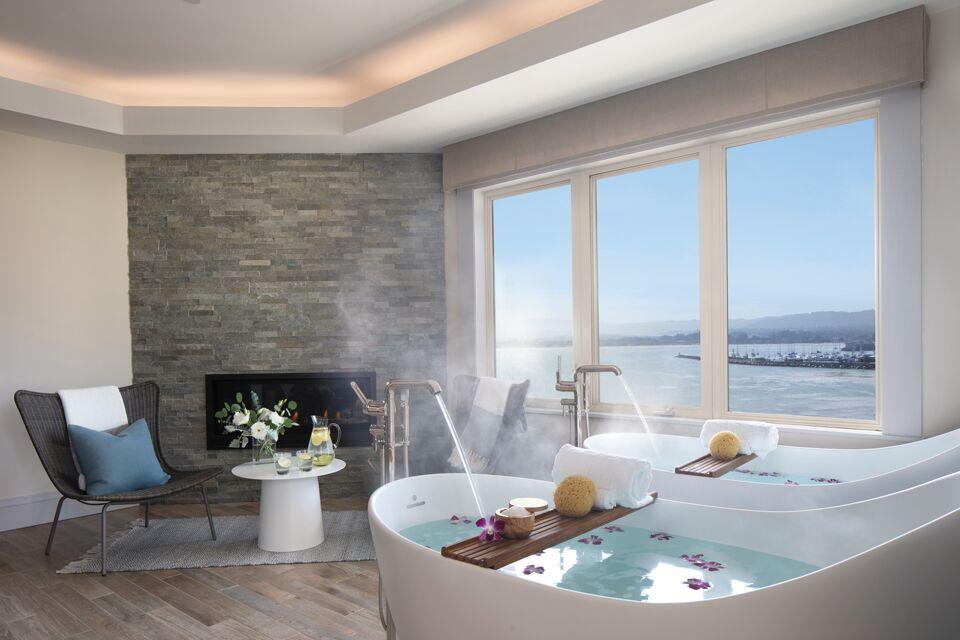 Shoreline Stays
When it comes to accommodations, you'll want to pick lodging along the shore. Monterey Plaza Hotel and Spa, located on Cannery Row, overlooks the bay with more than 290 luxury rooms and suites. In addition to the sundeck, high-end fitness center, and rooftop spa, the resort is home to Schooners Monterey, where diners can indulge in a delicious surf-and-turf menu—complete with fresh oysters and braised short ribs. Intercontinental The Clement is another fantastic option: Just a three-minute walk from the aquarium, this elegant, four-star hotel offers the ultimate oceanfront experience with 
a pier that leads out to the bay. After a long day of adventuring, 
get a table at the onsite C Restaurant and Bar, and go for one of 
the prime steaks, along with the calamari and garlic herb fries. 
For a more casual stay, opt for the Old Monterey Inn. While not along the water, this quaint bed-and-breakfast—nestled within enchanting English gardens in the heart of downtown—ensures an intimate vacation.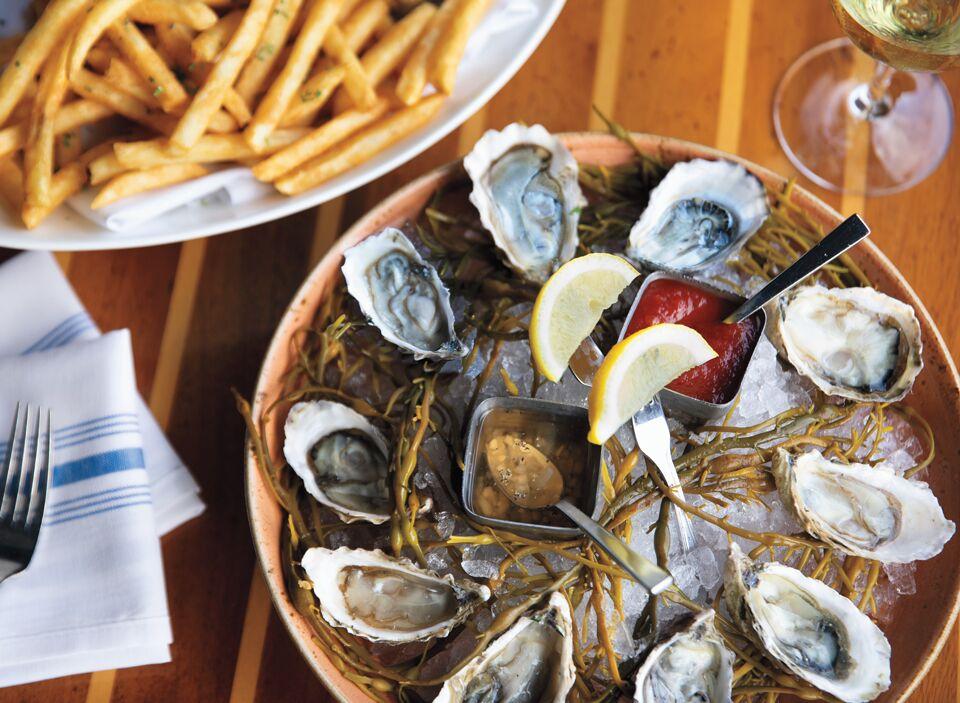 There are plenty of other top-notch restaurants worthy of a 
visit. For a hearty breakfast, try First Awakenings, which serves all the morning classics. There's always a wait, so come early. If you are craving something on the lighter side or a quick lunch, Paris Bakery Café is a great go-to. And for dinner, reserve a table at The Sardine Factory, a can't-miss award-winning seafood spot along Cannery Row. Or, there's Lalla Oceanside Grill, where the menu features tasty flatbreads and pasta, along with more fish, 
of course.
So if you're seeking a weekend filled with luxury, fine dining, and wildlife exploration, head down to the coast—the delightful city of Monterey awaits.