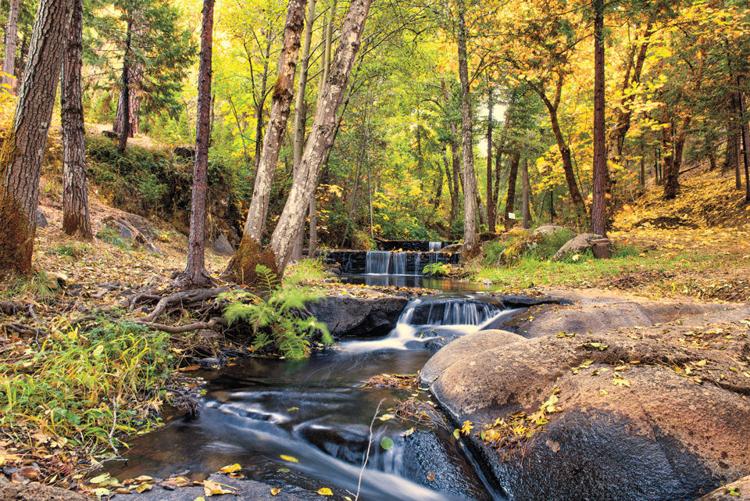 Meander down Placerville's Main Street, recently voted among the best in the 
U.S. by Parade magazine, and it's easy 
to imagine you are on the movie set for 
an old western. Victorian street lamps, crenellated storefronts in shades of aqua and salmon, and imposing buildings of hand-set stone testify to the $25 million worth of placer gold that was scraped 
from the surrounding hills and canyons and established Placerville as a wealthy hub of California's rough-and-tumble Gold Country. Along with money, of course, comes greed—hence the town's original name of Hangtown, a colorful nod to the realities of frontier justice.
But exploring Placerville's vibrant downtown (a little over two hours drive from the East Bay) is only one of the temptations of El Dorado County in the fall. Just 10 minutes away, Apple Hill is in full swing during harvest season, with the promise of cider doughnuts, crates of just-picked apples, and a growing number of wineries and cider-makers. And then there's the procession of mountains, forests, rivers, and lakes that make Placerville the perfect basecamp for a Sierra getaway.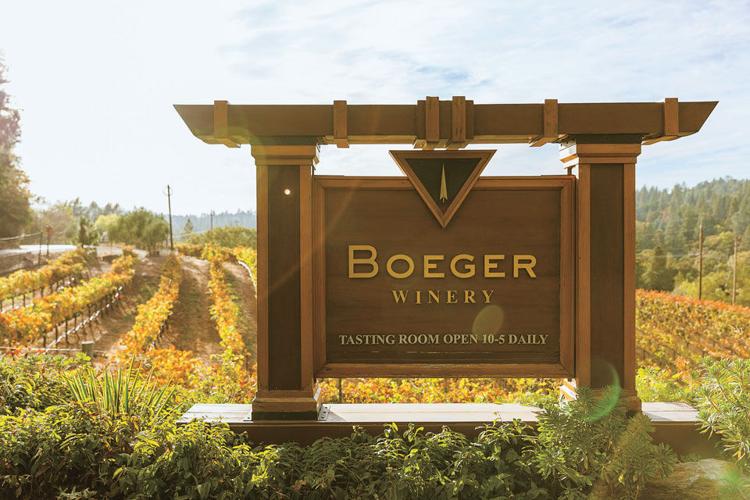 On the Town
Placerville boasts not one but two of California's oldest businesses still in continuous operation: the Placerville News Company, a newsstand that doubles as a quirky general 
store selling everything from artwork to toys to musical 
instruments, and Placerville Hardware, which also claims 
the title of oldest hardware store west of the Mississippi. 
Walk across rough 150-year-old plank flooring to investigate aisles lined with every household item you can think of and more—like gold-panning equipment for those eager to bring home some gold flakes.
But history doesn't mean hidebound; the last few years have seen the opening of one eclectic new enterprise after another, from cafés, restaurants, and artisanal purveyors to design studios, boutiques, and galleries. Get a sense of this energy at Hangtown Leathers, which opened last year in 
the landmark Pearson Soda Works building; Dedrick's Cheese, which showcases more than 200 varieties per year; 
and Winterhill, which sells its own hand-pressed olive oil 
as well as jam, beeswax candles, and other local and 
regional products.
Any tour of town starts at the cast-iron Bell Tower­—visible from all directions at 50 feet tall—that was built to alert local volunteer firefighters after Placerville suffered a succession 
of fires. Before setting out, head to Sweetie Pie's
and enjoy dishes such as a four-egg omelet, olallieberry pancakes, and a soufflé-like chili relleno casserole served up on the sunny patio of a pink Victorian house.
Speaking of food, at least one lunch or dinner during your visit has to take place at Heyday Cafe, which put Placerville on the foodie map back in 2007 and has only gotten better. Chef Nick Bolen's roasted butternut bacon pizza topped with spinach and goat cheese is so unforgettable that repeat customers have been known to pull over en route to Lake Tahoe just to savor it again (the molasses gingerbread cake is equally memorable).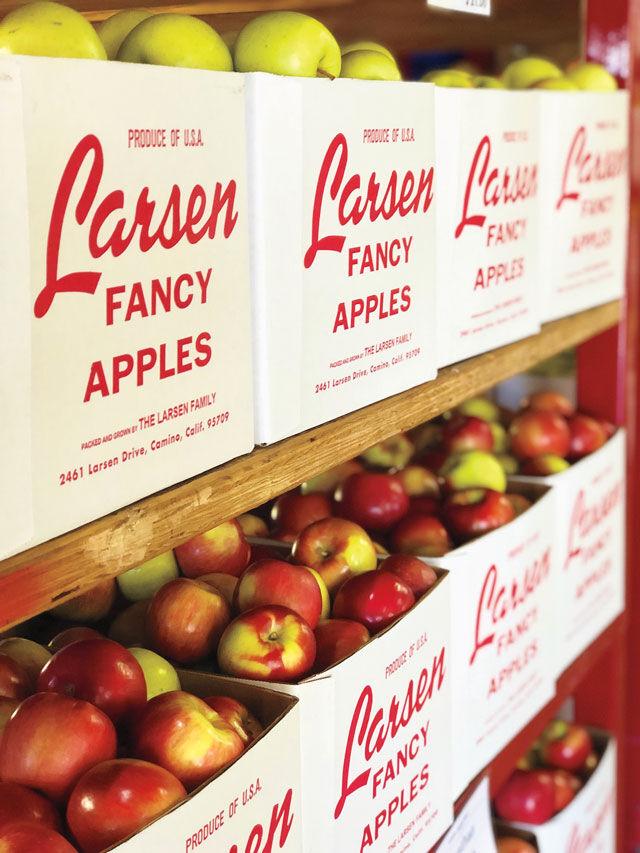 Apples to Apples
This time of year, you'll want to spend at least one full day exploring Apple Hill, where the slopes are covered with heirloom orchards and vineyards, and local families welcome visitors to U-pick farms and friendly, low-key tasting rooms.
Still run by the same family that founded it in the 1860s, Larsen Apple Barn is the perfect introduction to the region's celebration of all things apple, with a museum and a selection of old cars and farm equipment, some of which you 
can climb on. Try a picnic in Larsen's lush park with supplies from new arrival Sourdough and Co., which makes 
a mean pastrami Reuben along with creative options like cracked pepper turkey.
From Larsen, head to Delfino Farms, where you can sample the wares produced by multiple generations of this longtime farming 
family, including cloudlike fritters at Joan's Apple Bakery and 
Henrietta Stich barrel-aged hard cider, named for the clan's matriarch. A particularly festive atmosphere pervades High Hill Ranch, host of the annual Farm Festival (unfortunately not held this year), where activities include apple picking, hayrides, and a craft show in addition to what many consider Apple Hill's best cider doughnuts and pies. And El Dorado Orchards is a favorite of the younger 
set, thanks to the train rides that circle a pond filled with geese and ducks.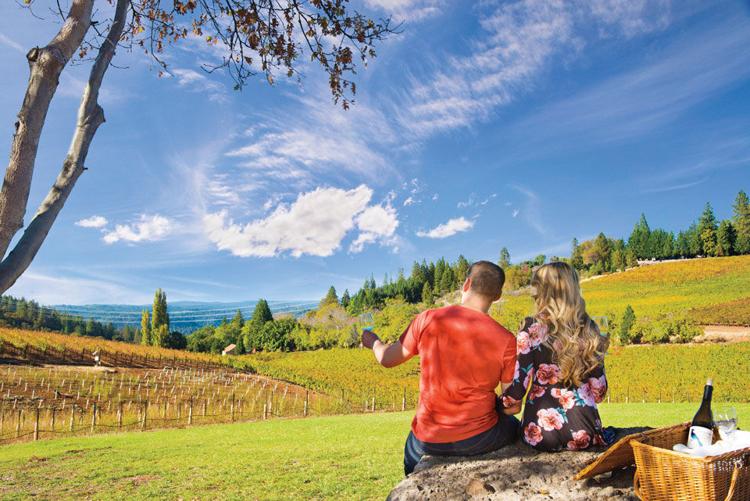 You'll also find a wealth of wine-tasting rooms in the hills around Placerville, with Lava Cap and Boeger among the best known. None is as lively as Crystal Basin Cellars, where elegant varietals like roussanne and mourvèdre share space with blends such as Renegade Rosé and Rocketman Red, and owner Mike Owen keeps everyone laughing.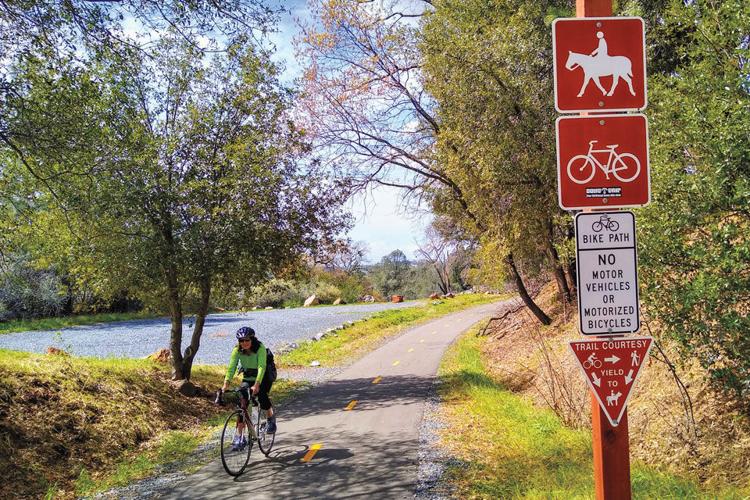 Active Adventures
Increasingly seen as an alternative base for a visit to South Lake Tahoe, Placerville has a wealth of less-crowded options for outdoor exploration. A string of swimming holes lures sunbathers, anglers, and rock jumpers to the cold, clear Cosumnes River, which flows through a deep gorge popular with climbers.
Just east of town begins the Eldorado National Forest, dotted with lakes and crisscrossed by rivers and streams, including the South Fork of the American River, a favorite of kayakers and rafters. The 
El Dorado Trail greenway runs more than 35 miles east to west, with a section near Placerville paved for easy biking.
In normal times, Gold Bug Park is the only one of California's 
historic gold mines to still host tours of the tunnels themselves, as well as a stamp mill, blacksmith's shop, and other living history exhibits. Check Gold Bug's website for the current status of the tours.
Before hitting the trails, make a stop at Hog Wild Bar-B-Que to stock up on slow-cooked brisket and pulled pork sandwiches, along with traditional sides (don't miss the mac and cheese). End your day on the expansive patio at Smith Flat House, where live music often accompanies the parade of classics such as risotto, oysters, and rib eye.
And as you lift a glass of local Madroña chardonnay to the light, noting its honey hue, this thought may occur to you: There's more than one kind of gold to be found in modern Placerville.