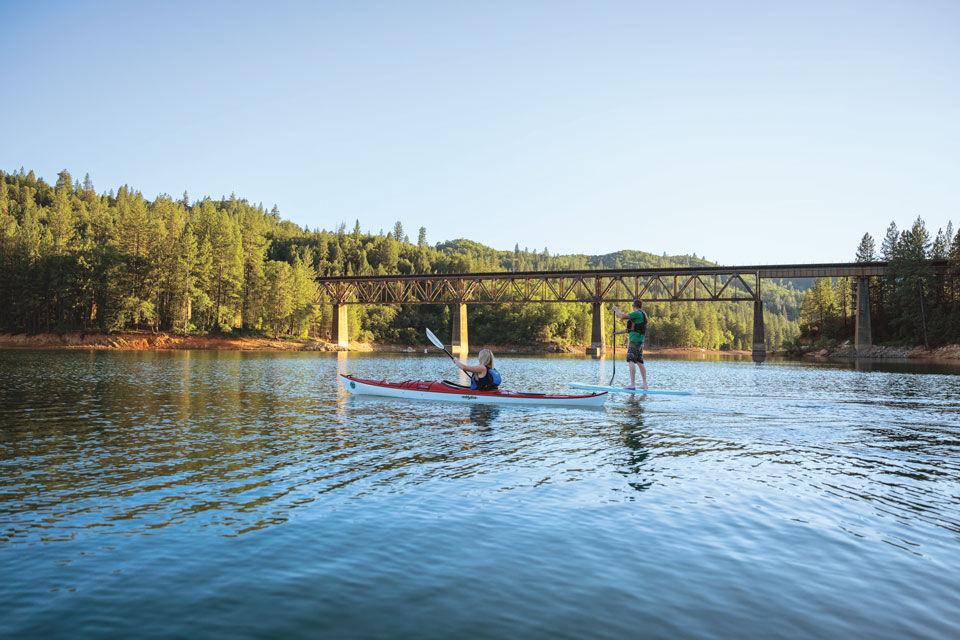 Picture a wakeboard's rooster tail of spray glistening 
as it arcs onto the glassy surface of Lake Shasta before the powerboat makes a graceful turn into a secluded cove; in the distance, a snowcapped Mount Shasta reflects sunlight like a towering beacon. The peak is a 14,179-foot call to adventure (both on land and water) in the Cascade mountain region of Northern California. About a four-hour drive from the Bay Area via a straight shot on I-5, the Shasta lakes area is well worth the trip for an invigorating weekend escape.
A Liquid Metropolis
Shasta Lake is an expansive liquid metropolis populated by every imaginable craft, though the reservoir provides plenty of room for aquatic social distancing. You'll see kayaks and canoes, Jet Skis and power cruisers, sporty fishing boats, plodding pontoons, and luxury houseboats ferrying visitors around the blue waters. Despite more than a half dozen marinas with rental craft dotting the shores, 
and plenty of docks from which to launch personal watercraft, it doesn't usually feel crowded out on the lake. California's largest 
reservoir holds close to 47 square miles of water, surrounded by 
370 miles of shoreline curving up and down multiple arms of its waterways. And should you find Shasta Lake too hectic, drive a little over 16 miles west to the less trafficked Whiskeytown Lake, or take the 50-mile trip to the more remote Trinity Lake.
Tucked on the shore of Shasta's northern Sacramento Arm, Antlers Resort and Marina provides a full array of watercraft and equipment rentals. Grab a boat and explore the reservoir's many nooks; there are plenty of experiences to enjoy, whether you prefer high-intensity wakeboarding, a relaxed day of fishing (for trout and bass), or 
a picnic in a quiet cove. Shasta's Holiday Harbor and Jones Valley 
Resort specialize in houseboat rentals (some complete with 
waterslides, hot tubs, and full kitchens), a hugely popular option for 
visitors who want to spend a weekend on the water. Stock up on food and drink, tow a Jet Ski or kayak behind your houseboat, and you can create your own mobile lakefront resort experience.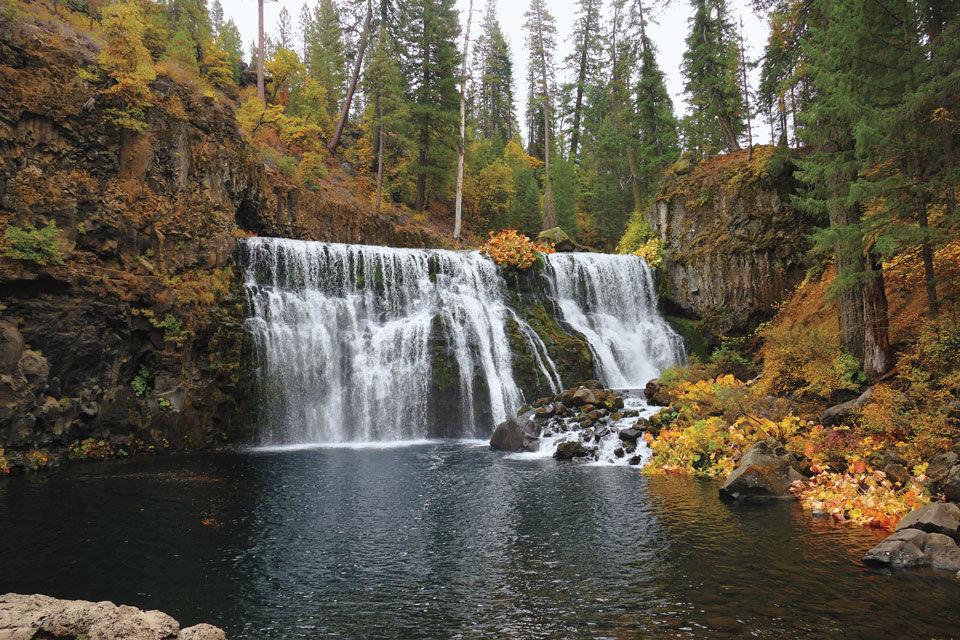 Take a Peak
Looming majestically over the landscape, Mount Shasta practically begs to be scaled. However, its 14,179-foot elevation and the technical aspects of the ascent mean that only serious climbers with proper equipment (including an ice axe and crampons), conditioning, 
and preparation should try to make the full climb. That said, 
several thousand people successfully summit the mountain 
every summer, often with the support of an organized tour from services including Shasta Mountain Guides (this can be 
a two- to three-day journey).
But there's no need to actually plant a flag on the mountaintop to appreciate Shasta's beauty or immerse yourself in the high alpine environment. From the foothills of Mount Shasta to the far reaches of the Cascades, a nearly infinite number of hiking trails provide opportunities to explore. Easier hikes near Mount Shasta allow for great views of the mountain without all the work. The trail to the John Everitt Vista Point and Panther Meadow Loop are two scenic walks just off the A10 road that can be done in an hour or less. You can also go chasing waterfalls (three of them!) along the McCloud River Trail, south of the mountain off Highway 89. Steep three-mile hikes to Castle Lake and Heart Lake (located west of Shasta across I-5) promise prime mountain vistas and a cooling dip in the lake waters.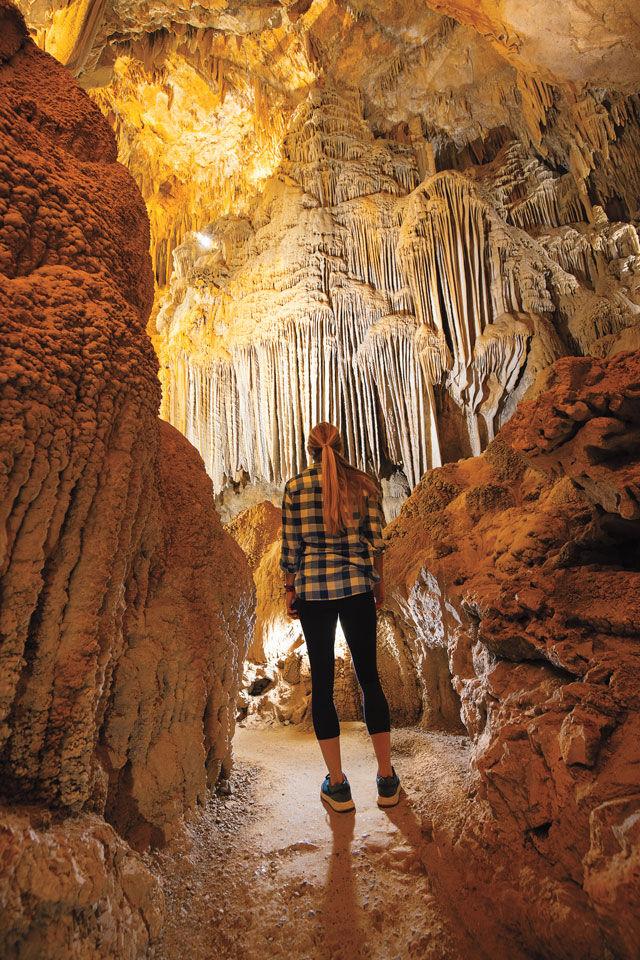 Over and Under
The Mount Shasta area has a variety of attractions beyond the lakes and hiking trails. Shasta Dam, at the southern end of Shasta Lake, is the second largest concrete gravity dam in the United States, and its walkway provides a cool vantage point straight down to the river 602 feet below. (Note: Interior dam tours are temporarily halted due to COVID restrictions.) Lake Shasta 
Caverns offers hour-long tours of the underground terrain, which is full of stalagmites and stalactites almost as spectacular as the sights above.
About 50 miles east of Redding, Lassen Volcanic National Park is a great destination if you want to extend your weekend trip. It's home to both a stunning mountain landscape and a geothermal phenomenon amid a lava rock wasteland. On trails like Bumpass Hell and Devils Kitchen, you'll get a visceral reminder of the region's volcanic roots (but still have the ability to escape into 
the pure mountain air).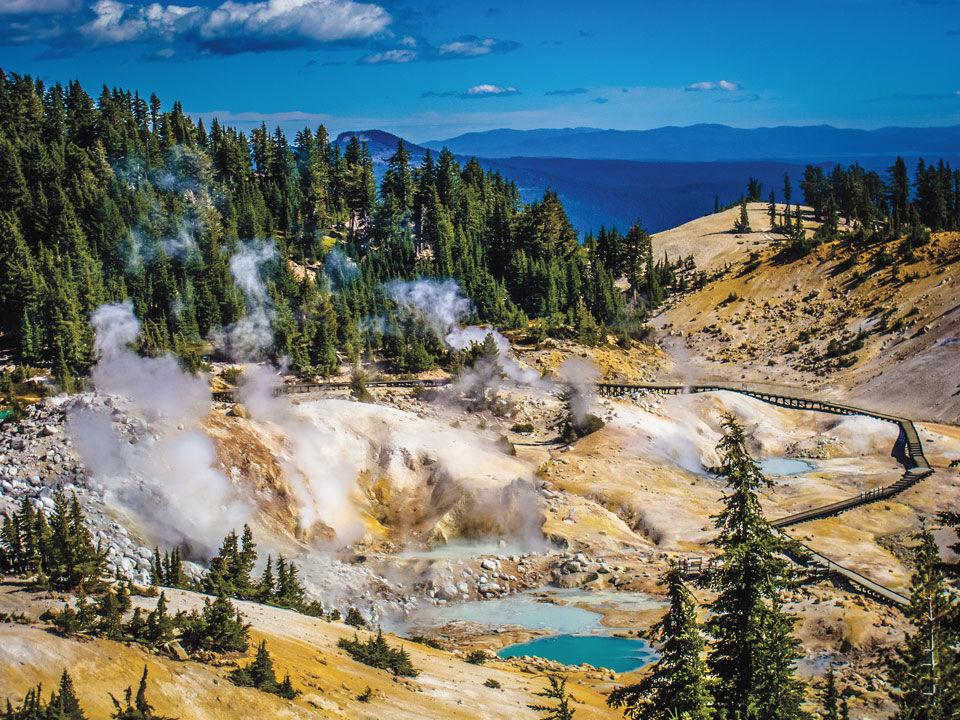 Lake Lodging
The Shasta area has dozens of campsites and RV parks that are tailor-made for a distanced summer road trip. The Antlers RV Park and Campground is a full-service camping destination with a general store, showers, restrooms, and a nearby marina that offers extensive equipment rentals. The park's scenic wooded camping spots (and occasionally crowded RV area) overlook the lake's Sacramento Arm. For a more upscale experience, book a lakeside chalet 
at the Mount Shasta Resort on the shores of Lake Siskiyou near 
Mount Shasta, and play a round of golf at the 18-hole course.
Fuel up for a weekend of hiking with a hearty family-style Italian meal at Mike and Tony's, a longtime institution in the town of Mount Shasta. Start your day off right with a freshly baked croissant or coffee cake at Mount Shasta Pastry; you can also pick up complete dinners to go, including chicken potpies and vegetarian lasagna. In the town of Shasta Lake, the Old Mill Eatery and Smokehouse serves heaping helpings of ribs and brisket smoked in their own oak-fueled cooker.
Shasta is a feast for the senses, where you can fill a weekend tackling heights, exploring depths, or just floating on the reservoir soaking in the scenery. Immersing yourself in the natural beauty of the Shasta lakes will sate most travel appetites—at least until the open road calls once more.