Surrounded by the majestic Sierra Nevada mountains, 
with glassy waters and a snow-covered shoreline, Lake Tahoe—North America's largest alpine lake—is a spectacular sight to behold in the wintertime. And while the north and south shores have their virtues, it's Tahoe's west shore, which stretches 
18 miles from Tahoe City to Emerald Bay State Park, that's arguably the most peaceful, rustic, and beautiful part of the region.
This past summer drew crowds of visitors to the beaches and bike paths, much to the dismay of Tahoe locals who protested this boom in tourism during the COVID-19 pandemic. But the winter season allows for safer, socially distant activities, making it the perfect time for a weekend getaway full of outdoor fun and relaxation.
So breathe in the fresh, pine-scented air, hit the slopes or backcountry trails, and get into the holiday spirit. The journey is just over a three-hour drive (depending on traffic) from the East Bay, and be sure to check Caltrans for current highway conditions and live road webcams, as snow chains might be necessary.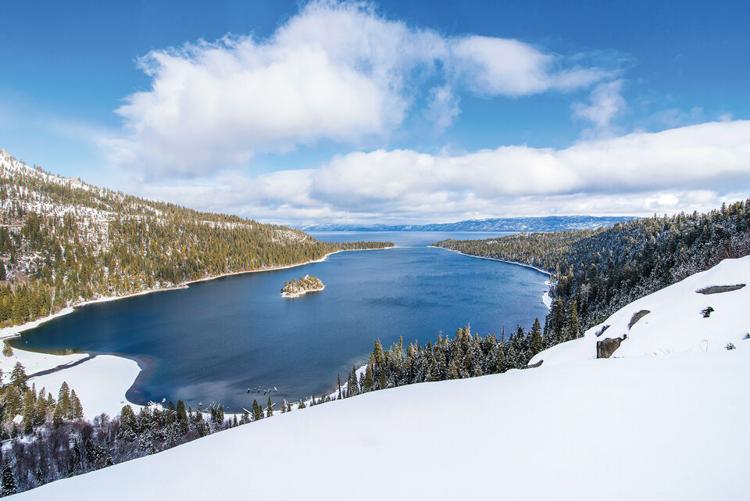 The Sporting Life
Perhaps the most scenic ski spot in all 
of Lake Tahoe, Homewood Mountain 
Resort is located 10 minutes from Tahoe City (right across the street from the 
lake) and boasts incredible views—it's 
as if you are soaring straight into the 
sparkling blue waters on your skis or snowboard. While this resort is known 
for its slower-paced vibe and smaller crowds, do plan ahead, since there is 
a limited number of season passes due to COVID-19 safety measures, and ticket prices are better online.
To escape crowds of any size, head to one of the following backcountry areas for Nordic skiing, snowshoeing, or snowmobiling. Blackwood Canyon—a 4.5-mile nature-filled route two miles from Homewood—begins at a snow park (perfect for sledding) and leads you toward Blackwood Creek. A few miles away, on the edge of the Tahoe Park Heights neighborhood, you'll find another serene area for wintry adventures. Paige Meadows rests high above the lake and offers plenty of open forest space. Also, check out the picturesque Ed Z'berg Sugar Pine Point State Park in Tahoma, which features several groomed tracks for cross-country skiers. For family fun, Tahoe City Winter Sports Park is an ideal choice, as it includes a safe sledding hill, ice-skating rink, and plenty of trails.
A can't-miss west shore adventure is the hike to Eagle Rock; it only takes 15 minutes to get to the top, with the trailhead easily accessible from the highway. If conditions aren't too icy, trek to the apex to admire the breathtaking panoramic views of the lake. Another must-see is Emerald Bay—one of the most photographed places on earth—which truly lives up to the name. The blue-green water that surrounds the lake's shallow shoreline circling Fannette Island is a stunning sight. If time allows, take the short walk down to Vikingsholm, known as "Tahoe's hidden castle," which can be reached all year round.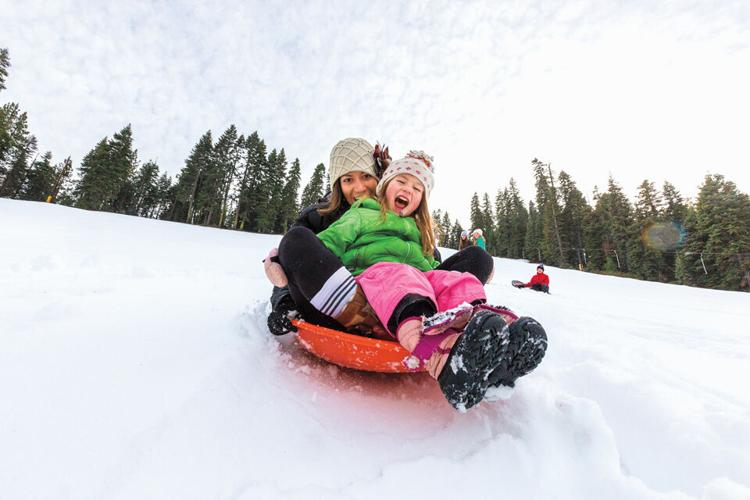 Lakeside Leisure
For accommodations, the west shore has some of the best lakefront 
options. West Shore Cafe and Inn, an upscale yet rustic hotel in Homewood, includes four mountain-view guest suites and two rooms, and the charming eatery is the ultimate waterside dining setting (in the summer, the pier is open for seating). Drive four miles down the road for a similar but more casual experience at the popular Sunnyside Restaurant and Lodge, which has 23 guest rooms and suites. Warm up at the restaurant after a day in the snow, and make sure to order the fried zucchini appetizer and hula pie dessert—two Sunnyside favorites. Nearby, nestled within pine trees along the shoreline, is The Cottage Inn, with charming log cabins that ensure a restful and quiet vacation. Plus, there's Granlibakken Tahoe, a lodge and adventure park set in a valley with several dining options, which is great if you're bringing the whole family.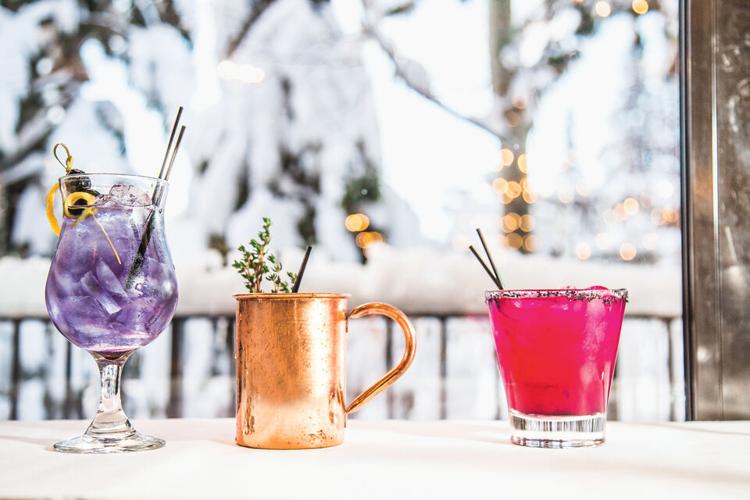 The best breakfast in all of Tahoe is also located on the west shore. Fire Sign Cafe, based in a former house, serves breakfast and lunch all day long. There's always a wait, sometimes over an 
hour, but it's well worth it. As far as quick bites and take-out 
options go, West Shore Market and Deli boasts a gourmet deli, coffee bar, and year-round gelato. In Tahoe City you'll find Tahoe House Bakery and Cafe and The Dam Cafe, two great morning and midday choices. For dinner, and a slightly different waterfront 
experience, make a reservation at River Grill and Bar, situated along the Truckee River in Tahoe City. While the outdoor patio is 
a summer hot spot, the interior, especially beside the fireplace, 
is quite comfortable. The entire menu is enticing, so if you have a hard time choosing, go for the Alaskan halibut special—it's always to die for.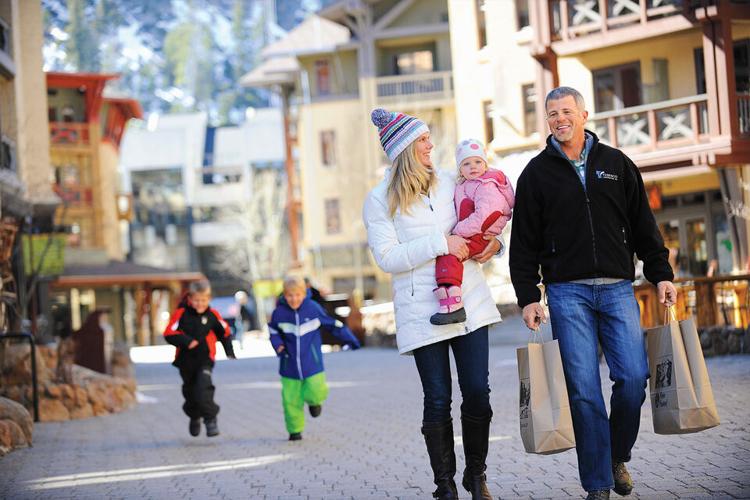 Valley Village
Just seven miles from Tahoe City, tucked away in the mountains, 
is Squaw Valley Ski Resort—a world-renowned destination and the site of the 1960 Winter Olympics. (Following the 2021 spring ski season, the long-standing name will be changed because of the derogatory history of the term "squaw.") Opening day on these slopes, which are spread across six mountain peaks, is set for November 25. Buy tickets online because walk-up window sales won't be allowed this year, but note that advance purchases will be controlled to guarantee socially distancing. Just a mile down the road, Alpine Meadows—Squaw's sister resort—is another gem, including more than 100 powder-filled runs and lake views. While a project to connect the two by a gondola is currently in progress, take the Squaw Alpine shuttle to hop back and forth between the spots.
If you aren't making a day trip from the west shore and plan 
to spend the night, then book a balcony room at The Village at 
Squaw Valley hotel, complete with a fireplace and kitchen, or 
the luxurious Resort at Squaw Creek, situated beneath the Sierra 
Nevada with lavish amenities and a hot tub that's open during the winter. In the Village at Squaw Valley, check out some of the many shops, such as Lather and Fizz Bath Boutique and Mind Play. There are also plenty of stores selling cold-weather gear. While taking a break from the slopes, have lunch and a drink at KT Base Bar, an outdoor eatery located next to the legendary KT-22 chairlift. And in the evening, cozy up by one of the four firepits 
to roast marshmallows and grab a bite from one of the variety of dining options. A standout is Fireside Pizza Company, which serves 
gourmet pizzas, tasty pastas, and inventive salads.