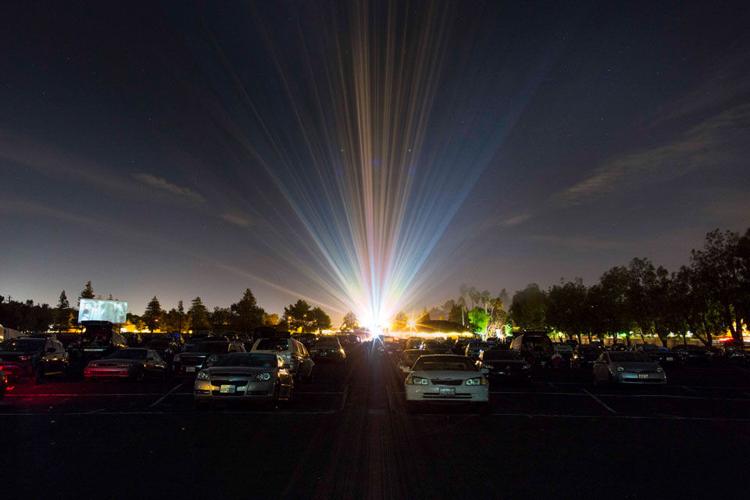 The COVID-19 pandemic and social distancing rules have brought about a resurgence in drive-in movies and pop-up screens—and with high-tech sound and visuals, delicious snacks, and beloved classic films in the lineup, a trip to the drive-in can provide a welcome evening out.
Concord's West Wind Solano All-Digital Drive-In—part of a family-operated collection of theaters that opened in 1952, with additional locations in San Jose and Sacramento—is a local favorite, and the theater is currently screening double features of famous movies. This weekend, catch combos of Iron Man, AquaMan, Shazam!, Beauty and the Beast, Harry Potter and the Sorcerer's Stone, The Wizard of Oz, Bohemian Rhapsody, and A Star is Born. Every other week in July and August, the venue is also hosting "A Night at the Drive-In," a series presented by Amazon Studios and Michael B. Jordan's Outlier Society production company. Catch the next installment—"Movies to Inspire Your Inner Child," featuring Hook and Spider-Man: Into the Spider-Verse—on July 29. San Francisco's Jewish Film Institute is also holding their Cinegogue Summer Days film festival at the West Wind Solano and San Jose locations this year, which will run through Sunday, July 19. $8.25 general, $1.75 kids, westwinddi.com.
Similarly, head to the Alameda County Fairgrounds in Pleasanton to take part in the Under the Stars Drive-In Movie Series. Though film showings sell out, there are still tickets left for The Breakfast Club on July 23. The venue is also hosting drive-in live concerts, and on July 25, don't miss the Encore Drive-In Nights' Blake Shelton, Gwen Stefani, and Trace Adkins concert film, available for only one night and solely on drive-in screens (and also coming to the West Wind in Concord). Parking fees include admission to the Grab-n-Stay Food Truck Festival and the 2021 Alameda County Fair, and proceeds from the July 23-24 shows will benefit the Alameda County 4-H and a local nonprofit fair partner. $35-40 per vehicle, alamedacountyfair.com.
2020's Sonoma-Marin Fair was cancelled due to the COVID-19 pandemic (and replaced with a virtual version in June), but the Sonoma-Marin Fairgrounds and Event Center promises plenty of adventure on July 24 as they host a screening of Raiders of the Lost Ark. The Steven Spielberg classic features Harrison Ford as Indiana Jones in a race to uncover the Ark of the Covenant before the Nazis. The movie will be shown courtesy of Bay Area Pop Up Events, which will also bring the alien-fighting 1997 family favorite Men in Black to Santa Rosa's Sonoma County Event Center at the Fairgrounds on July 25. Bring your snacks with you. $35, bayareapopupevents.com.
Bonus: Though their July shows are all sold out, Cameo Cinema is offering drive-in movies at the St. Helena location of Gott's Roadside. Tickets are still available for August showings of Beetlejuice, The NeverEnding Story, Space Jam, and more. Audiences are able to order from a Gott's menu for delivery to their cars. $30 per car, cameocinema.com/drive-in-movies.