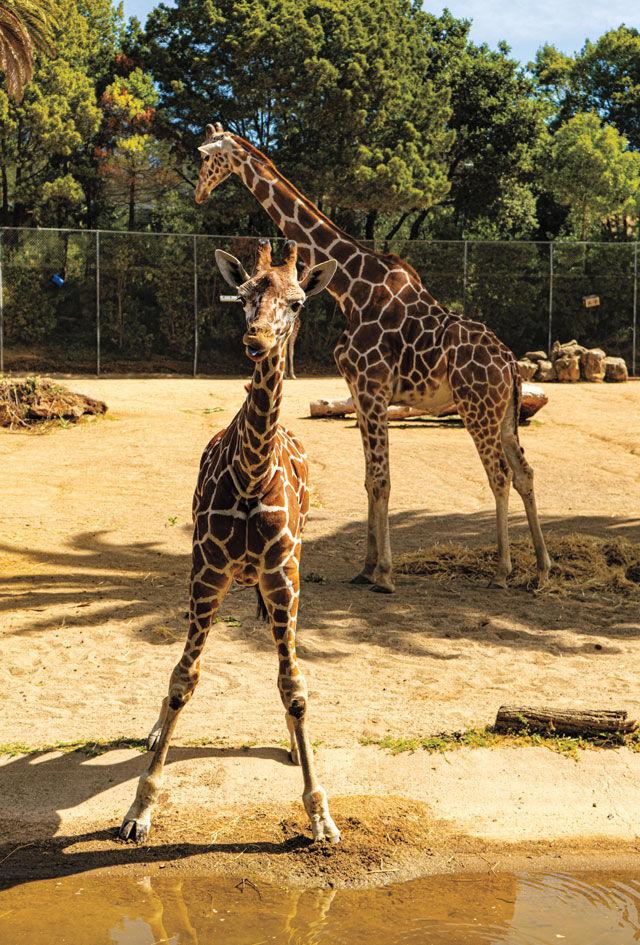 Things are looking up at the Oakland Zoo. The animal haven recently welcomed an adorable new family member—Kijiji, a 
2-year-old reticulated giraffe.
Kijiji, formerly a resident 
at the Lee Richardson Zoo in 
Kansas, traveled in an altered transport trailer that was more than 13 feet tall during her 
30-hour trip. "She acclimated 
really quickly," says zoological manager Ann Marie Bisagno, 
adding that Kijiji came to a holding area near the giraffe exhibit, and was encouraged to join the four other Oakland Zoo giraffes at her own pace. "She's a very calm, curious animal. … It took a couple days for her to get the courage to step over the threshold, [but] once she was on exhibit, she was really comfortable."
Kijiji currently measures about 11 feet in height and may grow as tall as 16 feet. Reticulated giraffes—named for the net-like patterns on their coats—can sleep as little as five minutes to half an hour daily. Their feeding, however, can take 16 to 20 hours every day.
The giraffe exhibit is one of the Oakland Zoo's oldest, and boasts palm trees, rock formations, and a waterfall." [Giraffes examine] things, interact with each other—everything is kind of new, so she's investigating all of it," says Bisagno. "She gets excited, and she runs around a little bit."
Kijiji came to the Oakland Zoo as part of a Species Survival Plan from the Association of Zoos and Aquariums, which monitors captive giraffes' genetic diversity. It is hoped that Kijiji will mate with male giraffe Mabusu when she's about 4 years old. Of course, long-term plans are difficult in the COVID-19 era, as the Oakland Zoo has been experiencing 
serious financial concerns due 
to extended closure.
Among the zoo's conservation partners is Kenya's Reticulated Giraffe Project, which aims to decrease conflicts between people and wildlife, and preserve the giraffes' natural habitats. "Our animals are helping to bring awareness of their plight in the wild—and giraffes are having trouble in the wild with human encroachment and poaching," says Bisagno. "Our role is to provide education, and provide these animals with the best of care, and to make them available for people to see and learn about." oaklandzoo.org.