​It's so close, yet you feel as though you have traveled a world away. That's the magic of Big Sur. Spend three hours behind the wheel, past strawberry fields and signs touting the artichoke capital of the world, and this stunning stretch of coastline awaits. With jagged ocean cliffs, mountains that plunge down into water every shade of blue, and towering groves of redwoods, Big Sur has a flair for the dramatic. 
Hugging the coast, Highway 1 is among the country's most beautiful drives. Raw and undeveloped in this area, its ocean and mountain vistas can present challenges—and Mother Nature is not always kind. After being pummeled by last winter's rain and landslides—which resulted in a washed-out bridge—Big Sur is now back in business. Pfeiffer Canyon Bridge has opened once again, allowing access from the north to Julia Pfeiffer Burns and Limekiln State Parks.  
From sunrise to sunset, awe-inspiring beauty comes standard on any visit to Big Sur. You could simply jump in the car and wing it, but you'd miss out. Cell service is spotty at best, so forget Google Maps; Big Sur is the kind of place where paper maps (remember those?) are still a common sight. Signs are few and far between, so plan ahead with our look at the best that California's Central Coast has to offer.
Day One: Set Your Sights on the Sea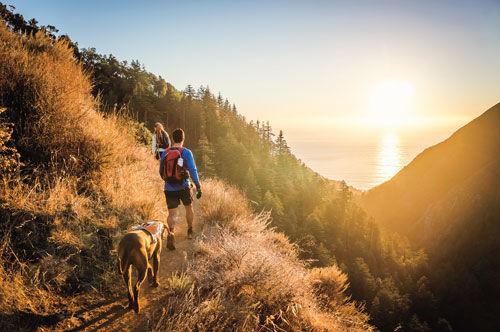 The earlier you hit the road, the better. Afternoon light adds an extra sparkle and makes for a great introduction to Big Sur. Garrapata Beach is an ideal spot to stop and stretch your legs, and in spring and early summer, the park bursts with color thanks to blooming wildflowers. Park on the side of the road, and follow the short trail to a couple of staircases that lead down to the beach. It takes less than five minutes to feel sand between your toes.
As you continue toward Bixby Creek Bridge, it feels as if there's a magnetic field that draws you to the scenic pull-out area. Don't fight it, even though just a few more minutes to the south, Hurricane Point—one of the highest spots on Highway 1—offers another equally stunning opportunity to snap photos.
While there's a lot to see, budget your day so you're settled with plenty of time to gaze at the sunset. Visitors have a variety of options for accommodations, from rustic spots in the woods to rooms with views that compel you to roll out of bed at the crack of dawn. For a pampered stay, head to Ventana Big Sur. Following a multimillion-dollar renovation, the coastal hideaway offers 59 rooms on 160 sprawling acres. Luxurious and cozy but not showy, the resort blends in beautifully with its surroundings, and offers exquisite views of the Pacific Ocean, rolling meadows, and 100-year-old redwood groves. Guests can take advantage of two pools, an infinity-edge hot tub, outdoor Japanese hot baths, a sundeck, and miles of paths and walking trails.
Ventana's Big Sur Forest Shower Suites give new meaning to soaking up redwood forest views. Decks boast open-air showers for two, while oversize hammocks and (in some suites) hanging egg chairs provide even more reasons to linger. Room interiors feature wood-burning fireplaces and spacious bathrooms with soaking tubs large enough for two. Since it's an adults-only resort, all guests must be 18 or older.
When it comes to watching the sunset, Ventana presents numerous options. Grab an Adirondack chair in the Ocean Meadow Lawn, and enjoy the show. (Don't forget to check out the organic garden just down the hill.) Head to the Glass House Gallery, where along with the setting sun you can see works created by local artists. Or snag a table on the ocean-view patio at The Sur House restaurant. Whether you choose to partake in the tasting menu or order à la carte, the sommelier will find the perfect pairing from the eatery's 10,000-bottle wine cellar. parks.ca.gov, ventanabigsur.com.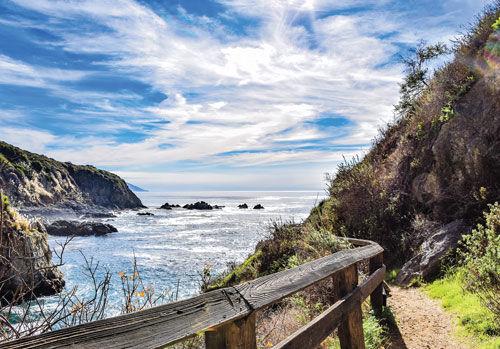 Day Two: Chasing Waterfalls
Today is all about Big Sur's scenery to the south. Start at the restaurant at Deetjen's Big Sur Inn, where breakfast is served daily from 8 a.m. to noon. Listed on the National Register of Historic Places, the eatery hasn't changed much since it opened more than 70 years ago. Walls are covered with black-and-white photos and antiques you might find in your grandma's closet, but the plate-size blueberry pancakes will start your day off right.
Your first hike is an easy one—less than a 15-minute drive down Highway 1 at Julia Pfeiffer Burns State Park. (Turn inland to park your car.) Take the trail to McWay Falls, which offers ocean views as you meander down the path. There's no access to the beach, but from the overlook, you can see the waterfall tumble down to McWay Cove.
The photo-worthy McWay Falls is one of the best-known stops in Big Sur, but if getting close enough to a waterfall to feel the mist on your face sounds enticing, then hiking in Limekiln State Park is a must. Near the tiny community of Lucia, but not quite as far south on Highway 1 as Gorda, Limekiln might be the best-kept secret in Big Sur. The Falls Trail takes hikers through a dozen or so campsites near Limekiln Creek and across a couple of pedestrian bridges, before the fun really begins. Here, getting to the base of the falls requires zigzagging across the creek a number of times, using well-placed fallen trees and rocks. Your shoes will get wet, but once you catch that first full look at the 100-foot waterfall, you won't care. Before you hop in the car to start the trip back north, take the short walk under Highway 1 to the rugged beach, where you may spot sea lions playing in the surf if the waves aren't too rough. 
For dinner, make sure to hit Nepenthe restaurant in time to snag a spot for sunset. Relaxed and casual, the eatery features comfortable seating inside and out thanks to heat lamps and a fire pit. The wine list boasts more than 400 choices, and "The Famous Ambrosiaburger" is worthy of its name. If the banana cream pie isn't on the dessert menu, ask for it. deetjens.com, parks.ca.gov, nepenthe.com.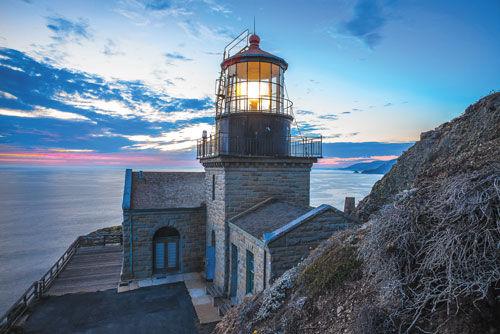 Day Three: Rise and Shine
Even if you usually sleep late and pass on breakfast, the ocean view from the patio at The Sur House is worth skipping the snooze button. Don't plan on sharing the huevos rancheros topped with grilled shrimp; you'll want the dish all to yourself.
Pack up and check out; it's time to head north again, with a few stops to make before driving home. Resting on a volcanic rock that juts out from the coast, the Point Sur Lightstation is only accessible via guided tours. Along with a visit to the lighthouse and the head light keeper's home, the three-hour tour covers famous shipwrecks, including the USS Macon dirigible airship that crashed offshore in 1935. First-come, first-served tours are held year-round on Wednesdays, Saturdays, and Sundays. (In the warmer months, they take place at 10 a.m. and 2 p.m. on Wednesdays and Saturdays, and at 10 a.m. on Sundays.) The tours cost $15 per adult, and sometimes a line forms before the gate opens.
Grab lunch at Big Sur River Inn. Head for the deck if you are craving sun; if you need to warm up more, a table by the fireplace will do nicely. The menu is loaded with everything from salads, to open-face sandwiches, to hearty entrées like baby back ribs. Dipping your toes in the chilly river can be good for feet sore from a weekend spent on the go. pointsur.org, bigsurriverinn.com.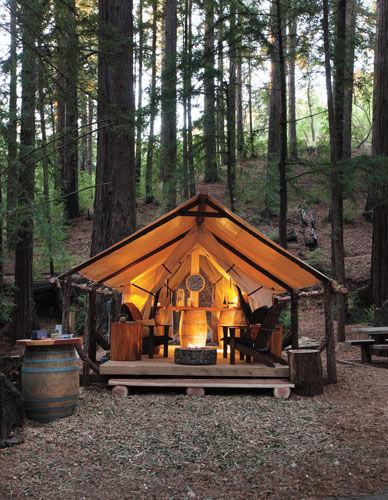 Glamp It Up
Be one with Mother Nature in comfort and style.
Sleeping under the stars can be a magical experience, especially in a place like Big Sur, but sleeping on the ground—not so much. Ventana's Redwood and Canyon "Glampsites" take the hassle and grit out of camping, making it easy to enjoy the great outdoors without giving up creature comforts. Tell stories around the campfire, make s'mores, and then curl up in a safari-style canvas tent complete with a queen bed, soft linens, and an electric blanket. 
Pitched in a 20-acre stretch of redwood trees, the 15 glampsites include perks like electric lamps on bedside tables, power outlets, USB ports, and daily housekeeping. Set on platforms, each tent also features a small deck with two Adirondack chairs, a sink with instant hot and cold potable water, a propane fire pit, and a chest stocked with ice. Steps from each tent are a wood-burning fire pit (with complimentary bundles of wood) and a picnic table. Tents boast a picnic basket of extras, including a s'mores kit, cutting board, cheese knife, bottle opener, and wine glasses.
Bathrooms are strategically placed throughout the glampsites, but the Bath House spoils guests quickly. With tiled showers, heated floors, granite vanities, toiletries, and soft towels, you'll quickly master the shortest route there from your tent. 
For an additional $100 per day per tent, adult glamping guests can enjoy resort pools, a daily hike, fitness center access, yoga classes, and a daily wine and cheese pairing. Rates start at $325 per night. ventanabigsur.com/glamping.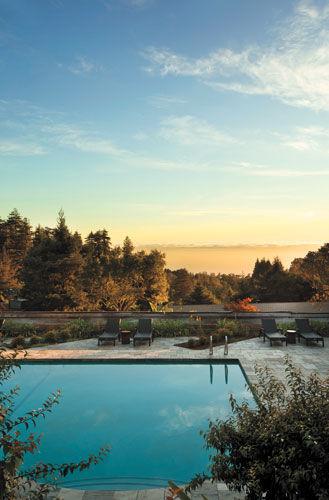 Insider Tips
• For a unique coastal adventure, reserve a spot in the 90-minute Falconry Experience at Ventana Big Sur. Master falconer Antonio Balestreri teaches guests about some of the amazing birds that call Big Sur home, then introduces a few of his feathered friends. Just over a year old, Cuccu, a great horned owl, will charm you from his perch during the up close meet and greet. When Aerial, a young Harris's hawk, swoops down to land gently on your outstretched arm, you'll understand how truly special these majestic raptors really are. ventanabigsur.com/activities.
• If you're still not ready to call it a day, squeeze in a quick hike at Partington Cove. The pull-out is two miles north of Julia Pfeiffer Burns State Park. There's no sign, just a metal gate and likely a few cars parked on the road nearby. The less-than-one-mile trail leads down into a canyon, through a tunnel, and into a secluded cove. seemonterey.com.
• Use the Wi-Fi at Big Sur River Inn to load directions to your last stop: the hard-to-find Pfeiffer Beach. Problem is, there's no sign for Pfeiffer Beach until you've already turned off Highway 1 onto the unmarked Sycamore Canyon Road and wondered if you're going the correct way. (The turnoff is located on the west side of Highway 1 between the Big Sur Post Office and Pfeiffer Big Sur State Park.) The bumpy road stretches for about two miles before it dead-ends at the beach. Once you're there, Keyhole Arch—combined with swaths of purple sand (the color caused by manganese garnet in surrounding mountains)—makes the expedition worth all the trouble. bigsur​california​.org.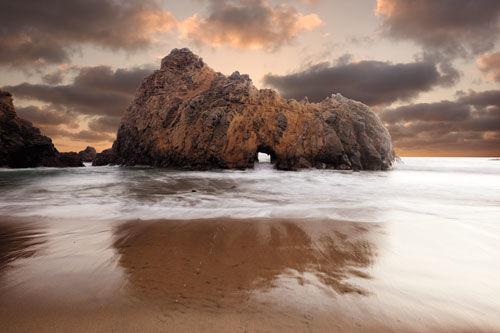 Big Sur by the Numbers
1 - As in Highway 1, which is a destination in itself. 
4 - Light keepers who staffed the Point Sur Lighthouse and fog signal 24 hours a day after it was finished on August 1, 1889. They lived an isolated life until Highway 1 was completed in the 1930s.
6 - State Parks in Big Sur: Julia Pfeiffer Burns, Limekiln, Garrapata, Andrew Molera, Pfeiffer Big Sur, and Point Sur State Historic Park.
18 - Number of years that HenryMiller—author of Tropic of Cancer, Black Spring, and The Rosy Crucifixion trilogy, among other novels—lived in Big Sur.
80 - Feet that McWay Falls drops from rocky cliffs onto the sand below.
90 - Miles of scenic coastline in the region, stretching from Carmel to Hearst Castle.
714 - Length, in feet, of the Bixby Creek Bridge—one of the highest single-span bridges in the world and a frequently photographed California icon.