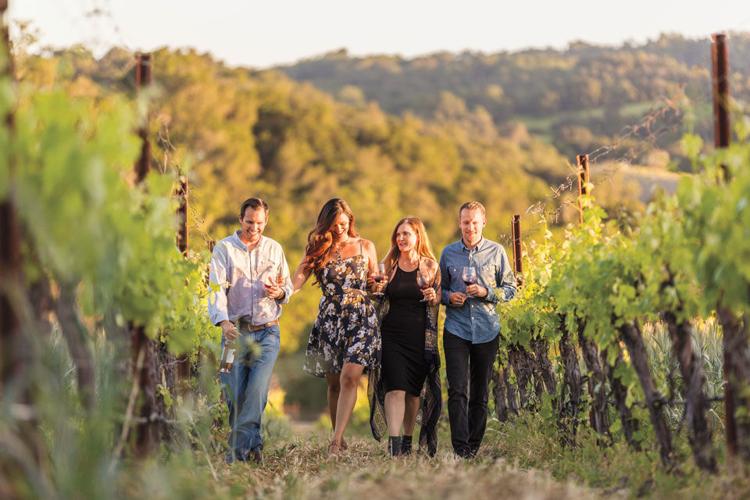 Wine aficionados are spoiled in the East Bay. Our proximity to Napa and Sonoma makes it easy to sample the wares from hundreds of renowned wineries. But there's more to California
wine culture than those standby viticultural areas. Lately, multiple regions 
on the Central Coast have attracted international 
buzz for their innovative 
approaches to winemaking.
What's more, the Central Coast—with its rolling hills, temperate climates, and ocean views—is easily one 
of the most beautiful parts of 
the state. So when the time comes to venture out of our homes again (after many 
long weeks of sheltering in place), consider making 
an easy road trip to Paso 
Robles, San Luis Obispo, and the Santa Ynez Valley. Here, you'll find world-
class art, an abundance 
of outdoor activities, and 
to-die-for wining and dining. Before you go, though, be sure to check which 
hotels, restaurants, and tasting rooms have reopened for business again.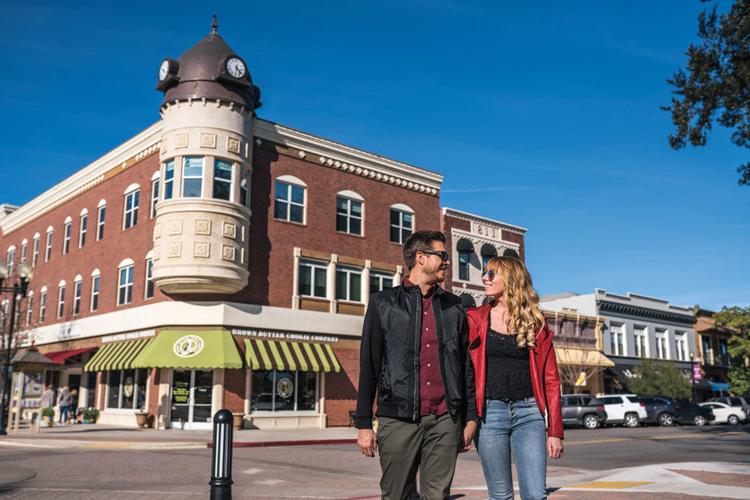 The Pleasures of Paso Robles
Not long ago, Paso Robles was a sleepy agricultural community with a blossoming wine industry and quaint charm. However, Paso has recently emerged as one of California's hippest small towns.
What changed? A cadre of trailblazing artists, businesses, and winemakers 
have set up shop, creating immersive experiences and exciting new tastes to thrill visitors. And the wine world is taking notice: 2016 vintages from local vineyards Denner and Saxum ranked among the top 25 of Wine Spectator's highest-rated wines for 2019—and with some 300 wineries scattered across the region, there's lots to choose from.
But wine is only one part of Paso's ascension. Its buzzy art scene, high-end eateries, and artisanal ethos are tempting even the most cosmopolitan travelers—while the once-rustic town's warm and generous vibe remains intact. Here are the spots to hit.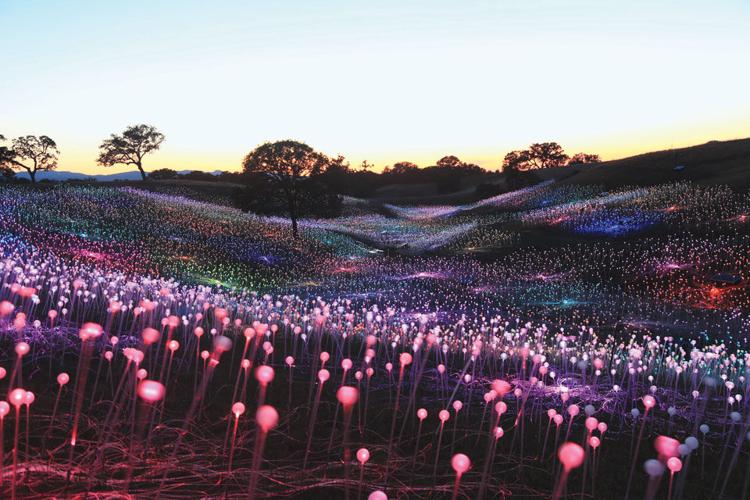 Art of the Matter
Wander through a 15-acre meadow decked in 58,800 illuminated blooms in Field of Light 
at Sensorio, Bruce Munro's awe-inspiring light sculpture that has attracted international acclaim. The evenings-only exhibition, which has been closed during the recent crisis, is scheduled to reopen June 1 (check sensoriopaso.com for the most up-to-date information).
Field of Light is reason enough to make the three-hour drive to Paso, but the town offers more creativity to those who seek it out. Right on the main square, Studios on the Park is a hybrid gallery and studio space where visitors can watch local artists create multimedia pieces in real time and experience rotating exhibitions from more far-flung creators.
On the south side of downtown sits Dale Evers's studio and showroom, filled with the artist's nature-inspired sculptures and furnishings. A handful of Evers's works is also on view at Sculpterra Winery and Sculpture Garden, a vineyard estate dotted with close to 20 large-scale pieces. Guests can enjoy wine tastings and tour the sculpture garden seven days a week.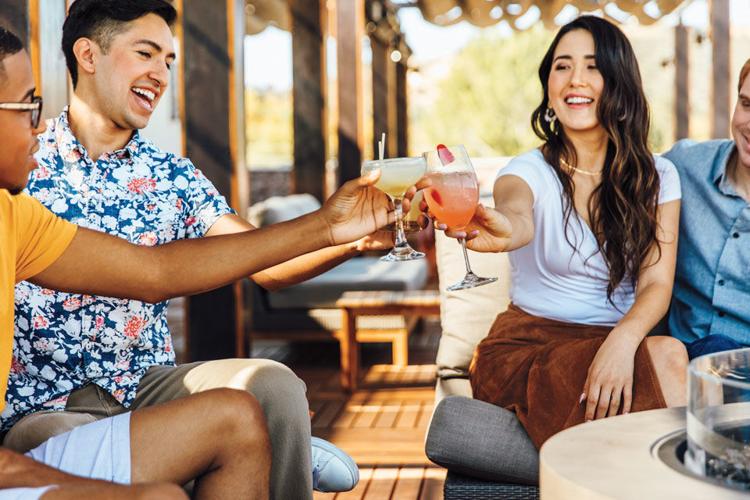 Downtown Delights
Built around an attractive community park, Paso's downtown boasts chic boutiques, farm-to-table eateries, and happening bars
(not to mention fetching Victorian-style homes). Walk to everything from the hippest hotel in town: The Piccolo, a boutique property that opened in October. Featuring furniture and
decor accents made by local designers and craftspeople, the hotel fully embraces the artisanal ethos that's become a regional 
hallmark. The Piccolo is also home to 
Tetto, Paso's only rooftop bar, which draws residents and visitors to admire its panoramic views and taste its selection of largely 
local wines, beers, and spirits. Among the 
hotel's chic design signatures—such as exposed brick walls and a botanical mural in the back courtyard—is the town's most Instagrammable spot: a Moët and Chandon vending machine opposite the check-in desk.
Next-door is one of Paso's best restaurants: Il Cortile Ristorante, an upscale Italian spot known for its well-curated wine list. Owned and operated by Los Angeles transplants Santos and Carole MacDonal, the eatery makes all its pastas in-house, and takes full advantage of the region's resplendent produce. (Hint: Order any dish featuring veal, Carole's favorite ingredient.) The MacDonals also own La Cosecha, a lively Spanish tapas joint facing the park.
Another highlight of the downtown dining scene is Les Petites Canailles, a recently launched French-Californian standout from Michelin-starred chef Julien Asseo, a Paso native (his parents own L'Aventure Winery) who has worked with culinary luminaries 
including Guy Savoy and Joël Robuchon. Here, seasonal ingredients from local farms take center stage in contemporary interpretations of classic French dishes. For breakfast,
revel in the artful egg dishes—including breakfast pizzas, tacos, and sandwiches—
at Brunch.
By day, peruse the streets surrounding 
the square and pick up on-trend women's 
fashions at Ambiance and Jayde, homewares 
at The Atelier of Gomer Home Designs, and gifts and artisanal goods at General Store. In the evening, discover a speakeasy in a back alleyway: the plush 1920s-themed cocktail lounge Eleven Twenty Two.
For a luxurious night's stay, the stately 
Hotel Cheval is expected to add 20 new 
guest rooms, a spa, and an infinity pool later this year. East of downtown is Allegretto Vineyard Resort, a lavish 20-acre estate 
that resembles a Tuscan villa. This pet-
friendly property gives guests room to sprawl out amid its extensive art collection, horse trails, vineyard, and spa.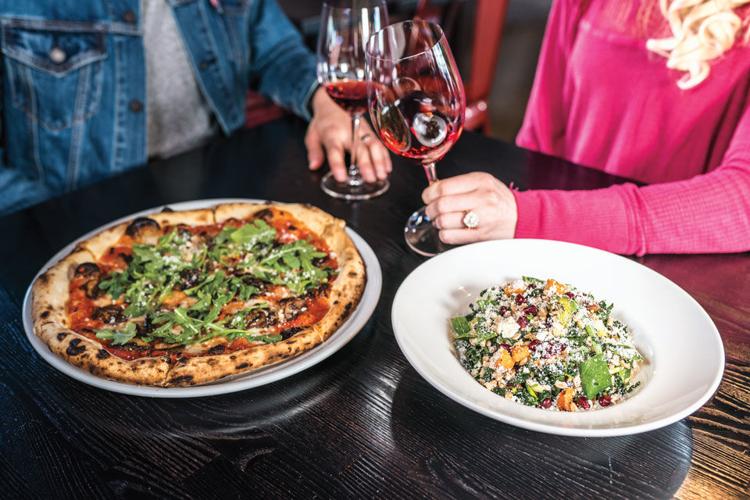 Branching Out
There's more to experience outside of the downtown area, including the city's most inventive epicurean hot spot: Tin City. This industrial complex in Paso's southeast sector houses roughly two dozen small wineries,
breweries, and eateries, including the beloved Tin City Cider, the intriguing ice cream of Negranti Creamery, and the sleek farm-to-table comfort fare of Tin Canteen. Of the 20-odd vintners in Tin City, small-batch producers such as Desparada, Levo, and Monochrome are making waves with their innovative wines.
Wine may be your primary motivation 
for coming to Paso, but if beer is on the agenda too, don't miss the Central Coast's most notable brewery: Firestone Walker. Brewery tours and tastings are offered daily, and there's a restaurant and taproom located next door.
And the city's attractions are expanding. Up next, look for the Paso Market Walk—a culinary hall packed with eateries, coffee shops, and food producers that's expected to open later this year.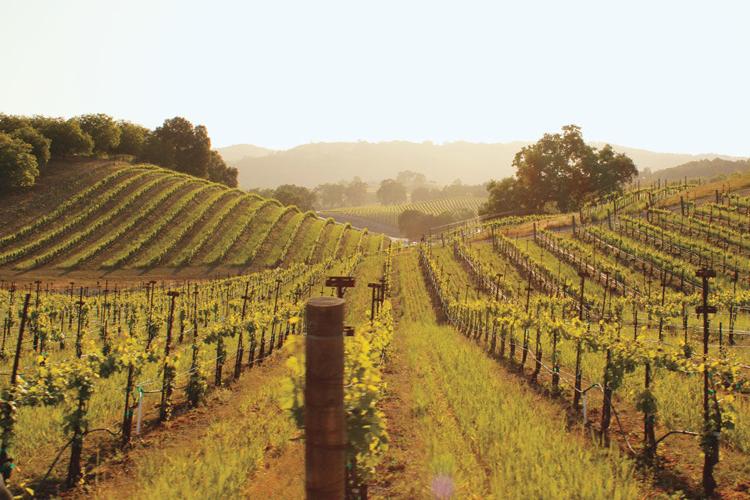 Top Tastings
Herman Story Wines
This boutique winery is emblematic of what makes Paso Robles such an exciting wine region. Owner and winemaker Russell From has earned widespread acclaim for his big, bold syrahs and ultra-ripe grenaches, as well as edgy red blends with names like Late Bloomer and Bolt Cutter—and 
for the quirky imagery that accompanies them. The intimate tasting room, just a few blocks east 
of downtown, is a similarly 
hip and fun-filled experience. 
hermanstorywines.com.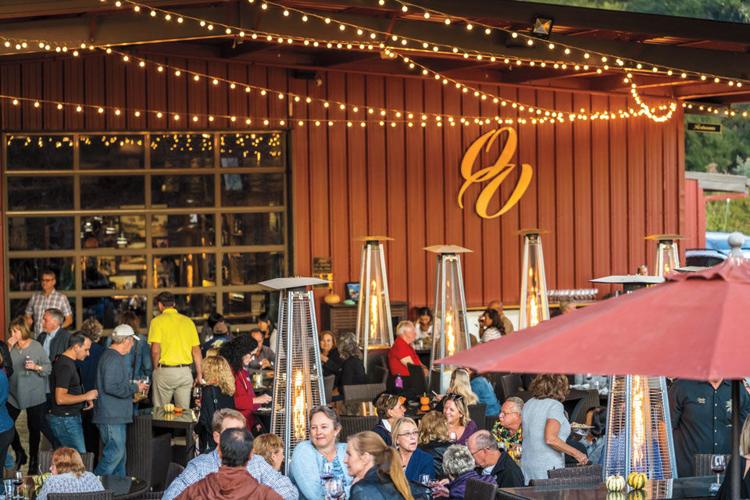 Opolo Vineyards 
It would be easy to while away a day at Opolo, sitting on the laid-back patio, 
sipping wine, and nibbling on wood-fired pizzas and house-made sausages, then exploring the certified-sustainable estate. Known for its award-winning zinfandel, the winery produces 
more than a dozen varietals, 
including albariño, roussanne, malbec, and cabernet. There's a bed-and-breakfast on the grounds, as well as a distillery, where you can sample grappa and fruit brandies made on-site. Check Opolo's website for a schedule of its signature food-and-wine events. opolo.com.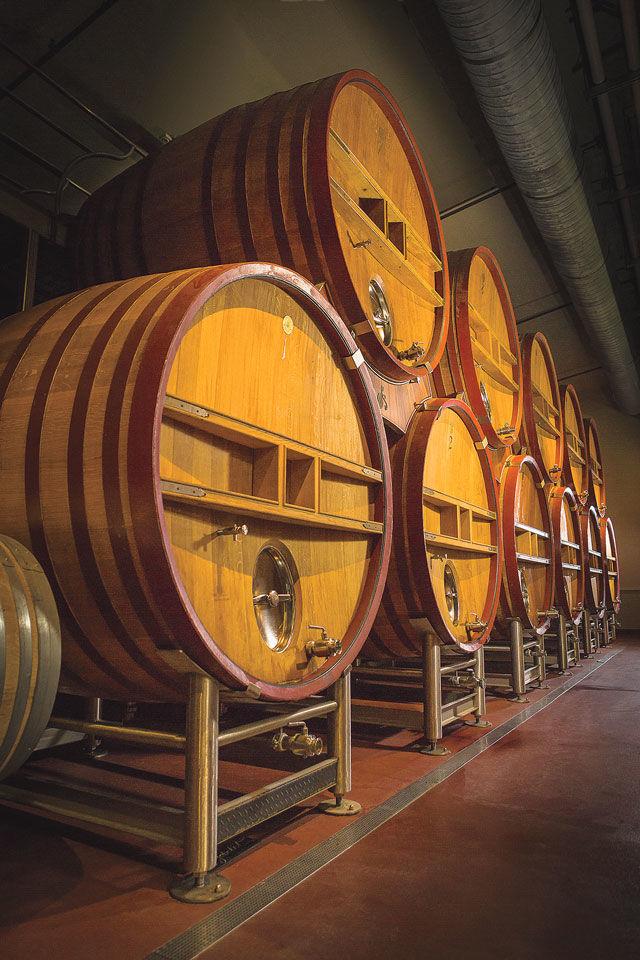 Tablas Creek Vineyard 
In 1989, Tablas Creek's founders planted
vine cuttings from France's Châteauneuf-du-Pape appellation in the rocky Paso Robles soil, sparking a movement toward Rhone-style wines throughout the region. Learn about the venerable
label's history, and taste its distinctive wines at the vineyard's expansive hospitality center. The spectacular mourvèdre is a highlight, though white drinkers might enjoy the crisp and mineraly picardan (a varietal so rare, Tablas Creek grows half the world's acreage of it). tablascreek.com.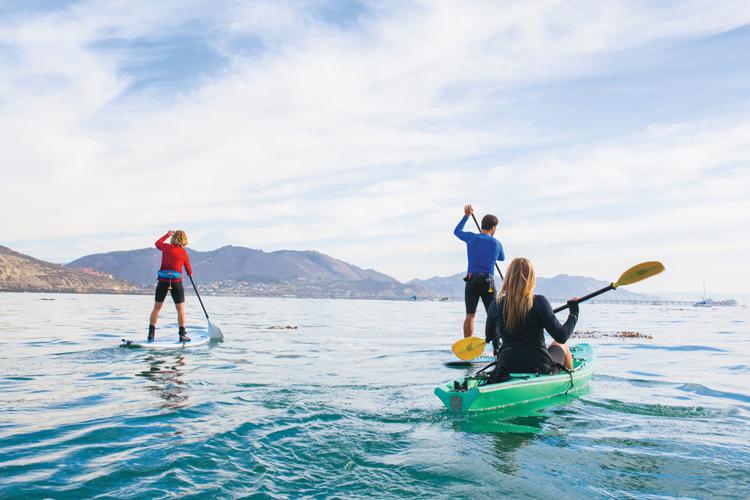 Savoring San Luis Obispo
There's a reason it's been named on so many "happiest places in America" lists—and even Oprah Winfrey touted its bliss-inspiring charms. Flanked by verdant hills, with easy access to 
the beach and a laid-back vibe—not 
to mention a thriving wine scene—
San Luis Obispo (or SLO, to the 
locals) can't help but make its 
residents smile.
While the SLO Coast wine region isn't as well known as Paso Robles or the Santa Ynez Valley, its reputation 
is rapidly growing. And it may be
the perfect destination to visit 
in the coming months, given that 
it's uncrowded, unhurried, inexpensive, and restorative. Best of all, getting there is very simple: Visitors can make the relaxed and scenic four-hour drive from the East Bay or take a comfortable trip on Amtrak's Coast Starlight route.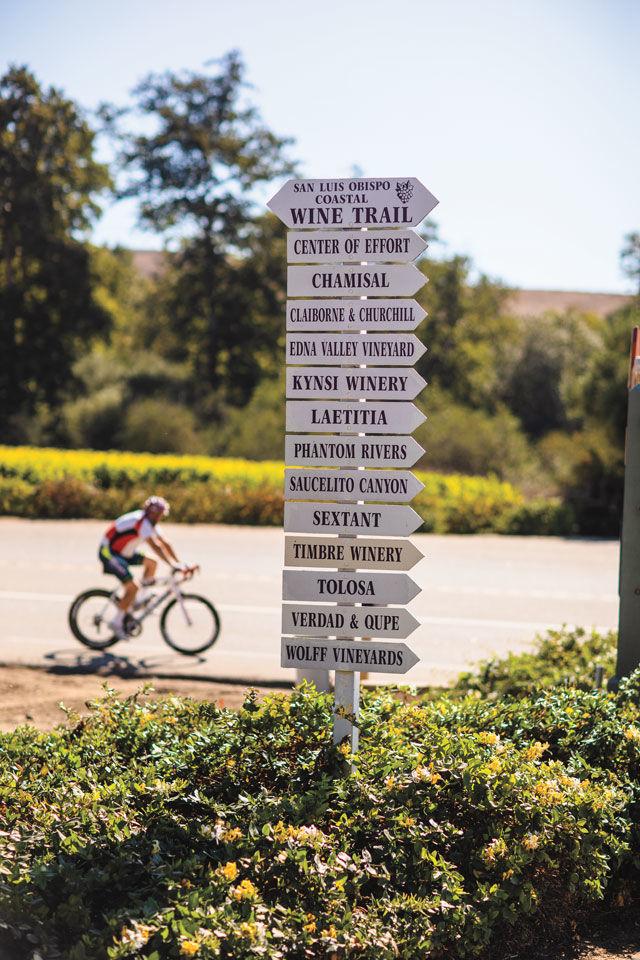 Outdoor Adventures
Given the region's natural majesty, outdoor activities are a big part of SLO life. Among the city's 7,000 acres of open space, several volcanic ridges offer ideal trails for hikers and cyclists. More adventurous visitors should beeline to Bishop Peak, the town's highest point. A steep four-mile (round-trip) trail leads to the summit; views are spectacular. Two other hills are also worth a trek. On the mountain with a P insignia on its face, the Yucca Ridge Trail is a pleasant, low-impact route that's popular at sunset. The more challenging Cerro San Luis Obispo, known to locals as Madonna, rewards hikers with panoramic vistas and a nice vantage of Bishop Peak.
Mountains aren't the only natural wonder here. Due west of the city, Montaña de Oro State Park has a rugged coastline that invites tide pooling on a secluded beach. There are plenty of trails for hiking, biking, and horseback riding in the 8,000-acre park, too, many leading past fields swept in the spring with blooming wildflowers.
For a classic California beach day, drive 
10 miles south to Avila Beach, a sandy cove 
with gentle waves perfect for sunbathers, bodyboarders, and Frisbee players. Before hitting the shore, grab a sandwich, wrap, or smoothie from Avila Market to eat on the beach—or sit down on the patio at Ocean Grill to savor wood-fired flatbreads, poke tacos, and local wines while watching the surf below.
In the City
Nature's bounty extends into San Luis Obispo's downtown area, which hosts a farmers market with live music on Thursday evenings. But the city has cosmopolitan leanings, too. A seven or eight block stretch of Higuera Street is the main commercial strip, though side streets are worth checking out as well. Mixed in among the larger chain stores—Lululemon, Williams Sonoma, H&M—are snappy independent boutiques, such as the well-curated gift shop Len Collective, and the creatively repurposed art and jewelry of Junkgirls.
The food scene is also on point, with a diverse selection of flavors. La Esquina Taqueria is a standout for upscale Mexican fare and fabulous cocktails,while next-door, Ciopinot serves some of the best seafood in town. Wine lovers flock to Novo for its globally inspired small plates and exceptional lineup of SLO, Paso Robles, and international wines. For lunch, Big Sky Cafe is the place to go, featuring healthy and hearty fare with a Southwestern slant. And Nite Creamery dishes out unique ice cream flavors flash-frozen to order with liquid nitrogen.
Two new hotels have shaken up SLO tourism. Housed in a sophisticated brick building, Hotel Cerro offers boutique-style accommodations and a world-class spa. It comes from industry veterans who've developed exclusive private properties as well as prestigious Aman resorts.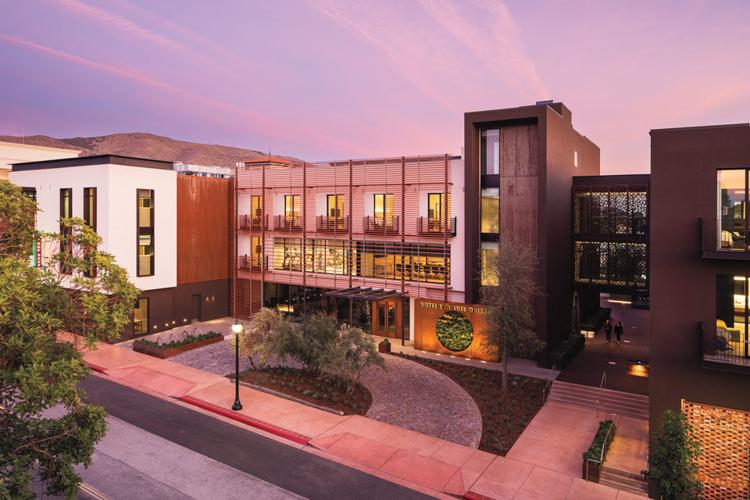 The eco-friendly Hotel San Luis Obispo—Piazza Hospitality's first property outside of Sonoma County—debuted in October, and it has quickly integrated itself into the community. With floor-to-ceiling windows, Hotel SLO's lobby opens onto an indoor-
outdoor concept; the courtyard often hosts makers' markets, musical performances, yoga sessions, and wine tastings. The guest rooms feel similarly modern, with inventive design elements and mountain views. There's also a rooftop bar, a pool and hot tub, and free bike rentals. An independent cinema next- door screens art films and smaller theatrical releases.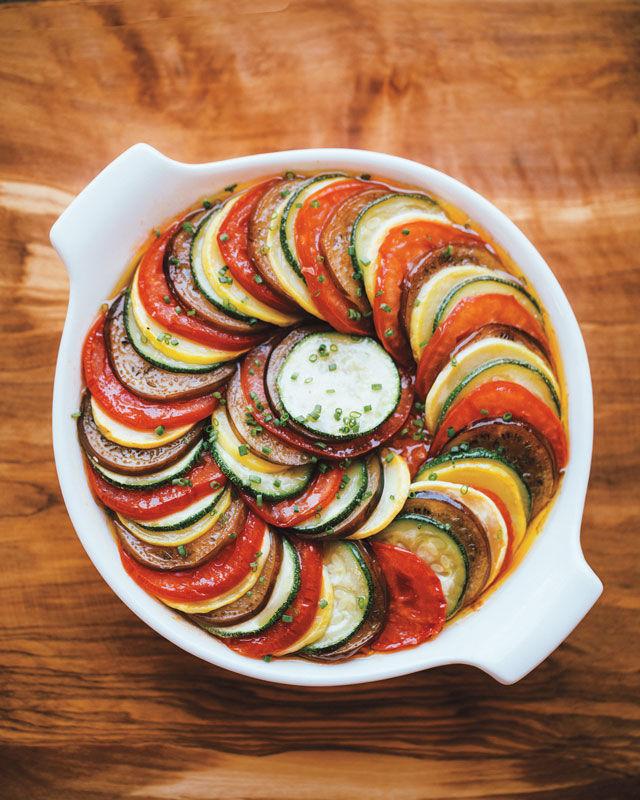 Hotel SLO's high-end steak house, Ox and Anchor, is one of the city's standout dining spots. Serving nine cuts of premium steaks, as well as an array of mouthwatering seafood, salads, and sides (fresh oysters, lobster tail, beet and goat cheese salad, bone marrow tater tots), this restaurant promises a delectable and satisfying meal. It may be difficult, but try to save room for dessert: The designed-to-be-shared baked Alaska is 
a showstopping way to end your dinner.
The Good Life
Unsurprisingly, in one of the nation's happiest places, wellness is a major part of SLO life. 
You don't have to be a guest at Hotel San Luis Obispo to take advantage of its most serene space: Sol Spa. This retreat uses all-natural products and a mix of Eastern and Western 
modalities in its range of services, from massages, facials, and body scrubs to Reiki and sound healing. After your treatment, settle into the sauna, with its wall of rock salt, or recline in a zero-gravity chair, which gives the sensation of floating. Another top spa destination is Sycamore Mineral Springs Spa and Resort in Avila Beach, which features heated mineral baths in secluded outdoor nooks.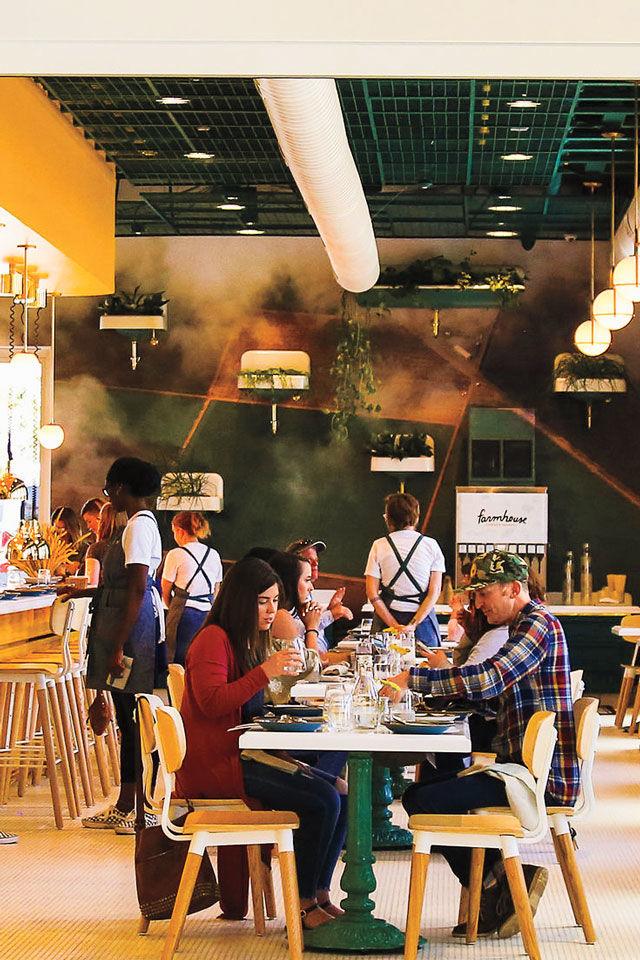 That focus on wellness extends to the wine industry—after all, sipping wine can be an uplifting way to spend an afternoon. To achieve this, drive through the hills of the Edna Valley,
 popping into a few of the wineries and chatting with the tasting consultants. Nearby, grab a bite at Farmhouse Corner Market, a hybrid café and artisanal market selling everything from soaps, spices, and dinnerware, to cheeses, plants, and, of course, local wines. At the eatery, order the tantalizing kimchee fried rice, or go more traditional with a burger. Kombucha, wine, beer, espresso drinks, and ice cream round out the selections. The space is adorned with a vintage truck and yellow accents—
mirroring the cheerful ambiance of the entire SLO region.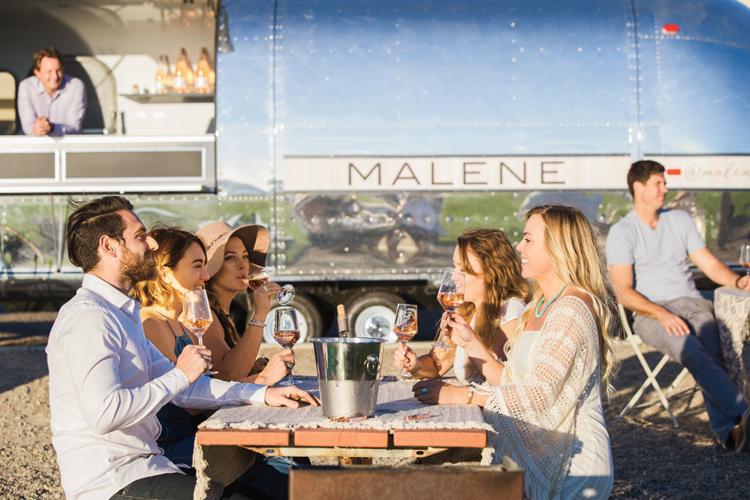 Top Tastings
Chamisal Vineyards
For a taste of classic Edna Valley flavors, look no further than Chamisal, which specializes in the region's signature sips: chardonnay and pinot noir. On the scenic vineyard estate, Chamisal's visitors center is a modern farmhouse–style space. Enjoy the brand's spice-forward wines with guidance from the tasting team, or outside on the picturesque patio. Elsewhere on the property, Malene Wines—which makes 
refreshing rosés—operates a tasting room out of a sleek Airstream 
trailer. chamisalvineyards.com.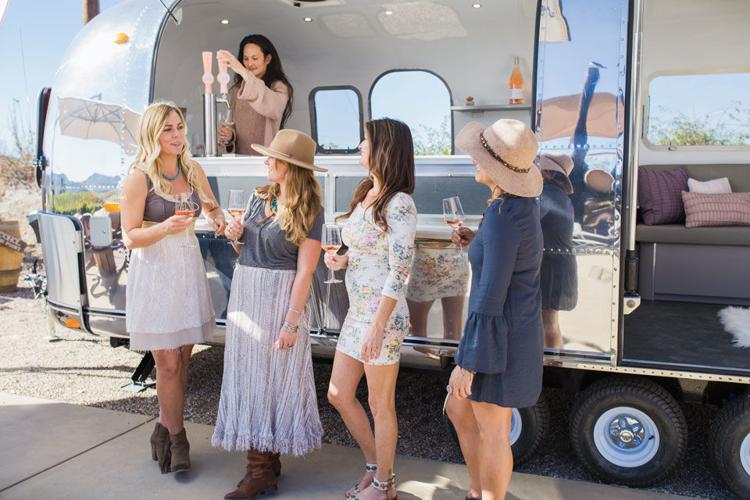 Claiborne and Churchill Winery 

One of San Luis Obispo's first wineries, Claiborne and Churchill is known for Alsatian-style whites, such as dry gewürztraminer and dry
riesling. Sample those and other
varietals at the Edna Valley vineyard's intimate tasting room, which doubles as its barrel room—a familial environment where winery cofounder Fredericka Churchill Thompson often pops in to say hi. Check the company's website for special seasonal events. claibornechurchill.com.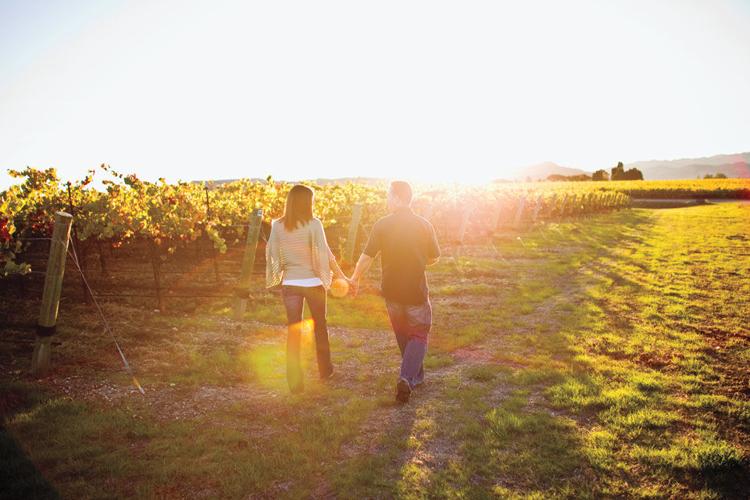 Sinor-LaVallée 
Years ago, Mike Sinor had the distinction of making the Edna Valley's highest-rated pinot noir. Since then, the veteran winemaker—who trained under Robert Mondavi—has launched 
his own small-production label, Sinor-LaVallée. Stop by the Avila Beach tasting room to sample his various takes on pinot, including a sparkling variety. Why the beachside location? "Avila tells 
our story really well," says Sinor, noting that his organic vineyard 
is only 1.2 miles from the ocean. He's also the cofounder and head winemaker of Ancient Peaks Winery in nearby Santa Margarita. sinorlavallee.com.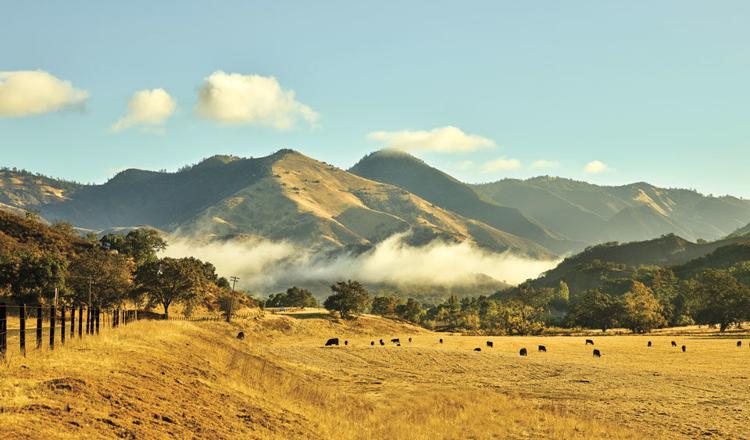 The Superlative Santa Ynez Valley
While many Southern Californians refer to the Santa Ynez Valley as "wine country" (see: the 2004 movie Sideways, which prominently featured the region), Northern Californian oenophiles have yet to embrace this alluring alternative to Napa and Sonoma. That's a mistake. With some 200 wineries scattered throughout the east-west-oriented valley, plus an astonishing array of exceptional restaurants, a carefree lifestyle, and a spectacularly beautiful landscape, the Santa Ynez Valley deserves closer attention.
Located about 35 miles north of Santa Barbara, the valley is made up of six tiny towns, each with its own distinctive character. But they all share a fierce independence that keeps large corporate entities out of the wine business, a commitment to the highest-quality produce, and an enjoyment of the finer things in life.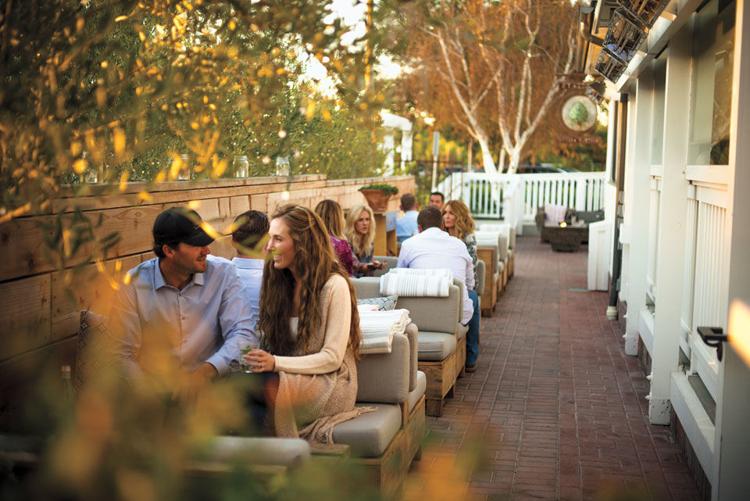 A Culinary Wonderland
For gastronomic delights, explore the quirky town of Los Alamos. Its one-stoplight main drag, Bell Street, resembles an old Western
movie set, but look closer, and you'll find about a dozen farm-to-table eateries sprinkled among the antiques shops and horse-hitching posts. Many locals spend 
a full weekend day here, starting at the landmark Bob's Well Bread to pick up artisan baked goods, then moving onto the farmhouse-chic brunch spot Plenty on Bell—led by chef Jesper Johansson, who opened the town's first trendy café in 1999—for elevated comfort foods ranging from breakfast scrambles to gourmet sandwiches. Other standouts include the sophisticated dinner spot Pico, the French bistro fare of Bell's (helmed by Thomas Keller alums), and the creative wood-fired pizzas of Full of Life Flatbread.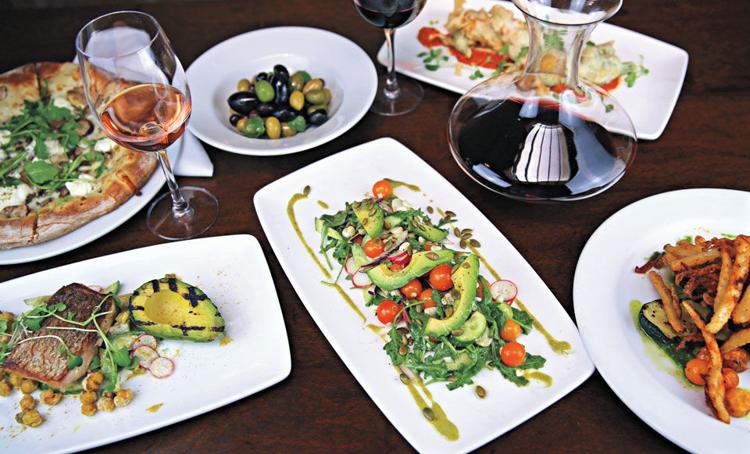 Los Alamos isn't the only dining hot spot around—far from it. In the picturesque village of Los Olivos—which is filled with cute shops and some 30 tasting rooms—Los Olivos Wine Merchant and Cafe is a must-visit. Highlighting ingredients from its own farm less than a mile away, this hybrid wine store
and Mediterranean-inspired restaurant serves exquisitely fresh dishes where each element is made by hand, including the warm focaccia delivered to every table. The owners even have their own wine label, Bernat, which is featured in tasting flights, along with other Central Coast sips.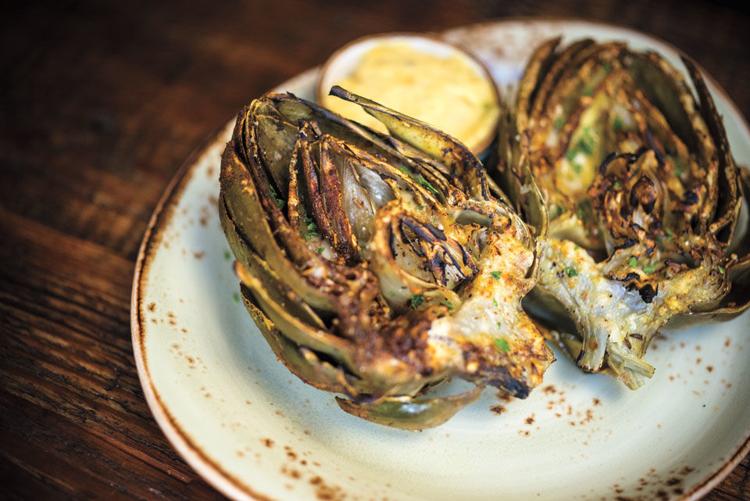 In historic Santa Ynez, residents from all over the Central Coast point to S.Y. Kitchen 
as one of the area's best restaurants. A 
farm-to-fork Cal-Italian redoubt, the family-
owned establishment crafts impeccable 
pastas and oak-grilled meat and seafood dishes. And in a hidden corner of Buellton, winemakers flock to Industrial Eats, an 
urban-chic butcher shop and café specializing in gourmet sandwiches, wood-fired pizzas, charcuterie, and shellfish plates (pancetta-wrapped shrimp is a favorite). 
In-the-know foodies order the "feed me" 
option, where for $50, they are showered with a chef-selected lineup of whatever is favored that day.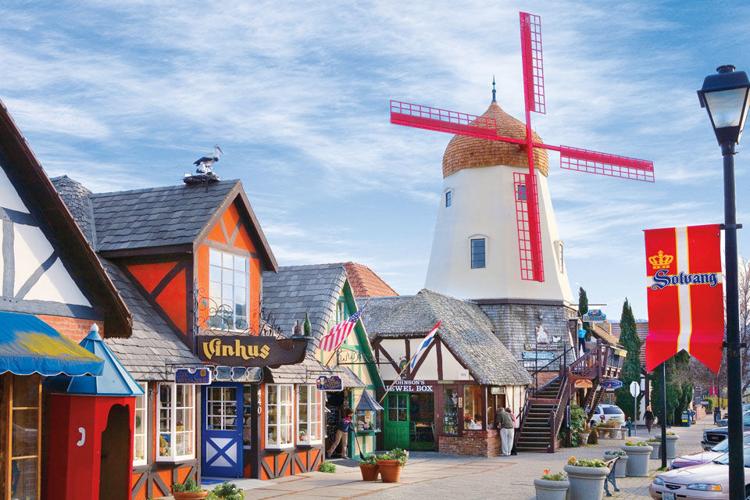 On the Towns
Of the six towns in the region, Solvang is the
largest and the best known. Founded by settlers from Denmark in 1911, it's a whimsical-looking Danish village, complete with windmills and Scandinavian architecture. Tourists converge along the charming downtown sidewalks, popping into tasting rooms, olive oil shops, and bakeries serving Danish-style pastries. But there are other delights here as well, such as The Backroom, a secret speakeasy that you enter by pushing on a bookcase inside Valley Brewers, a home-brewing supply store.
Solvang also boasts the largest array of 
hotels in the area, including The Landsby, 
a high-end, design-forward property decked out in vintage and reproduction Danish modern furniture. Farther into the hills 
is The Alisal Guest Ranch, a working horse-ranch resort that's drawn Hollywood stars and generations of families since 1946. (Martinez-
bred interior designer Nathan Turner 
renovated a three-unit ranch house there last year, incorporating vintage and country elements into his sophisticated-yet-homey design.)
For the valley's most luxurious stay, check in to the Ballard Inn and The Gathering Table in
the tiny residential hamlet of Ballard. Each of the 15 guest rooms is designed around a different theme: One feels like a stately hunting lodge with a stone fireplace, antlers, and dark wood accents, while another goes art nouveau with ornate details and plush fabrics. The modern-farmhouse style so prevalent throughout the Central Coast is at its most elegant here; the entire property is furnished with high-quality Victorian 
antiques, punctuated by lots of brown 
leather, reclaimed wood, and vintage lighting. The guest experience is similarly grand: Patrons enjoy wine and cheese pairings in the open vintner's room every evening, and can relax in the handsome stagecoach room. A gourmet made-to-order breakfast is included with accommodation. Chefs in this food-obsessed valley cite the Ballard Inn's proprietor, Budi Kazali, as the region's best culinary artist; a meal at the on-site Gathering Table is a not-to-be-missed French-Asian dining experience.
An Experience to Remember
With no traffic and lots of open space, the Santa Ynez Valley affords locals and visitors alike a unique sense of freedom. Perhaps that's why so many Hollywood A-listers have homes and wineries here. Among the valley's celebrity vintners are Pink, Fergie,
Robert Cray, and Kurt Russell (who used 
to own a tasting room in Los Alamos's landmark 1880 Union Saloon). Join them at this gem of a destination, as you indulge in exquisite food and wine, take a deep breath, and savor all that life has to offer.
Top Tastings
Alma Rosa Winery
Those expecting to sip exceptional pinot noir in the Santa Ynez Valley should head to Alma Rosa's chic new tasting room in Buellton's hip warehouse district. The winery's wares are produced from sustainably farmed grapes grown in the cool Santa Rita Hills; its 2017 El Jabali pinot noir is a light-bodied, fruit-forward standout. After tasting Alma Rosa's signature pinots and chardonnays, head next door to Industrial Eats for a gourmet pizza or charcuterie plate. 
almarosawinery.com.
Zaca Mesa Winery
Founded in 1973, this 150-acre vineyard high in the hills above Los Olivos was the first in Santa Barbara County to grow syrah. Today, that tradition lives on in the form of Zaca Mesa's gorgeous Black Bear Block syrah, which you can taste—along with other varietals—on the family-owned winery's breathtaking estate. A giant chessboard and welcoming picnic area invite families to stay and play. The estate also hosts special food-and-wine events; check the website for more information. zacamesa.com.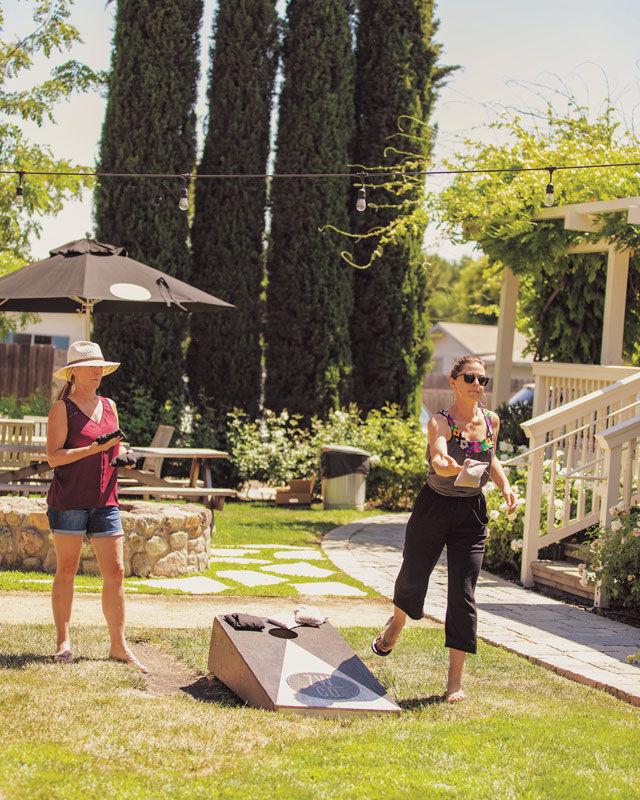 Zinke Wines
In the tasting room–filled town of Los Olivos, Zinke sets itself apart with its charming 100-year-old Sears and Roebuck kit house. Decorated with homey touches including plush armchairs and a cozy fireplace—not to mention a welcoming 
outdoor area with a deck, gardens, and bocce court—it's the ideal environment for sipping Zinke's single-vineyard syrah (the label's top seller), as well as its delightful rosé, grenache, and just-released grüner veltliner. The tasting space also offers cheese pairings, and often hosts live 
music on Saturdays, with food trucks out front. zinkewines.com.