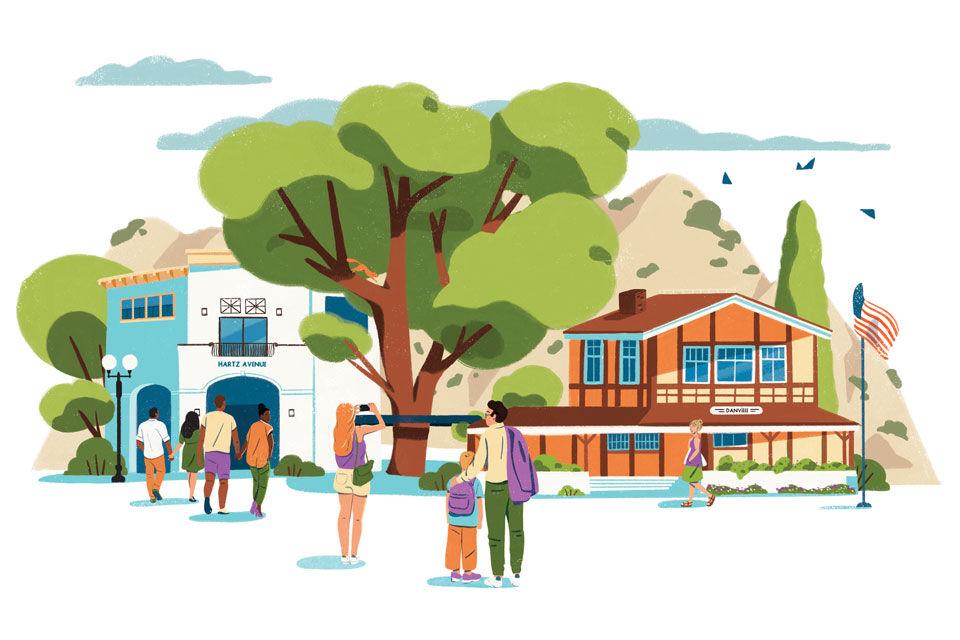 It took years to get the 
residents of this quintessential California suburban 
valley to vote to incorporate, and when they finally did in 1982, it was not as a "city" (perish the thought), but as a "town."
Call it what you will, but 
in many ways, Danville 
epitomizes California dreamin'—Little League, swim meets, quality schools, plenty of good restaurants, chic shops, and, above all, a sense of community that links 
an increasingly diverse population.
Of course, things will look different when COVID-19 finally exits the spotlight (due to the recent closures, be
sure to check websites before heading to the shops and restaurants mentioned), 
but even then, Danville 
will still be a town—and proudly so.
FUN FACTS
All you need to know to win a Danville trivia (and not-so-trivial) competition.
DÉJÀ VU
Schools shut down, masks on the street. Sound familiar? Well, that was also the case in 1918, when the Spanish flu pandemic closed all Danville schools (along with countless others nationwide) for several weeks, and worried residents wore masks to protect themselves from the deadly disease. Eventually, daily life in the then-small town returned to its status quo—and, if history can be our guide, it will again.
IT COULD HAVE BEEN INMANVILLE
Daniel and Andrew Inman founded the community in 1854, using their gold mining money to buy 400 acres in the largely uninhabited area. But Andrew's mother-in-law was born near Danville, Kentucky, and thus the name. And how has Danville grown? There were 20 people in 1862; 1,225 in 1940; and now there are nearly 45,000.
ST. ISIDORE CATHOLIC CHURCH
Founded in 1910, St. Isidore is now the largest parish in Contra
Costa County, with 4,600 families, and its elementary and 
middle schools have educated thousands of locals over the years. St. Isidore is known as "the farmer" (appropriate, since Danville has deep agricultural roots) and is one of the five saints of Spain—but you knew that.
ROBIN WILLIAMS MAKES A SCENE
East Bay movie fans no doubt know that key scenes from the 1993 comedy Mrs. Doubtfire 
were filmed right here in Danville. They may not know, however, that while the cast 
and crew were in town, Robin 
Williams—who both starred in 
and produced the film—
endeared himself to residents by traveling up and down Hartz Avenue, sometimes in full costume, signing autographs and chatting up the locals. And the pivotal moment—when Williams's Mrs. Doubtfire disguise was revealed—was filmed at Bridges Restaurant and Bar.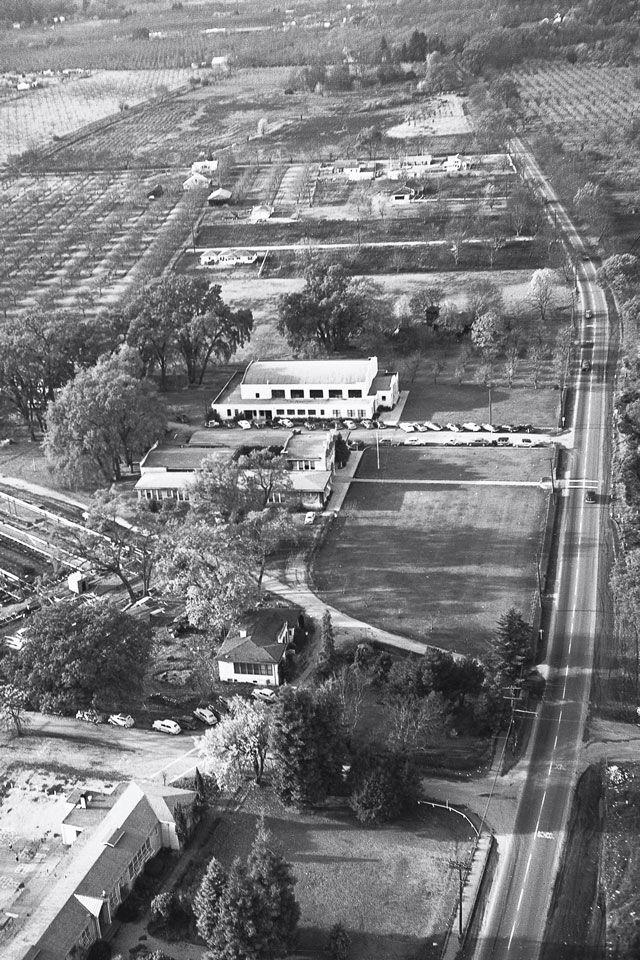 HOME SWEET HOME
In 1951, veterans with $50 in cash could move right into a three-bedroom home near Green Valley Road. Of course, the total price was a daunting $9,350, so there was still a hefty $9,300 left to pay. In case you were wondering, the median price of a Danville home in 2019 was 
$1.3 million.
ATHLETIC GLORY
Danville has always been home to great young athletes, from powerhouse high school football teams to Little League baseball champions to Olympic swimmers—and that doesn't even include the juggernaut that is Mustang
Soccer, one of the most successful youth soccer programs on the West Coast.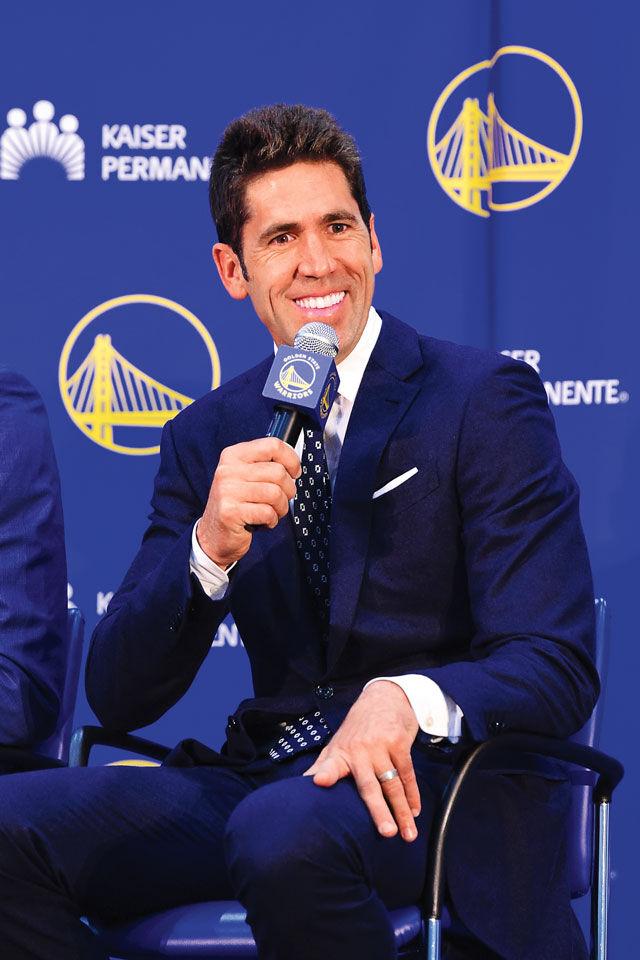 HOMETOWN HERO
Bob Myers, general manager of the Golden State Warriors, has deep roots in Danville's sports scene.

Danville's youth sports culture has nurtured many elite athletes, from water polo star Maggie Steffens 
to NBA veteran Mark Madsen, but the highest profile belongs to Bob Myers, the general manager of the Golden State Warriors and the architect of the team's recent dominance of the NBA.
Myers, six-foot-seven, was a late bloomer; "I was 
five-foot-seven going into high school," he says. But after a stellar senior season at Monte Vista High School, he went on to be part of an NCAA championship basketball team at UCLA. Myers became a sports agent following graduation, and after a successful career representing NBA players, took over the Warriors in 2011.
Propelled by Myers's astute shaping of the roster, the Warriors made the NBA Finals for four straight seasons, and won titles in 2015, 2017, and 2018.
Diablo caught up with Myers during his unexpected downtime this spring to tap into his memories of growing up in the local athletic scene.
Q: Did you play Mustang soccer? It seems like every kid in the valley is on a team at one time or another.
A: I played up until tryouts for Al Caffodio [a traveling league]. The tryouts separated the wheat from the chaff, and I was the chaff.
Q: How about other sports? Saturday swim meets, Little League baseball—they're hard 
to avoid.
A: It's a sports-centric area, and it's ingrained in the social dynamic. Everybody was on 
a swim team, and I played baseball on a 13-year-old All-Star [team] that did pretty well. I wasn't one of the better players, though.
Q: Basketball was obviously your sport. Were you always good at it?
A: Not really. I didn't make varsity until my junior year, after I had my growth spurt.
Q: What was it like to play against San Ramon and the Wolves' star, Mark Madsen (who later played in the NBA)?
A: I wish I could have enjoyed those games against San Ramon more, but it was very intense.
Q: Was growing up in Danville an extreme time for you? Would you have changed anything?
A: No, I was lucky to be raised there. I wouldn't trade it for anything.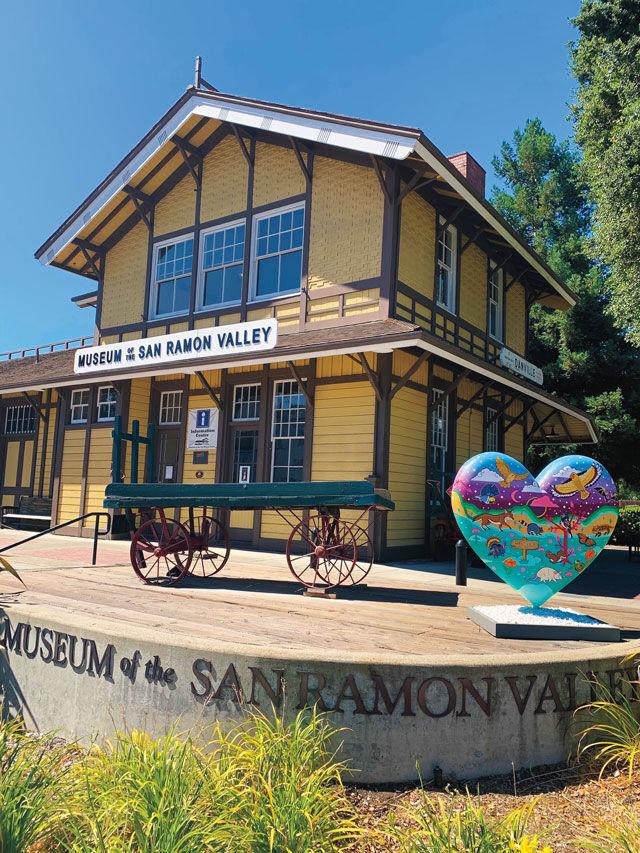 OUT AND ABOUT
There's no shortage of ways to amuse, inspire, and educate yourself in Danville. Check out these leading attractions.
MUSEUM OF THE SAN RAMON VALLEY
The history of the San Ramon Valley can fittingly be found in one of the most historic buildings in Danville—the 1891 Southern Pacific Railroad depot. The museum opened in 1996, and in addition to its collection of photographs, newspapers, textiles, quilts, and other memorabilia, visitors can also find a guide for a downtown walking tour that will show off several vintage homes that are still in use. One of them is the old fire station on Hartz Avenue, which now houses 
a pair of restaurants: Norm's Place and the Kick 'N Mule. 
museumsrv.org, normsgrill
.com, kicknmule2.com.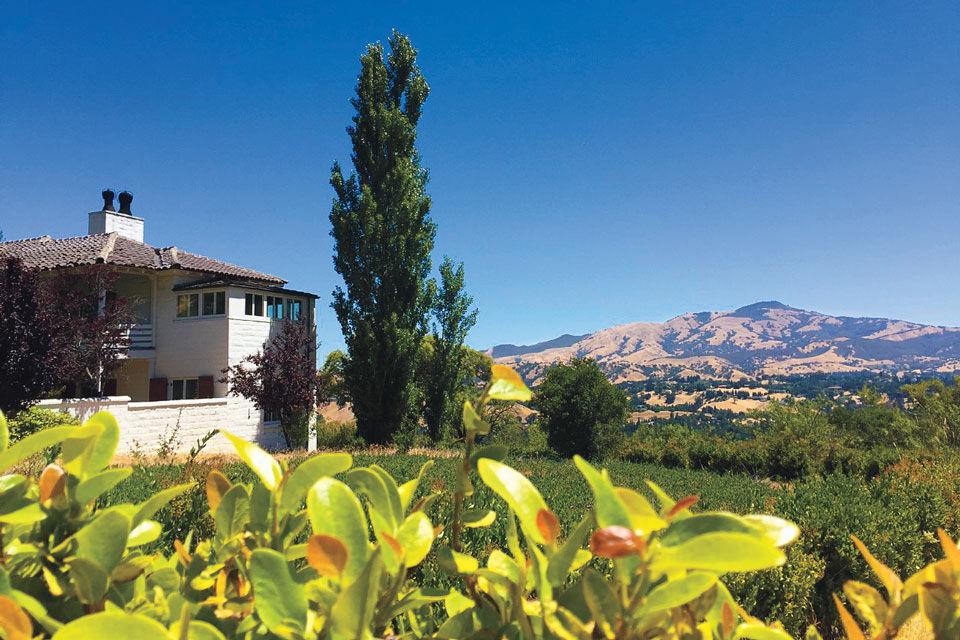 EUGENE O'NEILL'S TAO HOUSE
On the short list of great American playwrights, Eugene O'Neill has a connection to Danville that is much more than casual. While living in Tao House in the hills above town, he wrote three of his most iconic plays: A Moon for the Misbegotten, Long Day's Journey Into Night, and The Iceman Cometh. A National Historic Site since 1976 (after being saved from conversion into condos), Tao House combines a beautiful setting, an Asian-themed home, and O'Neill memorabilia. Note, however, that access by car is limited, and visitors wishing to ride up the hill must sign up for shuttles and tours. Of course, the intrepid can hike there, as Tao House 
is bordered by Las Trampas
Wilderness Regional Preserve, and several East Bay Regional Park District trails lead to the O'Neill memorial. eugeneoneill.org.
MOUNT DIABLO
Climbing Mount Diablo from 
Danville won't be the easiest hike you've ever taken, but the views are gorgeous and the satisfaction is immense. Start on Mt. Diablo Scenic Boulevard (near the Athenian School, which opened there in 1965 ), and bring plenty of water, sunscreen, and fortitude, and about nine miles later, you'll reach 
the summit. Just a thought: 
Arrange for someone to pick you up after you stagger those last couple hundred yards to the top.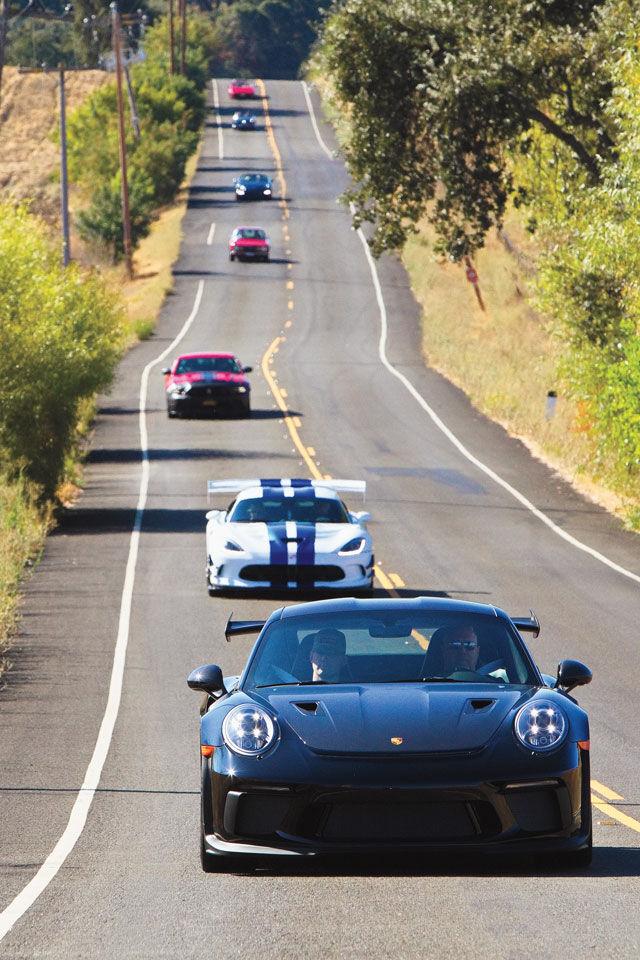 PUBLIC ART PROJECTS
Following the success of last year's The Dogs of Danville, Unleashed! art installations, which were dotted throughout the downtown area, the town is presenting an all-new public arts project this summer. Called Hearts Around Hartz, the new exhibition consists of 17 large heart sculptures installed around downtown in June, which will be on display through October. Among the artists represented are Danville's Kappy Venezia and Rob Corder. And when summer ends, you can bring your favorite heart home with a high bid at an auction that benefits local charities.
JULY FOURTH PARADE
Sadly, this hugely popular annual event, which has attracted close to 40,000 people in the past, went virtual this year, but plans are 
to bring it back in all its glory next year, along with the Devil Mountain Run in May 2021.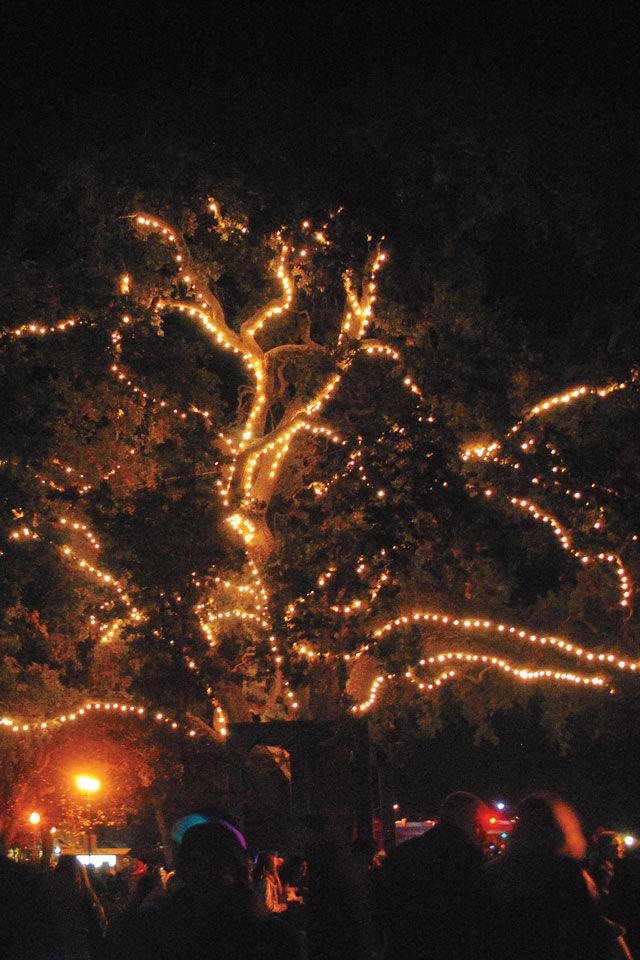 DANVILLE D'ELEGANCE
The popular September combination of classic cars and fine food and wines known as the Concours d'Elegance has been canceled 
this year, but the scenic Tour 
d'Elegance road trip is on schedule. danville-delegance.org.
OAK TREE LIGHTING
This holiday season will surely be like no other, but Danville will kick it off with the traditional Oak Tree Lighting the day after Thanksgiving. Even if we're still maintaining social distance, the magic of Christmas, the sound of the familiar carols, and the smell of hot chocolate will bring a smile to everyone's face.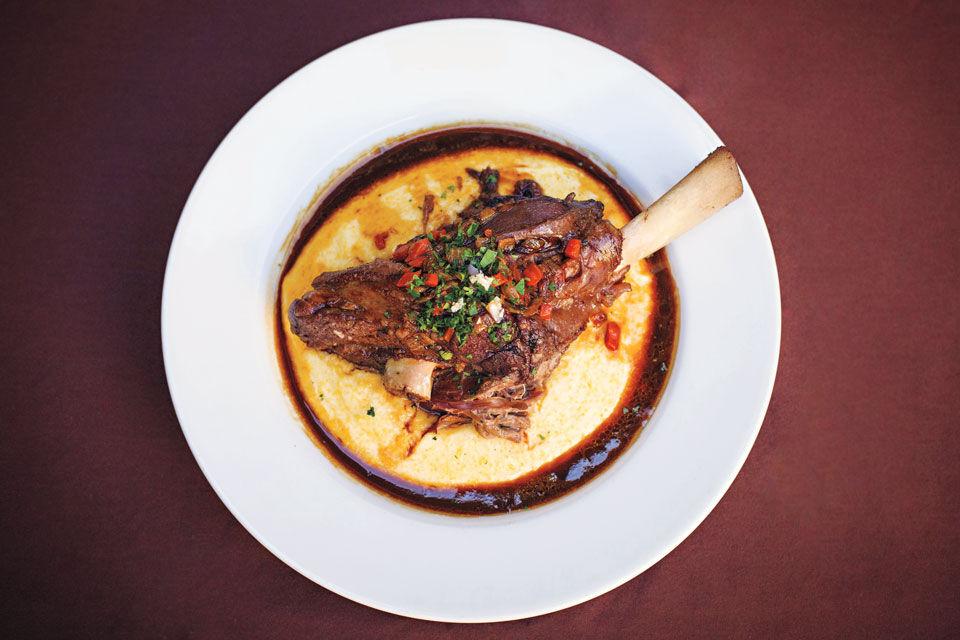 DOWNTOWN DELIGHTS
Take a stroll along Hartz Avenue—and don't miss the many treasure-filled side streets—to discover why Danville is a top East Bay destination for 
shopping, wining, and dining.
SHOP TALK
Danville is known for distinctive boutiques that offer covetable treasures. Here are a few 
highlights.
Christina's Boutiques: Danville doesn't demand a lot of serious dressing up, so there's always a call for casual, and Christina's is a good place to find the perfect top for the next laid-back party or barbecue (whenever that might be). christinasboutiques.com.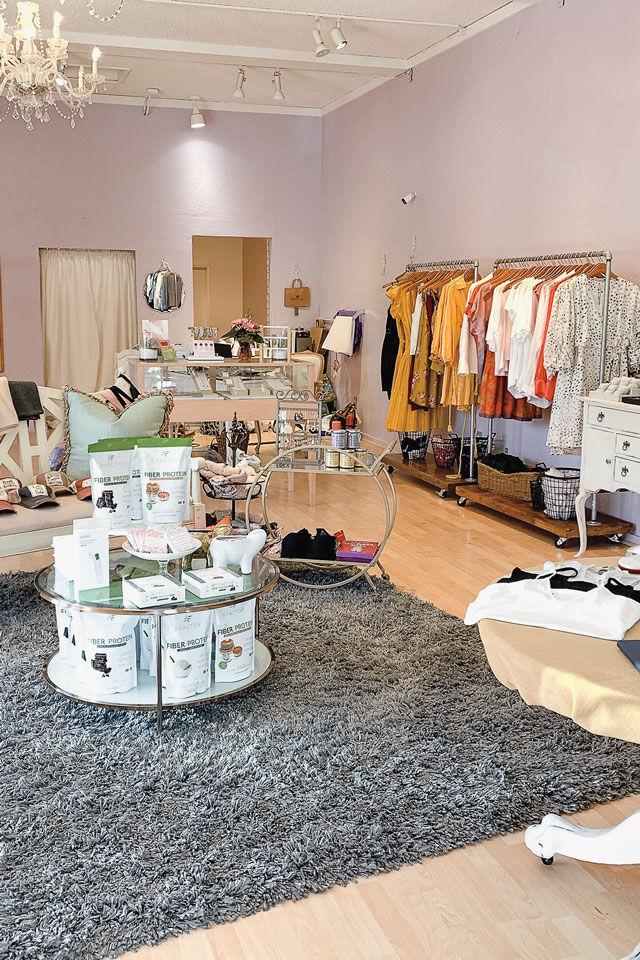 Elisa Wen Boutique: Looking for fashion with a little edge? Elisa Wen could be the answer, with 
fun and flirty clothes in high-
quality fabrics. elisawen.com.
Lemon: This popular shop is stocked with everything from candles to toys to clothes for the young and old, making it the perfect place to find a gift for even the hardest-to-please person on your shopping list. lemongiftshop.com.
McCaulou's: They say department stores are going the way of the dinosaur, but this institution still delivers, especially for kids and teens. mccaulous.com.
Rakestraw Books: Opened in 1973, Rakestraw Books has become one of the premier independent bookstores in the East Bay, and has brought in such luminaries as Hillary Clinton, Salman Rushdie, Ann Patchett, and Michael Chabon for readings and book signings. Perhaps even more impressive, Rakestraw Books has survived the carnage wrought on bookstores by the Internet. rakestrawbooks.com.
Treasure hunting: One thing that shelter-in-place has done is make us take a hard look around the house (after all, what else was there to do?)—and unearth lots of things that maybe should have found a different home some time ago. As a result, second-hand and consignment stores like A Dress Change, the Thrift Station, and Home Consignment Center now have even more interesting items on their shelves. And what didn't fit someone else might be just the thing you're looking for—which means a post-COVID-19 day in Danville could involve some serious bargain hunting. adresschangeconsignment.com, discoveryctr.net/the-thrift-station, thehomeconsignmentcenter.com.
BEST BITES
It may be a while before going out to eat is anything like it was before, and of course we can only hope that all of the following standouts—and this is just a partial list—are still up and running. But when the doors open, take some time to give Danville restaurants the attention they deserve.
Albatross: The latest fine-dining entry on the Danville restaurant list not only features excellent food but also a dramatic downtown setting. albatrossdanville.com.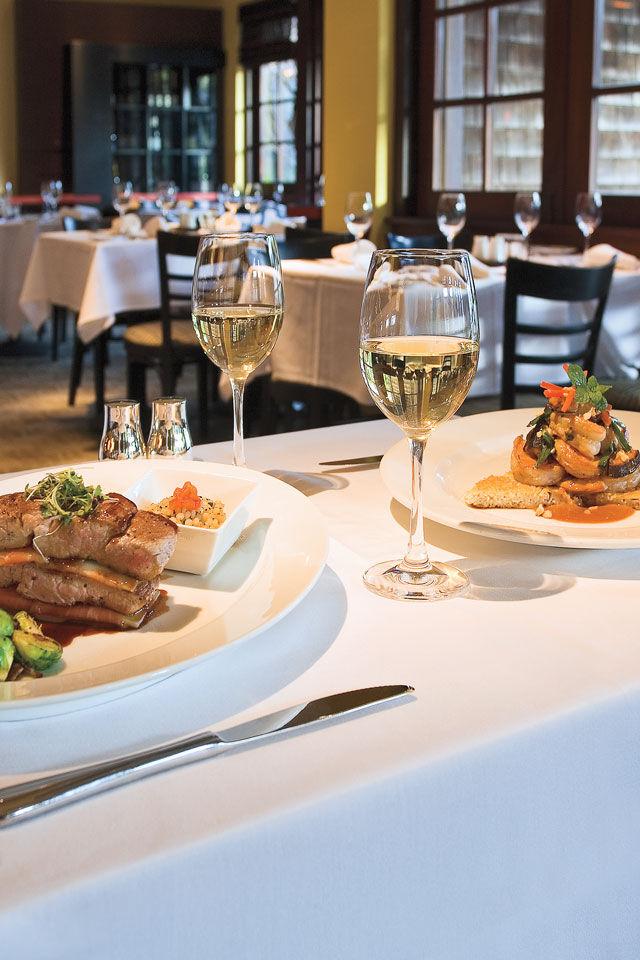 Bridges Restaurant and Bar: Still striking after 31 years, Bridges delivers the goods with both elegant ambiance and an upscale dining experience. After all, no business—much less a restaurant—can survive for three decades without sending its customers home happy. bridgesdanville.com.
Elliott's Bar: Elliott's has been around since 1907, and though it temporarily became an ice cream parlor during Prohibition, a lot of elbows have been bent at that bar.
Esin: Tucked away in a mall by Sycamore Valley Road, Esin is a community favorite for its quality food and high-level service. 
esinrestaurant.com.
The Peasant and The Pear: Though there aren't a lot of peasants in Danville—and not that many pear trees either—this downtown spot has carved out a niche thanks to an emphasis on a seasonal menu and locally sourced ingredients. rodneyworth.com/peasant-pear.
Piatti: As the name would suggest, Piatti features Italian food—and any strong desire for pasta can definitely be satisfied here. danville.piatti.com.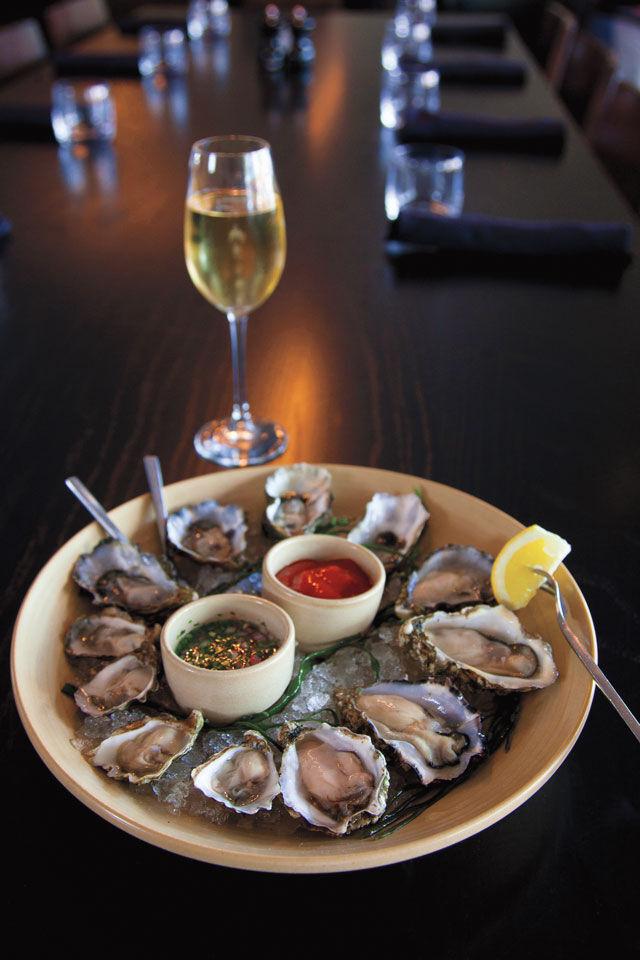 Revel Kitchen and Bar: Run by the same husband-and-wife duo who operates Esin (Curtis and Esin deCarion), Revel is an upscale eatery—and to say the bar is hopping on weekends would be an 
understatement of epic proportions. revelkitchenandbar.com.
Thai House: Thai House is, 
not surprisingly, located in a former house in a quiet part of downtown—but the Michelin Guide finds it every year and lists Thai House on its Bib 
Gourmand list for its high-
quality but affordable Thai 
food. thaihouseca.com.
Vally Medlyn's: Vally Medlyn's—there's no "e" in "Vally"—opened in 1935 and moved downtown in
1950. It has served breakfast and lunch to generations of Danville families and given the portion sizes, it's unlikely anyone has ever left feeling hungry. 
facebook.com/vallymedlyns.
And more: There's a trio of 
Mexican restaurants well worth checking out—Cielito, Cocinas Hermanas, and Los Panchos—and Domenico's Delicatessen and Cafe has the best sandwiches in town. cielitodanville.com, 
cocinahermanas.com, 
lospanchosrestaurant.com, 
domenicosdeli.com.