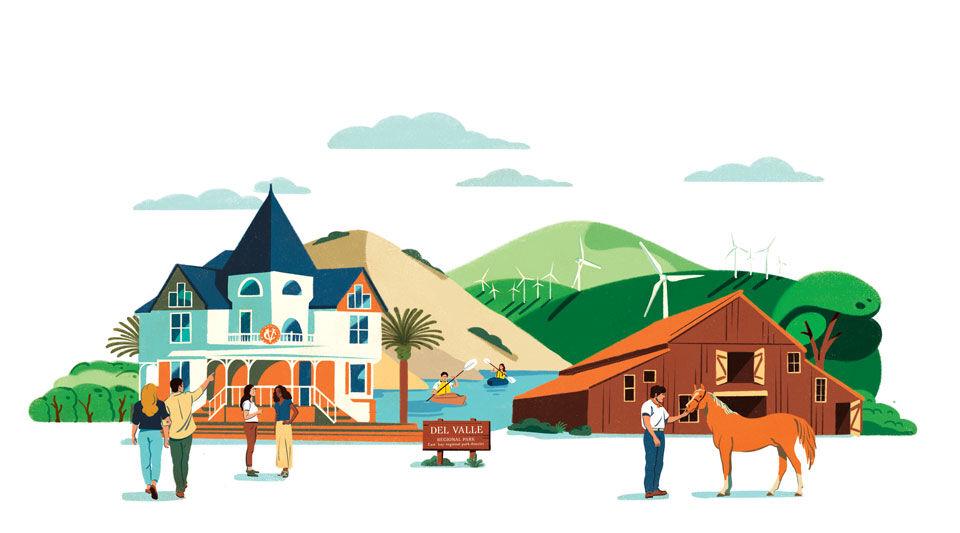 About a day's journey by wagon from San Francisco 
and San Jose, the Livermore Valley became a popular rest stop for Gold Rush prospectors heading to the Sierra Nevada foothills. Within a few years, a small town formed amid the ranchland. Today, Livermore 
is the easternmost city in 
Alameda County and the gateway to the Bay Area for travelers from Southern 
California (and commuters from the Central Valley).
West of the rolling hills and windmills of the Altamont Pass, Livermore encompasses 26 square miles and serves as home for approximately 91,000 residents—the largest city in the Tri-Valley. While it proudly celebrates its ranching heritage (there's a rodeo and a Western outfitter), it also pushes boldly into the future with two world-class science laboratories and a renowned tech start-up incubator. Plus, its welcoming wine country is older and more accessible than better-known ones further north. So, pour a glass, don a 10-gallon hat, and learn more about this eclectic city before your next visit.
Note: Some of the locations mentioned in this story may be closed due to COVID-19 safety measures. Confirm the status and hours of your destination before you go.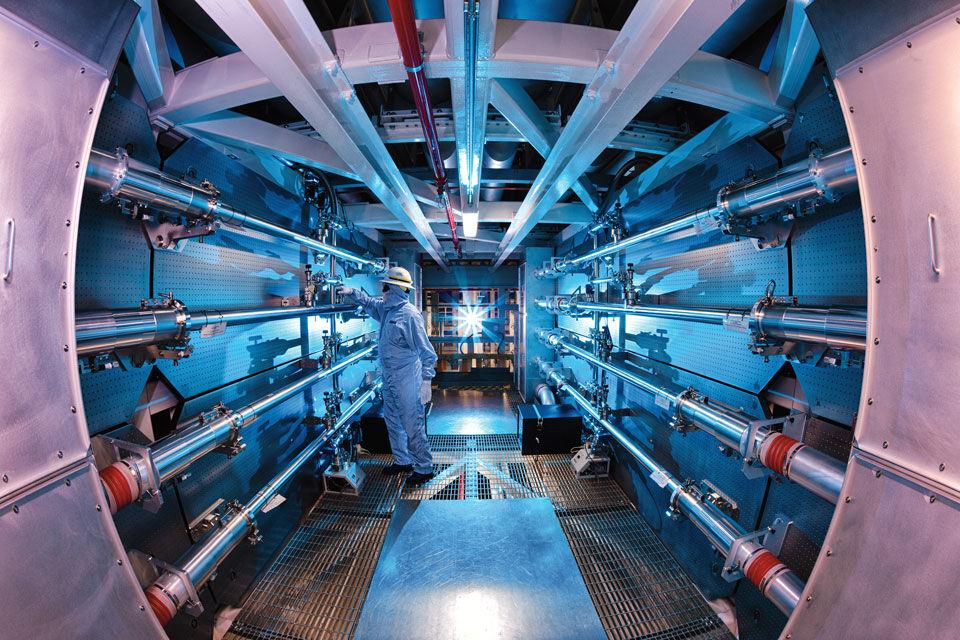 FUN FACTS
Impress your friends with some fascinating 
Livermore history and trivia.
COWBOY CULTURE
Originally inhabited by the Ohlone people, the Livermore 
Valley served as grazing land for the cattle of Mission San Jose 
before the population grew from 
the Gold Rush and the Western 
Pacific Railroad. The city's ranching heritage is celebrated annually at the Livermore Rodeo. Started in 1918, it's dubbed the "World's 
Fastest" rodeo because it has more participants per hour than any other. In addition to bull riding, calf roping, barrel racing, and wild-cow milking, the festivities include an equestrian-filled parade, country and western concerts, and a charity cowgirl luncheon.
WINNING WINE
Livermore's wine region is older than Napa's—Spanish missionaries planted the first wine grapes here in the 1760s, and Robert Livermore himself (the rancher for whom 
the city is named) started the 
first commercial vineyard in the 1840s. Its wines were also the first to beat the competition in France. Movies have been made about 
the 1976 Judgment of Paris, in which Napa wines bested their French counterparts, but nearly a century earlier, Livermore's Cresta Blanca Winery was the Grand 
Prix winner at the 1889 Paris
Exposition. Today, there are more than 50 wineries to visit here, from the longstanding Wente Vineyards
and Concannon Vineyard labels 
to newer destinations like the 
Singing Winemaker and the 
urban-based Embodied Wines.
LIGHT IT UP
A hand-blown light bulb with 
carbon filament has been glowing in Livermore since 1901. Named the Centennial Light, it was first installed at the fire department hose cart house on L Street and survived several moves, including one with a full police escort to 
its current home at Livermore-
Pleasanton Fire Department 
Station No. 6. No one knows 
why it's hanging on, but it holds the Guinness World Record for longest-burning light bulb. The firefighters welcome visitors, 
but the light can also be seen 
through the rear windows. And, of 
course, it has its own live webcam.
ELEMENT OF SURPRISE
Livermorium is a synthetic 
superheavy chemical element codiscovered by scientists at 
Lawrence Livermore National Laboratory (LLNL) in 2000, when they smashed calcium ions into curium. It decayed immediately, but it put the city on the periodic table in 2012, when it was named and added. It has the symbol 
Lv and the atomic number 116. LLNL also houses the IBM Sequoia supercomputer and the world's highest-energy laser. Its Discovery Center hosts public exhibits, and cinephiles can spot the lab in the 2013 film Star Trek: Into Darkness. LLNL and the California campus of Sandia National Laboratories, located across the street, are two 
of Livermore's largest employers.
AIRPLANE MODE
A private airfield was built in 1929 on what is now Rincon Avenue, and in 1965, it was moved to its current site. Today, the Livermore Municipal Airport boasts 590 acres, two runways, one helipad, and 600 aircraft that rest in hangars. An average year sees roughly 120,000 takeoffs and landings—all private, business, and corporate small aircraft operations. Aviation enthusiasts flock to the airport's annual open house and air show. Not to be missed is Elevation LVK,
a restaurant in the terminal building with a view of the runways and a bar fashioned from an airplane wing.
WE LOVE THE '80S
Two of the most famous names to hail from Livermore in recent history both attended Livermore 
High School in the 1980s. Pitcher Randy Johnson threw a perfect game in his last high school start in 1982. He went on to play for 
six Major League Baseball teams, most notably the Seattle Mariners and Arizona Diamondbacks, and holds the record for the second-
most career strikeouts of all time. A field at Livermore's May Nissen Park bears his name. At age 15, fellow LHS Cowboy Andy Weir was splitting his days between morning classes and an afternoon job at Sandia National Laboratories in the late 1980s. His science-
fiction novel The Martian was originally self-published in 2011 and rereleased in 2014—becoming a best-seller and an Oscar-
nominated film starring Matt Damon. During the movie's campaign, Weir spoke at the Lawrence Livermore National Laboratory, where his father and stepmother worked for many years.
CARING CAMP
Tucked away near Del Valle 
Regional Park, Camp Arroyo is a fun and familiar place for many Bay Area children. During the school year, it hosts overnight environmental camps. And in the summer months, it's a haven for kids with special needs, thanks to the 30-year work of the Taylor Family Foundation. Not only do the kids attend for free, but here they can just be kids without 
worrying about their chronic medical conditions or developmental disabilities. With extra attention from medically trained staff, campers get to experience the thrill of roasting marshmallows, telling ghost stories, and making new friends. Camp 
Wonder, run by the Children's Skin Disease Foundation, hosts its own one-week camp at the site.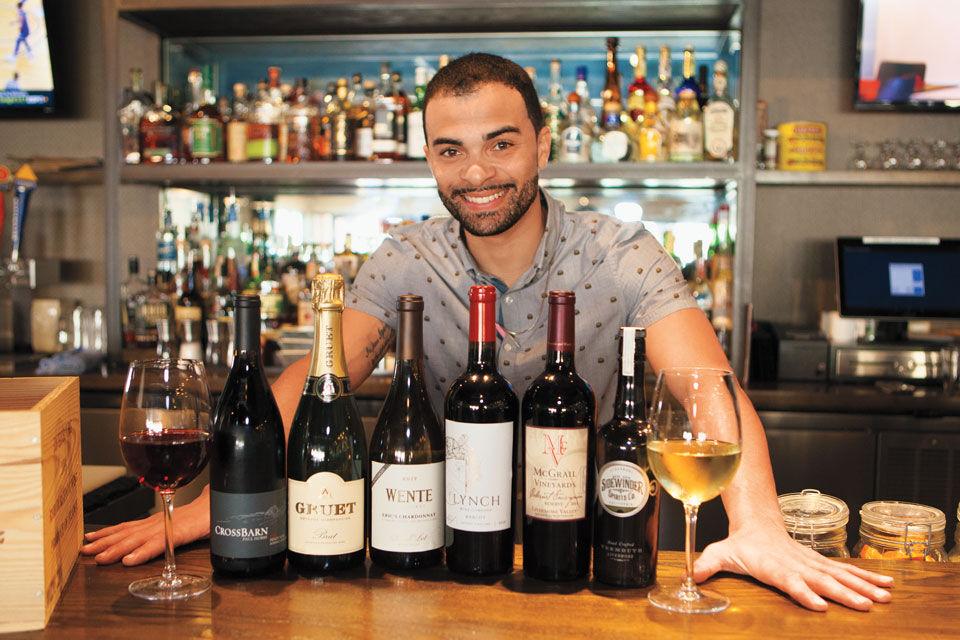 Change in a Bottle
Jeremy Troupe-Masi, brand sales manager at Nottingham Cellars, is bringing anti-racism education to the wine community.

The flagship wine blend at Nottingham Cellars is called "Supremacy." It was intended to represent the pinnacle of winemaking, but as racial tensions increased in the United States, it became clear the name was problematic. Jeremy Troupe-Masi—a 29-year-old certified sommelier—is behind the winery's #EndSupremacy campaign.
Supremacy's 2016 vintage will be its last. But instead of letting it fizzle out, Troupe-Masi is helping the brand take a stand against systemic oppression. Fifteen percent of Supremacy sales will be donated to the Oakland chapter of 100 Black Men of America, which provides business opportunities primarily to communities of color.
Q: What do you love about Livermore?
A: The location is amazing—but also the life and potential. There are a lot of people my age settling here, and with that comes a liveliness that matches our energy.
Q: What drew you to hospitality?
A: Seeing what food and wine did for my family at holiday gatherings—it brought out the best version of people—stuck with me.
Q: You grew up in Fremont. What took you to the Tri-Valley?
A: I was looking for a food and wine community where I could make an impact. Shopping in Pleasanton, I stumbled upon Sabio on Main. [After] brunch, I knew right away: I'm going to work here.
Q: How has Black Lives Matter affected the industry?
A: Marketing is changing, and people's buying habits are changing. As a company, if you don't wear your values on your sleeve where people can see, they will not want to buy from you.
Q: What does the #EndSupremacy campaign mean to you?
A: I knew [Nottingham winemaker] Collin Cranor and his family before I ever bought Supremacy. It's a word you notice, but they are good people, and I believed the intent behind it. A winery moving on from its flagship is a bold statement—and it makes me feel even better about being here.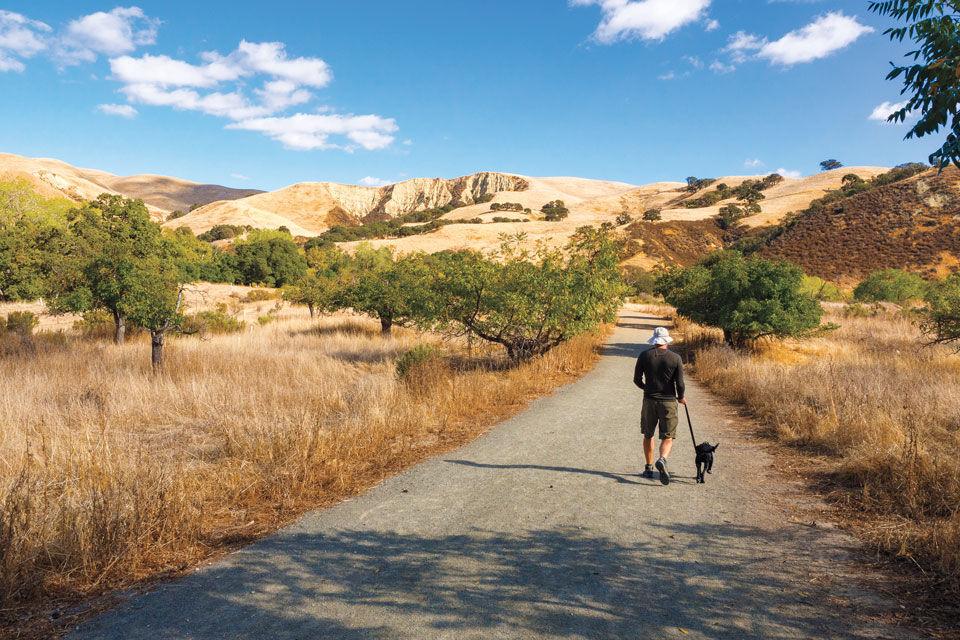 OUT AND ABOUT
From backpacking to outlet shopping to finding your way out of a maze, Livermore offers fun 
for everyone.
THE GREAT OUTDOORS
You'll feel farther than 10 miles from downtown at Del Valle Regional Park. Head to the lake for swimming, boating, or trout fishing; book a family campsite; or trek the Ohlone Wilderness Trail, which winds 28 miles through the back country connecting Del Valle to Mission Peak and Sunol regional parks (permit required). Other great hikes are to be found at Brushy Peak Regional Preserve—leash Fido and hit the 4.5-mile loop of Brushy Peak Trail and West Side Trail—and Sycamore Grove Park, which includes a wide, paved 2.5-mile path that is ADA accessible. If time-traveling is more your style, take a tour of the Ravenswood Historic Site led by costumed docents on the second and fourth Sunday of each month.
GET IN THE GAME
There's no disagreement you 
can't settle on the court (or at the racetrack or card table), and Livermore has myriad options. At Umigo Indoor Kart Racing and Event Center, zip around a track at
up to 40 mph in a gas-powered 
go-kart. Less intense is the outdoor track at Boomers, along with mini golf, bumper boats, and arcade games. At Lost Worlds Adventures, the kid-friendly fun goes prehistoric with 50,000 square feet of dinosaur-themed attractions, including laser tag and the largest play structure in Northern 
California. Try your luck at 
Parkwest Casino 580 or Livermore Casino—or test your problem-
solving at Limitless Escape Games. Aim a ball at 10 pins at Granada Bowl or an air gun at your opponent's torso at American Paintball Park. At Campo di Bocce, you can top off a pasta dinner with a rousing game of bocce, wine glass in hand. And each fall, at G and M Farms, go through a cornfield maze with the help of strategically placed trivia questions.
WE HEART THE ARTS
The dual-venue Livermore Valley Performing Arts Center is the heart of the cultural community in the area. Among the resident companies of the 507-seat Bankhead Theater are the Livermore-Amador Symphony, Livermore Valley 
Opera, Tri-Valley Repertory 
Theatre, and Valley Dance Theatre. It also hosts the Rae Dorough Speaker Series, and the amphitheater is the scene of many free concerts. About eight blocks away, the Bothwell Arts Center offers art classes, workshops, rental studios, and rehearsal space. But there is even more art to experience in the city, starting with a series of large-scale paintings between First and Second streets created in June for the Only Up Mural Festival. Vine Cinema and Alehouse pairs independent films with Livermore brews, and you can order food delivered to your seat—or couch. And most summers, the Livermore Shakespeare Festival stages a masterwork from the Bard in the vineyards.
SHOP TIL YOU DROP
Perhaps the most popular destination in Livermore, luring tour 
buses every weekend, is the open-air San Francisco Premium Outlets. With 180 shops, from Prada to the Disney Store, it is a lot to take in, but there is a food court, children's play area, and plenty of seating. If independent retailers are more your style, don't miss 139-year-old Baughman's Western Outfitter's (there's a boot room), comics shop Fantasy Books and Games (huge Funko Pop collection), delightfully cozy quilting shop In Between Stitches ( 2,200 bolts of fabric), or the serene oasis of Alden Lane Nursery, tucked into a grove of centuries-old oak trees with a gift shop, gardening clubs, and seasonal community festivals.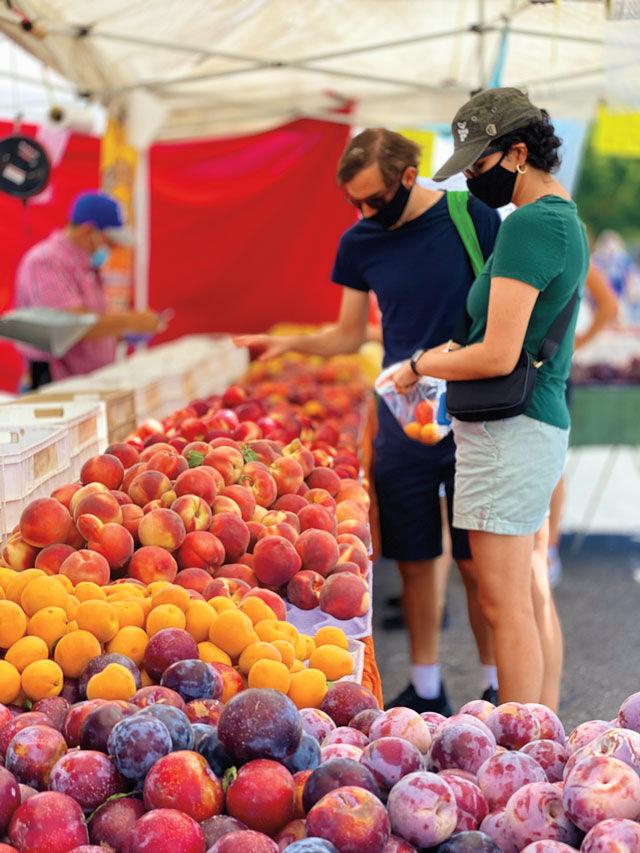 FOOD AND FRIENDS
The Livermore Farmers Market is a social hot spot as much as 
a destination for farm-fresh produce. Swing by on Thursday 
evenings at Carnegie Park or Sunday mornings along Second 
Street for heirloom tomatoes, local honey, handmade empanadas, and fresh-cut flower bouquets—plus live music and street food. Several market alumni have opened brick-and-mortar shops in recent years. Now on any day of the week, you can pick up a bar jar (32 ounces of a drink in a mason jar to pour over ice at home) from Story Coffee, or "rainbow road" M&M cookies and lemon bars from Dan Good Cookies.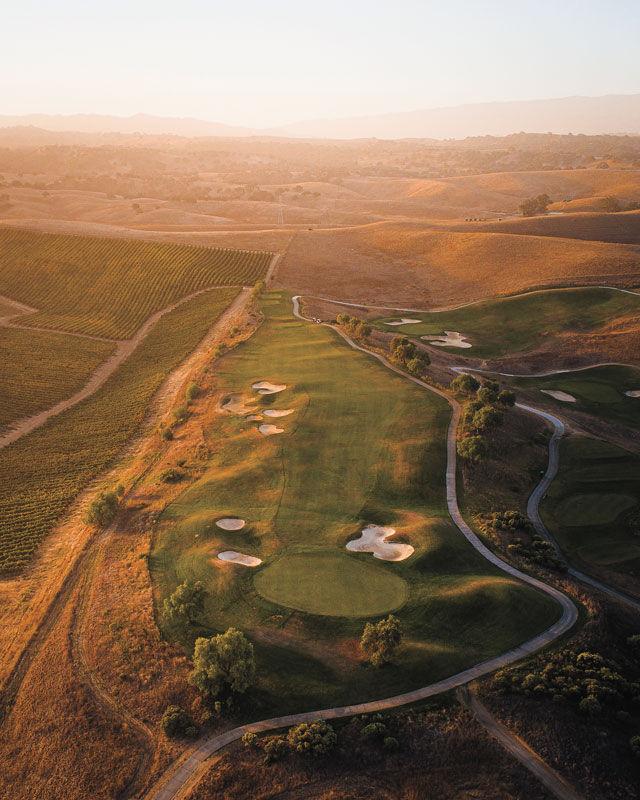 PAR FOR THE COURSE
Three courses within city limits give variety to golfers of all skill levels. Poppy Ridge named its three Rees Jones–designed nines after grape varietals: Merlot, 
Chardonnay, and Zinfandel. Each ends in front of the hacienda-style clubhouse, which serves champagne brunch at its restaurant 
every weekend. The 18-hole Course at Wente Vineyards, 
designed by golf great Greg 
Norman, is situated amid picturesque vineyards. It plays host to the Livermore Valley Wine Country Championship, part of golf's Nationwide Tour. Las Positas's 18-hole course and practice range are easy on the wallet and open to the public for play or lessons.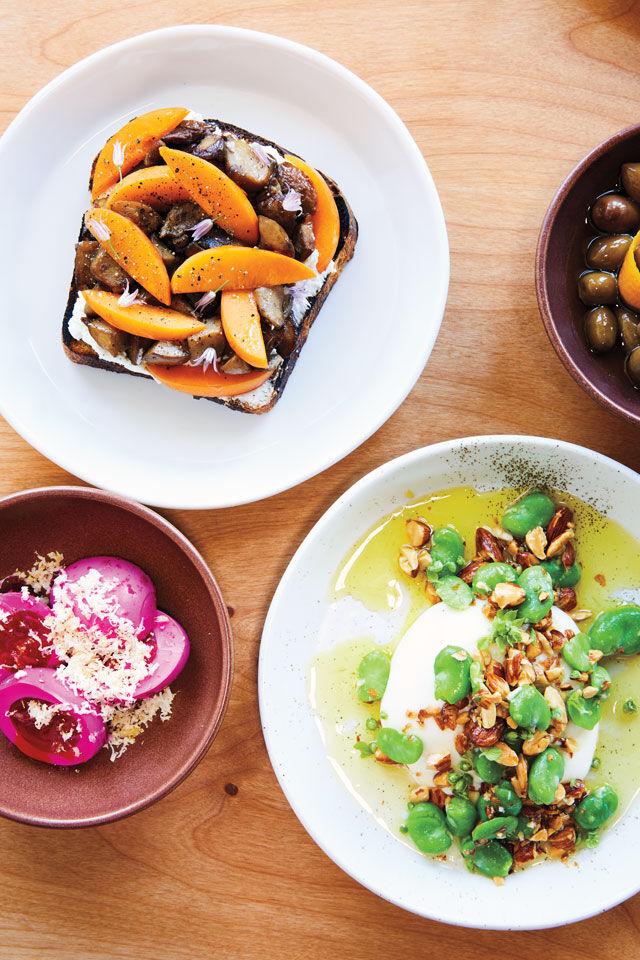 SIP AND SAVOR
The best of the Livermore Valley can be found 
on the plate or in the glass.
BEST BITES
Whether we're dining indoors 
this fall or outside on the patio, you'll still find a favorite dish 
at one of these Livermore restaurants.
Cinco TacoBar
The humble taco is elevated here, with tortillas pressed and cooked to order. Grab a carne asada or al pastor taco, a burrito bowl, or a Dutch crunch torta—it's all delicious—and don't miss the Instagram-ready wall art. Cinco TacoBar is also the not-so-secret kitchen of delivery eats Man vs. Fries. cincotacobar.com.
First Street Alehouse
This lively hot spot serves up classics such as beer-battered fish, half-pound burgers, and a grilled cheese of the week alongside daily rotating beer taps. Fun touches: the 6,000-plus beer-can collection on display and a lollipop on your plate for dessert. firststreetalehouse.com.
PB08 Indian Bistro and Bar
One of the newer restaurants 
on the scene, opened in June 
by a family hailing from 
Punjab, India, PB08 serves 
North Indian cuisine including architectural gol guppay 
(veggie-stuffed pastry balanced on a glass of tamarind-flavored drink) and Punjabi fried rice. 
pb08bistro.com.
Posada
Hidden behind an unassuming
strip mall are craveable Southwest flavors—braised pork with
hatch chilies, shrimp and chorizo pasta, and crispy lamb flautas—served up by the ultimate hosts: Blanca and Eduardo Posada. Don't forget the sangritas. posadarestaurant.com.
Range Life
Four New York and San Francisco restaurant veterans (Tartine Manufactory!) relocated to Livermore and transformed a former carriage house into an urban-hip eatery serving seasonal fare such as summer squash curry and steak frites paired with craft cocktails. rangelifelivermore.com.
The Riata Diner and Taven
This eatery decked out in rodeo memorabilia specializes in down-home favorites such as smoked tri-tip, fried chicken,
and meatloaf, as well as big burgers and breakfasts. Try 
the Mexican Benedict with chorizo and chipotle hollandaise. 
theriata.com.
Sauced BBQ and Spirits
This popular four-restaurant minichain started in downtown Livermore, serving up barbecue meats and creative dishes such as "honky tonk" loaded fries. It doesn't get better than the burnt ends—twice-rubbed, twice-smoked brisket cubes au jus. saucedbbqandspirits.com.
Simply Fondue
Choose between savory and sweet—or have them both. 
Start with loaded whiskey 
cheddar melted tableside and served with fresh bread and 
veggies, then finish with raspberry cabernet dark chocolate with cake and cookie dippers. simplyfonduelivermore.com.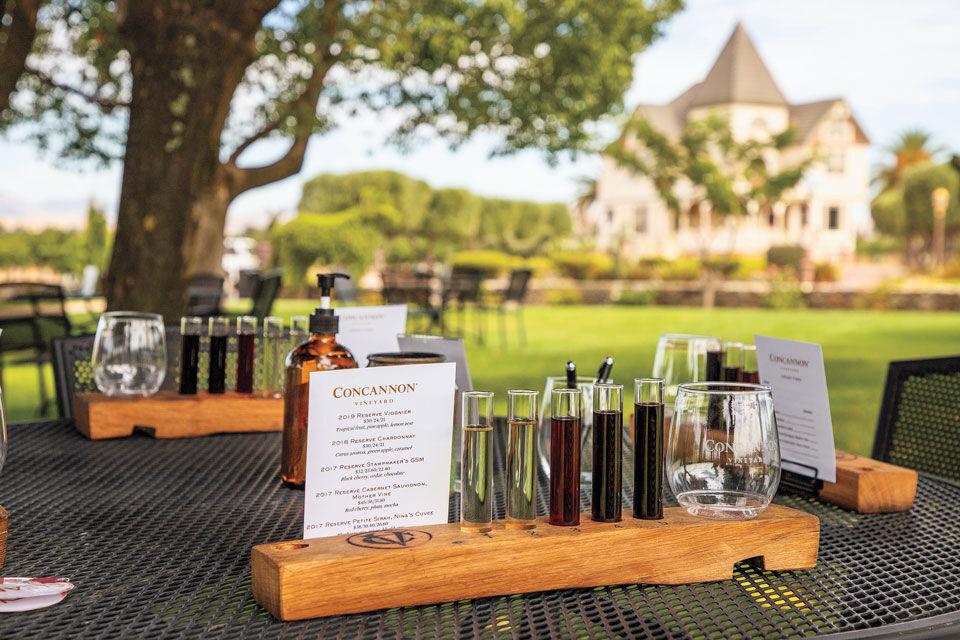 SPECIAL SIPS
Livermore is well known for its wine, but don't forget about beer and spirits.
Concannon Vineyard
Established in 1883, Concannon is renowned for its petite 
sirah: It was the first winery to bottle the grape on its own rather than a blend. Tasting venues range from a dramatic 
cask room to swing chairs hanging from an arbor, with a 
stunning Victorian home as an ever-present backdrop. 
concannonvineyard.com.
Wente Vineyards
Also established in 1883 and the oldest continuously operating family-owned winery in the United States, Wente offers more than wine: It has a restaurant, golf course, and summer concert series as well. But its heart can be found in the sandstone wine caves and at the bottom of a bottle of Riva Ranch Chardonnay. wentevineyards.com.
Altamont Beer Works
Opened in 2012, Altamont was Livermore's first brewing
company since Prohibition, and its airy 4,500-square-foot taproom is a fun place to taste. Its colorful names and can art are always a treat: Hella Hoppy, Basic Bitch, Freedom Fuel, and 
a Mac Drizzle line (in tribute 
to hyphy pioneer Mac Dre). 
altamontbeerworks.com.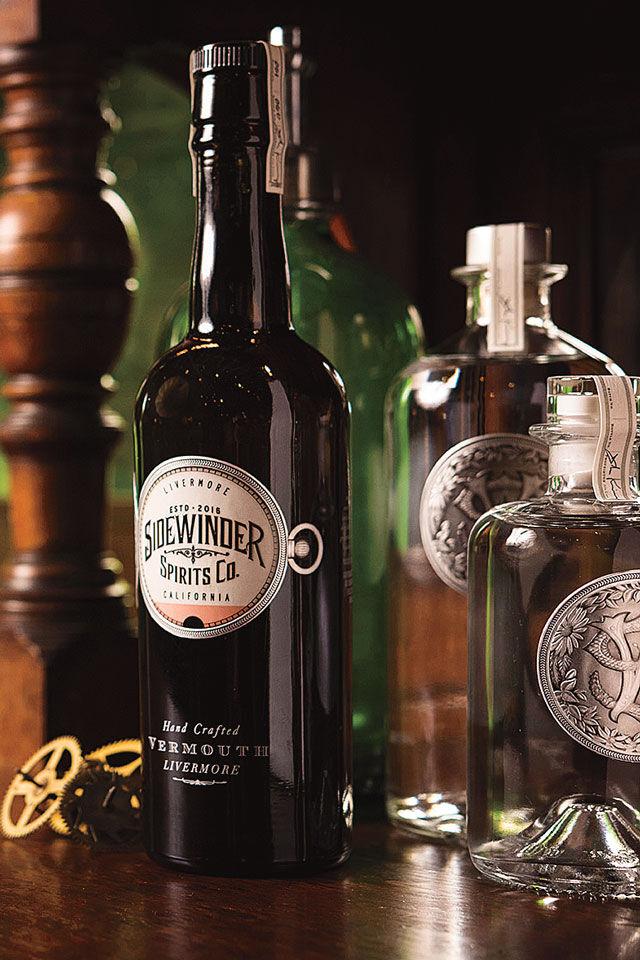 Blacksmith Square
Near Livermore's new 
Stockmen's Park, two
historic brick buildings house 
fun tasting experiences. Visit Swirl on the Square to sip 
Livermore wines (McKahn Family, Darcie Kent, and more) by the glass while nibbling small plates. Tap 25 pours local brews such as 21st Amendment, Ghost Town, and Fieldwork. Relax on the outdoor patio between the buildings to enjoy live music. swirlonthesq.com, tap-25.com.
Sidewinder Spirits Co.
Spirits, like wine, can evoke a sense of place, and this micro-
distillery that launched from 
Occasio Winery in 2016 uses 
Livermore wine as the base of its vermouth, grappa, and eau-de-vie de vin. It also makes gin and whiskey. sidewinderspiritsco.com.