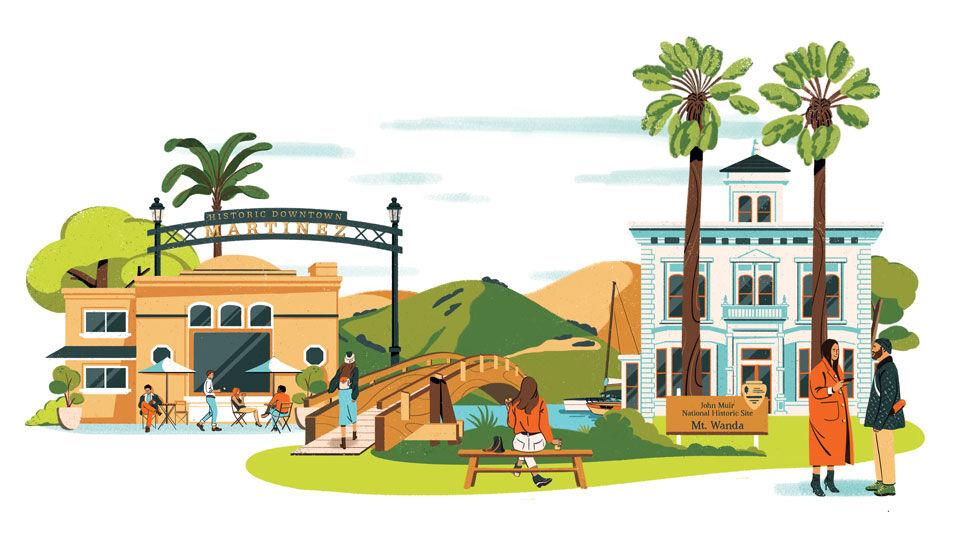 With its enviable location on the 
Carquinez Strait, Martinez is a surprisingly scenic destination, especially since many 
associate it with the oil refineries that have long made their home here. For one thing, Martinez has fabulous hiking and biking, as well as many other opportunities for outdoor recreation. For another, the city dates back to the mid-nineteenth century, and many original architectural gems are still standing. And a visit downtown reveals a newfound hipster element, with edgy boutiques and cool brewpubs tucked among the town's many antique shops and mom-and-pop businesses.
Martinez, with a small population of about 38,000, also plays a major role in the greater community. It has been the county seat of Contra Costa County for more than 150 years, and serves as a key connection point between Contra Costa and Solano counties, thanks to the Benicia-Martinez Bridge.
But perhaps most noteworthy of all are 
the people who call Martinez home. From the restaurateurs to the bocce players to the 
civic leaders, the special folks in this town are what make it such a welcoming community.
Note: Some locations may be closed due 
to COVID-19. Confirm the status of your destination before you go.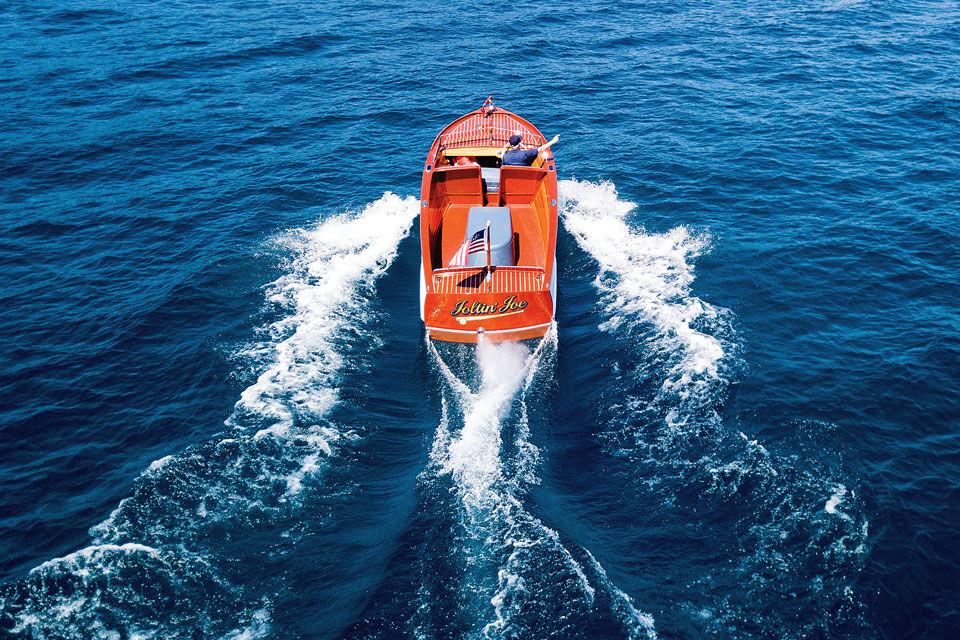 FUN FACTS
Sports legends and historical landmarks are just a couple things that distinguish this appealing city.
BOCCE MANIA
In Martinez, the enthusiasm for bocce—the Italian bowling game—is off the charts. In fact, the city boasts a record-setting bocce league, with over 2,000 members. Visitors can catch the Martinez Bocce Federation's members in action at Waterfront Park, where they play on 15 courts.
HOME OF THE MARTINI
The story goes that a local bartender 
invented the martini in 1874, when Martinez served as a stop on the way to Gold Country. The Martinez Special—essentially, gin, vermouth, and a dash of bitters poured over crushed ice—caught on. Martinis can still be had in 
any number of bars around town, but old-timers remember the 
dearly departed Amato's restaurant as the epicenter of Martinez's martini culture.
REMARKABLE RESTING PLACE
Among the notables buried in 
the Alhambra Pioneer Cemetery
 are 19th-century scout Joseph Rutherford Walker, who 
established part of the 
California Trail; flame dancer 
Caroline Holpin, aka "Papinta"; and Eliza Nottingham, who 
unknowingly did a service to her country at the age of 9, 
when she saved 4-year-old 
Abraham Lincoln from 
drowning in a Kentucky creek.
SCREEN TIME
Francis Ford Coppola filmed part of his 1988 movie Tucker in Martinez. 
The film, which stars Jeff Bridges, is about one man's dream to build "the car of the future" and includes a shot of Martinez's Wakefield Taylor Courthouse.
NOTABLE RESIDENTS
Martinez claims an impressive number of sports legends among its native sons, including Yankee great Joe DiMaggio; NFL coach Norv Turner; NBA coach and TV commentator Jeff Van Gundy; his brother and New Orleans Pelicans coach Stan Van Gundy; and MLB pitcher Tug McGraw. Non-sports notables who lived in Martinez include naturalist John Muir and artist Simon Rodia, who created the Watts Towers in Los Angeles.
ABOVE AVERAGE JOE
Joe DiMaggio's 22-foot Chris-Craft boat (on which he cruised the San Francisco Bay in 1954 with his bride, Marilyn Monroe) was 
donated to the city of Martinez 
in 1991. An all-volunteer 
effort called the Joe DiMaggio Hometown Hero Project hopes 
to establish a museum in the slugger's honor, where the now-
restored boat and other artifacts can be viewed by the public.
LIQUID ASSETS
Martinez got its start as a farming and ranching community, but it eventually became known for quality liquids—specifically: water and wine. Alhambra began bottling water in Martinez in 1902, and the Christian Brothers Winery got its start here before moving to Napa. Today, the largest winery is Viano Vineyards, 
which features a tasting room and picnic area. (Speaking of 
beverages, drop by Luigi's Deli 
for its selection of more than 
100 types of soda.)
ESSENTIAL OIL
Martinez has been associated 
with the oil industry since 1904, 
when the area's first refinery opened. Today, Martinez remains a petroleum processing center, due to the longstanding presence of the Shell Oil Company, which was sold last year to PBF Energy.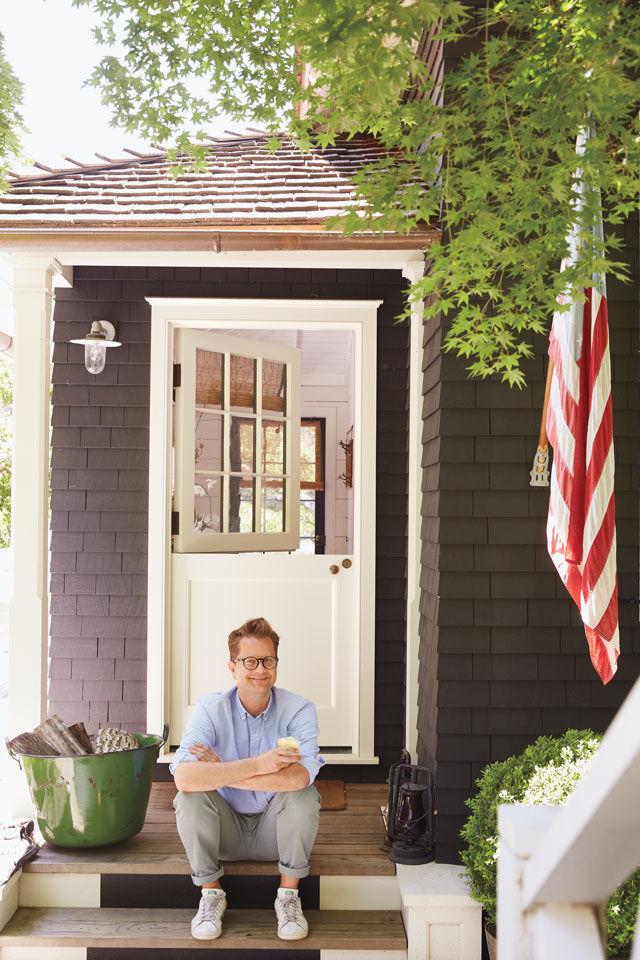 A Well-Lived Life
Acclaimed designer, cook, and author Nathan Turner explains why his hometown is so dear to his heart.
Nathan Turner may be a big-time decorator (he runs a 
top design firm in Los Angeles), author (Nathan Turner's American Style and I Love California), and a TV personality (regularly seen on Bravo's Million Dollar Decorators), but he remains steadfastly loyal to his hometown of Martinez. He has spent the past few months working 
on his second cookbook from his country place in 
Ojai, where he also plans to open a new retail shop. 
But all this activity doesn't stop him from frequently 
returning to Martinez to catch up with friends and 
family. "I love it," he says. "I get back home as much 
as I can, because I still feel so connected to it."
Q: You have made a name for yourself as both an interior designer and chef. How do you 
integrate these different pursuits?
A: To me, it's all about a well-lived life. I am known as a decorator, but what's a pretty house if you don't have great food on the table, or if 
people don't feel comfortable? It is about creating the entire experience. And that does not mean living in a rarefied world or spending a lot of money. It means having a cozy home with nice food on the table and friends, family, and pets in the house. To me, that's living well.
Q: What can you share about your early years in the East Bay?
A: I grew up in Martinez, and my roots on both sides of my family started in that funny little town. We had a ranch there with horses, chickens, vegetable gardens, so I really feel like I had a country upbringing. We'd even ride our horses downtown to the Burger King drive-through! As the town became more suburban, we moved our ranch to the Stockton area, but my family stayed in Martinez. I even went to college at Saint 
Mary's in Moraga, so I am really an East Bay guy.
Q: Now that you live in Los Angeles, what do you miss most about Martinez?
A: Martinez is a very tight-knit community, which I love, especially because I live in such a large city now, and there are moments when I really crave that sense of community. When my I Love California book came out, the city let us have an event at the original train depot. Hundreds of people came, and it was fun to see people from my childhood. It's such a special place, because even if you don't see people for years, they are rooting for you and you are rooting for them.
Q: What are your favorite things to do in Martinez?
A: I love hiking Mount Wanda, which is just across from the John Muir house; it's like two minutes from downtown, and you go up and are in the middle of nowhere. I also think the historic buildings in Martinez really lend themselves to the hipster places that have been opening downtown, like States Coffee. And when I am in town, I always stop by Viano Vineyards and Taco Daddy's, which has the most amazing food.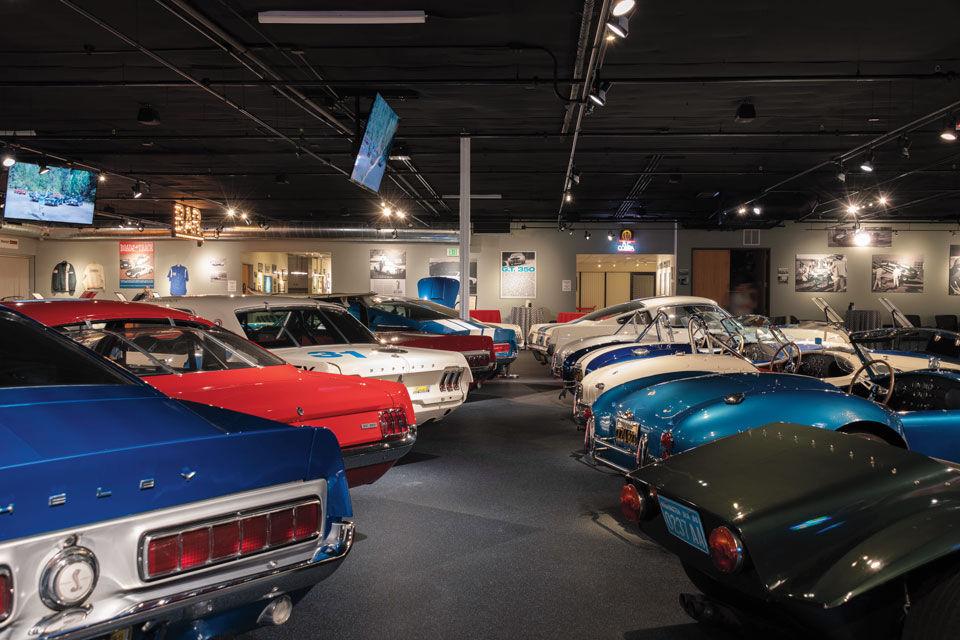 OUT AND ABOUT
From one-of-a-kind museums to a variety of 
recreational activities, there's no shortage 
of diversions in this historic town.
KING COBRAS
Sports car lovers can get a rare thrill at the Cobra Experience, a highly specialized museum dedicated to the brilliant sports cars designed by the legendary Carroll Shelby in the 1960s. The 25,000-square-foot museum displays some 24 Shelby originals at any given time, including Cobras and Shelby Mustangs. Founded by local Cobra aficionado Drew Serb, the museum features a theater presenting an HD film about Shelby's story (which was also the subject of the 2019 film Ford v Ferrari).
SHOP TALK
Martinez has long been known as a fabulous destination for vintage treasure seekers, and the city's enticing selection of antique shops includes such gems as Antique Corner, Antiques on the Main, Bad Girls Antiques, Olde Towne Antiques and Mercantile, and the Spotted Cow. There are also a number of stylish boutiques offering more cutting-edge wares, such as Function and Fringe 
(boho-chic clothing), Gilded Frond Clay and Textiles (home goods), Lavender Moon Interiors (distinctive gifts), and Velvet Cannabis (the first cannabis dispensary in central Contra Costa County). In addition, there's an excellent beauty salon, Citrus, which attracts loyal customers from throughout the region.
THE LIVELY ARTS
Popular music club Armando's closed in early 2020, leaving a gaping hole in the local nightlife scene. But the beloved Martinez Campbell Theater has recently been featuring virtual events, such as live improv via Zoom, 
to tide audiences over during 
the pandemic. And, when theaters in the community do reopen, check out the California Magic Club, an intimate venue that serves up dinner, drinks, and a variety of magic acts.
ON THE WATERFRONT
No visit to Martinez is complete without a stroll in Waterfront Park, home to the Martinez 
Marina, the fishing pier, bocce ball courts, playground areas, and 
ball fields. This family-friendly 
destination is also ideal for picnicking, kite flying, and bike 
riding, all while taking in the views of the Carquinez Strait.
HISTORY COMES ALIVE
Stop by the Martinez Museum—housed in an 1890 cottage on Escobar Street—to learn about the community's rich history, from the indigenous Karkines peoples who inhabited these parts, to the pivotal rail ferry service (and eventual bridge) connecting the north and south sides of the Carquinez Strait, to the game-changing arrival of big oil refineries.
BIKE THE BRIDGE
Part of the Bay Area Ridge Trail, the 1.2-mile Benicia-Martinez Bridge offers an exhilarating outing for cyclists. While riding across bridges can be challenging due to winds, this span features a wide bike/pedestrian line that makes for a safe and scenic crossing. Be sure to spend some time exploring the charming village of Benicia before making the return trip.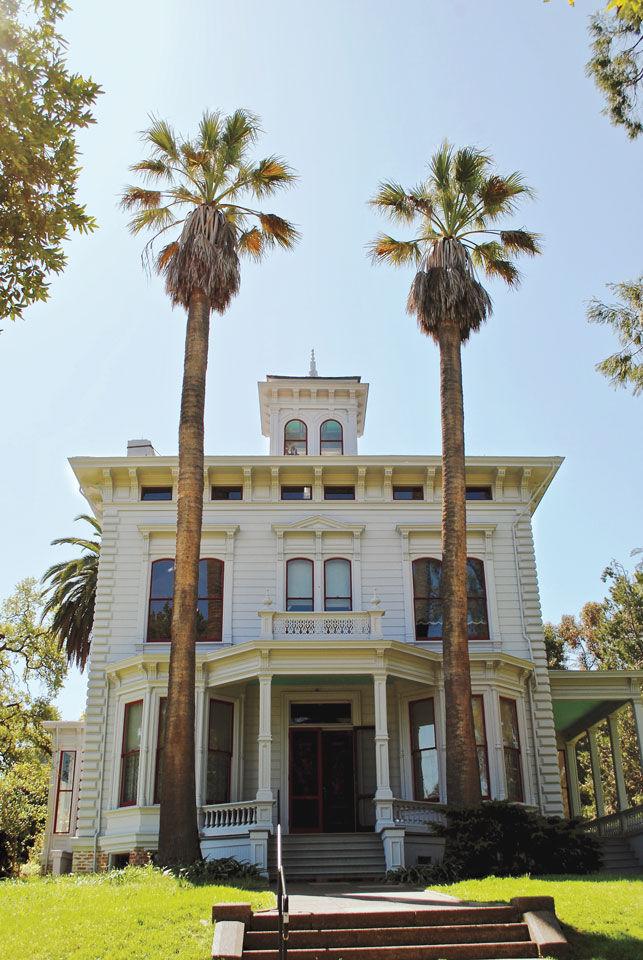 NATURAL LEGACY
The celebrated naturalist and conservationist John Muir was a true force of nature, helping create Yosemite National Park, establish the Sierra Club, and inspire the founding of the National Park 
Service. The longtime Martinez resident's home is now a historic site, where visitors can explore the Victorian house where Muir worked and lived until his death in 1914, watch a film detailing his legacy, and tour the grounds (including the family gravesite).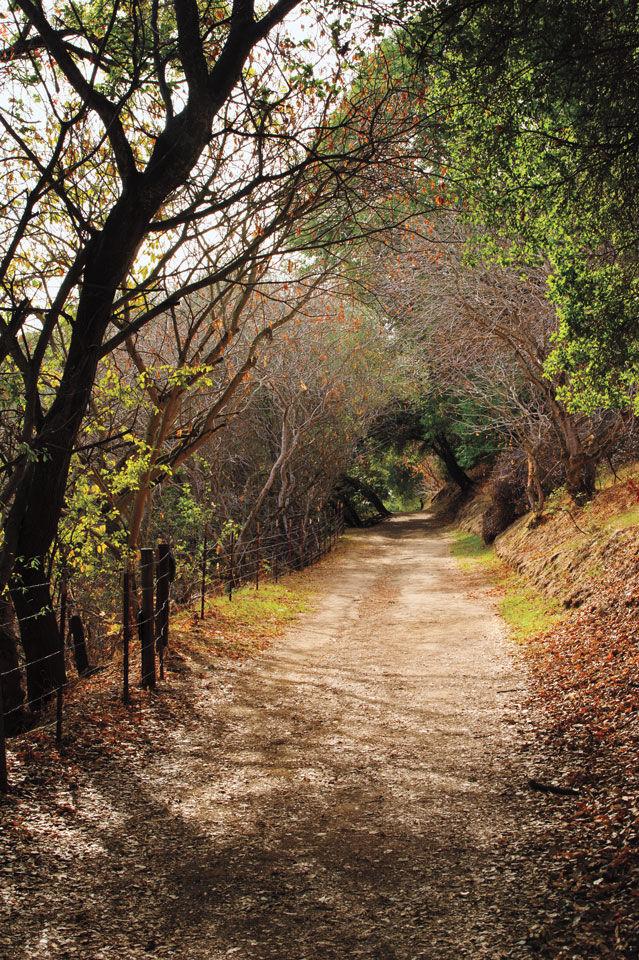 MAGIC MOUNT
Named after John Muir's eldest daughter, Mount Wanda is adjacent to the naturalist's estate and has excellent hiking (dogs must be 
on-leash) and birding, as well as opportunities to spot native wildflowers in the spring. Enjoy views of Mount Diablo, the Carquinez Strait, and the golden hills of northern Contra Costa County from the woodland and grassy trails. The 326-acre preserve where Muir once hiked with daughters Wanda and Helen (nearby Mount Helen bears the name of the latter) is populated by valley, blue, and coast live oaks; bay laurels; and 
a wealth of wildlife.
PARK PURSUITS
Activities abound in the East Bay regional parks, with fishing, boating, and marsh explorations among the options at the Radke Martinez Regional Shoreline. Hikers and cyclists can also enjoy marine treks along the Carquinez Strait Regional Shoreline and the George Miller Trail.
FIELDS OF DREAMS
It's only fitting that visitors to Joe DiMaggio's hometown take in a baseball game in his honor (that 
is, when such things are possible
 again). And Martinez has a new(ish) minor league team: the Martinez Sturgeon, a member of the multi-state Pecos League. While some questioned the fishy name (sturgeon are an ancient species of fish found in the Carquinez Strait), residents and visitors alike are excited to watch the team in action at Waterfront Park.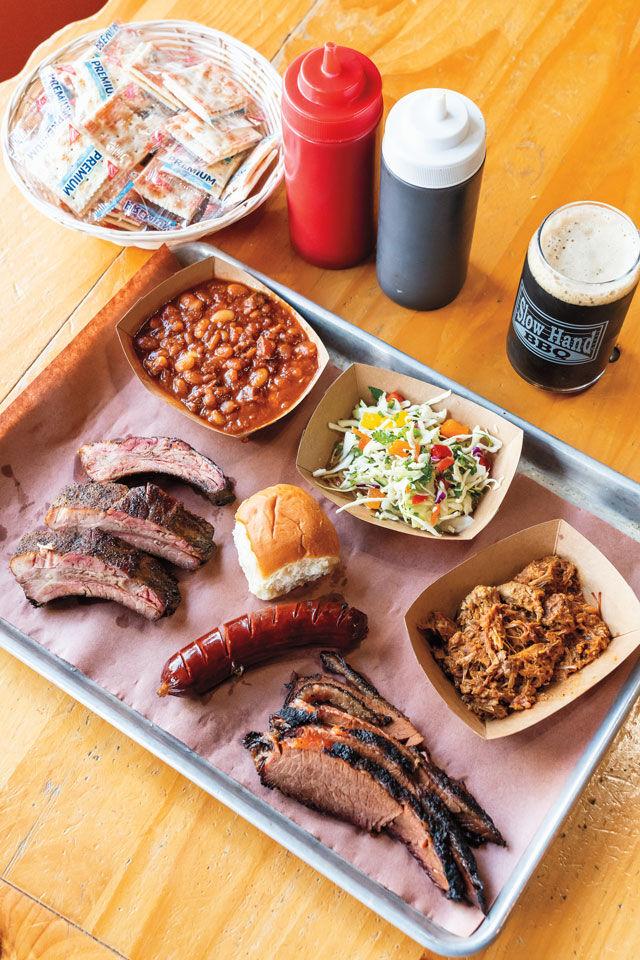 SIP AND SAVOR
For a relatively small city, Martinez teems 
with inventive restaurants and welcoming 
watering holes.
EAT IT UP
Flavorful and inspired dining options are plentiful here, indoors and out.
Lemongrass Bistro
Technicolor freshness meets authentic Southeast Asian flavors at this unassuming but stylish restaurant at the foot of Main Street. The result is light, healthy, and deeply delicious food worthy
of a special night out. The cuisine is a mix: Just when you think you're in for Thai, the menu throws in a Filipino appetizer or a classic Vietnamese entrée. Surprisingly, each of the dishes gets a fair rendering. Check out the avocado rolls wrapped in rice paper with crisp lettuce, carrots, mint, cilantro, and cucumber; the grilled chicken skewers; the grilled shrimp salad; and the tender eggplant stir-fry with a choice of chicken, beef, pork, tofu, or shrimp. lemongrass-bistro.com.
Pho May
This strip-mall restaurant is away from downtown but worth the trip for its Vietnamese classics. Mix 
up a vermicelli bowl with barbecued chicken, rice noodles, crisp carrots, cuke, and cilantro with 
its tangy dressing, or grab some authentic chicken, pork, or beef banh mi sandwiches. Any surprises here are good ones—including the small amount of money you'll pay for a satisfying meal.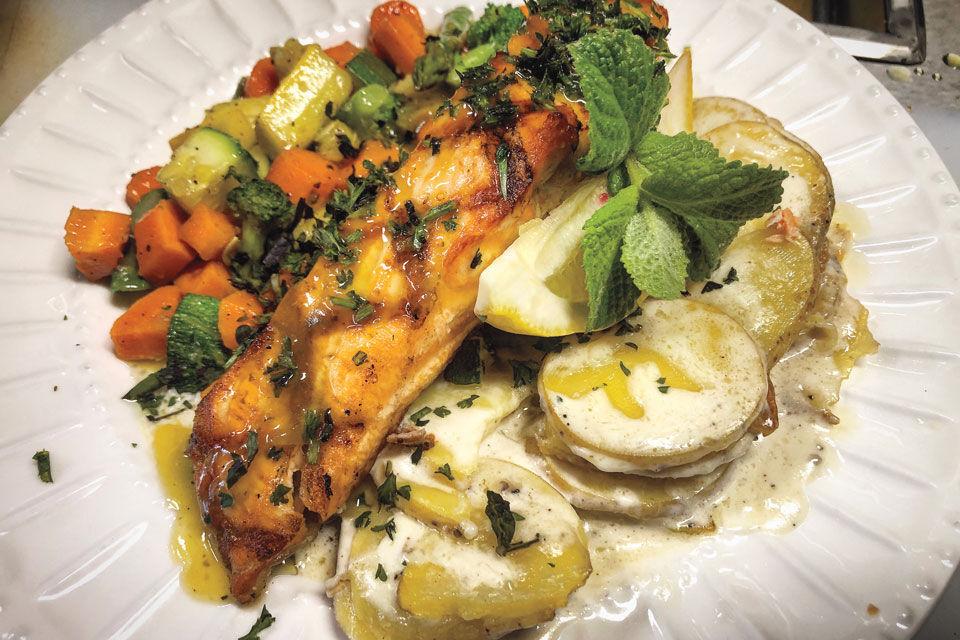 Roxx on Main Street
The chefs at Roxx have never met a fresh local vegetable or fruit they didn't like, but that doesn't mean they hold back on the butter, the cheese, or the generous portions of meat. So, bring an appetite, and dig into the flatiron steak with sautéed greens and mushrooms and a creamy baked potato gratin, or the double-cut pork chop with apple-butter jus. Roxx has a well-curated local wine list, featuring some standouts from Lodi, Livermore, and even Martinez. 
Indoor dining may be limited these days, but the restaurant is beautifully welcoming, even offering live music. roxxonmain.com.
Slow Hand BBQ
Masterful, slow wood-fired cooking of high-quality beef, chicken, and pork has taken Slow Hand from the farmers market circuit to Pleasant Hill to a second restaurant in Martinez. Make sure to order the coleslaw, which is tangy instead of creamy, as the perfect counterpoint to the deeply rich smoked meats. slowhandbbq.com.
Taco Daddy's
Even taco purists will appreciate this tiny restaurant's improvisations on a classic. The craft tacos include the Sonoma, which combines luscious pollo asado, a salsa of arbol chilies, crema, bits of roasted peppers, onion, cilantro, and corn (fresh off the cob when we visited). Also try the burritos, bowls, salads, and sides. tacodaddys.com.
Troy Greek Cuisine
All of the Greek standards are worth sampling here—souvlaki, moussaka, avgolemono soup—but we especially like the gyros, 
gorgeous bread wraps of chicken, lamb, beef, or veggies. The secret's in the zingy tzatziki yogurt sauce. Ask about the Greek wines, and you may hit a winner. Or, for a special nonalcoholic drink, have a Loux sour cherry Greek soda. troygreek.com.
DRINK IT DOWN
A smattering of excellent cafés, wine bars, and brewpubs make Martinez a great spot for imbibing.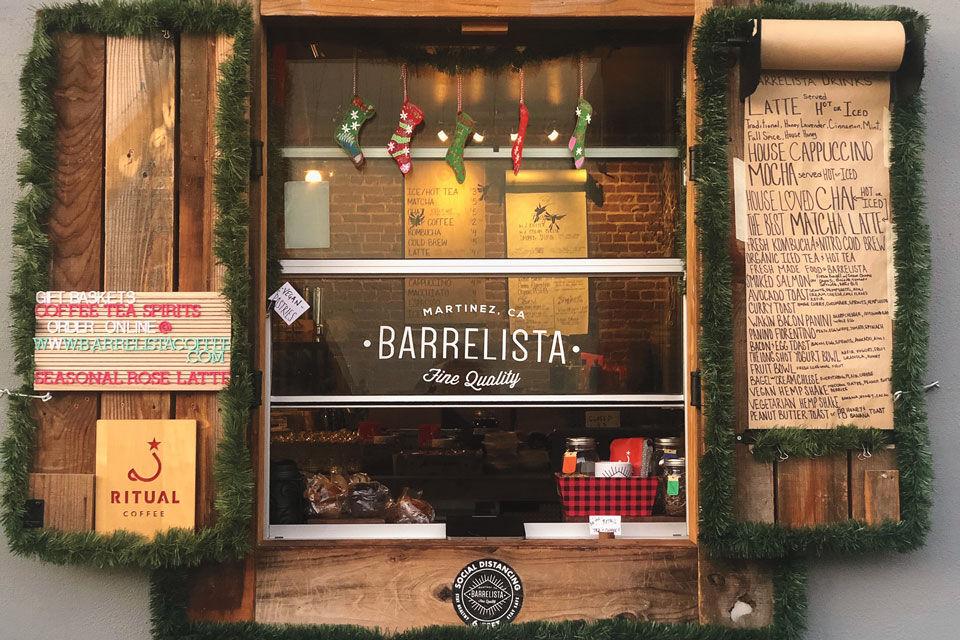 Barrelista
Barrelista is a café with a soul. Their coffee drinks are first-rate, whether you go for a standard cappuccino or something jazzed up, like a lavender honey latte. High-quality organic teas include a fragrant peach blossom white tea that's good hot or iced. Sandwiches are hipster heaven, including the avocado toast with sprouts, hemp seeds, aioli, cream cheese, chili flakes, and a bit of kefir. barrelistacoffee.com.
States Coffee and Mercantile
States's fresh-roasted coffee is the draw here, and its fans flock to get it, especially on weekend mornings. The minimalist space—
exposed brick and plenty of natural light—is inviting, and States's social-distancing policies keep things safe. The café offers bakery pastries and bread, including some gluten-free and vegan options, and coffee beans. statescoffee.com.
Bar Cava
The perfect spot for your next wine discovery, Bar Cava also 
features an encyclopedic selection of liquors and delicious 
accompanying artisan cheeses, charcuterie, sandwiches, 
pizza, and more. Inventive cocktails put those liquors to 
good use, and even the beer list has something for everyone. barcava.com.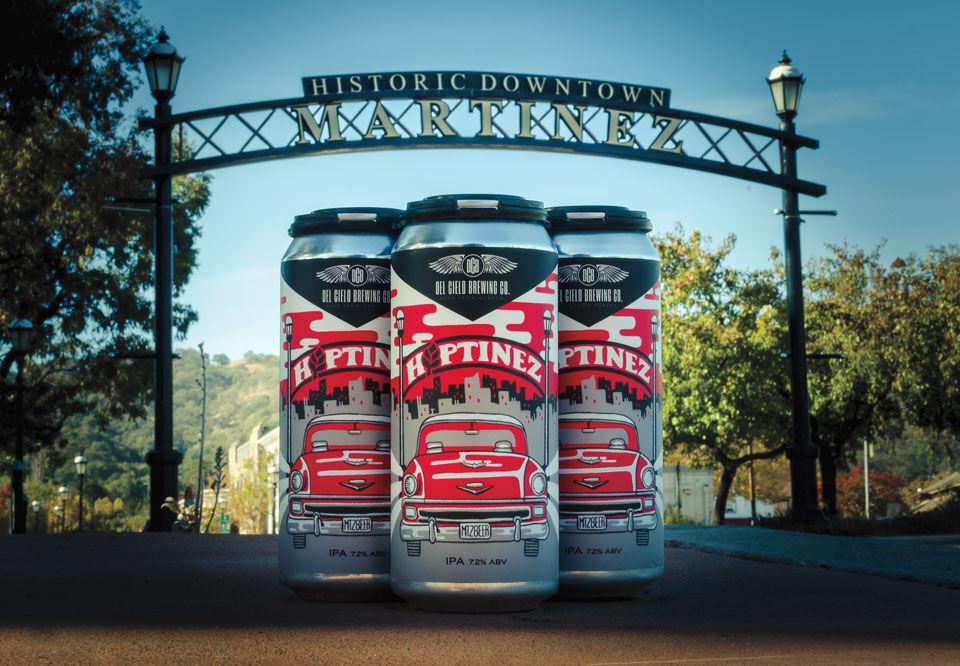 Brewpubs
Martinez practically has its own brewpub district, with three 
within a couple of blocks. At Del Cielo Brewing Co., check out the refreshing and balanced Orale lager and the comfort-food pork belly sliders on Hawaiian bread rolls. At Five Suns Brewing, the pale ale has a crisp lightness, and the food selections come from nearby Pacifica Pizza, Slow Hand BBQ, and Lemongrass Bistro—as well as the Cousins Maine Lobster truck, which visits occasionally with a lineup of lobster rolls and more. Down the road is Firehouse Brew and Grill, where wings, burgers, sandwiches, and a changing selection of beers are served out back on the creekside deck. delcielo
brewing.com, fivesunsbrewing
.com, firehousemartinez.com.