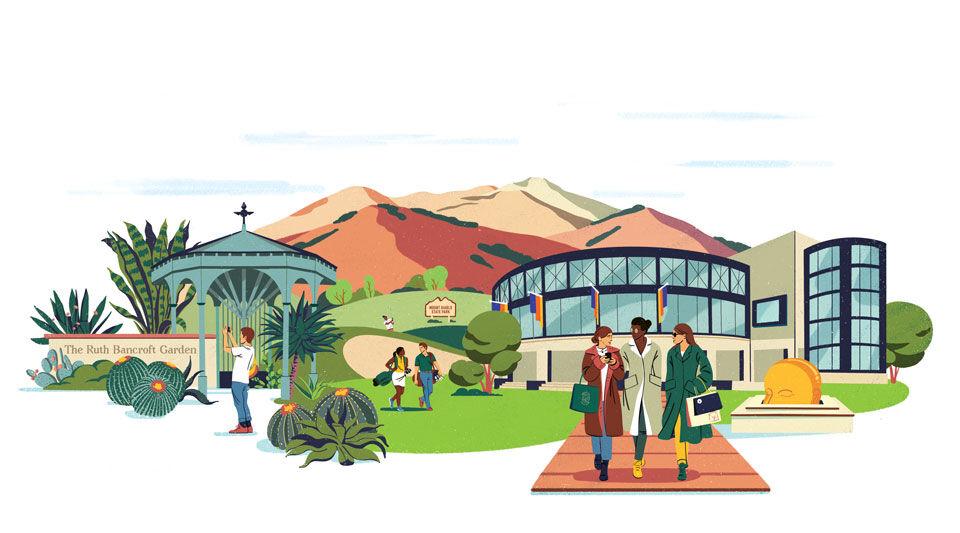 Full disclosure: We may be slightly partial 
to Walnut Creek (it's where Diablo magazine has long been headquartered). But, personal 
bias aside, there's a lot to love about this town, which is known for superb dining, arts and entertainment, day spas, and shopping. Covering some 20 square miles and with a population of more than 70,000, Walnut Creek is a mix of high-end sophistication and unhurried charm. It's also easily accessible, thanks to its location at the intersection of Interstate 680 and Highway 24; plus, a BART station, free downtown trolley, and shuttle and bus services make getting around town manageable for all.
Walnut Creek is also blessed with vast parklands, the most notable being Mount Diablo State Park—a mecca for hikers, bikers, and nature lovers. The summit offers views of places as far away as the Farallon Islands, the Santa Cruz Mountains, and (with binoculars) Yosemite. And if a trek up Mount Diablo seems daunting, a more compact natural outing can be had at the Ruth Bancroft Garden and Nursery, home to beautiful succulents.
But we don't need to sell you on Walnut Creek's charms. Come explore its wonders for yourself—you'll quickly see why Diablo is proud to call this town home.
Note: Some of the locations mentioned in this story may be closed due to COVID-19 safety measures. Confirm the status of your destination before you go.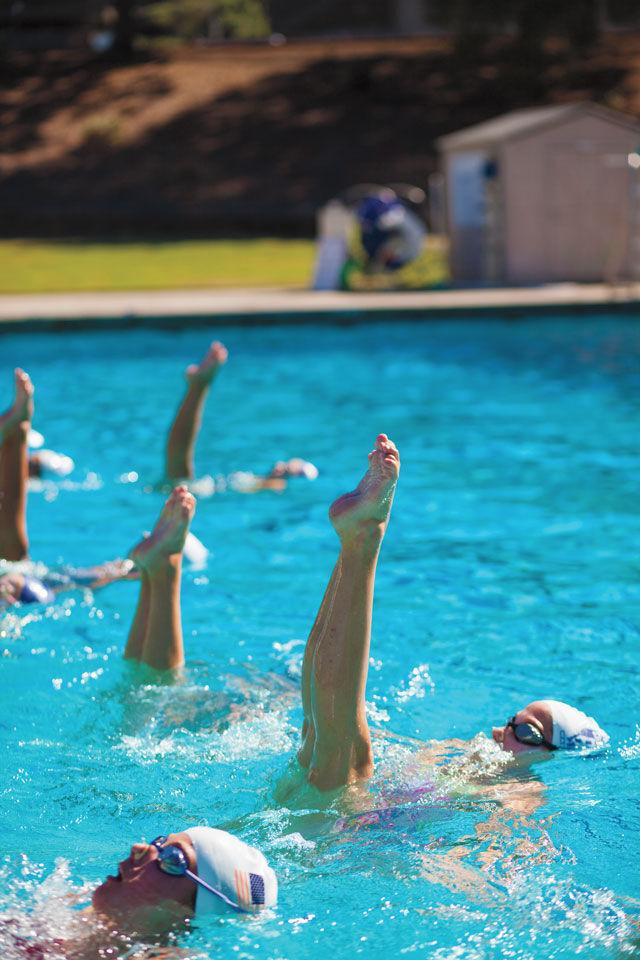 FUN FACTS
Trivia—and not-so-trivial tidbits—about this 
vibrant city.
WILD ABOUT WALNUTS
Have you ever waited at the traffic light at the intersection of Mount Diablo Boulevard and Main Street? The spot was originally a prime crossroads for travelers, inspiring the original name of the town, the Corners. However, the nearby waterway was known as Arroyo de las Nueces (which translates to "Nuts Creek"), and local farming was shifting toward fruit and nut orchards. The town officially became called Walnut Creek in 1862 with the arrival of a United States Post Office branch, and was incorporated in 1914. (In more walnut history: Before the Lesher Center for the Arts opened in 1990, performances were held at the Civic Arts 
Theatre and Gallery, a former walnut-packing facility nicknamed "The Nuthouse.")
CELEBRITY SIGHTINGS
Among the most iconic names with Walnut Creek in their 
bios are actors Katharine 
Ross, Shoshannah Stern, Kyle Newacheck, and Markie Post; skateboarder Corey Duffel; comedians Kyle Gass and Jeff Richards; and model Christy Turlington Burns. Golden State Warriors legend Steph Curry and former Metallica musician Jason Newsted have also owned homes here.
GOLD MEDAL SWIMMERS
The Walnut Creek Aquanuts 
synchronized swimming team 
is lauded around the world for its prowess in the pool. The group welcomes participants of 
all skill levels and has sent a slew of swimmers to the Olympics, including Karen and Sarah Josephson. Five out of the 10 competitors on the 1996 synchronized swimming team in the Atlanta Games were from the Aquanuts—and they took gold in the first-ever team event.
HOMETOWN HAVEN
One of the greatest pleasures of living in Walnut Creek is enjoying the wide expanses of parkland and open space in the area. Conserving that experience has long been a priority for locals. In 1974, after part of Shell Ridge was under consideration for development, town residents created Contra Costa Service Area R-8, rooted in efforts to protect natural areas. The City of Walnut Creek now oversees more than 3,000 acres of open space.
SHOPPING SPREE
The Broadway Plaza retail center debuted in 1951, becoming the first large center of its kind in Contra Costa County. The opening coincided with the huge bump in Walnut Creek's population—and a jump of $11 million in taxable sales from 1950 to 1955. Today, Broadway Plaza prizes sustainability, using energy-conscious lighting and HVAC systems, cutting down on water use, and driving electric vehicles and Segways, among other environmentally friendly practices.
FURRY FRIENDS
Tony La Russa's Animal Rescue Foundation—established by the former manager of the Oakland Athletics and his wife—calls Walnut Creek home. Since 1991, the organization has found a family for over 43,000 cats and dogs, and, through their Pets and Vets program, forged connections between veterans and rescue canines to help with sociability, routine, and minimizing the effects of PTSD, anxiety, and 
depression. For the 13th year 
in a row, ARF was given four 
stars, the best rating available, by 
Charity Navigator earlier this year.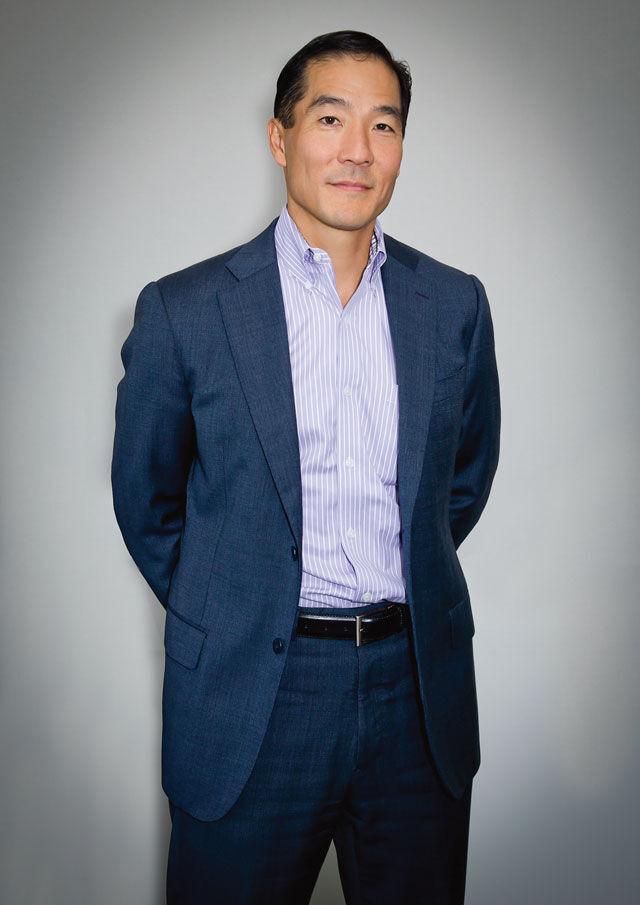 Downtown Man
Brian Hirahara's unique vision helped transform 
his hometown.

The developer behind some of Walnut Creek's most 
innovative and forward-thinking retail and restaurant 
projects—such as Sasa, Va de Vi, and Telefèric 
Barcelona—also has strong ties to the city's past. As a child, BH Development's Brian Hirahara recalls playing 
in a creek surrounded by walnut orchards when his family moved to the Northgate neighborhood in the 1970s. Now 56 years old, the man who is as responsible as any for modernizing Walnut Creek's urban core discusses his hometown's past, present, and future.
Q: What was Walnut Creek like when you were growing up?
A: Downtown was very different, quite sleepy compared to today. I remember the Capwell's store and riding my bike all the way downtown to eat the 99¢ special at KFC, which was located where Anthropologie is today.
Q: You've been responsible for several award-winning developments. Where do you draw your inspiration?
A: Someone once told me that I'm a designer/architect trapped in a developer's body. While I haven't had training, I have a passion for design and architecture. I enjoy creating places where people can escape the suburbs and feel like they are in Europe or San Francisco.
Q: What motivates you to do such ambitious projects?
A: Walnut Creek is where I grew up, live, work, and am raising my kids, so I'm a local guy with deep roots. As corny as it may sound, I'm motivated to develop the best projects possible to help make Walnut Creek a better place to live.
Q: Can you describe the concept for the Foundry, your forthcoming food hall?
A: The Foundry represents the culmination of all of our past downtown Walnut Creek projects and incorporates around 20 gourmet, artisanal food stalls; a craft beer and cocktail bar; and a large courtyard/beer garden over our existing parking lot behind Va de Vi and Bounty Hunter.
Q: What's your vision for the future of 
downtown?
A: We're seeing a bit of mixed-use residential development. These projects fill housing 
needs and bring residents downtown, which will help our retail and restaurants. They also put "smart-growth" housing close to BART, instead of in our open space. I expect this type of development to continue, which will inject energy into downtown and create an urban environment. Downtown has challenges ahead of it, but we're fortunate to have the strong fundamentals that will enable it to weather the pandemic storm.
OUT AND ABOUT
In Walnut Creek, you can climb a mountain, 
lock eyes with a bald eagle, and stock up on 
retro-cool vinyl.
HIT THE TRAILS
The highest peak for miles is 3,849-foot Mount Diablo, which looms over the city and delights 
residents and visitors with seasonal fun, from warm-weather
hikes to fall tarantula treks to the seemingly annual one-day dusting of winter snow. Among the parks flanking its boundaries is Shell Ridge, the largest open space in the city. It boasts 31 miles of trails as well as the historic Borges Ranch, which hosts public tours and educational programs for children. To the east, Diablo Foothills Regional Park is known for its sweeping views and spring wildflowers, plus the Castle Rock Recreation Area with volleyball courts, picnic sites, and a pool. Hard-core trekkers know that the Briones–Mount Diablo Regional Trail connects all of the above over 11 miles of paved and unpaved routes, and intersects with the Iron Horse and Contra Costa Canal trails, making for myriad regional adventures.
FLORA AND FAUNA
A refuge for injured animals, the Lindsay Wildlife Experience is both a hospital and museum. Get up-close views of eagle, owl, and bat "ambassadors," and browse 
exhibits on beehives and waterways. The sprawling Gardens at Heather Farm is not only a place to watch wild geese and turtles, but also a flower lover's paradise. Stroll amid 1,000 roses and 150 cultivars in the Cowden Rose 
Garden, take in color and fragrance in the Sensory Garden,
and spot butterflies seeking summer's nectar in the Butterfly Garden. It's all about succulents and drought-tolerant plants at the world-renowned Ruth Bancroft Garden. Wander its 3.5 acres of cacti, agaves, and yuccas—and sign up for one of its many workshops to enhance your own garden.
GET A MOVE ON
As part of the Walnut Creek Rebound Program, a mini golf course recently took over Cypress Street between North Main and North Broadway. Putters Putt Putt offers 18 holes, including a tiny one called "Big Ern," and sells colorful souvenir balls. Up the ante on your competitive spirit with axe-throwing inside Sauced BBQ and Spirits, where three caged lanes near the bar beckon a bulls-
eye. Or head somewhere more refined, like Boundary Oak. The public golf course is set against the foothills of Mount Diablo and features 18 holes, a driving range, and a putting green. Only three miles away, Diablo Hills Golf Course is the only nine-hole course in the area with a par five hole.
FAMILY FUN
Each winter, an outdoor ice rink pops up in Civic Park, inviting people of all ages to glide and twirl under twinkle lights. And each summer, the Larkey Park splash pad is filled with toddlers squealing over water-spouting animals, water slides, and cargo nets. 
The park is also the home of the 
Walnut Creek Model Railroad 
Society, which maintains a 
permanent display called Diablo Valley Lines. You can watch 
HO-scale trains traverse the 4,300 
feet of track from elevated viewing platforms around the perimeter.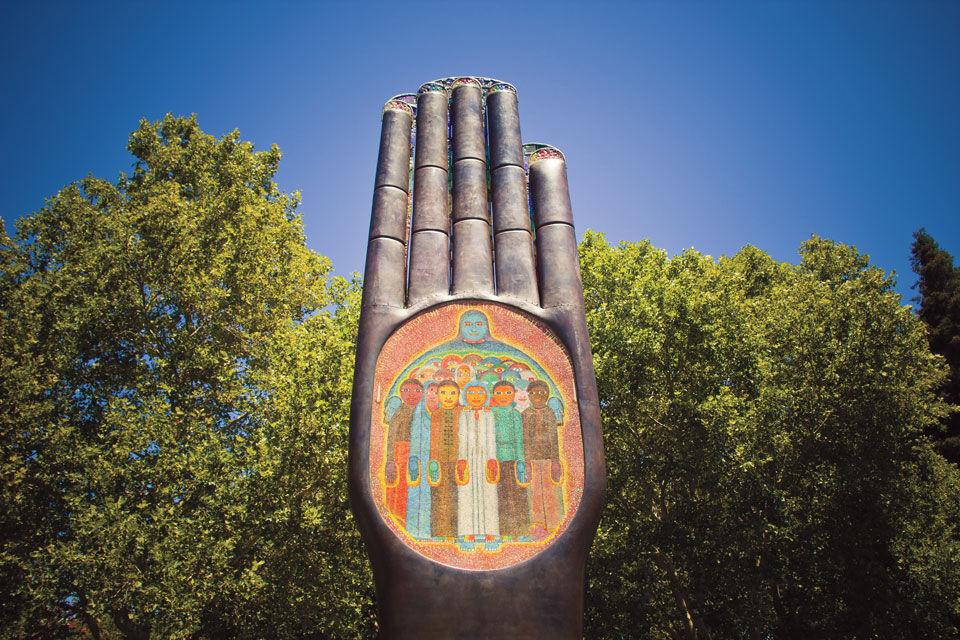 WE HEART THE ARTS
Explore the sculptures and murals of Walnut Creek on a Public Art Scavenger Hunt. The one-mile journey begins at Civic Park's "Hand of Peace" and ends at 
Broadway Plaza—plus, submitting answers to trivia questions along the way gains entrance to a monthly prize drawing. While the three theaters of the Lesher Center—home base for Center Repertory Company—are temporarily closed, you can bring camping chairs to the top of its parking garage for Movies on the Roof, visit the Bedford Gallery, or stream a virtual concert to benefit the Diablo Regional Arts Association. The city's Center for Community Arts program serves more than 10,000 adults and kids annually with classes in painting, ceramics, and jewelry making, plus exhibits and open studios events. For an evening of creative social fun, check out Board and Brush to make a personalized wooden sign while sipping wine).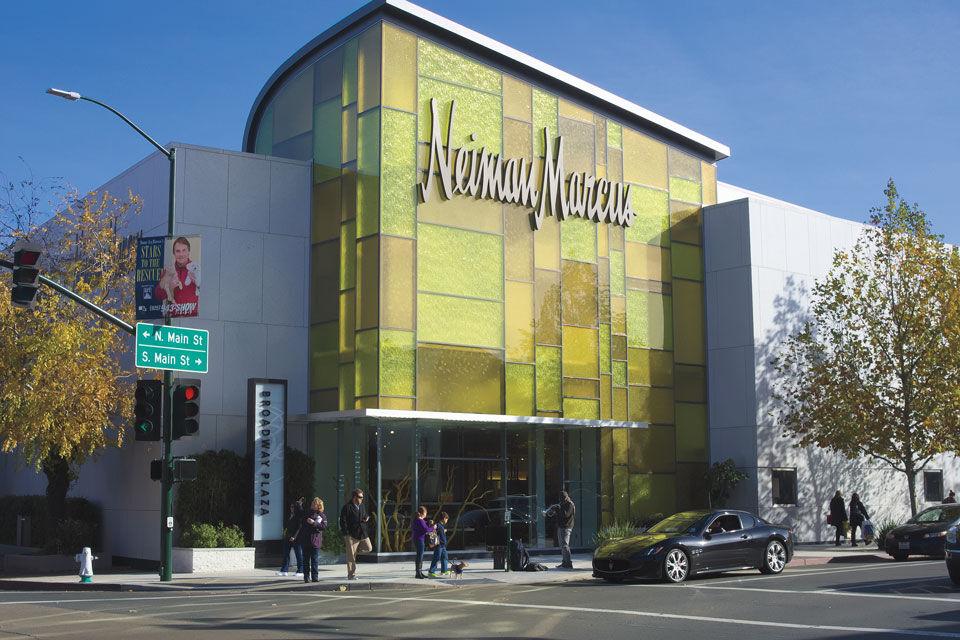 RETAIL THERAPY
People come from all over the area to shop in Walnut Creek. Its open-air mall, Broadway Plaza, features more than 85 stores, 
including the only Neiman 
Marcus, Tiffany and Co., and Nordstrom in the East Bay. A sign of the times, one of the newest kiosks is the Mask Company, selling cloth masks printed with pop culture icons and sports team logos. Downtown is filled with more shops, including 
delightful indie toy store Five Little Monkeys, second-hand treasure trove Labels Luxury Consignment, and Anthropologie and Co. (sister brands BHLDN and Terrain share the space). While Prima Ristorante permanently closed this summer, its wine shop Prima Vini remains, selling boutique bottles from 
all over the world and offering 
a seasonal wine and culture club. In the Tice Valley neighborhood, Up the Creek is a 
destination for vinyl records 
and hip gifts, from skateboards to handmade jewelry.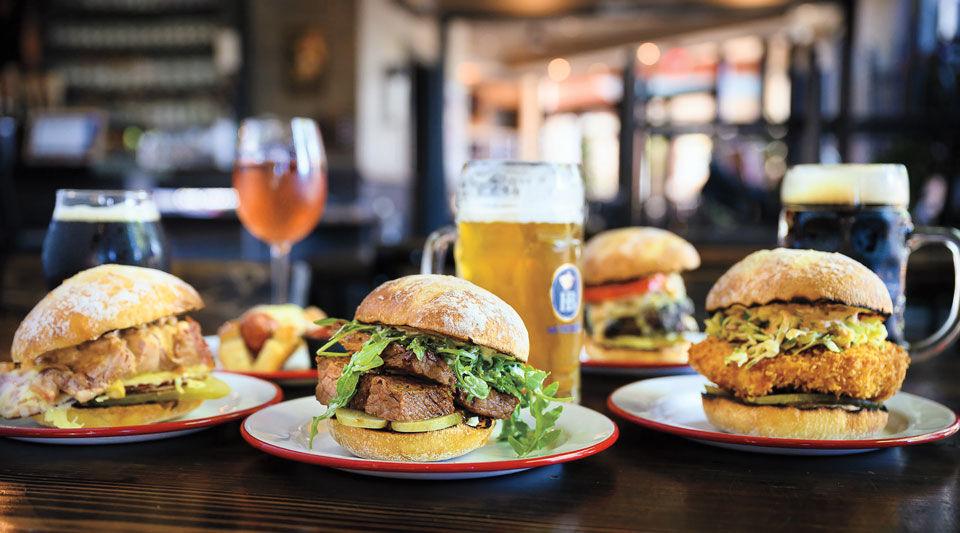 SIP AND SAVOR
Choice spots for wining and dining, indoors 
and out.
BEST BITES
From super casual takeout to 
date-night indulgences, Walnut Creek has eateries to suit all tastes and occasions.
54 Mint Forno Italiano
There's nothing like kicking off your morning with a pastry and Italian-roasted coffee from the family-owned 54 Mint Forno. 
This Roman-style pizza icon prizes culinary craftsmanship, high-quality local ingredients, and respect for tradition in their meals. And their dinner dishes—think cavatelli and gnocchi, and margherita pizza—can be paired with domestic and Italian beer and wines. 54mintforno.com.
Benvenuti Ristorante
What is now Benvenuti opened 
as Salvatore on Locust Street in 
1996 and immediately became a downtown Walnut Creek Italian go-to. But when owner Angela Alagna decided to remodel in 
2016, she changed the name to Benvenuti to reflect the new look. What didn't change was the delicious pasta, carefully crafted drinks, and welcoming atmosphere, which is why—no matter the
 name—Alagna's restaurant has long been one of the most popular in Walnut Creek. benvenutiwc.com.
Bierhaus
Whether it's a warm Starter Bakery pretzel paired with an easy-drinking pilsner or an elegant plate of slow-cooked beef brisket and homemade spaetzle with a lush, full-bodied
 Amador County zinfandel, 
Bierhaus aims to please by 
extending German beerhall–style hospitality to all comers. Enjoy the bustling downtown scene on the patio or grab one of the Chef Meals designed to be easily reheated at home. bierha.us.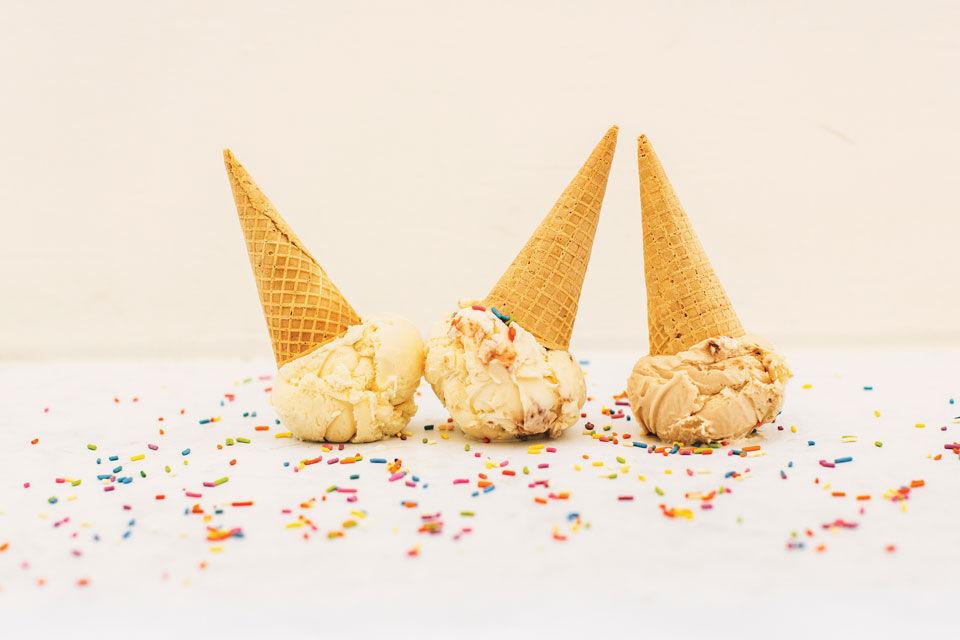 Lottie's Creamery
Think San Francisco, Berkeley, and Oakland are the only places for artisan ice cream? Lottie's 
flips that script and then some by taking the rare step 
of pasteurizing its dairy base—
in addition to making all its 
own toppings, sauces, and 
add-ins—in the heart of downtown Walnut Creek. It's worth the splurge to experience an 
authentically handcrafted sundae with scratch-made ice cream topped by hot fudge, praline peanuts, and whipped cream. The only thing that isn't made on-site is the cherry on top. lottiescreamery.com.
Montecatini Ristorante and Bar
Just a few blocks from Benvenuti, Montecatini has the same mix 
of a fine Italian menu, quality bar, and lively ambiance, but 
has been at it a little longer, 
having opened in 1989. And though there are some heated discussions among longtime residents over which is better, our choice is simple: Go to both—you're a winner either way. montecatinirestaurant.com.
Ramen Hiroshi
A local favorite since its arrival 
in 2015, this ramen shop run by husband-and-wife duo Hiroshi Tun and Angela Yanase offers delicious and high-quality 
Japanese cuisine, including 
12 ramen entrées. Unsure 
which one to try? The Hiroshi tonkatsu, with its signature 
pork bone broth, never fails. Other popular menu items 
include the chicken kara age, Japanese-style fried chicken, and the Hanetsuki gyoza. 
ramenhiroshi.com.
Rooftop Restaurant and Bar
No restaurant better showcases the sophistication of downtown Walnut Creek's dining scene 
than Rooftop Restaurant and 
Bar, with its citywide views 
from atop the third floor of the restaurant-themed building at the corner of Main Street and Mount Diablo Boulevard. The lunch and dinner menus have 
a range of seafood, including raw oysters, as well as small plates, steaks, and pasta dishes. The expansive bar features craft cocktails, top-shelf liquor, and a well-curated wine list. rooftopwc.com.
Telefèric Barcelona
Foreign cities are often name-checked by a restaurant—but Telefèric Barcelona is actually run by Catalans who come from restaurants in the northeast corner of Spain. And that authenticity shows in the menu and the rolling trays of pinxtos, not 
to mention the special sangrias that spice up the drinks list. Even better, the dining room opens up to the warm East Bay weather thanks to large, movable doors, which adds to the feeling that, really, we're not in Walnut Creek anymore. 
telefericbarcelona.com.
Va de Vi Bistro and Wine Bar
One of the pioneers in the local small-plate movement, Va 
de Vi has a narrow storefront along with a garden-like patio 
shaded by mature trees, serving as a perfect setting for the wonderful food. And the buzz about Va de Vi has stayed steady since it opened in 2004, thanks in part to an excellent wine 
list that was recognized by Wine Spectator in 2018. vadevi.com.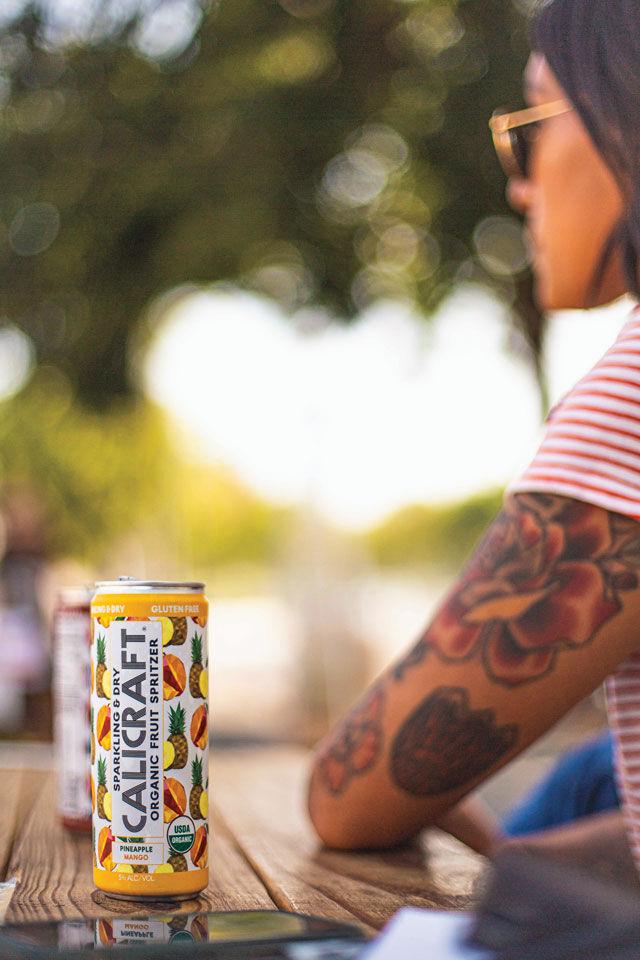 SPECIAL SIPS
Here's just a sampling of the city's many welcoming watering holes.
Calicraft Brewing Co.
Inspired by the rich diversity of the Golden State and all it has to offer, Calicraft beers are truly one of a kind. The team behind this enterprise started home-brewing in their garages and backyards, and now their unique creations take center stage at this local hot spot. Relax in the taproom or at a picnic table in the beer garden while sipping one of the many refreshing offerings. They have it all—IPAs, spritzers, lagers, ales, and more—in a wide variety of flavors. calicraft.com.
Residual Sugar Wine Bar
For the ultimate wine tasting experience, head down Locust Street to Residual Sugar and delight in international varietals and an expansive selection of artisanal cheeses, small bites, fresh seafood, and charcuterie pairings. The cozy atmosphere—which includes the quaint 
outdoor patio—proves to be an ideal spot for oenophiles as well as those simply looking to have 
a good time. rswine.com.
Stadium Pub
From highs (three Warriors championships in four years) 
to lows (yet another playoff flameout for the A's), the Pub 
has been the go-to gathering spot for Walnut Creek sports fans for more than 25 years. So pull up a seat at this friendly tavern, order a beer to wash down a delicious Chicago-style hotdog, and take in the sporting event of your choice on one of the 47 flat-screens. You never know: This next year could be when the A's finally get over the hump. thestadiumpub.com.