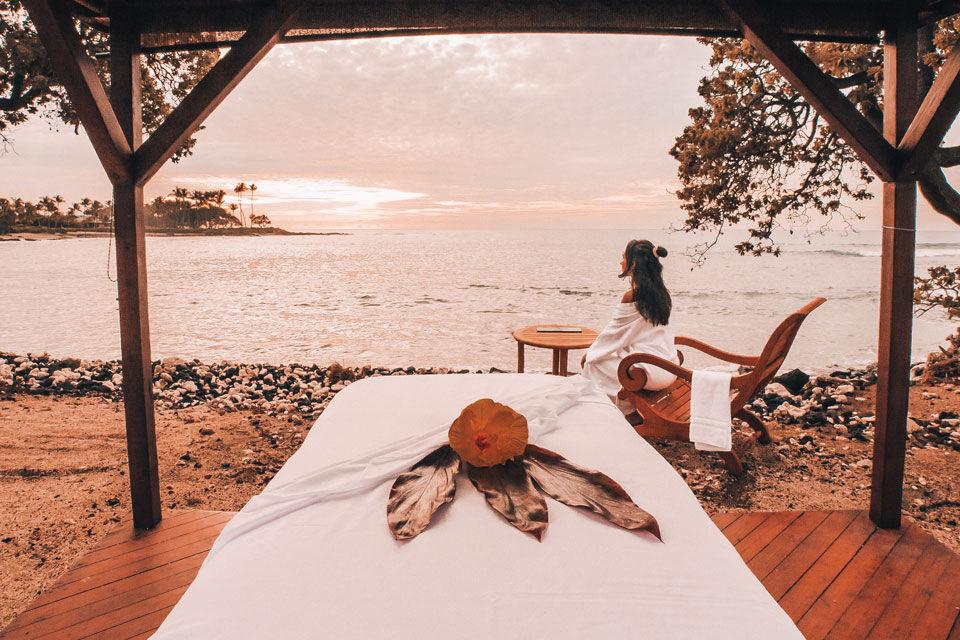 Reset, recharge, rejuvenate. If these words describe your travel goals this spring, then look no further than the island of Hawaii, also known as the Big Island, where restorative adventures abound in a landscape wild with fiery volcanoes, loamy rainforests, and remote beaches glittery with quartz and obsidian sand.
Solitude and silence are easy to come 
by here; with more than 60 percent of the Hawaiian archipelago's land mass and just 13 percent of its people, the Big Island offers those seeking serenity plenty of both. Here's how to plan a sun-soaked vacation that is long on natural wonders and short on stress.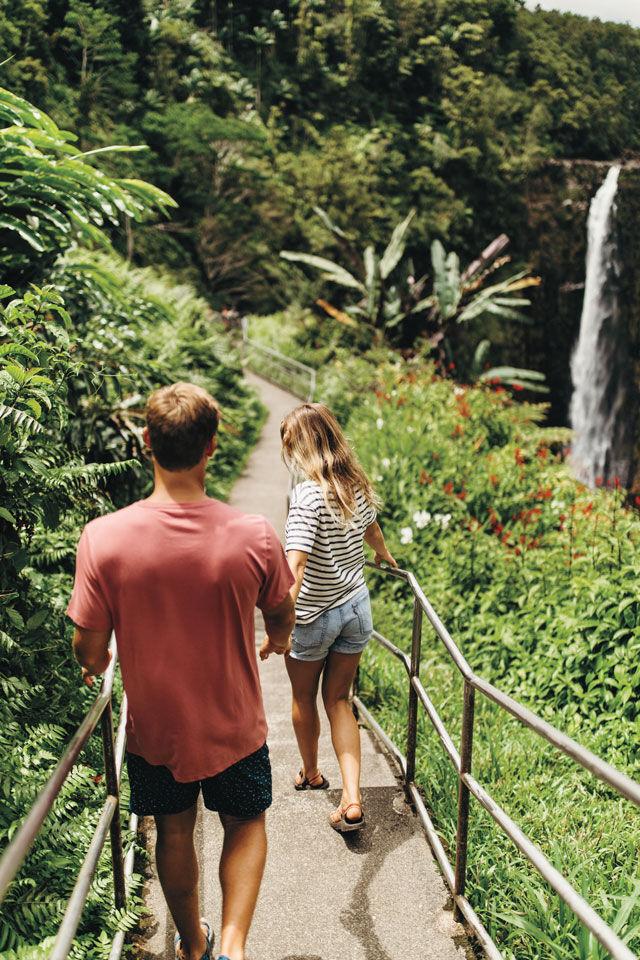 UNTROUBLED WATERS
Forest bathing isn't a buzzy trend but a way of life on the Big Island, and one you'll have no trouble embracing as soon as you set foot on your first woodland trail. But real bathing awaits you as well, with more than a dozen waterfalls to choose from plunging down the mountain slopes.
With its 442-foot vertical plume, Akaka Falls is understandably one of the most photographed waterfalls on the island. The 0.4-mile paved Akaka Falls Loop Trail winds through dense rainforest lush with ferns and orchids to a viewpoint high above the gorge. The trail continues on to Kahuna Falls, which is 100 feet tall but visible only in profile, peeking around the trees.
You'll find more inspiration on the climb to the 8,000-foot Hualalai Crater led by guide Kimo Duarte, whose family's cabin on the mountain was built in 1950. Passing through forests of native koa and ohia, the Hualālai Crater Experience takes you to the edge of the crater and concludes with the chance to plant a native koa tree as part of 
a community reforestation project.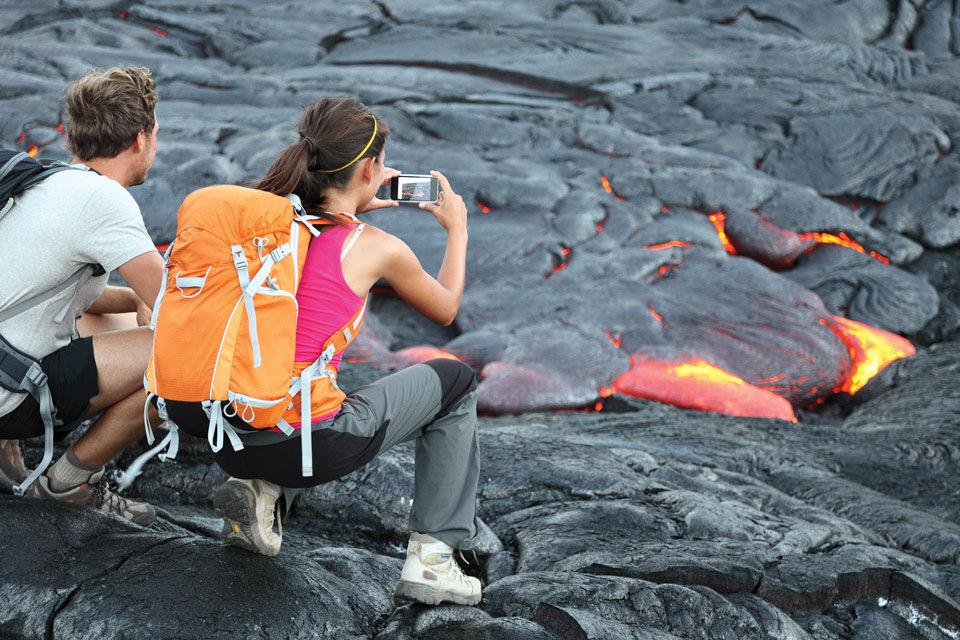 LAVA LANDSCAPES
The island's continuous rebirth by fire is on full display at Hawaii Volcanoes National Park, where visitors now throng to witness
the latest eruption by Kilauea, which began on December 20, 2020, and continues to produce an expanding lake of molten lava inside the Halema'uma'u crater. The best spots for viewing the new eruption are Wahinekapu (Steaming Bluff), Kilauea Overlook, Keanakāko'i, Waldron Ledge,
 and other overlooks along Crater Rim Trail.
With destruction can come creation, as happened after Kilauea's dramatic 2018 eruption, when lava flows wiped out communities and covered roads but added more than a mile to the island's coastline. Along it, a wide and ever-growing crescent of obsidian sand at Isaac Hale Beach Park in Pohoiki Bay is enhanced by newly developed thermal pools and a warm-water lagoon.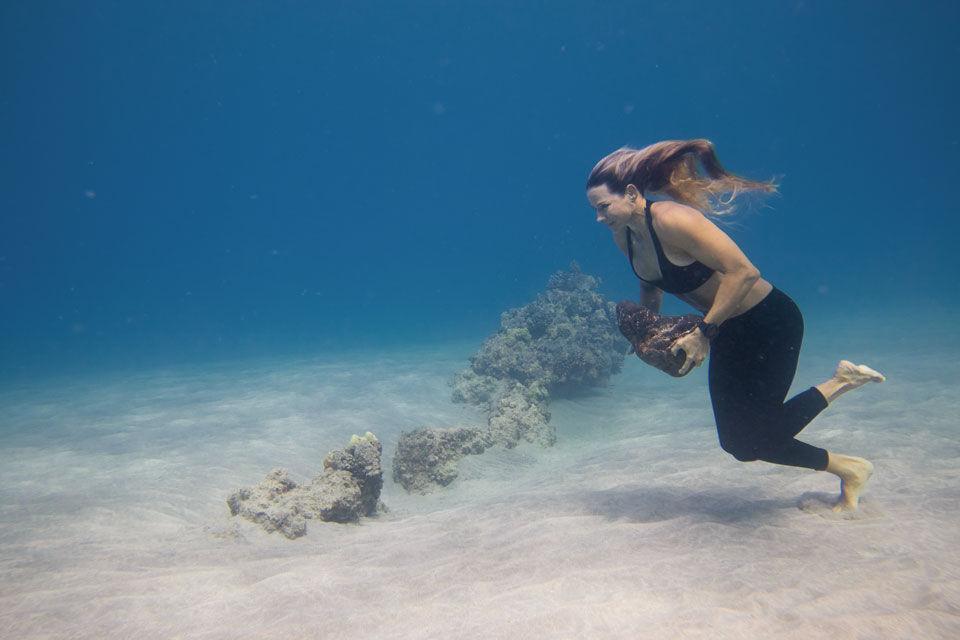 UNDER THE SEA
Experience the mystery of the deep by swimming with giant manta rays on a nighttime snorkeling expedition with Anelakai Adventures. Or enjoy the antics 
of migrating humpback whales, which 
frequently frolic just feet from the boat during an early morning paddle.
Take underwater exploration to the 
extreme with Underwater Rock Running, the newest feature from the Mauna Lani resort's Kainalu Sports program. Sync your body to the sea's rhythm while undergoing this hypoxic challenge, which improves endurance and increases lung capacity.
For more aquatic adventures, the Mauna Kea Beach Hotel offers experiences on one 
of Hawaii's most swimmable beaches.
RISING STARS
There's a reason one of the world's premiere astronomical observatories is located at the summit of 13,796-foot Maunakea—the dry, clear air makes for some of the best stargazing you'll find anywhere. Drive on your
own to the Maunakea Visitor Information 
Station, located at 9,200 feet, or go to the summit with a guided Maunakea Summit and Stars adventure with Hawaii Forest and Trail for an unforgettable stargazing experience.
Many of the island's resorts offer stargazing workshops led by professional astronomers; check calendars for scheduled events.
GREEN ACRES
To take your island experience to an even more engaged level, consider participating in Malama Hawaii, a new voluntourism program that pairs visitors with environmental and conservancy organizations in beautification and reforestation efforts. On volunteer days at the Friends of Amy B.H. Greenwell Ethnobotanical Garden, you'll have the rare chance to experience this 
13-acre botanical wonderland, planted 
with more than 200 species of Hawaiian 
flora and fauna, including many exceedingly rare and endangered species found nowhere else in the world.
Guests to the island can take the Pono Pledge, a new initiative that encourages environmental mindfulness by teaching visitors how to view the local wildlife and explore the landscape without endangering
 ecosystems. (As of January 1, 2021, Hawaii's Reef Safe Sunscreen Law is in effect, requiring that all sunscreen be free of oxybenzone or octinoxate, so bring your reef-safe sunscreen or buy it when you arrive.)
Taking the Pono Pledge is easy at the Fairmont Orchid, thanks to the Live Pono Hawaii package, which includes snorkeling in nearby Pauoa Bay. Here, you'll see brilliantly colored coral unaffected by bleaching, along with feeding pufferfish and eels.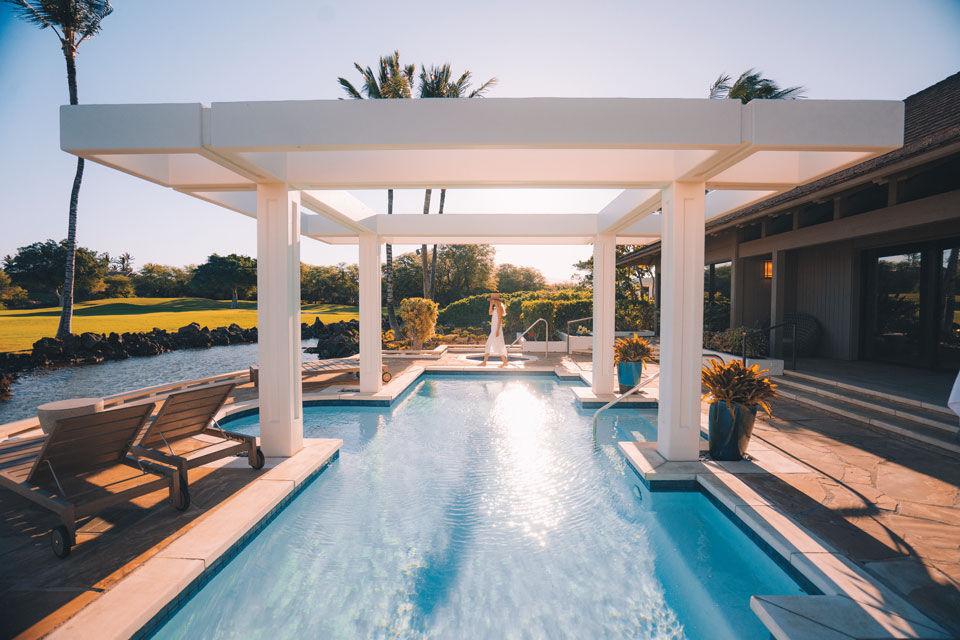 WELCOME WELLNESS
Soothe away the past year's stress at one of the noted spas, where Hawaiian traditions meld with the latest wellness treatments.
The Fairmont Orchid's Spa Without Walls treats guests to body wraps, lomilomi massages, and exfoliating skin treatments—all in the relaxing atmosphere of a private open-air hut where the surrounding waves and waterfalls add a soothing soundtrack.
The spa at Mauna Lani, an Auberge resort, draws upon the region's natural abundance, sourcing ingredients like Hawaiian sandalwood, ti leaves, turmeric, and honey from farms.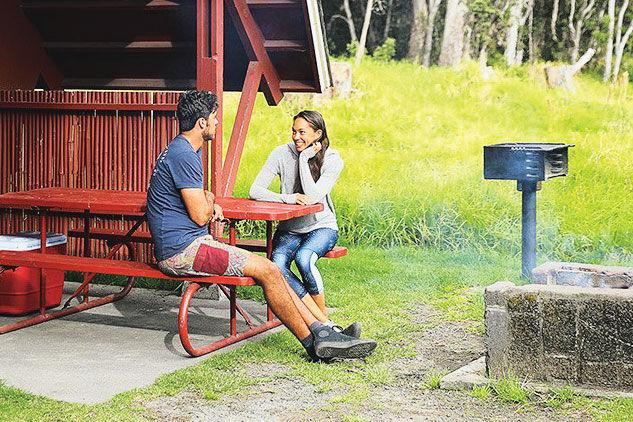 RELAXING STAYS
In pursuit of peace and privacy, you'll want a home base with plenty of room to breathe and access to nature to play. Whether your preference is a resort, hotel, or private residence, the Big Island is home to a variety of restful options.
Situated on 32 oceanfront acres, the 
Fairmont Orchid has a ton of space, with 
Holoholokai Beach Park, known for the presence of sea turtles, and the historic Puako Petroglyph Archaelogical Preserve next door.
At Mauna Lani, all accommodations feature private lanai balconies so you can savor the superb ocean and garden views 
in solitude, and five oceanfront bungalows
come with private pools. Destination Residences Kona-Kohala, located nearby, features luxe two-story condos with two and three bedrooms and plenty of privacy.
To get further off the beaten path, consider Volcano House, a historic retreat located within Hawaii Volcanoes National Park with 10 cabins, 16 campsites, and 32 rooms.
And the newly renovated Kamuela Inn in the rural Waimea Valley recently unveiled two executive suites that feature kitchens and vast dining and living areas decorated to reflect the local paniolo (cowboy) culture.
After listening to the soothing calls of honeycreepers in koa groves and watching
turtles dive into clear-water coves, Hawaii will teach you a new definition of getaway—one that truly means getting away.
Island Time Dining
Ola Brew may be best known for its stellar craft ales and IPAs, but locals come for tropical hard ciders like dragonfruit lychee and hard seltzers like hibiscus lavender. Explore the menu of creative salads, tacos, and flatbreads such as the alii fungi topped with local mushrooms, roasted garlic and red onion, béchamel sauce, and fresh arugula.
The best poke on the island may well be at Umeke's Fish Market Bar and Grill, where you design your own custom bowl with fish fresh off the boats.
Repeat visitors to 'Ulu Ocean Grill at the Four Seasons Resort Hualalai rave about chef Takashi Harada's touch with local seafood such as kanpachi, a Kona yellowtail, poached in a broth of coconut and mahi-mahi, crusted in dill and Thai basil, and baked with eggplant and bok choy.
At The Fish and The Hog in Waimea, barbecue— both southern and traditional Hawaiian—is an artful enterprise; the pulled pork, ribs, and chopped brisket sandwich with brussels sprouts and cornbread are well worth the drive.
For breakfast, don't miss the 
Portuguese sweet bread French toast 
at Gramma's Kitchen. The family-style dinners of oxtail soup, grilled fish, and prime rib are equally addicting.
Safe Travels
As part of their COVID-19 protocols 
(as of press time), all of the Hawaiian islands require visitors to undergo a 
10-day self-quarantine upon arrival, but the state waives this requirement for visitors who have a negative COVID-19 
test result within 72 hours of departure.
While in the islands, individual county guidelines request/require visitors to wear masks when in the vicinity of others and maintain six feet of social distancing.
Resorts and hotels may have their own COVID protocols; indoor dining and shopping is permitted with restrictions.
Find out more information at 
hawaiicovid19.com/travel.