Winding through Paso Robles on a road dotted with wineries and flanked by fields of blooming mustard, it's easy to feel like you're miles—and centuries—away from modern life. Just a three-hour drive south from the East Bay, this bucolic wine country runs at a slower pace, with relaxed tasting experiences, world-class Rhônes, and a burgeoning farm-to-table dining scene. Plan a visit for May, when mild temperatures and plentiful events make it a perfect time to explore this unexpected wine destination.
---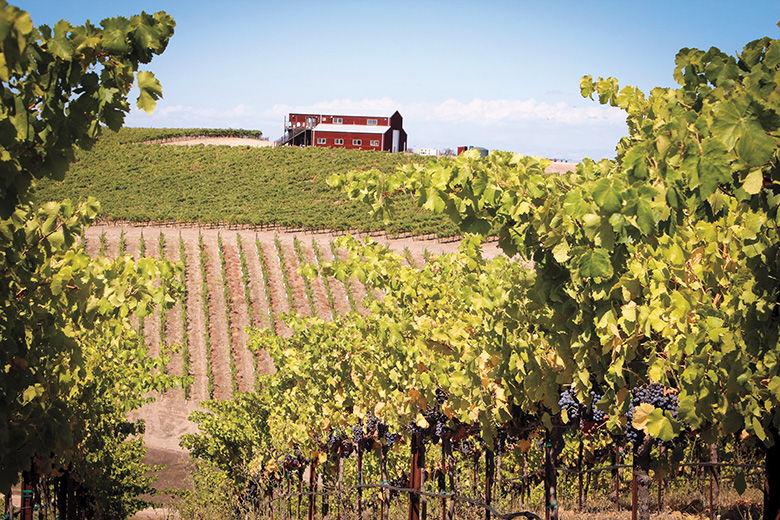 Wine Country
The Wild, Wild West
Figuring out where to stop at Paso Robles' more than 250 wineries can be daunting. To plan a foolproof itinerary, we asked each winery we visited on the west side's Adelaida Road—starting with Re:Find Distillery (see here)—to pick our next stop.
Stop One: Alta Colina
"If you're interested in Rhônes, Alta Colina is a family winery specializing in handcrafted wines." —Alex Villicana, owner, Villicana Winery/Re:Find. In 2014, Alta Colina moved into its own modern, airy tasting room, where it pours its estate-grown Rhônes. Try the 2015 Grenache Blanc or the 2013 Sun Worshipper Mourvèdre blend slated for release in May. altacolinawine.com.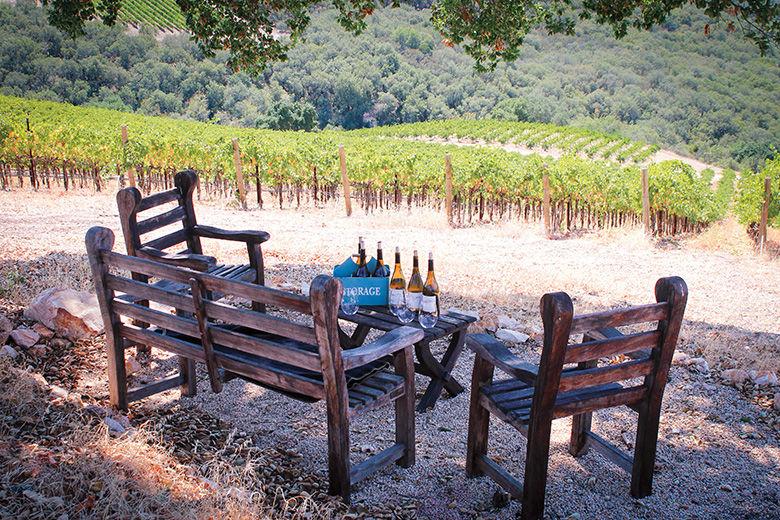 Stop Two: McPrice Myers
"They're great people, and we love the wines, which are made from Santa Barbara and Paso fruit." —Maggie Tillman, co-owner, Alta Colina. McPrice Myers has a distinctly Irish feel and focuses almost 100 percent on Rhônes. Sourcing from both Paso and Santa Barbara, the winery offers a wider taste of the Central Coast. Try the Larner Vineyard Viognier or Beautiful Earth red blend. mcpricemyers.com.
Stop Three: Adelaida Cellars
"The winery has been around for a long time and has a great diversity of wine. You can taste through a range of Rhône and Bordeaux and Zin." —Nicole Pease, operations manager, McPrice Myers. Make a point of trying Adelaida Cellars' Pinot Noir. Made from the oldest pinot noir vines on the Central Coast, it tastes especially nice when sipped on the new tasting room's deck. adelaida.com.
Stop Four: Halter Ranch Vineyards
"Great wine, a new tasting room, and unbelievable views make Halter Ranch quintessential Paso Robles." —Pati Coelho, hospitality manager, Adelaida Cellars. The main attraction at Halter Ranch Vineyards, aside from its estate-grown Rhône and Bordeaux blends, is the stunning new tasting room. Opened in late February, it has floor-to-ceiling windows—overlooking a block of grenache—and three distinct tasting areas, including an indoor patio with a fireplace. For summer, you can't beat the 2015 rosé, a dry Grenache blend released once a year. halterranch.com.
Final stop: Tablas Creek Vineyard
"What we really like is that Tablas led to a lot of the Rhône varietal uprising that's happening here. The winery has done a lot in terms of education and information, and they're also really, really nice people." —Skylar Stuck, general manager, Halter Ranch.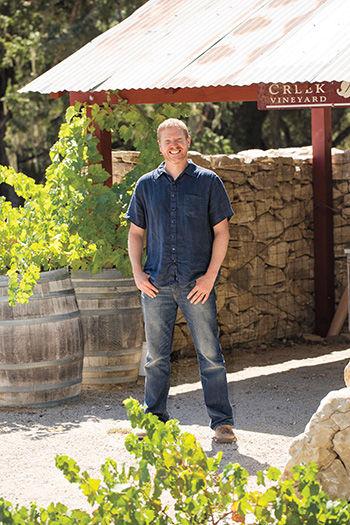 Rhône Champion
Jason Haas, son of Tablas Creek founder Robert Haas and current partner and general manager of the winery, was named 2015 Paso Robles Wine Industry Person of the Year. We couldn't think of a better person to give us the scoop on Paso's place in the Rhône community, how the area has changed, and which varietals you should seek out.
Q: What is the story behind Tablas Creek?
A: It's bringing the language of the Rhône Valley to California. We picked this spot in '89, when Paso was the middle of nowhere. It wasn't on anyone's list for the next great California wine region. Now, there are more Rhône grapes in the ground here and more people who specialize in Rhône varietals than anywhere else in California.
Q: How has Paso changed since Tablas Creek was founded?
A: There aren't just more wineries than there were, but there are so many more good ones. The growth in quality is even more impressive than the growth in number. The wines keep getting better and better.
Q: You were instrumental in recently getting 11 appellations defined for the Paso region. Why was this important?
A: We decided as a community that it'd be helpful for consumers to understand why things taste the way they do. It's an important milestone for the region. It will allow people to tell a clearer story of why different regions have affinities for different grapes.
Q: How does Paso maintain its small-town feel as it grows?
A: I think to some extent, geography is going to do that for us. We're not an hour away from five million people. You do have more people coming than you did before, but you also have more places for them to go.
Q: What's one varietal you wish more people knew about?
A: I have two, a red one and a white one. For the red one, it's Mourvèdre, which is the latest ripening of the red grapes. And Paso Robles is one of the greatest places, if not the greatest place, in the world to grow mourvèdre. And the white I encourage people to search out is Grenache Blanc, which is actually [made from] one of the grapes Tablas Creek introduced into California. It's kind of creamy in its texture, but it's also got these really bright acids—green apple or grapefruit. tablascreek.com.
Jason Haas of Tablas Creek Vineyard continues to solidify Paso's reputation as a wine region to rival the South of France.
---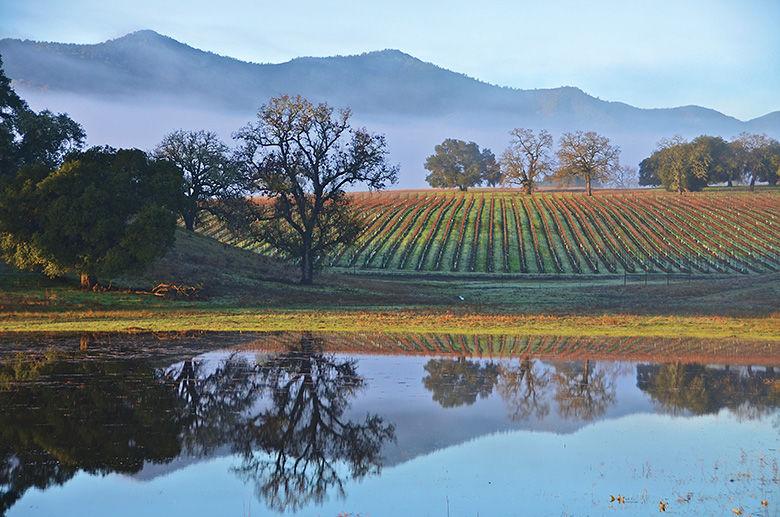 Tasting Adventures
A Walk on the Wild Side
Think beyond the tasting room, with these two thrilling wine and adventure pairings.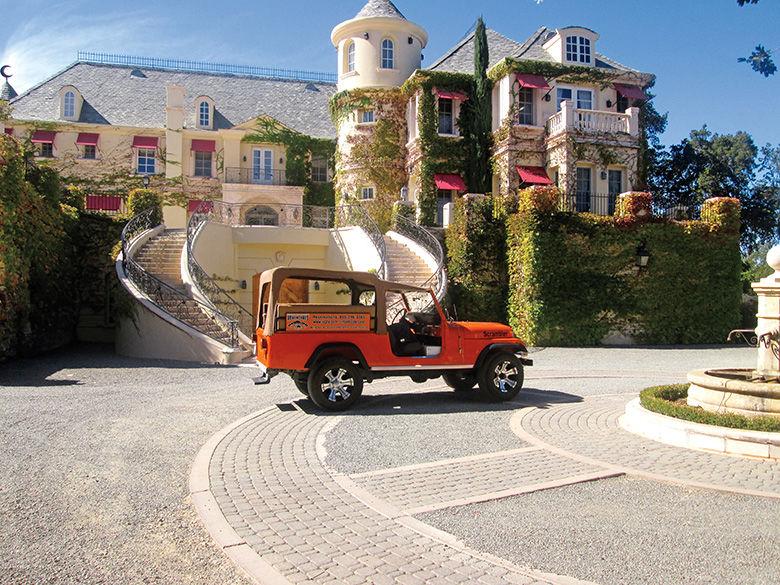 Off-Road Tasting
Skip the typical chauffeur, and explore wine country in an open-air jeep with Central Coast Jeep Tour Adventures. The popular Paso Robles Wine Tour can take up to six people to four wineries selected by the driver based on the group's tasting preferences. The fun also includes a little off-roading action and the opportunity to tour an olive farm. Tastings at the wineries, lunch, and a customized glass are all included in the price, and rides go on rain or shine thanks to a weatherized jeep with cuddly blankets. Starting at $119 per person, ccjta.com.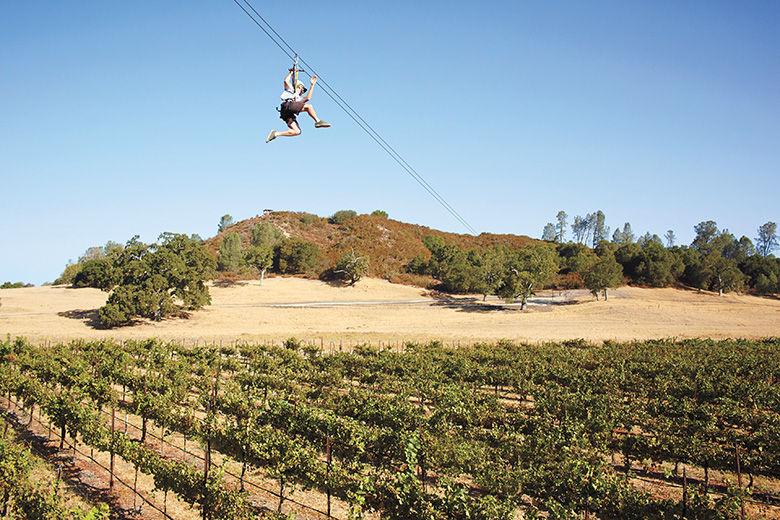 Fly Through the Air
Feel the wind in your hair, as you hurtle through the sky on six ziplines at Margarita Adventures. The 1,800-foot Pinot Express zipline flies over a pinot vineyard and swoops down into a mine shaft at P.W. Murphy Mining Co., a replica gold-mining camp built by one of the stars of TV's Redwood Kings. The newest zipline—the highest and longest on the ranch—includes two lines so you can race. Cap off your aerial adventure with a discounted tasting at Ancient Peaks Winery across the street. Starting at $99 per person, margarita-adventures.com.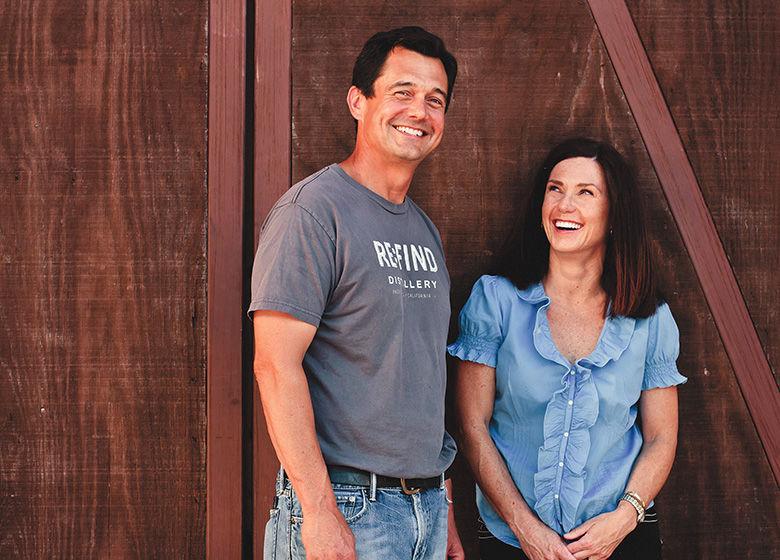 That's the Spirit
When Alex Villicana of Re:Find Distillery wanted to make a kumquat flavored liqueur, he stripped his parents' trees, realized the fruit was too small to peel, and didn't let that stop him: He threw the kumquats in whole. To make Re:Find's limoncello last year, it took 15 people, 30 worn-down potato peelers, and three and a half days to hand-zest 12,000 pounds of lemons. And when Villicana, who owns Re:Find with his wife, Monica, wanted a grape-based spirit that sipped like a whiskey, he made one of the first barrel-aged vodkas in the country.
The Villicanas aren't afraid to take risks, which is why the winemakers started to experiment with distilling the saignée, or runoff from winemaking that's typically discarded, into grape-based spirits at their Villicana Winery and Vineyard. It only took them one visit to Alameda's St. George Spirits to decide they should go for it, and in 2011, they opened Re:Find.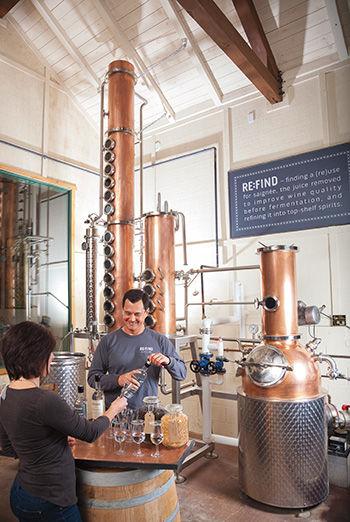 "When we started, we thought this would be a fun side project," says Alex. "But that first year, the biggest problem was that we couldn't get it in the bottle fast enough."
At the tasting room, which is housed in the same building as their Villicana Winery, the focus is on educating visitors, who sometimes act as guinea pigs for the Villicanas' latest experiment.
The distillery has also branched into rye and bourbon whiskey, working with local breweries to produce the wort that is then brought to Re:Find to be fermented, distilled, aged, and bottled.
Now that the Villicanas have shown what's possible to do with an abundant Paso product—the saignée—others have followed suit. The Paso Robles area will soon be home to eight distilleries, many founded by winemakers, and the new Paso Robles Distillery Trail, which spans San Luis Obispo County.
"I always jokingly say some people were standing on the sidelines to see if we went to jail before they got involved," says Alex. "The more, the merrier. It'll get the word out, and it'll push us to compete in a friendly way and try new things we might not do if we were the only ones."
With the success of the distillery, will the Villicanas hang up their wine-making hats?
"A lot of people ask, 'Well, are you going to give up winemaking?' And I say, 'Hell no,' " says Alex. "Now that I know I have another source of revenue and also an outlet if I screw up a wine, I can experiment a bit more. It's fun for me, and it has made winemaking more fun." refinddistillery.com.
Paso Robles is known for its vino, but Re:Find Distillery has found a new—and boozier—use for the grapes.
Food & Dining
Sample From the Source
All wined out? Here are six other places to savor products made on-site.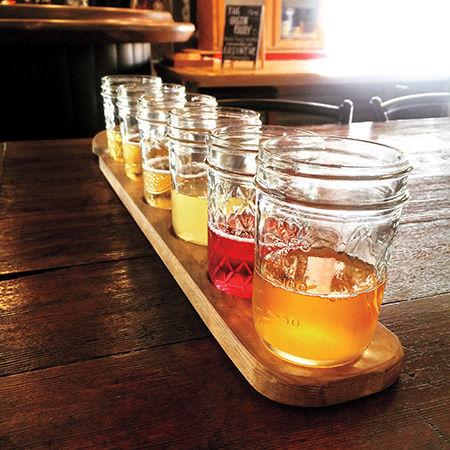 Beer
At BarrelHouse Brewing Co., the front lawn offers the perfect hang for sipping sampler flights, with live music and food trucks on the weekends. The brewery is known for its year-round brews—try the Sunny Daze citrus blonde ale and BarrelHouse Stout—but check out the Salvaje de Robles series, where you'll find bottle-aged sours made with local produce. barrelhousebrewing.com.
Bread
The smell of fresh-baked bread wafts out of Hush-Harbor Artisan Bakery as early as 5 a.m., when the hand-shaped dough first starts hitting the oven. Pick up your own loaf, baguette, or box of baked goods. hushharborartisanbakery.com.
Olive Oil
During a tasting at Pasolivo, you select spices and salts, grab a hunk of bread, and soak up olive oils pressed on-site. You'll taste the oils on their own first to pick up subtle notes, and then pair them with salts and spices to bring out different flavors. Be sure to pick up truffle salt and tangerine olive oil, or join the Press Club to receive seasonal shipments of your choice of bottles. pasolivo.com.
Cheese
A visit to Cambria's Stepladder Creamery is well worth the winding hour-long drive, when the end result is bottle-feeding baby goats and exploring a working cheese farm. Private tours begin with a walkthrough of the grounds and a chance to meet more than 35 adult goats, but the real fun begins when you grab a bottle to feed the eager babies. The goats are free to roam, and you can taste the difference when sampling the cheeses, which range from the wine-washed Paso Vino hard cheese to a creamy chèvre, available in the spring. stepladdercreamery.com.
Cider
Bristols Cider House uses local apples and native yeasts to ferment its mostly dry British-style ciders. Barrel aging and additions such as beets produce as much variety as you'd find in the wine and beer industries, and you can sip samplers and pints from the Atascadero cider house's comfy leather seats. bristolscider.com.
Walnut Oil
Family-run Limerock Orchards makes walnut oils and walnut butters, which you can sample alongside raw nuts at the walnut orchard–flanked tasting room. If you're looking to please both wine aficionados and nut lovers, Brochelle Vineyards, which offers a wine flight paired with cheese, and Roxo Port Cellars, one of two port-style wine producers in Paso, are also housed within the space. limerockorchards.com, brochelle.com, roxocellars.com.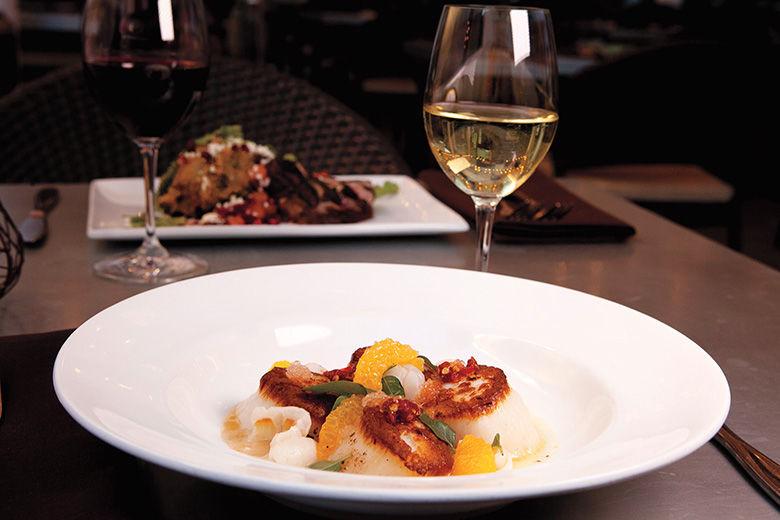 Farm-to-Fork Fare
Less than a year ago, chef Tim Veatch left his post at Oakland's renowned Camino restaurant and took the reins at Thomas Hill Organics, a restaurant that was marketing farm-to-table dining a decade before the phrase became de rigueur. Since then, he's invited local farmers to dinner, discovered how to get diners to eat their veggies, and continued to champion Thomas Hill's organic ethos.
Q: You work with a lot of local farmers and producers. How do you form these relationships?
A: My goal when I came down here wasn't to buy from the farmers, it was to befriend them. I try not to just take what I want, but the things they need to sell. I go to Stepladder Ranch; they come over to my house for dinner. We're becoming fast friends.
Q: Tell me a bit about your background. What was it like coming from Oakland?
A: Russell Moore [chef-owner of Camino] is an incredible inspiration, the best chef I've worked with by far. He's taught me everything I know about cooking vegetables. Cooking vegetables is way harder than meat. If you know how to sear a piece of meat, great, but if you can cook a turnip six ways, you've got something on everybody else.
Q: How do you approach building a menu?
A: It's a puzzle. You start putting the pieces together, and once they start locking together, it's fun. I really appreciate the challenge of making sure it's seasonal and local, and I find that things just pop up. And I'm not dumb. I don't put the rutabaga with the fish because it will never sell. I put the rutabaga with the steak. It's like [with] a kid. You've got to get your kids to eat their veggies. I try to flex people's openness and get them to order something they wouldn't always order. thomashillorganics.com.
Other places to try: Artisan is a long-time favorite, with a bustling brunch and an ever-changing menu that supports local farms and purveyors. At oft-packed The Hatch Rotisserie and Bar, the wood-fired rotisserie churns out daily specials ranging from goat tacos to baby back ribs, and cocktails are garnished with farm-fresh ingredients. And La Cosecha Bar and Restaurant gathers a buzzy crowd with locally sourced small plates and an off-menu Brazilian seafood stew made with rich coconut-milk broth. artisanpasorobles.com, hatchpasorobles.com, lacosechabr.com.
With a chef fresh from the East Bay, Thomas Hill Organics continues to pioneer produce-centric plates in Paso.
Around Town
Downtown Delights
Paso Robles' main square and its side streets offer culture, shopping, food, and wine.
Wine
At the small-production Herman Story Wines, don't miss the Late Bloomer Grenache, with a label that sports an awkward childhood photo. LXV Wine Tasting Room encourages experimentation by pairing its wine with spice-dusted cheese. And the winemaker collective Paso Underground lets you taste from four different wineries, each of which produce fewer than 600 cases a year. hermanstorywines.com, lxvwine.com, pasounderground.com.
Shopping
In addition to stocking the largest selection of S'well bottles on the Central Coast, General Store Paso Robles carries natural body products ranging from  handmade avocado soap to healing honey sticks, a well-curated selection of cookbooks, and addictive Paso Almonds brittle made from a 25-year-old recipe. Next door, Firefly specializes in vintage housewares and delicate jewelry. And nearby Sole Tree combines an enviable selection of shoes (Frye leather sandals, Cordani wedges, Paul Green peep-toe booties) with boho-tinged decor. generalstorepr.com, rebelmouse.com/fireflygallery, facebook.com/soletree.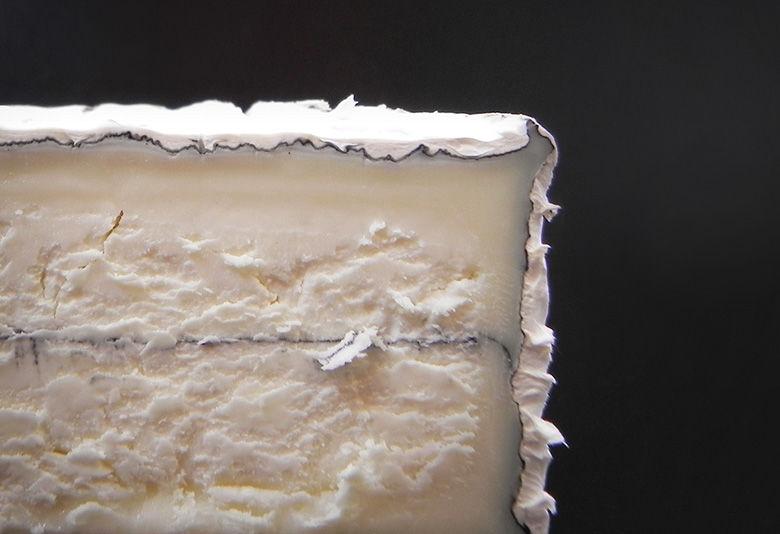 Food
You'll find more than 150 cheeses at Vivant Fine Cheese. Grab a few wedges to go, or relax on the patio and expand your knowledge with a red or white flight matched with cheese. If you're in the mood for cookies, sister-owned Brown Butter Cookie Company greets visitors with generous samples of the hand-rolled, sea salt–flecked cookies, in flavors ranging from lemon poppy seed to cocoa mint. And at Spearhead Coffee, the beans are sourced from around the world, roasted in-house for freshness, and served in a hip setting complete with Edison bulbs and exposed wood. vivantfinecheese.com, brownbuttercookies.com, spearheadcoffee.com.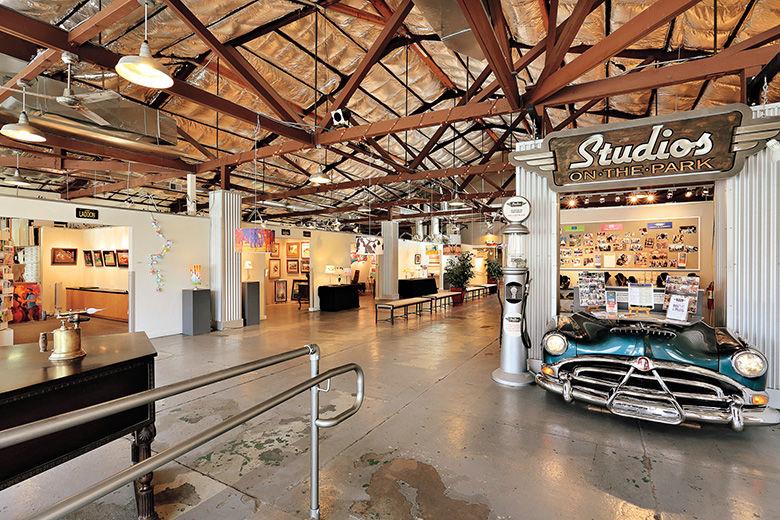 Art
See artists at work at Studios on the Park, a collection of studio spaces housed beneath one roof. Pieces range from ethereal portraits made with pastels to experimental mixed-media abstractions. Many beginning classes held at the space welcome drop-ins. Art After Dark Paso opening receptions are held the first Saturday evening of the month, and blend art, wine, live music, and the opportunity to mingle with the resident artists. studiosonthepark.org.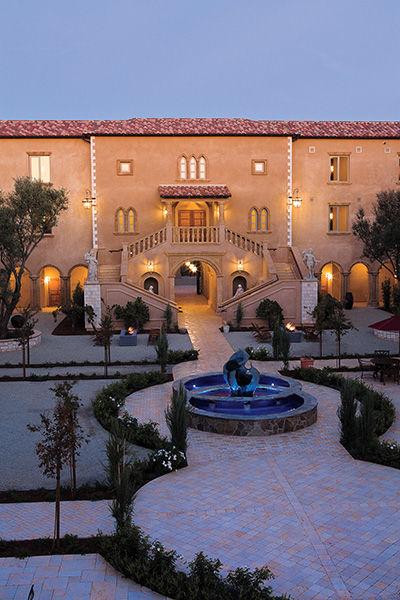 Rest Your Head Here
As Paso's wine scene exploded, finding enough places to hold all of the thirsty visitors became a struggle. That all changed last year with the opening of Allegretto Vineyard Resort, Paso Robles' first destination hotel.
The 171-room, 20-acre estate evokes a Tuscan village, with a 12,000-square-foot piazza dotted with fountains and stone sculptures, 14-foot European ceilings, art sourced from around the world by owner Doug Ayres, and a Mediterranean-inspired restaurant with a chef's garden.
"The idea is that when you're coming into this place, you've gone back in time," says Ayres. "You're transported."
That's not to say there aren't thoroughly modern touches as well. Starting in the lobby, you're greeted by a color-changing fiber-optic chandelier bedecked in 40 pounds of crystals. The spa offers an extensive array of aromatherapy treatments, along with zero-gravity chairs and an infrared sauna. And chef Eric Olson fields requests for everything from gluten-free options to hangover cures at Cello Ristorante and Bar, where the bar highlights local spirits and wines, including Allegretto's estate blend.
"The most common comment we get is, 'We've been waiting for this for 10 or 20 years,' " says Ayres. "We have a lot of community support, and we're changing the way Paso is viewed." allegrettovineyardresort.com.  
Other places to try: The luxury boutique Hotel Cheval, just off the town square, offers 16 rooms named after famous horses. Sidle up to the horseshoe-shaped bar at the Pony Club, or grab a seat on the dog-friendly patio for live music on the weekends. For a splurge-worthy B&B, consider a stay at SummerWood Inn, which includes a bottle of wine and tasting at the winery, plus a farm-to-table breakfast made to order by in-house chef and inn manager Kelly Wangard, who won Food Network's Cutthroat Kitchen. hotelcheval.com, summerwoodwine.com/inn.
The new Italian-inspired Allegretto Vineyard Resort combines high-end amenities with an intimate atmosphere.