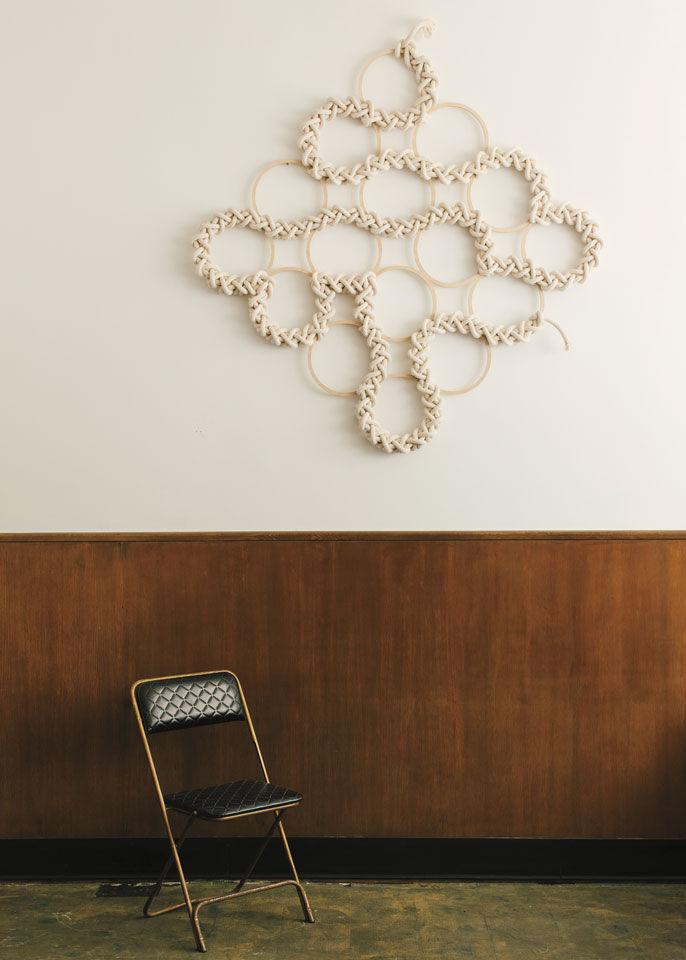 As a genre, fiber-based creations have never occupied the same place in the art world as painting and sculpture. Because woven, knotted, and macraméd pieces can be both functional and decorative (and people tend to associate them with earthy handicrafts and hippie wall hangings), they're more likely to be found on Etsy than in the Louvre. But the highly skilled artists—all of them women—in the Bedford Gallery's captivating new show, A Beautiful Mess: Weavers and Knotters of the Vanguard, reveal just how edgy and conceptual fiber art can be when in the right hands.
The featured pieces, which range from intricately twisted ropes to large-scale woven installations, are all pleasingly tactile. They also have intriguing stories to tell, making references to such wide-ranging fields as history, technology, architecture, and geology. Many are neat and tidy; others are wildly chaotic and unraveled. And while all the pieces involve fiber-art techniques such as 
weaving and knotting, some of them use unexpected materials in place of fiber itself, such as ceramics and, 
in one unusual case, extension cords.
"The talented group of women artists in A Beautiful Mess are ... serious about making a strong cultural and intellectual impact," explains Emilee Enders, curator of exhibitions and programs at the Bedford Gallery. "This group deftly weaves their message into works that demonstrate extraordinary technical skill, firmly placing them in the fine-art realm."
A Beautiful Mess: Weavers and Knotters of the Vanguard will begin February 26 and run through June 13; the exhibition will be accompanied by a virtual viewing room online. Check the website for information about when the gallery, which has been closed due to COVID-19, will be open to the public. bedfordgallery.org.