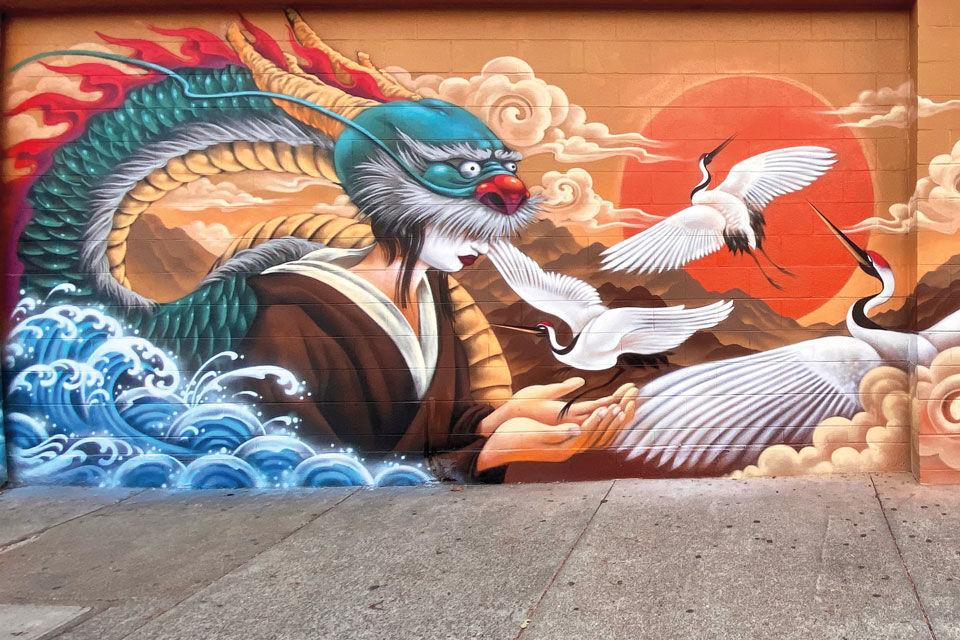 Visitors to Walnut Creek may have noticed a number of new public artworks in the heart of town, thanks to generous funding from the city's Rebound Program. Intended to "activate" the city's downtown, the program's temporary art initiative has been a bright spot during these challenging times.
"We wanted to attract people to the downtown with high-quality art," explains Steven Huss, public art manager for the City of Walnut Creek. "It is exciting to bring in work by diverse artists that has been so well received by the community."
To date, eight murals have been painted on downtown walls as part of the program. One of the most spectacular of these is called Jiko-Jitsugen, which can be found at the corner of Locust Street and Civic Drive. Painted by David "Hyde" Cho, who works with the arts group Local Edition Creative, the intriguing mural features geishas, cranes, and an ultramodern take on classic Japanese landscape painting.
Even though the murals were planned as temporary works, Huss notes that there's keen interest in keeping them up on a permanent 
basis. "We've heard such an explosion of 
positive comments," he says, "that there's 
a good chance they will be here to stay."