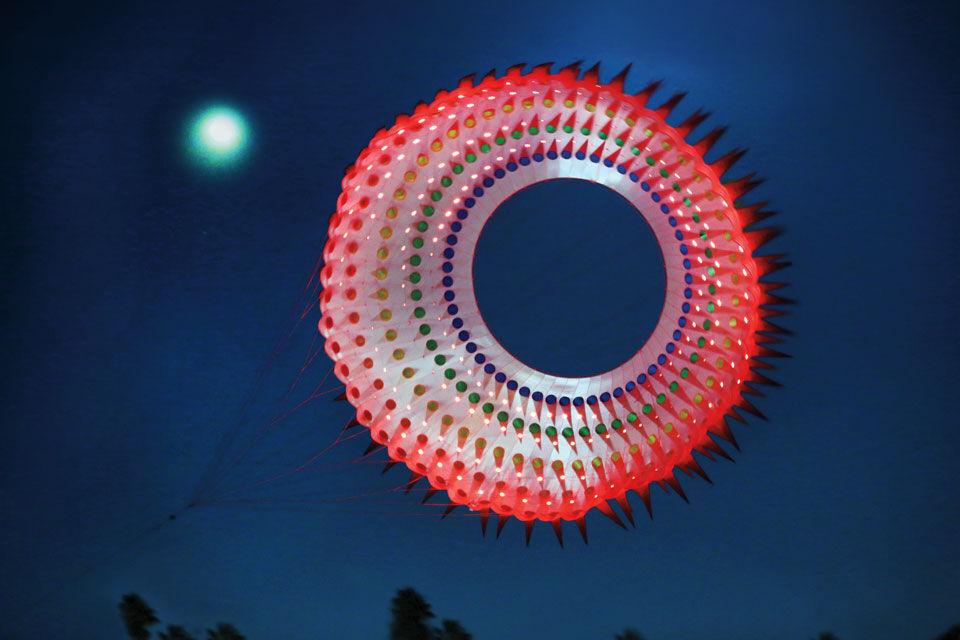 Tony Jetland first flew kites as a child in Minnesota. "Back in the '60s and '70s, you went outside and played—you didn't have electronics to play with," he says. "Then I took time off, 
because I had to be an adult."
It was on a trip to San 
Francisco about two decades 
ago, after moving to the Bay 
Area, that the general contractor 
rediscovered his passion, eventually becoming a professional kite flier and earning the moniker "Kite Man of Martinez." The marina of his adopted hometown is an ideal location, he says, due to its delta winds, easy access, and plenty of benches and trees that serve as anchor points.
Over the years, Jetland has amassed some 400 kites, around 20 of which are fitted with 
LED technology to enable night displays. His 
largest reaches 165 feet in length and 65 feet across—comparable to an average city block.
Jetland says that up to 300 people regularly watch him fly his kites, and after an injury forced him to stop for several months in 2020, the Martinez community showed him how beloved he and his collection truly are. "People I've never met would ask, 'Do you need anything—do you need food? Do you need rides to your doctor? Do you need help?'" he says. "It was [like that] for three and a half months."
Jetland flies his kites nearly each weekend from late March through October. He debuted a beaver-shaped kite named Marty in March, in honor of the famed beaver population that lives in Martinez's Alhambra Creek.
"When you see kids running around underneath the kites and giggling 
and laughing—there's nothing better," says Jetland. "I've never met anybody who couldn't smile [while] looking at the kites."