The Santa Ynez Valley, an oasis in the heart of Santa Barbara County, is known for bucolic landscapes, first-rate wineries, and the slightly (OK, very) eccentric Danish village of Solvang.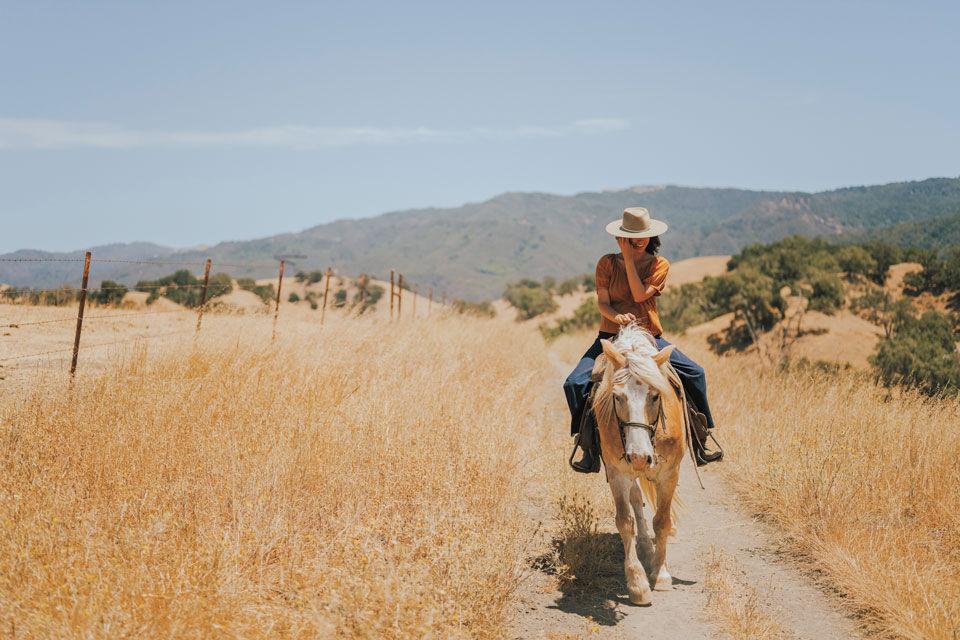 Wine aficionados have been seeking out this spot for years, especially after the release of the 2004 film Sideways, which put the region's 120-plus wineries firmly on the map. Lovers of windmills, butter cookies, and aebleskiver (puffy pancake-y treats) have long flocked to Solvang for an authentic taste of Denmark. But visitors who want to appreciate the true magnificence of the land here—while having an unforgettable experience that conjures the Old West—should look no further than the thoroughly appealing Alisal Ranch.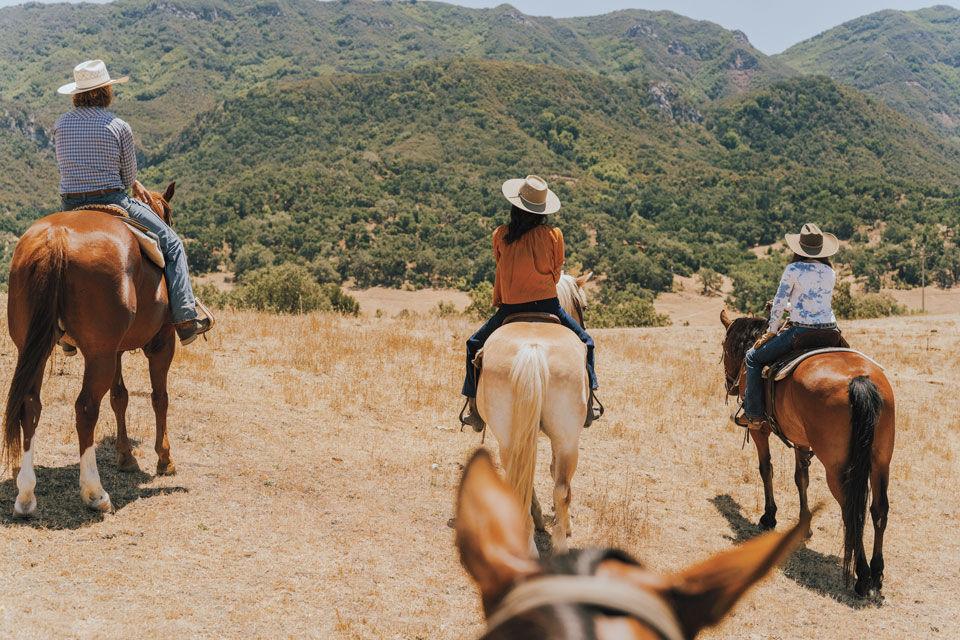 From the East Bay, Alisal is about a five-hour drive south on Highway 101, making it an easy weekend trip. But once there, you won't want to leave: At 10,500 acres, with 50 miles of trails on which to enjoy group or private horseback rides, a serene spring-fed lake, golf, tennis, a spa, and much more, Alisal is a seductive getaway.
It's also a legendary resort that's been welcoming guests ever since it opened in 1946 (it was a working ranch for many decades prior). Given its relative proximity to Los Angeles, Alisal has attracted Hollywood A-listers such as Clark Gable, Doris Day, Barbra Streisand, and countless others in search of a posh, low-key, and paparazzi-free escape.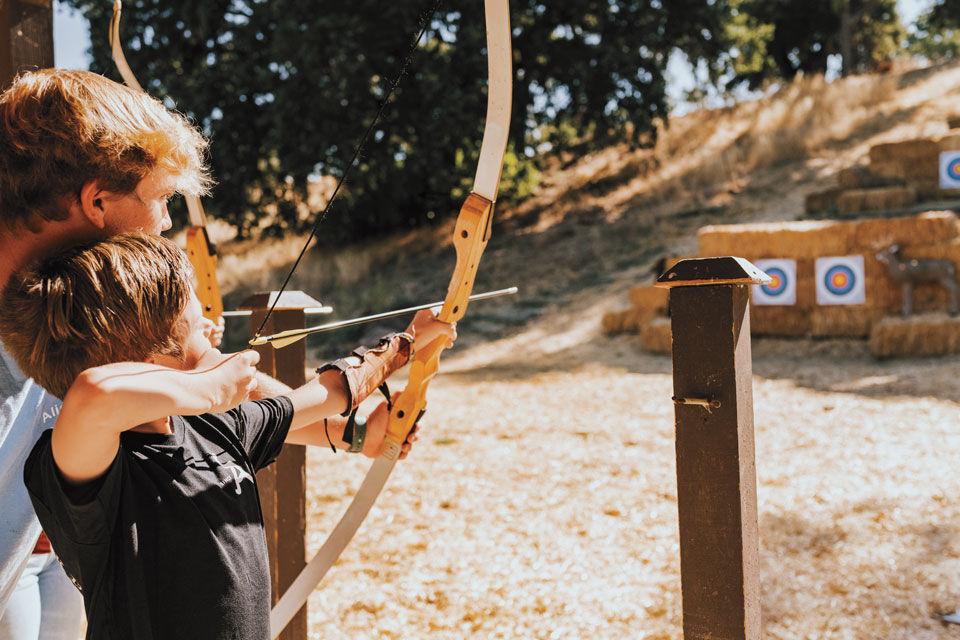 But for all its celebrity appeal, Alisal is a remarkably down-to-earth, family-friendly place. There are no TVs or phones in the Western-chic guest rooms, suites, and cottages, and very spotty cell service, forcing visitors to unplug.
Alisal remains a genuine working ranch, with a herd of some 100 horses and lots of experienced wranglers on hand. In fact, it's virtually impossible to spend any time here without wanting to embrace your inner cowgirl (or cowboy) and saddle up.
Start your day with the popular breakfast ride, a group horseback outing to the ranch's Adobe Camp, where hearty chow is enjoyed under sycamore trees (nonriders can still attend, hopping aboard one of the property's hay wagons).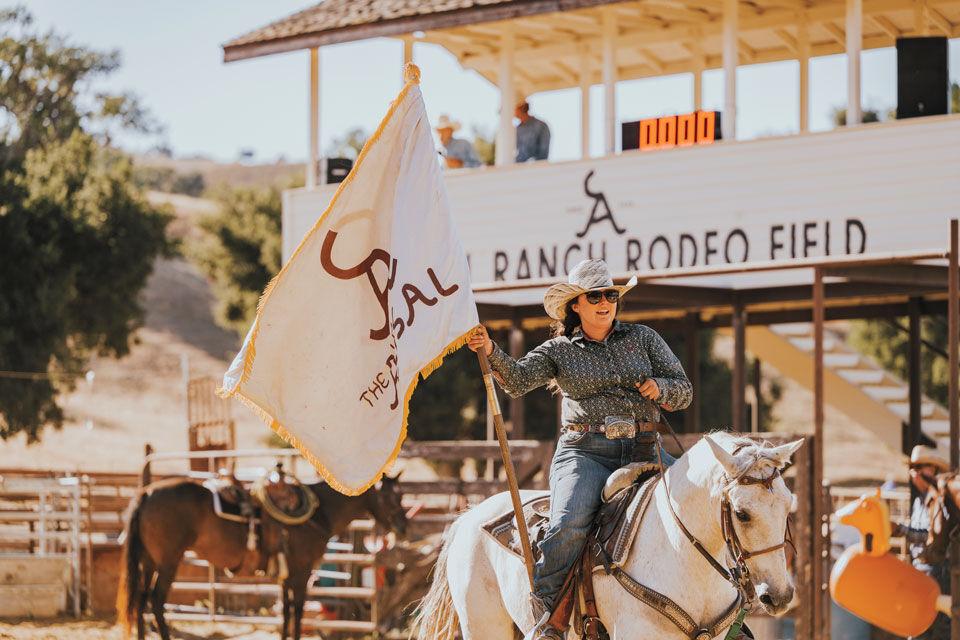 A number of other guided horseback rides are offered throughout the day, and all of them come with the possibility of wildlife encounters, from observing a vast variety of birds (including, notably, the ranch's resident bald eagles) and black-tailed deer to seeing squirm-inducing creatures (snakes, tarantulas) slither across your path. Fortunately, the guides know this terrain inside and out, and they keep a watchful eye out for critters along the way.
If you're visiting between Memorial Day and Labor Day, don't miss the weekly rodeo, held Wednesdays at 5:30 p.m. It's an opportunity to watch roping, barrel racing, and team sorting, followed by a barbecue with live country music and dancing.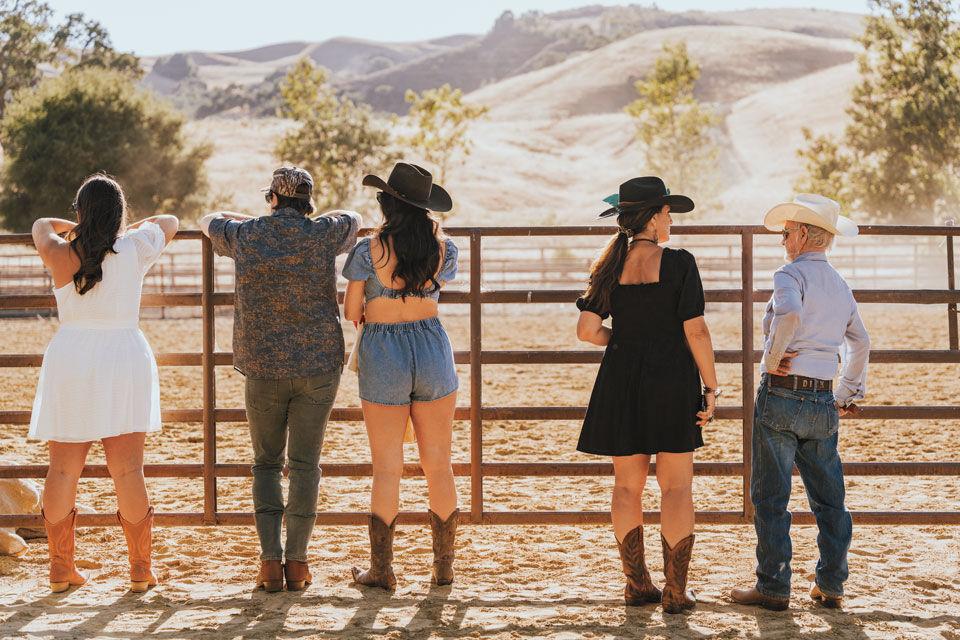 The beauty of Alisal is that you can choose your adventure, whether you want an activity-packed boot camp, an equine excursion, or relaxation in a heavenly natural setting. However you opt to spend your time, the ranch's magical Western vibe will stay with you long after you leave.
---
BOOT CAMPS & COOKOUTS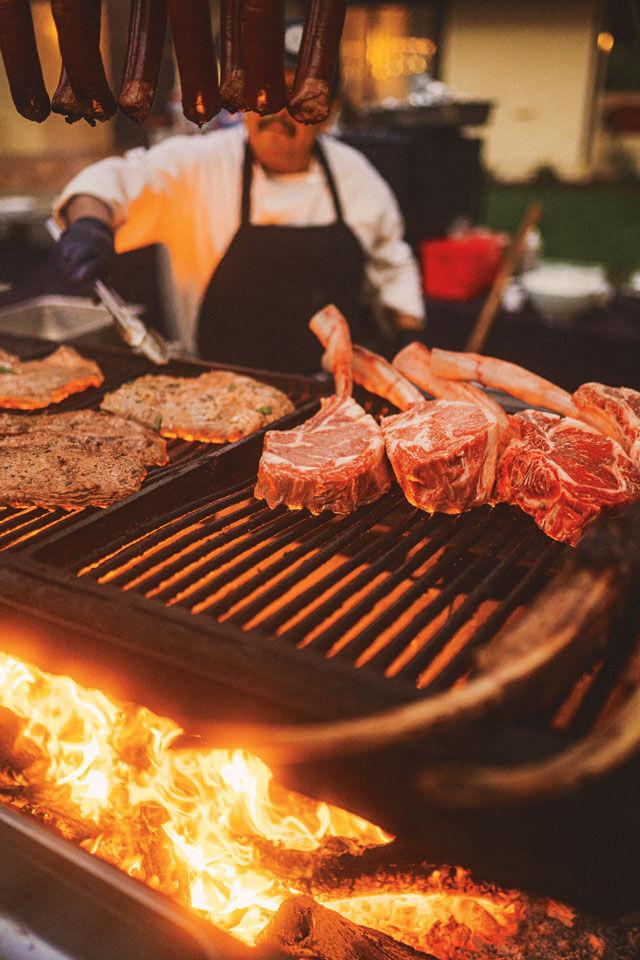 Not surprisingly, barbecue is serious business here. One reason for that is geography: The nearby Santa Maria Valley is the birthplace of the eponymous Santa Maria–style barbecue—a grilling method that dates back to the 1800s. It's a style that can produce unbelievably tasty meats and has come to be synonymous with this region of California.
Alisal Ranch has integrated barbecue—Santa Maria–style and otherwise—into its offerings in a big way. Three times a year, the ranch hosts BBQ Bootcamps, grillapaloozas lasting four days and three nights featuring celebrity chefs, step-by-step demonstrations, hands-on activities, fabulous feasts, and dancing to live music under the stars. The different approaches taken by the internationally renowned guest chefs are endlessly creative, giving new dimensions to traditional barbecue. (At one boot camp last fall, Oaxacan chef Bricia Lopez grilled queso and squash blossom poblanos, while Top Chef alum Shirley Chung shared her tips for char siu pork.) It's not unusual to meet guests who return time and again to attend these boot camps. Next month, the ranch will host its BBQ Bootcamp: Spring Classic from May 7 through 10; other signature events, such as star-studded cookouts and health and wellness retreats, take place throughout the year.
---
SIDE TRIP TO SOLVANG
No trip to Alisal is complete without spending a few hours in the quirky Danish town of Solvang just a few miles up the road. It's a touristy spot, with half-timber architecture, kitschy souvenir shops, and abundant bakeries. But there's an undeniable charm to this picture-perfect and welcoming place.
If the half-timbered houses and wide-bladed windmills aren't enough to alert you that Solvang isn't your typical California town, the park dedicated to Hans Christian Andersen and the Viking exhibits in the Elverhøj Museum of History and Art might do it. Or your eye might be caught by the butter-rich Danish pastries on offer in the town's numerous bakeries, the red-and-white flags fluttering from seemingly every eave, or the horse-drawn trolley trundling down streets named Elsinore, Atterdag, and Copenhagen.
All this attests to the pride of the Danish families who fled the harsh climate of the Midwest for this corner of the Santa Ynez Valley, which they christened Solvang, or "sunny fields" in their native tongue, and continued to imprint with their architectural and cultural heritage through the 1950s.
But Solvang's Danish heritage isn't frozen in time; descendants of the earliest settlers are behind some of the hippest hangouts in town, like Solvang Brewing Company, owned by Stephen Renfrow and his wife, Cari, who grew up a member of the founding Iversen clan. And new Danish immigrants are arriving as well, like Copenhagen-born Rene Kaerskov, who bought Solvang's venerable Danish Mill Bakery in 2020 and is updating it with offerings like bake-at-home Danish Viking Bread.
Base your stay at the Landsby, where a night in one of its airy rooms will teleport you to Scandinavia, while the eclectic menu of in-house restaurant Mad and Vin (translation: "food and wine") will take you globe-trotting through Korean short ribs, bucatini and cioppino, ceviche, and buckwheat noodle salad.
You'll find one of Solvang's best dining experiences at Peasants Feast, where potato leek soup and Copenhagen Caesar set the stage for Solvang Hot Chicken, which pairs buttermilk-fried chicken with shredded cabbage, pickled red onion, and a brioche bun.
Solvang also provides entrée to the valley's up-and-coming wine scene; Kaena pours the cellar's signature grenache, riesling, and Bordeaux varietals in a bright, high-ceilinged barn, while Casa Cassara Winery and Vineyard celebrates the Tuscan legacy of nebbiolo, tempranillo, barbera, and other hearty reds. And if wine tasting is a focus of your visit, Vinland Hotel and Lounge features several themed suites in partnership with local wineries. —Melanie Haiken
Here are a few highlights:
The Hans Christian Andersen Museum features artifacts from the life of the Danish author.
OstrichLand USA (located in the neighboring town of Buellton) is a 33-acre farm with ostriches and emus roaming the grounds. Visitors are invited to feed the big birds.
Solvang Spice Merchant is a great shop for spices, teas, and rubs (especially if you want to practice some of the barbecue techniques you picked up at Alisal).
Olsen's Danish Village Bakery is an ideal place to sample a pretzel-shaped kringle, a classic cinnamon swirl, or Scandinavian dark limpa bread.
Wine tasting is a popular pastime here, and some of the best tasting rooms in town are Alma Rosa Winery, Casa Cassara, Crawford Family Wines, and Sanger Family of Wines.