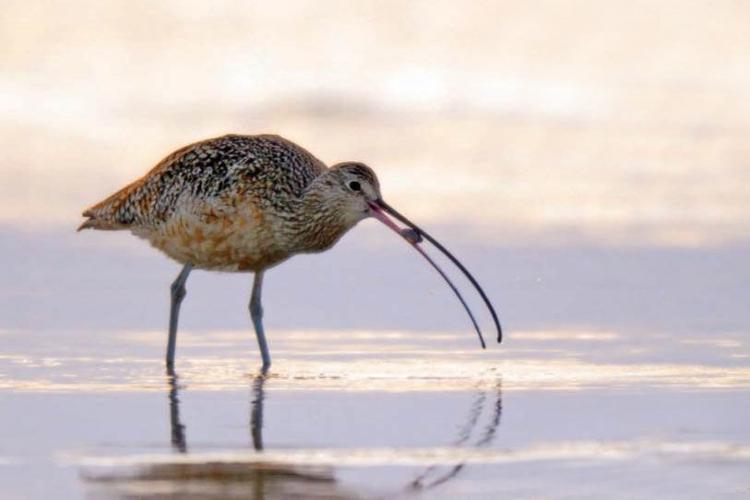 With its vast acreage and varied ecosystems, the East Bay Regional Park District offers a paradise for bird-watchers. Whatever captures your interest—be it shorebirds, raptors, woodland birds, or waterfowl—there are accessible places to observe these marvelous creatures. 
Here are some spots that offer prime viewing (check ebparks.org before you go to see if your destination is open, and make sure to follow park social distancing regulations). To avoid disturbing nesting birds, always stay on designated trails and observe all posted rules.
You might think that you need to go to a remote area if you hope to see anything, but Anthony Fisher, a naturalist at Tilden Regional Park, says, "In our parks, which have an urban interface, animals have experience with humans and act accordingly." Typically, the birds are not overly reactive to people passing by; it's sometimes birders, who stop moving and make eye contact, that give the birds pause, Fisher says. That's why binoculars are valuable, allowing you to keep your distance.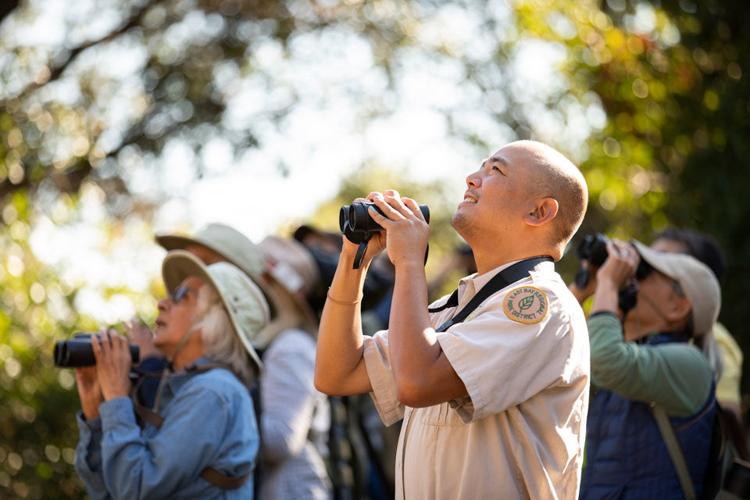 Coyote Hills in Fremont is a birder's paradise, says Michael Moran, supervising naturalist at Big Break Regional Shoreline. There is a large variety of species year-round, and the trails are mostly flat. The varied terrain includes brackish wetlands, salt marshes, grasslands, and woodlands, providing foraging and nesting habitat for a host of birds.

Cogswell Marsh, part of the Hayward Regional Shoreline, is a 250-acre tidal saltwater marsh that once was used for salt harvesting. A restoration in the 1980s brought a plethora of birds back to the area. Be sure to bring a hat, as there is no shade on the trail. 

A stone's throw from the Oakland International Airport, 50-acre Arrowhead Marsh at Martin Luther King Jr. Regional Shoreline serves as a stopover on the Pacific Flyway. As some of the last remaining marshland along San Leandro Bay, it's part of the Western Hemisphere Shorebird Reserve Network.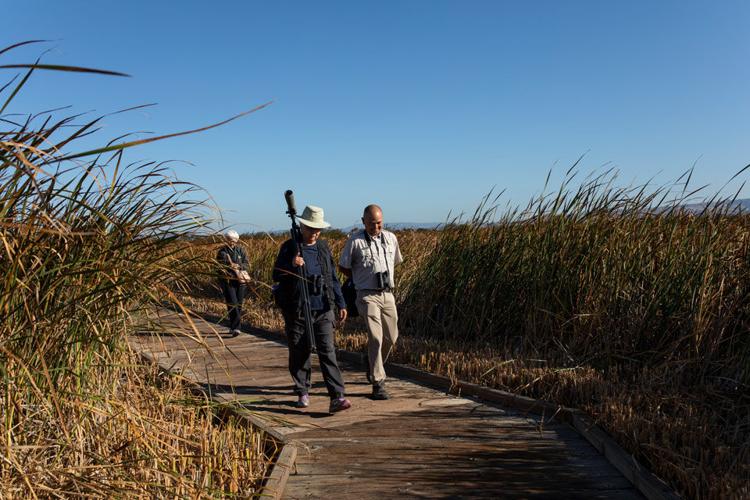 Both Moran and Fisher put Crown Beach in Alameda on their short list. The Elsie Roemer Bird Sanctuary at the park's southern end is an ideal spot to see waterfowl and shorebirds, 
especially in late fall and winter.
You'll find excellent birding along Alameda Creek in Sunol Regional Wilderness, with acorn woodpeckers, black phoebes, titmice, turkey vultures, and golden eagles commonly sighted. 

At Brushy Peak Regional Preserve, look for raptors, grassland birds, and woodland birds. Bonus: Federally protected red-legged frogs live here, too.

In Pleasanton, Shadow Cliffs Regional Recreation Area is home to a growing water bird colony in the park's more secluded lakes. So hit the trail and get to know these fascinating creatures.

As Anthony Fisher says, every park in the district has something to offer the bird lover.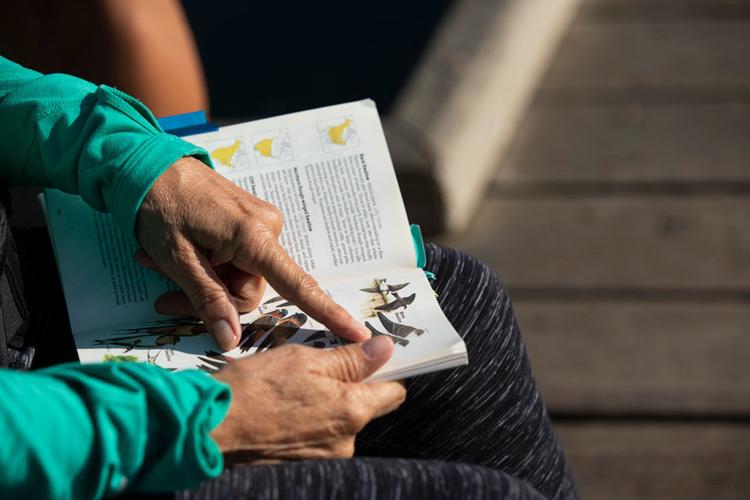 Book Smarts
A good field guide is invaluable for learning to identify birds. Here are two of the most popular, suited to both novices and veterans.
The Sibley Guide to Birds
By David Allen Sibley
(Sibley also offers a phone app that includes birdcalls, but Michael Moran cautions against playing the calls to attract birds when out in the field. "It's discouraged," he says, "because it can disrupt mating or foraging.")
National Geographic Field Guide to the Birds of North America, 7th Edition 
By Jon L. Dunn and Jonathan Alderfer
---
An extended version of this story was originally published in the Winter 2020 issue of Compass magazine. Compass is a custom magazine produced for members of the Regional Parks Foundation, a nonprofit dedicated to supporting the East Bay Regional Park District. Diablo Custom Publishing (DCP) writes, designs, and prints the magazine for the Regional Parks Foundation. Learn more about the Regional Parks Foundation here. Visit DCP, our custom publishing division here.