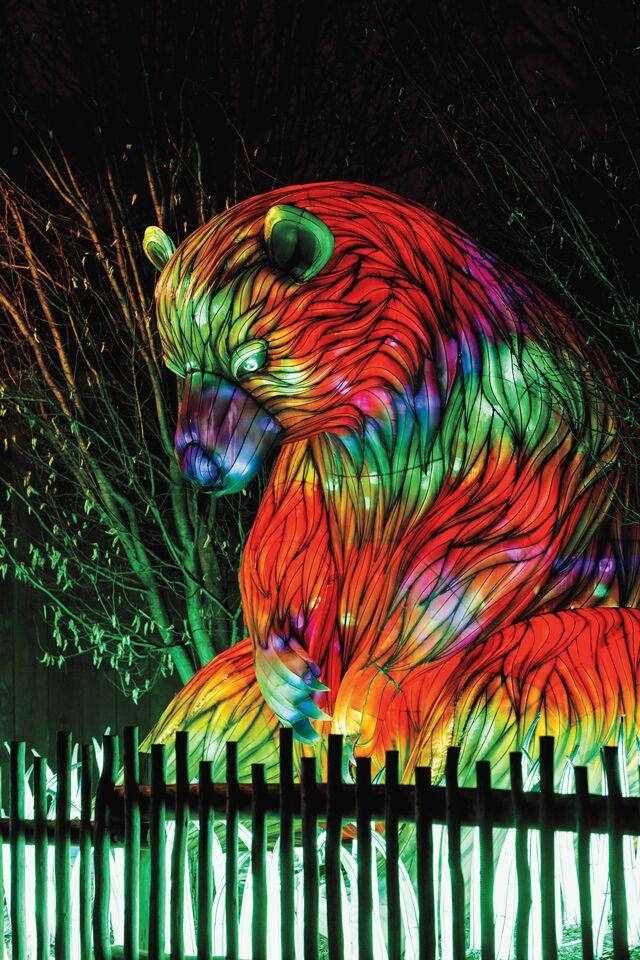 Glowfari, one of the Bay Area's most exciting new attractions in an otherwise disastrous 2020, returns for another month of fun at the Oakland Zoo in January.
The program, which debuted in November 
before being paused by shelter-in-place orders, has been in the works since 2019. The production is an international endeavor, as the elaborate animal lanterns were constructed in China, then shipped to Oakland for the exhibition.
Offering views of creatures great and small, the illuminated lanterns are on display throughout the zoo. Messages about conservation and the needs of animals are also part of the presentation.
Glowfari takes the place of ZooLights, an 
annual holiday extravaganza set to music. The response to the new experience has been 
phenomenal, and the animal theme makes sense beyond holiday months. Advance reservations are mandatory, as attendance is limited to 1,500 guests per night—about 30 percent of the zoo's capacity. Masks and social distancing will be required in all areas.
"This first year of Glowfari has exceeded our hopes," says Erin Dogan Harrison, the zoo's vice president of marketing and communications. "We've been selling out most nights."
Glowfari's many highlights include a ride on the gondola above the California Trail, leading to displays of animatronic dinosaurs and glowing 
butterflies. Another area features a large lawn transformed into an imaginative seascape: Swarms of turtles and pods of porpoises swim near schools of fish and an illuminated blue whale. A children's zoo section is now a forest 
of cherry blossom trees that change colors as 
big cats roam beneath.
Animal-themed rock 'n' roll songs such as "Monkey Man" by the Rolling Stones and "Fly Like an Eagle" by the Steve Miller Band fill the air, keeping the groove very festive. Glowfari is scheduled to reopen on January 6, then will be open Thursday through Sunday nights. The 
Oakland Zoo's team hopes to extend the engagement past the original closing date of January 17.
"We would like to make Glowfari accessible to as many people as possible," says Dogan Harrison.
Glowfari admission is $20 per adult and $18 for children; visitors under 2 and over 76 are admitted for free. Advance reservations are available at
oaklandzoo.org.